Drufashion.com – Summer is the perfect time to travel! The warm and sunny days outside make us comfortable. Unfold the new experience by travelling the place you never have before! Well, before we go on traveling, there must be something we have to prepare very well. A complete preparation, for such checking our passport and visa. And another major preparation before we take the long flight is absolutely packing travel outfits.
Tips on choosing what to wear on a long flight are going with some comfortable outfit features. A trouser, tee, and shorts is used comfortable wear for summer travel airport ideas. Besides choosing the comfortble feature outfit we also concern about trendy look to gain your confiden while having a long flight! Down below, we will be sharing with you some of the best trendy airport ideas, make sure you're not miss any of this!
Sporty airport travel outfit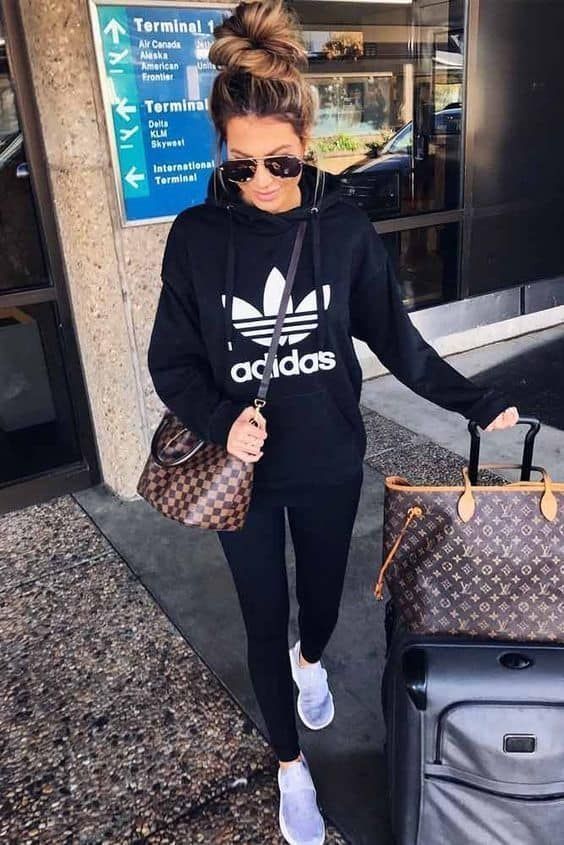 When we talk about the summer vacation outfit ideas, the comfortable feature is the most needed. So, we can go with the sporty look style, these outfits are super comfortable and also trendy. We find out that the sporty outfit can be our option to show a trendy look and feel cozy in it. The navy hoodie from Adidas combined with the black legging gives you a simple but stylish airport fashion look. The flexibility of legging will give you comfort while seating on the airplane, and the oversized hoodie gives you feel free to move even you take a long flight. In addition, the breathable and flexible sneakers also give us so much comfort. This trendy summer airport travel outfit is so much comfortable to wear on a long flight.
Looking trendy in a simple pair!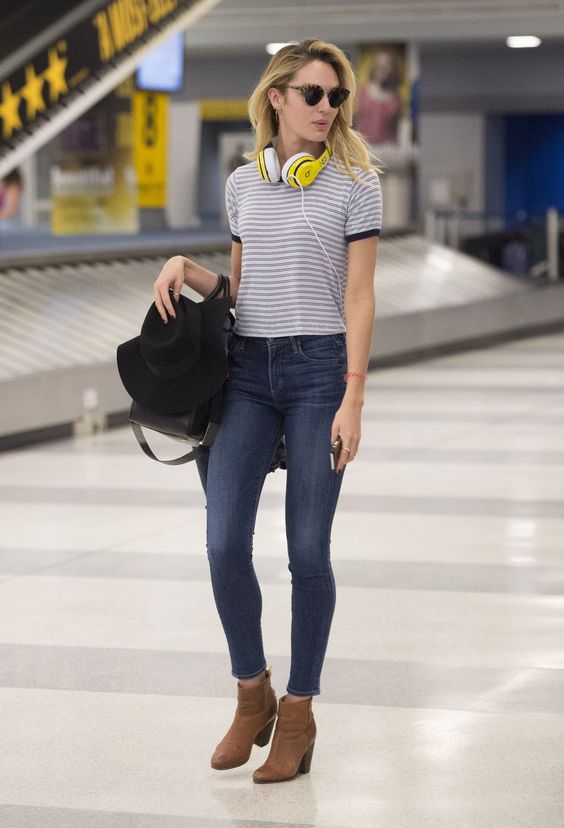 Let's go to some basics, checking up your wardrobe, and grab your casual summer striped tee with your favorite jeans. It's actually quite simple but looking so chic furthermore, to give a statement and trendy casual look, a few accessories can be joined. A pair of brown ankle boots are given an impactful statement to your casual look. And the earphone with sunglasses wrapped your airport look even more trendy!
Keeping it on a lowkey and trendy summer airport look!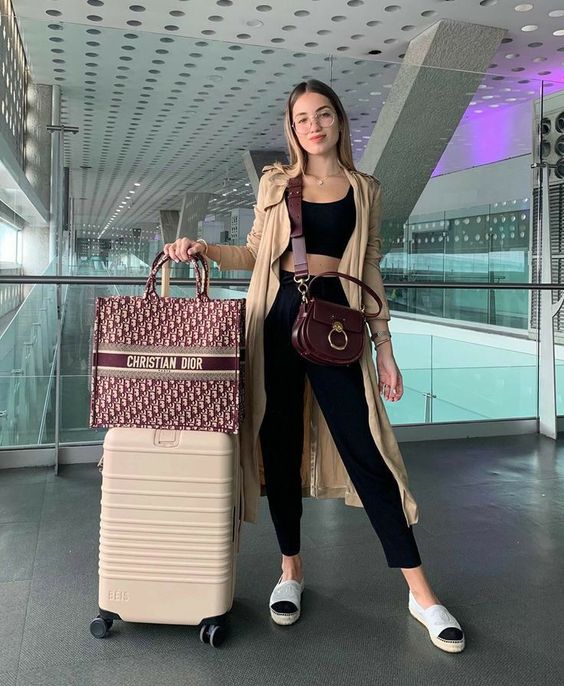 Rocking the airport fashion look with a lowkey and trendy outfit style. Pairing up the workout outfits for such sports bra and black legging could be your option to style the simple airport look. When you go on traveling in the summer season, you have a big privilege to style any kind of outfits you want. Because summer is all about freedom, no more wearing a bunch of layering thick clothes. It's all about feeling the fresh air and the warm sun that connects with our skin. Well, let's back to your lowkey fashion look. To give a classy touch to your simple airport look, you can wear a neutral color tone and lightweight feature coat. In addition, the leather sling bag helps you to organize and pack the most important thing such as a mobile phone, password, and so on.
Liven up the trendy airport style with a cool street look!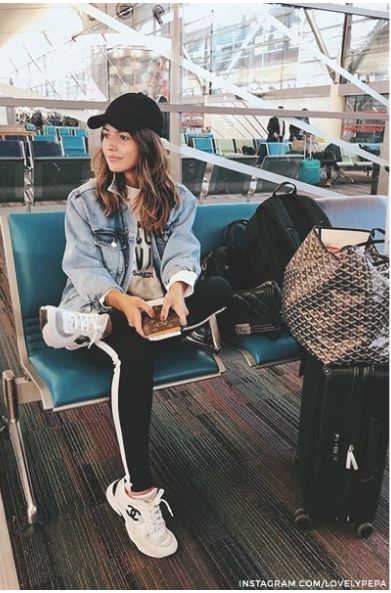 There is nothing wrong to style your airport look with a cool street fashion style essential! The timeless washed denim jacket and graphic tee is one of the most essential street fashion look. Follow with black legging will give you a lot of comforts while seating on the airplane seat especially when you take a long flight. In addition, the pair of white sneakers and the simple black cap fits your trendy airport look! Are you ready to have summer vacation?
Styling summer airport look with bright kimono!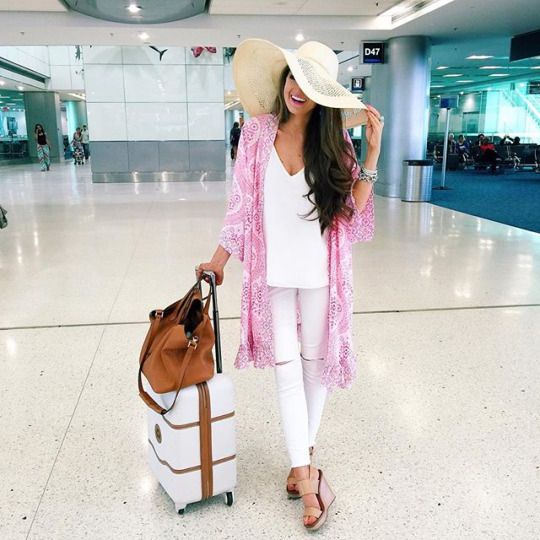 There is nothing wrong to wear bright accent color tone outfits to embrace the cheerful summer vibe! If you're going to have summer vacation abroad, make sure you have the laidback airport fashion look to start your journey! The white paired outfits from white jeans and a cami top could accompany your laidback airport outfit ideas. To embrace the summer vacation vibe, we can wear the pink kimono that contrast with a neutral white color tone outfit you wear. Don't worry about the contrast, the bright accent color tone outfit gives an impact to shining summer outfit essentials! Moreover, you can wear a summer hat wide brim to give you a quirky summer vibe fashion idea!
Laidback summer airport look with an off-shoulder mini dress!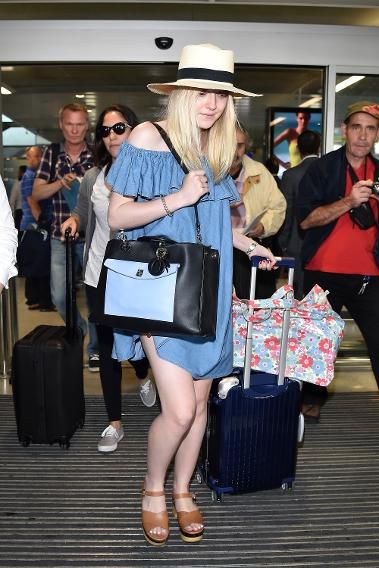 Summer comes with its pleasant warm sun! There is nothing better to chill outside on sunny summer days! If you're having the plan to have summer holiday abroad. Making sure you already have travel outfit checklist ideas! Besides that, prepare the airport outfit idea is equally the same. If you are looking for a summer airport travel outfit idea, we have the chic and comfortable outfit to be wear on the sweltering summer days! Well, our decision comes with the bright off-shoulder mini dress! Wrap your laidback outfit with comfortable summer sandals and don't forget to wear the summer hat! This breathable and comfortable outfit will make you far from sweating in the blazing hot summer days' temperature! And this look is super cute tho!
Styling bright top for summer airport travel outfit idea!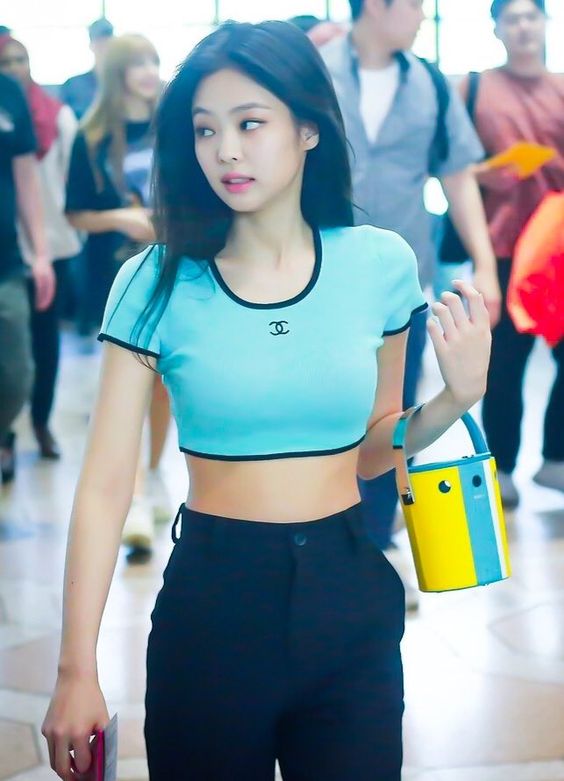 The summer season has come, it's a perfect time to wear something light and breathable feature outfit ideas! When you get bored staying at home for so long, it's a perfect time to have a cheerful summer vacation! Taking a long trip to have to enjoy the summer day indeed fun. Besides that, we have to prepare comfortable airport outfits to comfy our flight time. When you have already done your travel outfit checklist and airport fashion look are well prepared. Then, you are ready to start your sweet journey!
Figuring out what types of airport outfit fits with warm summer day, they must fall into something relaxed and breathable feature. So, we don't have to worry about sweating a lot that could drag down our confidence. Le's have a look at the Kpop star airport fashion look, Jennie Blackpink! She's wearing the soft blue color tone top from Chanel and for the bottom, she wears black trousers. What a comfortable summer airport fashion look! Do you fall in love with Jennie's millennial fashion look for your airport outfit idea this summer?
A chill Kpop airport fashion look!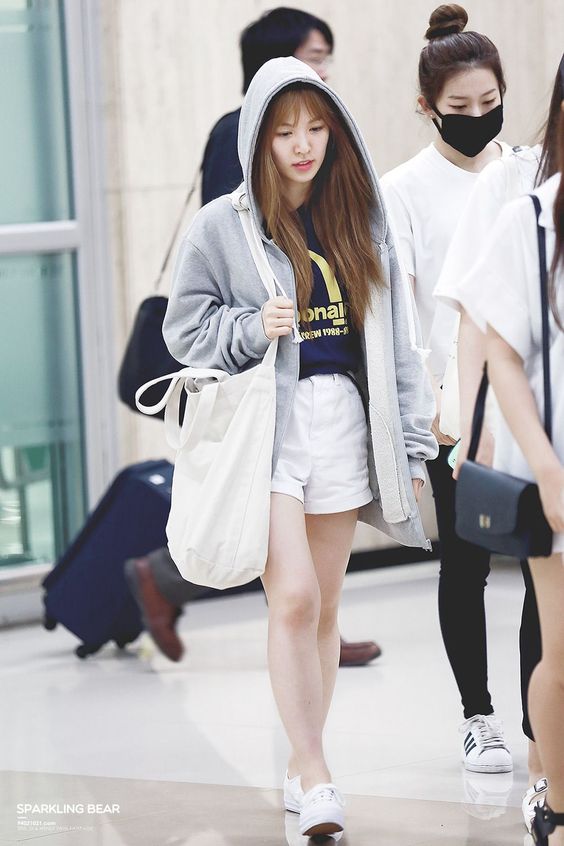 Apparently, these days Kpop fashion is in great demand over the globe. We can find out their fashion style from Kdramma, or even girl bands and boybands, and they all look stylish! Now, we have the summer airport essentials you can try! Just take out your short pants and graphic tee from your basic wardrobe checklist! Then, wrap your casual look with an oversized hoodie. This look is super comfortable but still, you don't lose the chic airport accent appearance. Would you like to try these simple matched outfit ideas?
Super breathable airport outfit ideas for a blazing hot summer flight!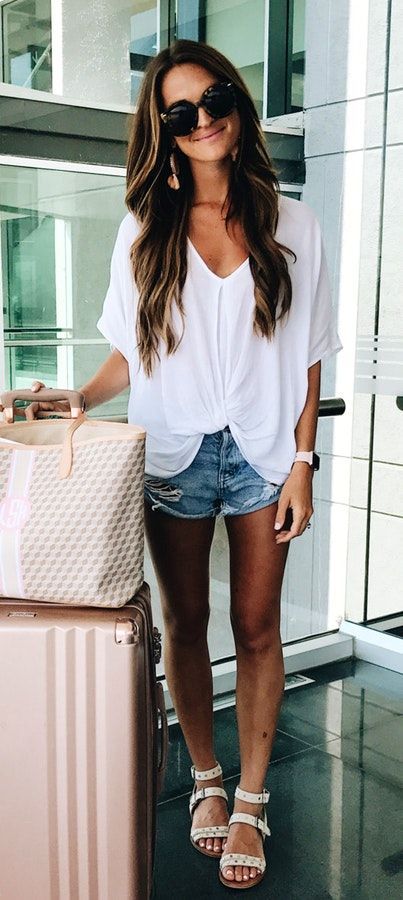 Figuring out the trendy summer airport travel outfits, it's quite simple and easy! Girls, you can basically pair a summer shorts fashion with a plain v neck blouse. Furthermore, the comfortable and super breathable summer sandals can join your summer flight! To give your simple look chic, give a defined look by wearing sunglasses. People will absolutely understand your simple summer airport look. Do you love this comfortable wear for a long flight idea?
Conclusion
When the summer comes, suddenly it leads our nerves to have some fun outdoor activities! Traveling on summer days is quite a lot of fun and perfect weather to explore a place you want to unfold! In this writing, we have compiled the best looks to accompany your summer airport travel outfit ideas. We're prepared the best comfortable outfits for your long flight! When you feel comfortable in your flight, there you find the good start to begin your journey! We hope you enjoy our writing and soon could be your trendy airport fashion look idea. Have a nice summer holiday everyone!