Drufashion.com – Blackpink undoubtedly the most successful girl band in the world. The Kpop star does not only shine for their popularity in Korea but also over the globe. They are not only famous for their hit songs but also their visual appearance makes us amazed. This group of four has its unique fashion style. The Kpop stars not only amazed us by their look on stage but also on their off-duty days, they all look so gorgeous! Lisa, Rose, Jissoo, and Jennie street style literally so dope. Their trendy casual look makes us fall in love with them!
Today, we are going to talk about the most followed Blackpink's member on Instagram definitely Lalisa Manoban or more friendly called Lisa. She is the only non-Korean member, she was born and raised in Thailand. But, when she was a teenager, she follows the Kpop audition with the well-known Korean music label YG Entertainment, with outstanding dancing and rapping skills, it's easy for Lisa to join the Kpop music industry.
Joining with the outstanding girls, Blackpink has an amazing 4 girls member. Their visual is amazingly lovely. Today, we will be focusing on Lisa's fashion style on her off-dutty day. Her trendy and lowkey fashion look is in quite great demand among young people. Here we will be sharing with you Lisa Blackpink street style best look, so don't miss any of them!
She's looking so cool with a boyish style!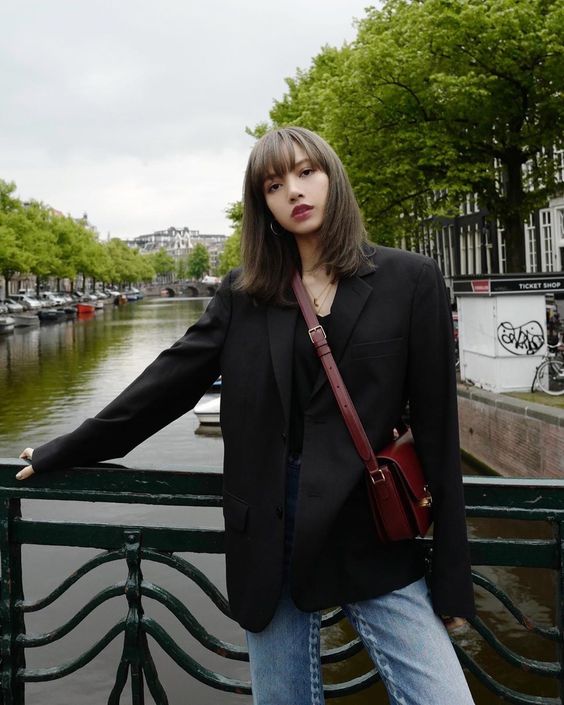 Lisa Blackpink's fashion style never looks outdated. From a hip-hop boyish style to the most down-to-earth look, she always slayed it! In this picture, Lisa is wearing a black coat from Celine. She also works as a brand ambassador of this Paris fashion brand, Celine.
She paired the black coat with a black crop top is perfectly matched. After matching a statement look upside her look, then she casually combines it by wearing a washed denim jeans. She wraps up this chic minimalist style by wearing a red leather sling bag. If you are looking for a statement street look, you can try this great pair from Lisa!
Effortless girly look!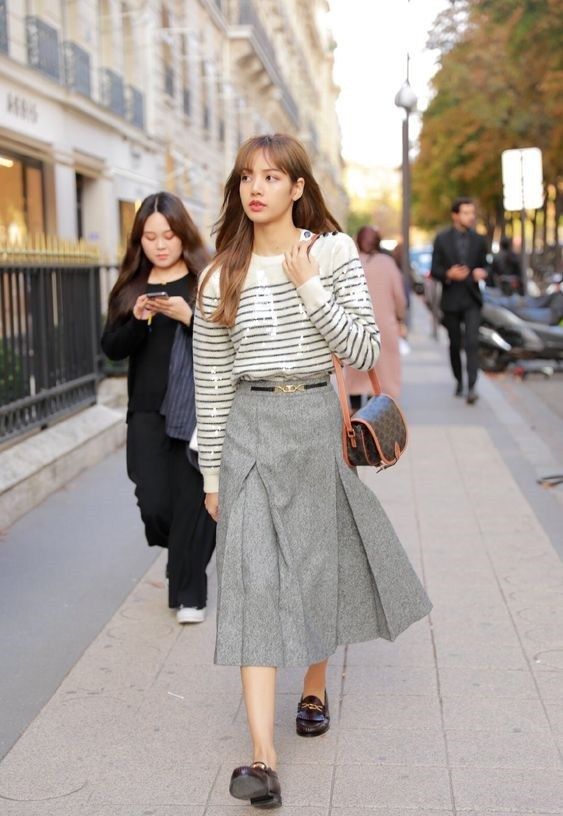 Lisa often spotted in the boyish or hip hop fashion style. But, she makes us impressed by seeing her effortless girly look. The Celine ambassador, Lalisa Manoban looking so down-to-earth by wearing a long pleated skirt in neutral gray. Then, Lisa paired it up with a striped tee. In addition, the pair of leather shoes and bag completed her simple look. This look is super stunning!
Effortlessly in lowkey fashion look!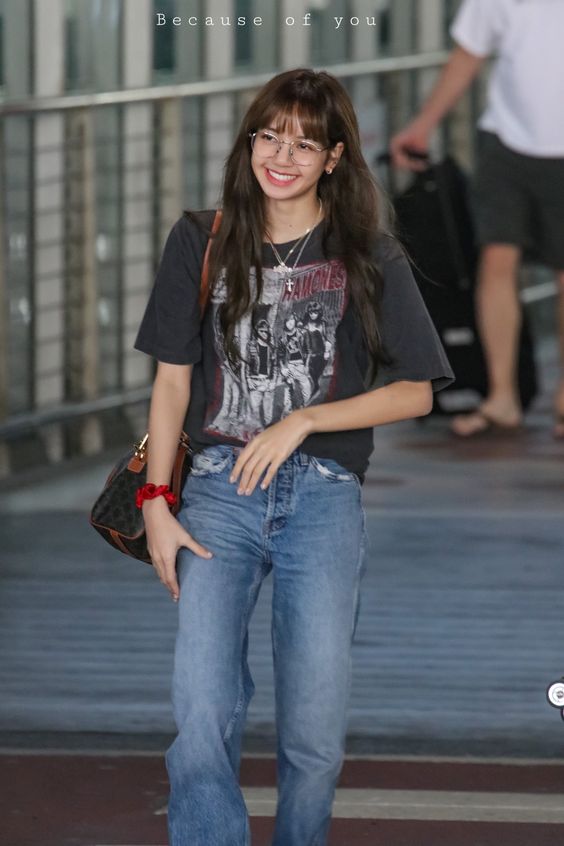 We never get bored seeing Lisa's fashion look transformation, before she has a debut career with Blackpink and till now. She always wins our sight with her fashion style. It's not surprising that she's been work with the top fashion brand in the world. Let's say she's been working with a Paris fashion brand, Celine, and also work well with the Italian famous fashion brand, BVLGARI.
In the picture above, Lisa wearing a black vintage tee and casually paired it up with washed denim jeans. This basic outfit perfectly matched creating Lisa's effortlessly lowkey fashion look. If you are looking for a quirky fashion look, then this street essential can be your option!
Looking sweet with a polka dress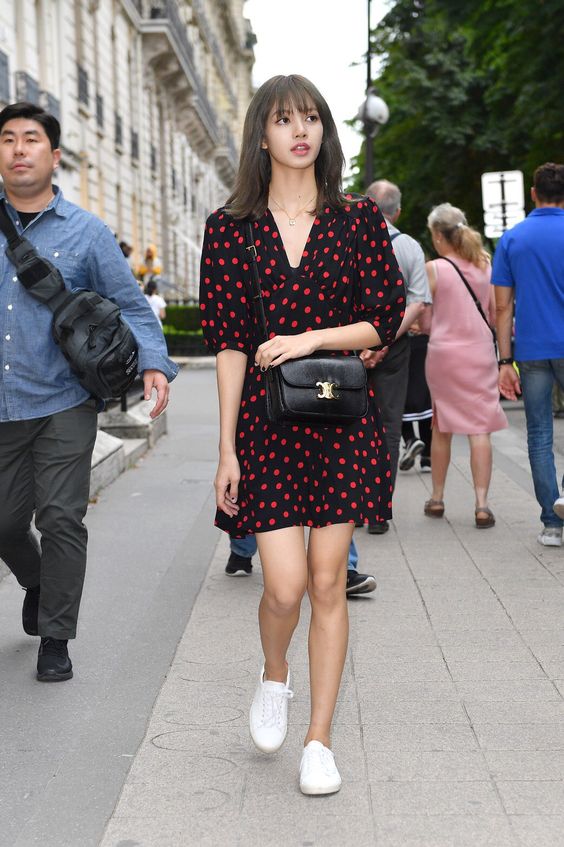 Another outstanding piece of Lisa's street style is that she gorgeously wearing a polka dress. The button-down style and ruffle sleeve make her look so down-to-earth. To complete her simple and girly casual look, she wears a pair of white sneakers. In addition, she wears a black leather sling bag.
When the spring season welcomes us with blooming plants and warm sun. It's a perfect time to wear a lightweight outfit in this warm weather. Moreover, this polka dress will make you look stylish in the spring season. Celebrating the cherry blossom season with a printed or collected floral dress!
Trendy bucket hat style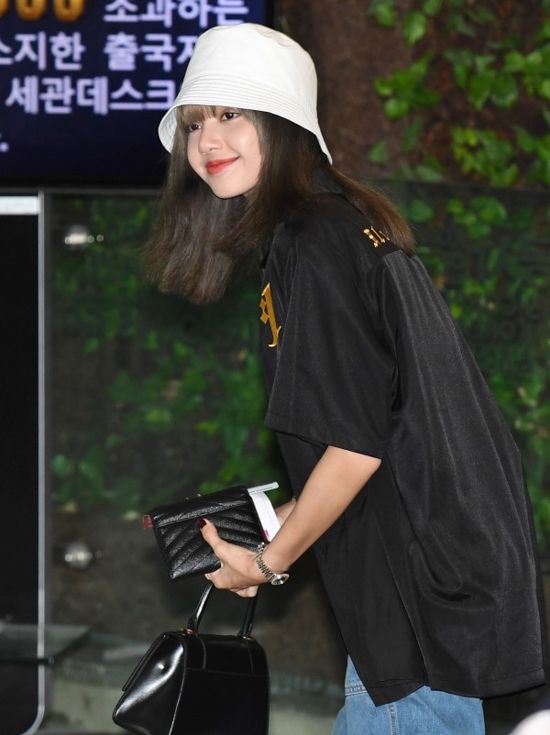 Many times we have seen Lisa styling a bucket hat to sweeten her look! Yeah, the bucket hat many times accompany Lisa's laidback style and it won't break her bangs! On her off day, Lisa spotted wearing an oversized tee and wide-leg jeans. Not to forget she bring a classy black leather bag!
A bucket hat is on trends in fashion trends among young people. It has comfortable features such as lightweight and protects you very well from the heat of the sun. When the summer comes, incorporate this bucket hat to be your summer outfit ideas!
Classy girl fashion style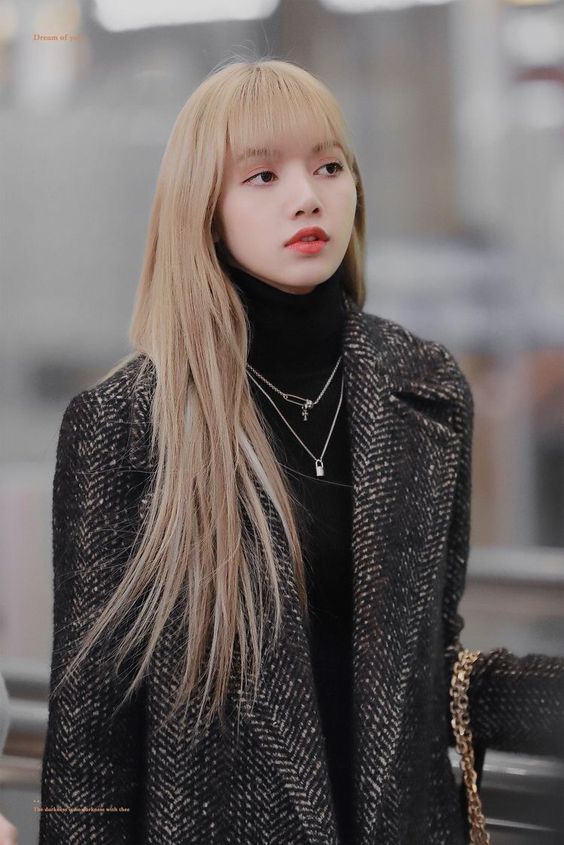 If you want to look different in styling streetwear then you can go with classy outfit ideas. In this capture, Lisa looks outstanding with her classy style. First, she wears a black crew neck sweater and then layers it up with an elegant wool blazer. Then, she upgrades her look by wearing a black leather bag. To elevate her classy look, she wears an elegant necklace!
Going out with simple casual wear!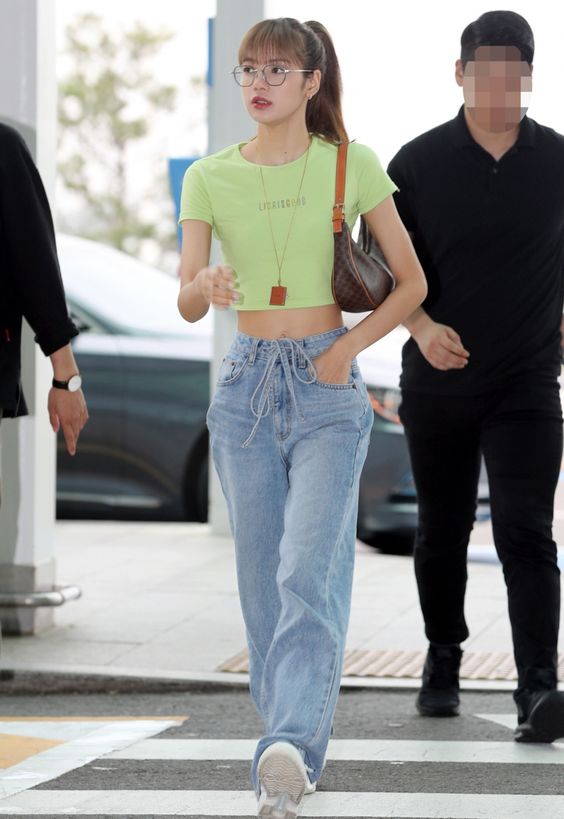 When you have the off-duty day, we are pretty sure you want to be in comfortable outfits all day long! A Blackpink icon Lisa having great taste in the fashion outfit. On her off-day, she's pairing the comfortable outfits. A crop top tee and then matching it up with loose-washed denim jeans. This pair outfit is quite simple and so practical to follow on warm summer days. Plus, we get the stylish look in simple casual wear. In addition, wearing glasses and a simple accessory will elevate your look.
To give your more preference about cool streetwear you can check Selena Gomez street styles. So you will get a lot more trendy street look, let's check them out!
Crop vintage sweater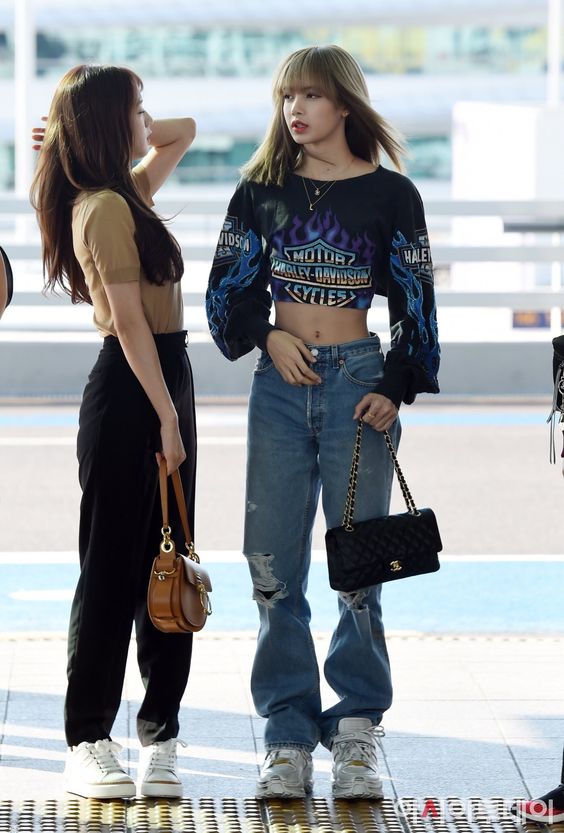 Lisa and Jisoo spotted hanging out together outside, their appearance absolutely stunning for both the on and off stage. But let's take a look at Lisa's street fashion look. She wears a vintage crop sweatshirt and pairs it up with wide-leg denim jeans. She completes her rock style by wearing running shoes. She's not even forgotten to bring a bag every time she hangs out.
Lisa's sporty look!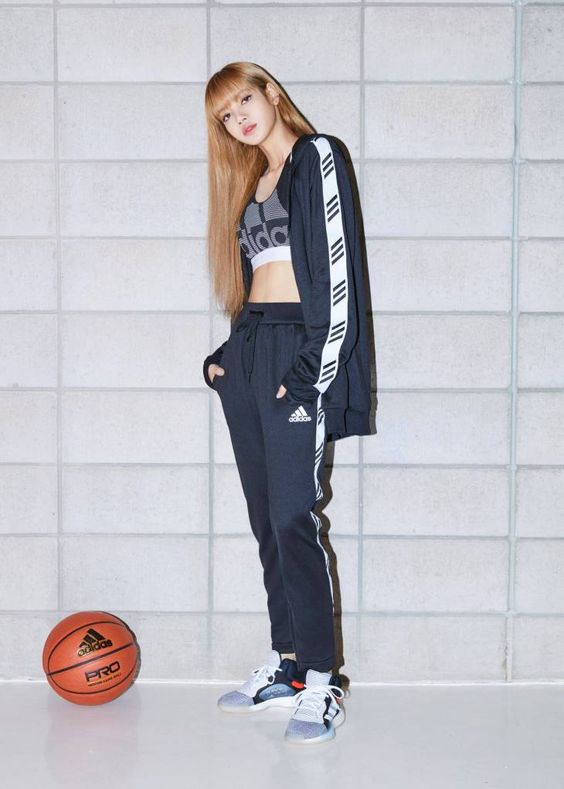 With their hit songs and their charm, it's easy for Blackpink to get the attention of a top world's fashion brand. Including a huge sports company, Adidas. They promote their sports product with Blackpink. Lisa is looking so gorgeous with the sports outfit style. She wears a sports bra and tracksuit pants and a jacket from Adidas. Complete her sport outfit style by wearing a pair of running shoes from Adidas too! The sporty look really matches her!
Final words
Lalisa Manoban or used to be called Lisa started her professional career with Blackpink. She is the only Thai Kpop artist and gathers with the superpower girl band. Through her dancing and rapping skills, she's shining with Blinks. This four-team girl not only good at singing and performing, But they also have a great visual that will make us fall in love in a while. Besides that, they have amazing fashion styles. Each one of them that we discuss now is Lisa. She's well-known for her lowkey fashion look which is so cool! In this writing, we already compiled some of the best Lisa Blackpink street styles. We guarantee, Lisa's fashion essentials will make you even more trendy. You will never feel outdated by fulfilling your basic wardrobe essentials by following a timeless Blackpink's icon fashion style!