Drufashion.com – There are several times in a year that full-on rainy days. I think all of us had experienced the day that we had all in wet clothes, shoes, and socks. What a messy day! We've learned from the experience we got, now we won't that ever happen again! Sometimes, we couldn't expect that it will rain. In addition, we have to read some weather podcasts before we go to chill outside with our friends.
The dark cloud above us actually gives us the sign that nearly the rain will fall. We have to prepare for it such as bring an umbrella, or wearing your comfortable hoodie to warm you up. We won't be wearing heavy outfits on rainy days, right? Calm down, here we will guide you to masterpiece the rainy day outfit ideas down below.
When the rainy days have come that force us to stay at home. But when we will go outside in the rainy day, sometimes it split our mind thinking about what kind of outfit I should wear in a rainy day? Here we will share with you 8 cute ways to style rainy day outfit ideas, so don't miss any of them!
Hoodie and combat boots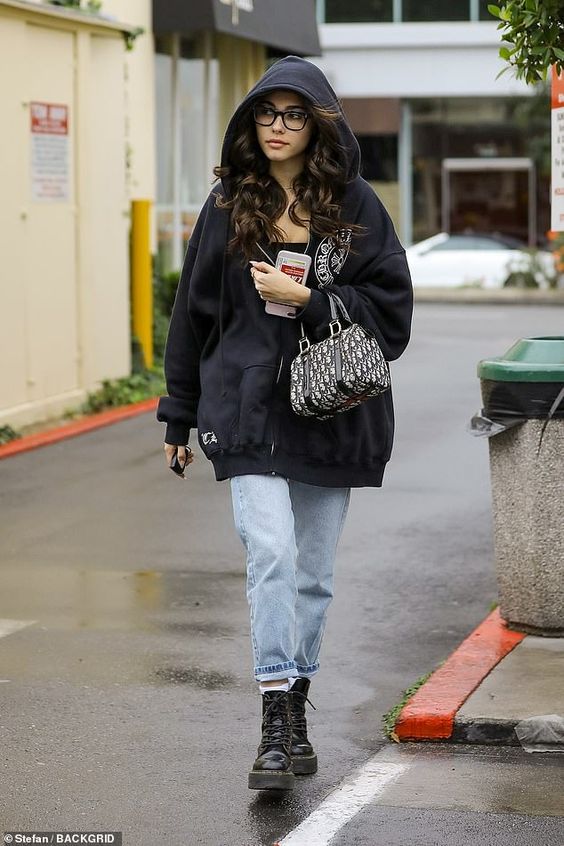 Ladies, even it's raining outside, you still keep rocking on your cool outfit style! No matter what the weather comes, let's try these cool rainy outfit ideas! Matching up your oversized hoodie and washed denim jeans as you do casual style. The oversized hoodie will make you warm while the weather outside is getting colder. Then, you can complete your cool style with a pair of black combat boots. This footwear is water-resistant that will comfy you while walking on the wet road. This combat boot not only gives you the privilege to walk on the wet road outside. But they keep you look cool!
Denim jacket and legging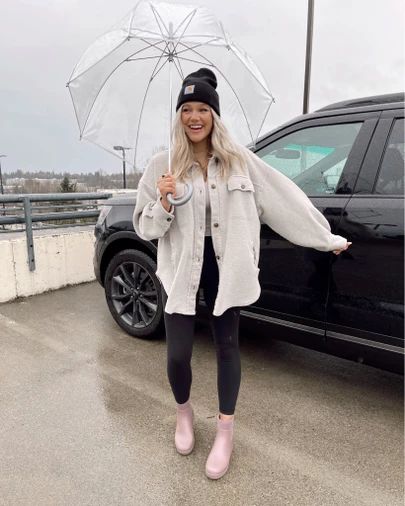 Another way to keep you look cool while it's downpouring outside is pairing a denim jacket with legging! As we alluded to earlier, the comfortable rainy outfit day feature won't go too heavy clothes. So, here we choose lightweight outfits combination to keep you cozy on a rainy day! The combination of washed denim jacket and legging pants just looks perfect. Legging pants brought lightweight and warming up features. Then combine with a washed denim jacket that makes a statement to your fashion outfit!
We are pretty sure, you need something that could warm up your head on a rainy day. A black woolen skull cap could be worn to keep you warm yet looking trendy! To complete your rainy outfit look, a pair of silvery pink combat boots will elevate your look!
Ruffle down mini skirt, short sleeve shirt, and scarf
Moving on from the basic casual rainy day outfit. With the light rain outside, it still gives you the chance to wear mini outfits! Showing a cute feminine look by matching up the skirt with a ruffle short sleeve shirt! The scarf can be worn to amplify your chic look and could warm you up too! Then, complete your cute style with a pair of nonslip wedges sandals!
Wide-leg trousers and oversized jacket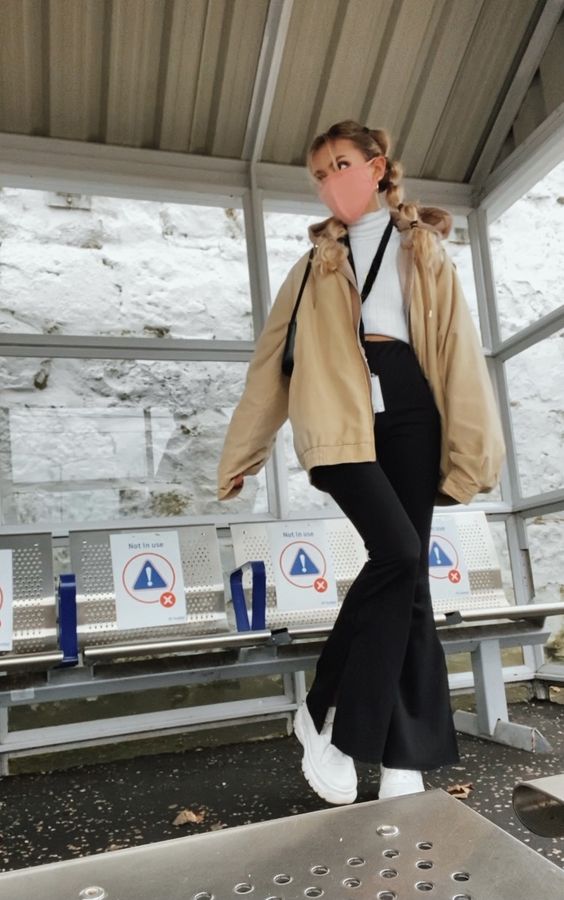 If you like to observe the new style of your own. Then, this unique outfit style can be your inspiration! Pairing up the wide-leg trousers and cropped turtle neck sweater is looking cute actually. To give you more comfortable, you can tuck an oversized jacket. This jacket will not make you feel tight and it works properly with a simple outfit inside. For the footwear items, a pair of water-resistant sneakers could be worn. We want to share with you not to wear canvas sneakers on a rainy day. Because that material can absorb water, you won't your socks get wet right! So, choose the proper shoes that can withstand rainy days!
Lightweight coat, ripped jeans, and long leather boots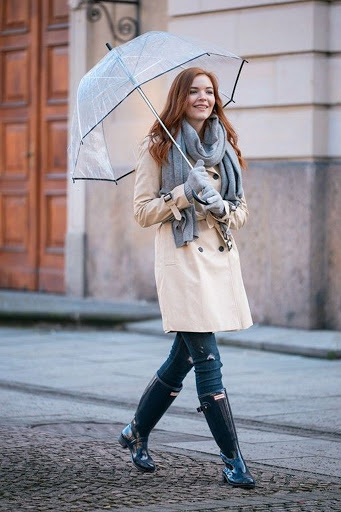 Rocking the street style even the cloudy and unsupportive weather outside towards you! We can be pairing up the lightweight coat, with ripped denim jeans. To amplify your rainy day look, you can wear a pair of long leather boots! To give you an extra cozy fashion outfit, you can wear a scarf and gloves. We are pretty sure you look awesome with this matching outfit for a rainy day!
Lightweight coat, turtle neck sweater, leather pants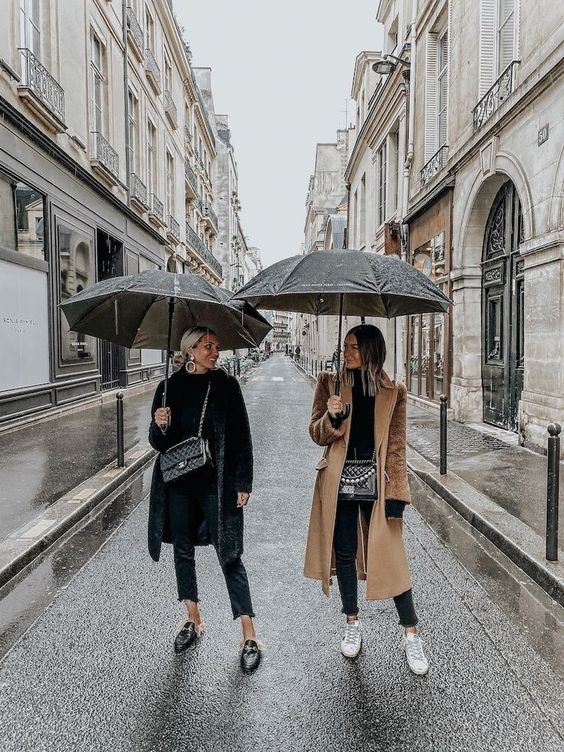 Our next rainy day recommendation outfit style does belong to the combinations of lightweight coast, turtle neck sweaters, and leather jeans. These outfits are super cozy to be worn on rainy days outside. For the footwear option, you can choose leather loafers or water-tolerant sneakers. Complete this casual look with a black leather sling bag. Now, you are ready to go out with friends outside of the door!
Plaid cropped jacket and leather jacket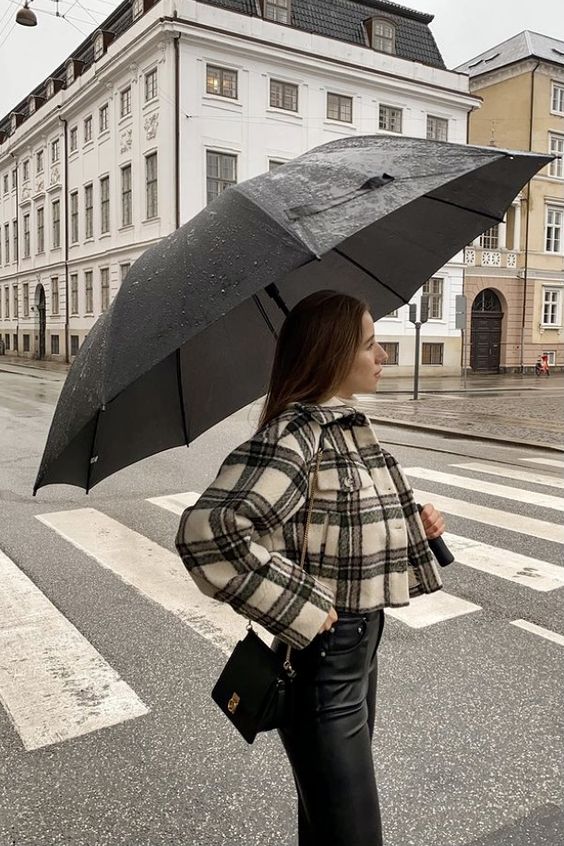 Looking stylish on rainy days is something extraordinary. While people tend to deny the fashionable look and being lazy wearing home outfits. You can maximize your look without sacrificing the comfortable dress code! Simply, you can wear loose size leather pants and then wearing a turtle neck sweater to keep you warm inside. In addition, you can pair your look with a plaid woolen jacket to elevate your look. For the footwear items, a pair of leather shoes can be worn to accompany you on the rainy day outside! Wearing a simple accessory such as a mini leather sling bag will make you look down-to-earth! So, styling a trendy outfit on a rainy day is so many possibilities where others can't. Would you like to try this style immediately?
Trench coat dress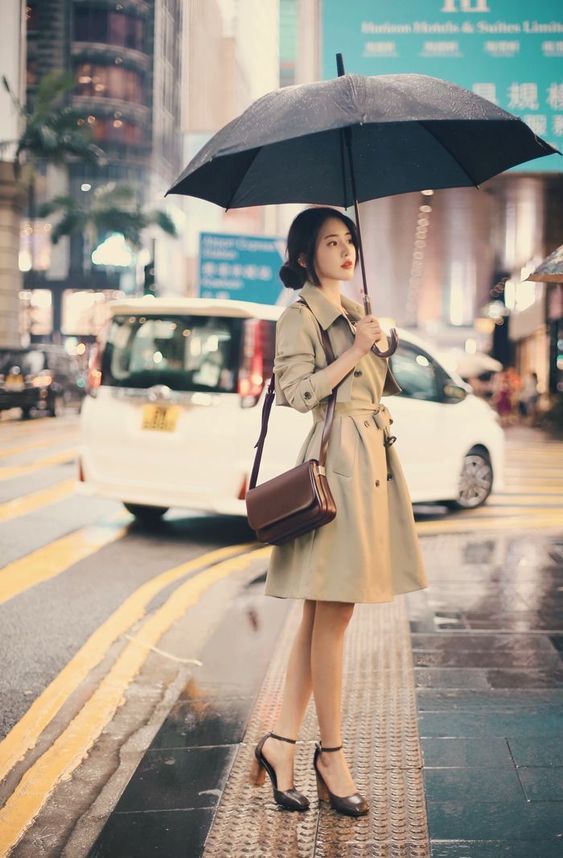 The last rainy day outfit idea we share with you in this writing is styling trench coat dress! Ladies, you can simply wear a midi trench coat dress with a waisted belt. Choosing an earthy color tone outfit will make you look awesome. You can wear wedges heel sandals and dark brown leather shoes. If you love to wear a simple outfit then this style could be your inspiration!
Conclusion
In the early spring, we usually have rainy days. For those days, we would love to spend our time at home laying in bed, watching our favorite drama series. And how if the condition urges you to go outside? Suddenly you think and looking for a proper outfit to wear on the rainy days.
Calm down a little bit, just open up your wardrobe and start to matching up some basic outfits! And we suggest you wear something lightweight, and warm-up feature outfits. That is the key point to style rainy days. To comfy your look, you can wear leather boots! We hope you enjoy our writing and love to try those rainy day outfit ideas above!