Valentine's day is almost there! Have you planned what you're gonna do on this lovely day? Or do you already have a mate to spend valentine's day with? So, I believe you've done it! Okay, now, all you have to do is prepare everything well to not ruin this special moment with your mate. Of course, the first that you have to consider is the outfit.
You need to make sure the outfit that you're going to wear is suitable for the event or the place that you want to go to. Furthermore, you have to choose an outfit that can make you look cute, sweet, and pretty on this day! Sounds very complicated enough right? But you don't have to be worried, because we will help you by giving the cute outfit ideas to wear on valentine's day.
Yes, we're gonna be the guardian angel that helps you to look perfect on your date day. You can choose the outfit style that suited on you and also could boost your confidence level. So, without wasting any more time, let's get to the topic!
27 Cute Outfit Ideas to Wear on Valentine's Day
Zippered Jumpsuit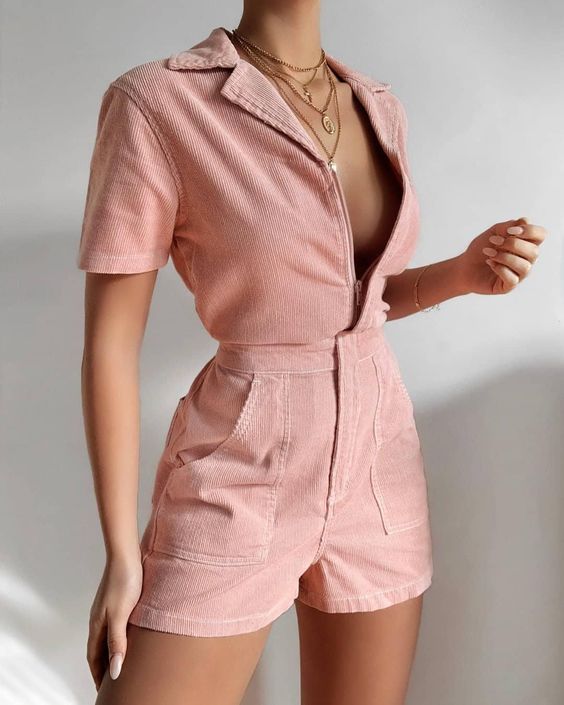 The first idea is a zippered jumpsuit! This outfit going to be perfect if you have a simple date like going to the café or just chilling out while doing the street walk. Let the zip loose to the chest area to give the sexy look but still make you look cute. Furthermore, add a few accessories to fill in the blank space like adding necklaces, earrings, or even hair accessories.
Basic Outfits Using Sweatpants and a Cropped Tank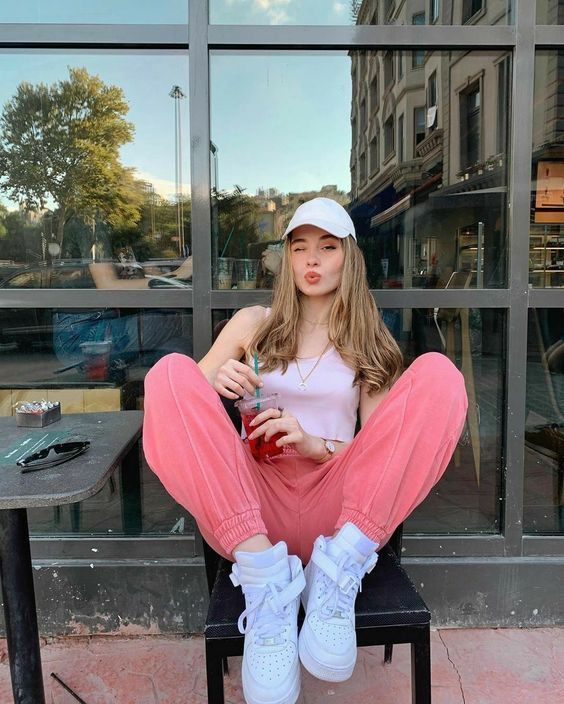 If you are already comfortable with basic outfits, it's okay! You still can wear it even on Valentine's day. But remember, you still have to adjust to the place too! Like wearing sweatpants and a cropped tank for a chill date like watching some movies or street walking. Then, put on a cap to level up your fashion style and also protect your head from the heat. If possible, choose an outfit that has a pink color to match this day.
Denim Skirt and Off-Shoulder Top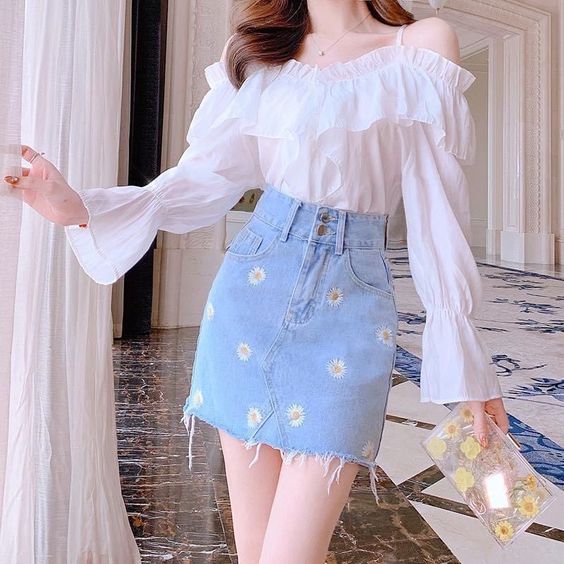 Certainly, we want to look pretty and feminine in front of our mates. And yes, outfits will determine your looks! Therefore, if you want to look prettier and more feminine, you could use denim skirts and mix them with an off-shoulder top. Now you get the look that you want without putting in a lot of effort. Maybe, you only need to give a touch of accessories to support your outfit look.
Off-Shoulder Dress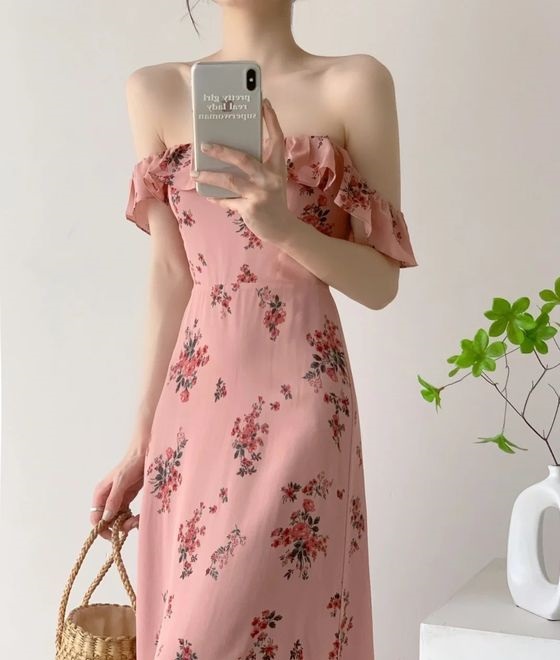 Our previous idea is for those who want to achieve a casual outfit. Meanwhile, if you want to be more feminine, we recommend you try an off-shoulder dress. This is the type of dress that can match any place that you want to go to such as a casual date, picnic, or even formal date.
Look Simple with Loose Pants
Afraid of looking tacky? A simple outfit will save your life! Use loose pants with a cropped tank. Or you can change it with another top that you feel comfy. Next, to look glamorous, you can play with accessories but prefer that have a simple design and are made from gold. And you're ready for the date!
Look Chic with Span Skirt and a Blazer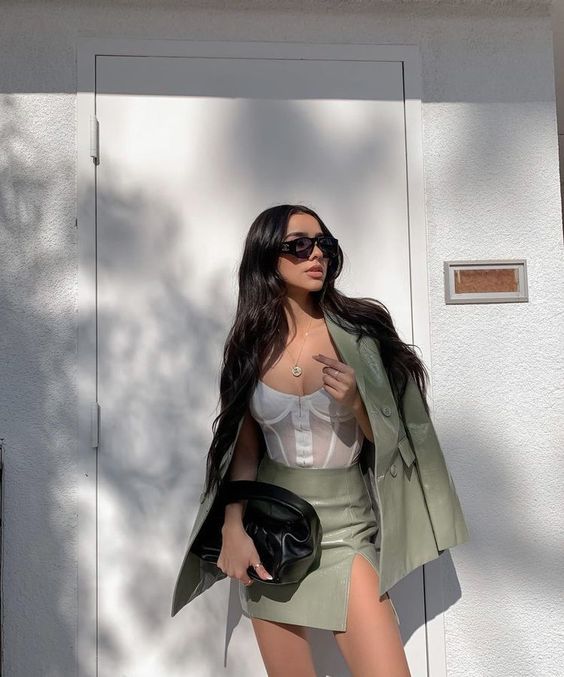 Who said a cute outfit can't achieve a chic look? That's wrong because when you wear a span skirt and a blazer you will get both looks. We suggest you wear a corset tank top for top to make your outfit look more stunning. Don't forget about the accessories and boots! I believe you will get the attention of your mate.
Puffy Sleeves Dress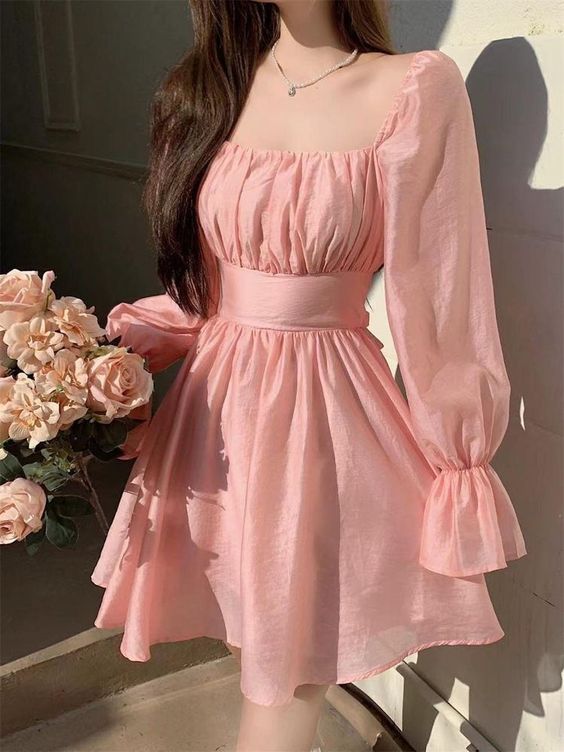 Don't like the off-shoulder dress? Don't worry, we still have a lot of dress recommendations and one of them is puffy sleeves dress. I guess this dress is very suitable to wear for a petite girl because it can give a cute look. Furthermore, wear a simple design necklace and earrings as the accessory to improve your style. This outfit gonna be suitable to wear for going to the garden, beach, or dinner date.
Look Girly Wearing Ruffle Skirt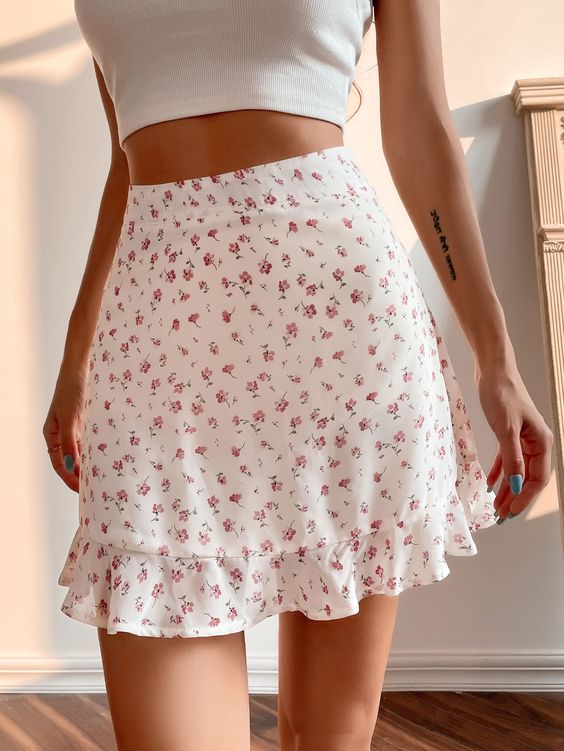 Look girly wearing a ruffle skirt. If you are still feeling confused about mixing and matching this fashion item, here are tips from us! You can style it with a shirt, tank top, cardigan, blazer, puffy sleeves top, or any kind of blouse. Yes, because this skirt is very universal that can be in with any kind of top. Therefore, you have to know where the place of your date to prevent the wrong costume.
Pleated Set Outfit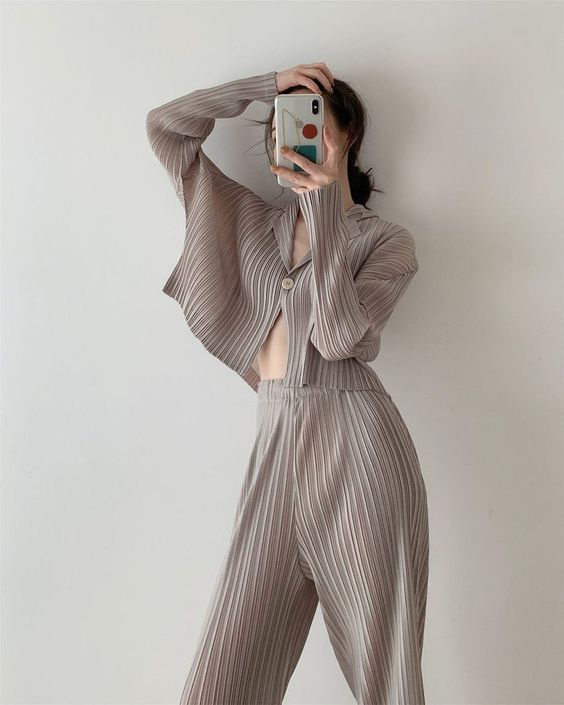 Are comfy feels the main thing about wearing clothes? I agree with your thought! Because you have to feel comfy first, then you can get the confidence. So, you need to try a pleated set outfit! As you know, the pleated outfit is usually made from cotton fabric which is perfect to give a comfy feel. Like the picture above, the combination of a pleated cardigan and loose pants is going to be great to wear for a casual date such as street walking.
Look Playful with Jumpsuit and a Turtleneck Top
Having a playdate with your mate? So, you have to wear an outfit that will make you look playful without leaving the cute sides of you. And mixing a jumpsuit with a turtleneck top is the solution for you. Choose the pink color for the jumpsuit to support this valentine's day. Furthermore, make your outfit more stylish with some beads accessories, or choose accessories made from gold or silver for classy styles.
Halter Dress for Dinner Date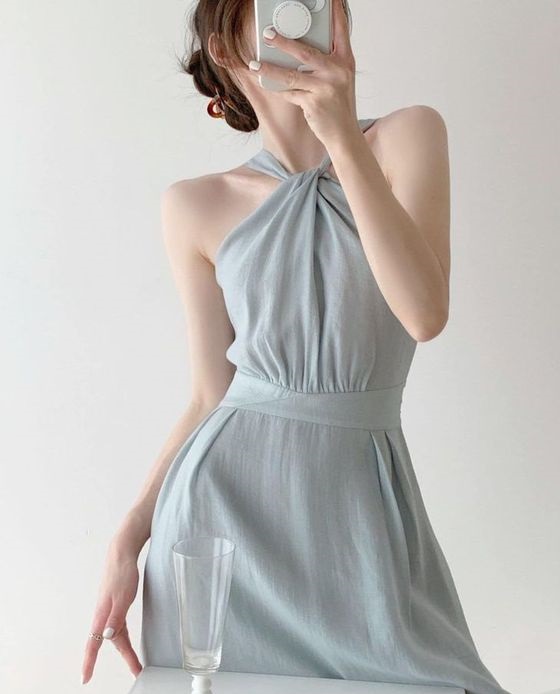 Hearing about the dinner date, I'm sure we will think the same! Yes, fancy restaurant! That's why we have to choose an outfit that can give an elegant and classy look. And our choice falls into a halter dress because the design of this dress is simple and will make your body silhouette looks pretty. Then, if you want to wear accessories, make sure you don't use necklaces that will make your outfit look too much or even tacky. Just going on with earrings, bracelets, or hair accessories.
Style Ripped Jeans with a Cardigan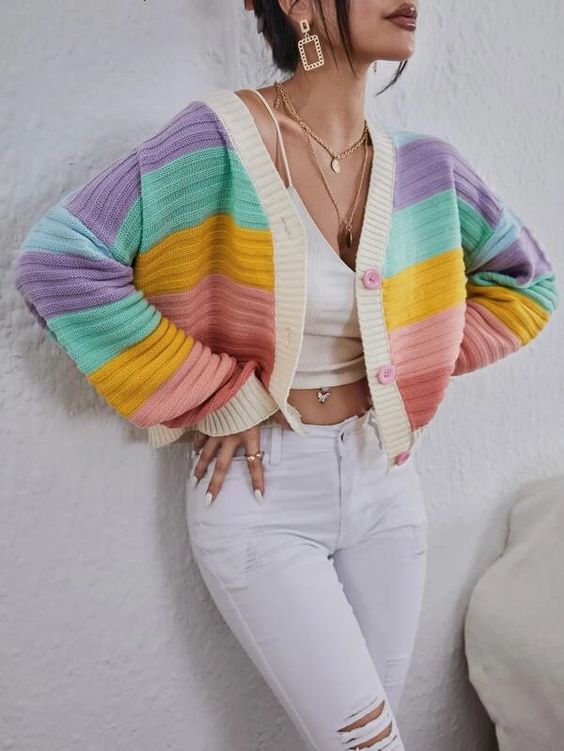 Another simple outfit to wear on your valentine's day is ripped jeans and a cardigan. Who doesn't know about this combo which never fails to make the outfit look fashionable? Moreover, when you combine it with a cropped tank, I guess it's gonna be the best combo to wear! Meanwhile, for the shoes, accessories, and bag part, you can adjust with your mood or favorite.
Overall Dress and a Shirt to Look Vintage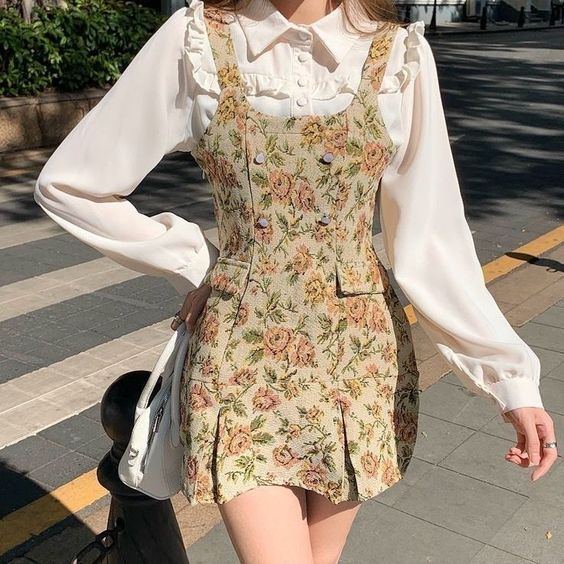 If you love wearing 90's style and feeling confident with this style, you may style the floral overall dress with a shirt. Make sure, you choose the right tone color that can show the vintage style like khaki, brown, or nude color. Complete your outfit look by wearing a beret hat, high-knee boots, and a shoulder bag.
Look Boyish with Baggy Jeans and Sweater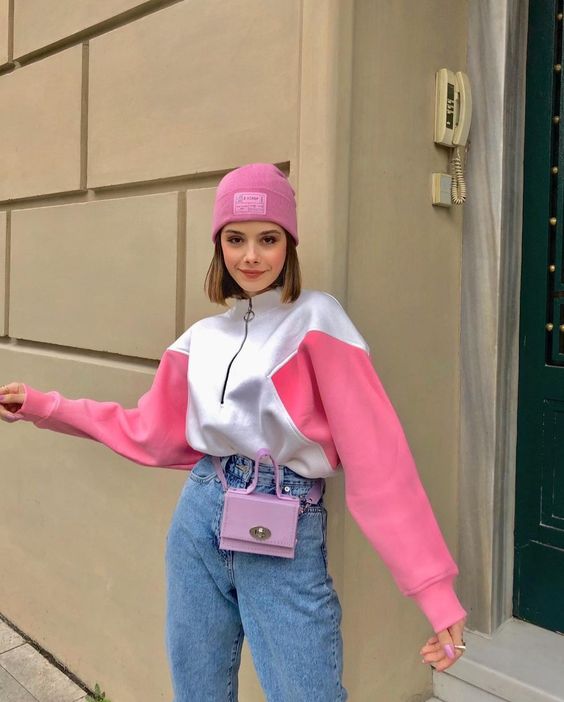 Boyish style to wear on Valentine's day is impossible? Maybe this idea will change your mind! Try to mix the baggy jeans with a sweater. Furthermore, use a beanie hat to improve your fashion style. Wear this outfit for a casual date like going to the café, hangouts, or going to theme park.
Use Ruffle Dress for Garden Date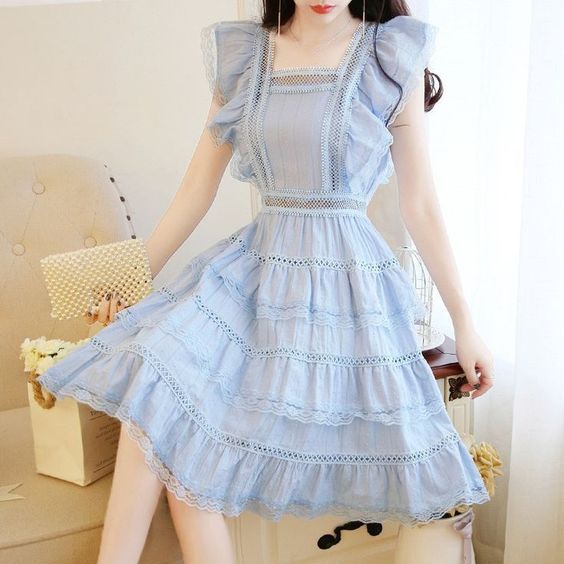 Isn't having a garden date such a romantic thing? Yes, you can see and enjoy the beautiful flower with your mate. Or even you can have a picnic in that place! Sounds fun, right? You can wear a ruffle dress that has a beautiful design that makes you look gorgeous like the flower bloom. Don't miss out on the accessories to support your sweet look.
Mix and Match Jeans with Puffy Sleeves Top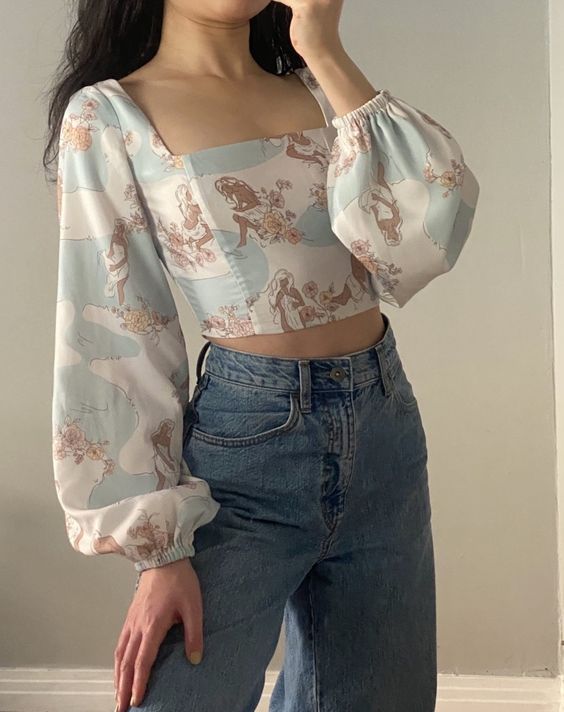 Just want to hangouts with your mate on this romantic day? Why not? You can adjust this occasion by using jeans and a puffy sleeves top for the outfit. Jeans will give you a casual look, meanwhile puffy sleeves top will create feminine vibes. Isn't this outfit great to wear for this kind of date?
Style Tennis Skirt and Fur Jacket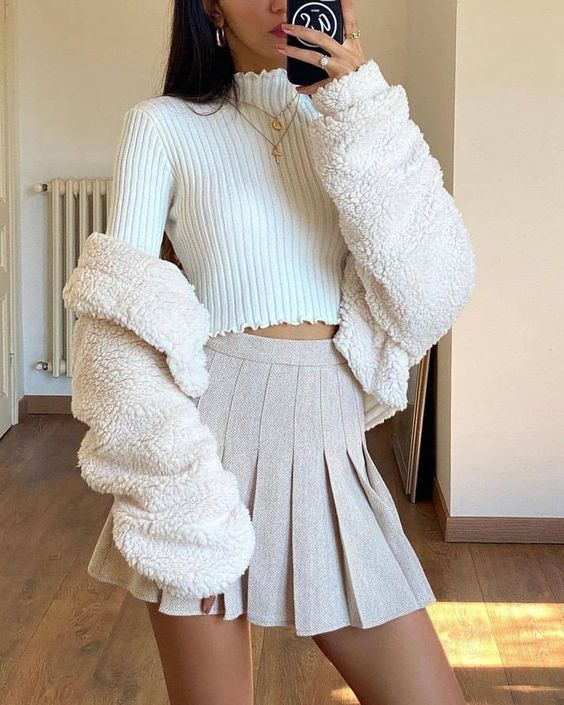 Feel worried because, on valentine's day, the weather is cold? Don't let the weather as a barrier to your special day! Just wear a warm outfit like a fur jacket. You can make it stylish by combining it with a tennis skirt for bottoms and a knit turtleneck as the top. Furthermore, wear high-knee boots or sneakers for the shoes. And you will feel warm all day long!
Look Classy in Satin Dress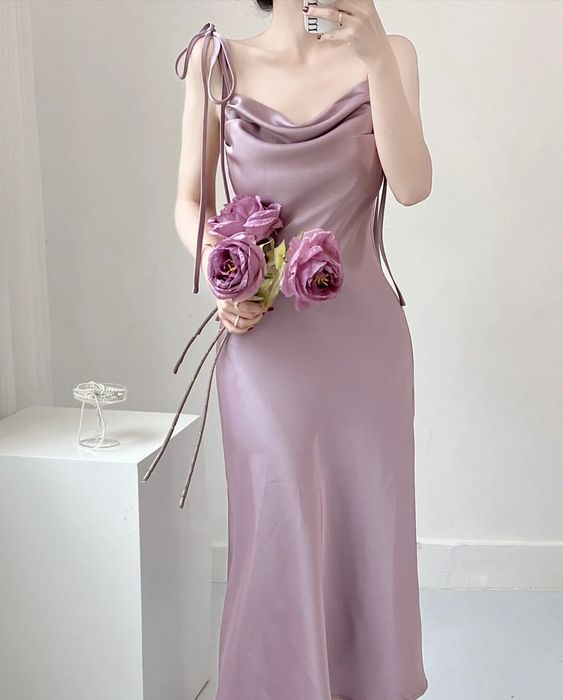 Still, need more ideas for the romantic dinner outfit? Why don't you put a satin dress on your list? It's because the classic design and the glossy fabric of the satin dress are very suitable to make you look classy on this date. You only need to pair it with ankle-strap heels and a clutch to slay this dress!
Get the Casual Look by Wearing Jeans and a Shirt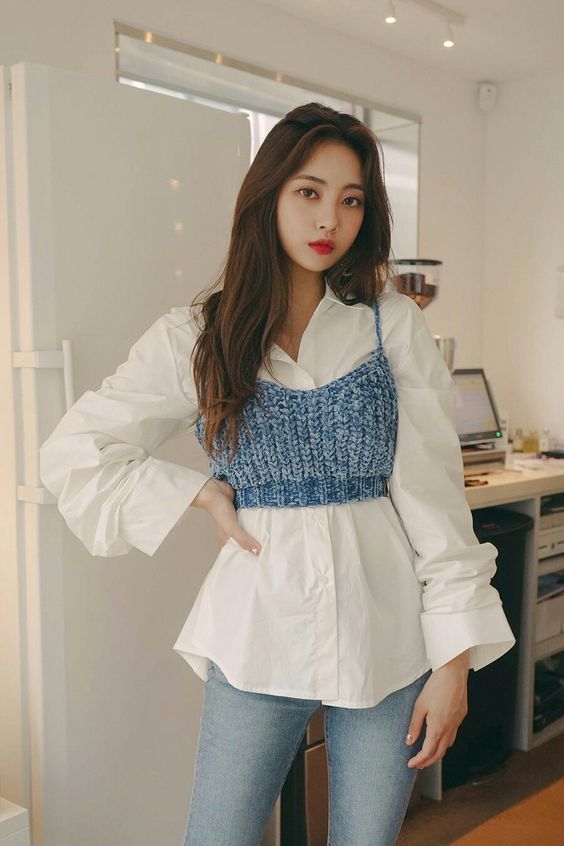 Even though we already give some outfit ideas that look casual, there's the best idea to nail your casual look. Mix and match jeans and a shirt! If you feel it looks ordinary, you can add a cropped tank top that is made from tweed fabric to make this outfit look extra. Furthermore, use gold accessories if you want to create glamorous vibes.
Bodycon Dress and a Fur Cardigan
Next is the outfit that can make you feel sexier when you wear it which is the bodycon dress! Because it is designed to fit your body which can show your body shape. If you do feel not confident with your body or need something to make your body warm, you can put a fur cardigan as the outer. Use this outfit for hangouts, café dates, or any casual date.
Wear Short Jeans and a Cardigan for Playdate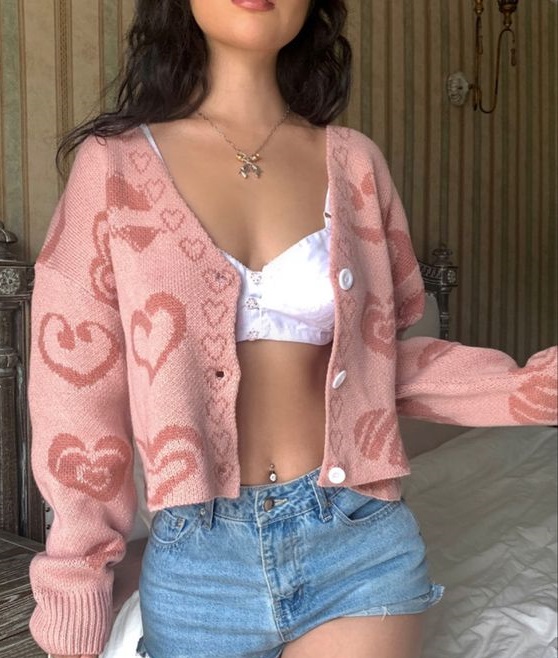 Back to the simple outfit, this is for those who want to look simple and have a beach date. Because this outfit will not make you look too much and hot. Mix short jeans and a cardigan for the outer, then add a cropped tank or sports bra as the innerwear. Of course, if you want to prevent looking too much, you have to avoid the layering technique on the accessories part. Furthermore, use sandals to finish out your outfit look.
Tweed One Set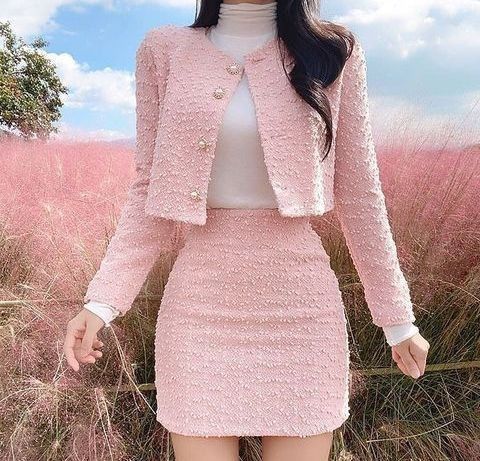 Who's feeling prettier if wearing a tweed outfit? I think we are the same! I don't know what makes this tweed fabric so special until it gives us a gorgeous look. Such the tweed set outfit in the picture above, the combination between span skirts and a cropped blazer looks very amazing. Could you imagine when you wear it for your special moment?
Short Pants and a Blazer
Mix and match short pants and a blazer to get the casual formal style. If you feel this outfit makes you look bored, we suggest you add a scarf tube top for the innerwear. Pairing it with sneakers and a handbag, now you're ready to nail this valentine!
Balloon Sleeves Dress to Look Cute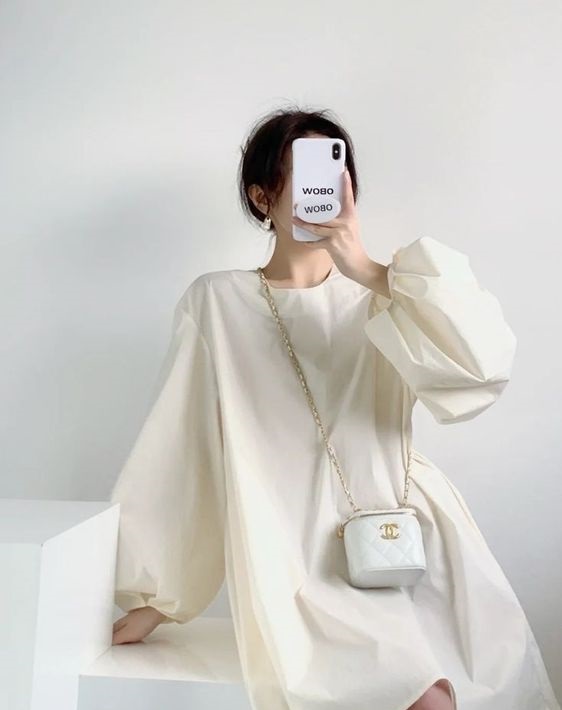 This idea gonna make you look cuter and younger! Certainly, wearing balloon sleeves dress! The unique design of this dress gonna make you look attractive. Therefore, we highly recommend this dress for those who are still a teenager. Mix this dress with a sling bag and lace sandals to look more fashionable.
Make Your Outfit Elegant with Pants and a Wrap Shirt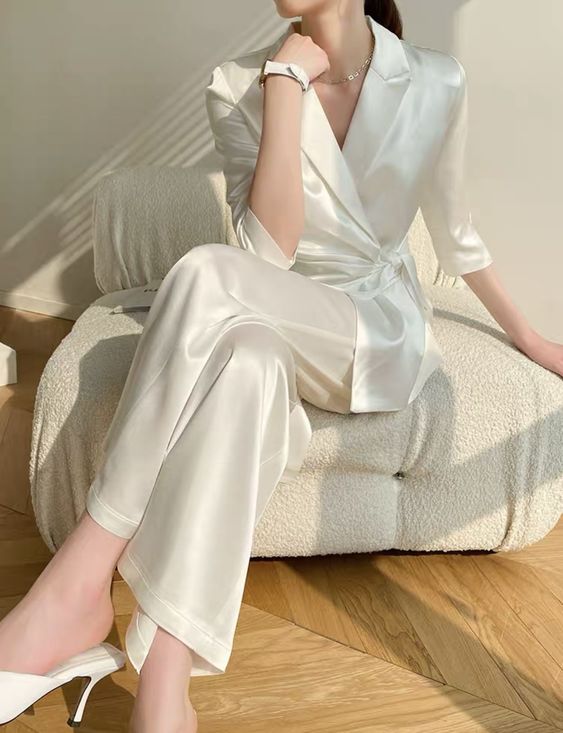 If the previous idea is suited to teenagers or people who want to look younger. Meanwhile, this idea is for those who want to look mature and want to achieve a girl boss look. You can wear pants and pair them with a wrap shirt. It's much better if you can choose an outfit that is made from satin fabric to create an elegant look. Furthermore, use heels and a leather clutch that makes sense with this style.
Midi Split Skirt and Blouse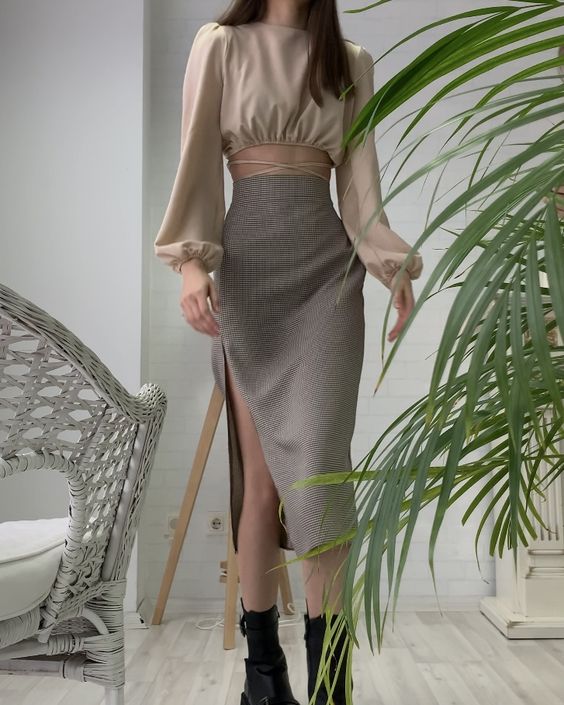 This going to be your outfit if you love Korean style! Who doesn't know about using a midi split skirt and a wrapped blouse can make you look like a Korean girl? To support the style, use simple accessories because the Korean style is more towards the simple outfit. Lastly, make your outfit chicer with ankle boots or marry jane heels.
Baggy Pants and a Long Cardigan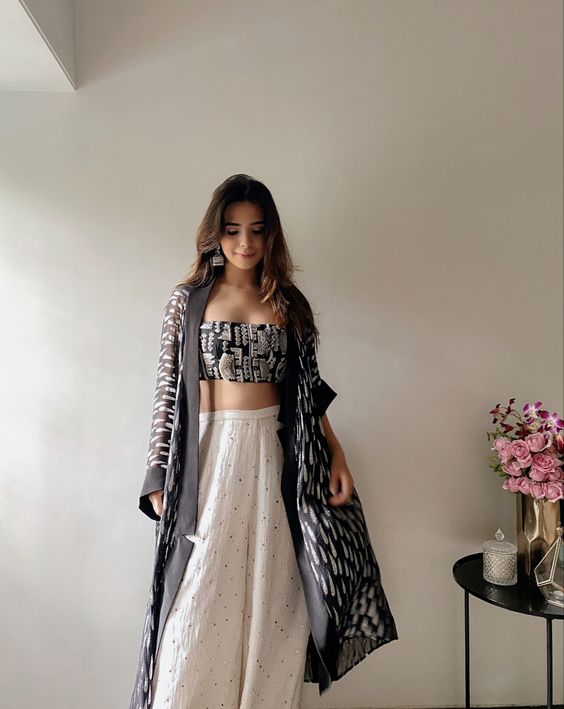 This gonna be the best beach outfit ever! Moreover, this outfit is not too open, so very perfect for those who wear hijabs too. Okay, all you need is baggy jeans and a long cardigan. Meanwhile, for the innerwear, you can adjust to your needs. Try to choose a fabric that is made from rayon because it will give a cold feeling. Furthermore, use boho-style accessories for the last touch of this outfit.
That's all about 27 cute outfit ideas to wear on Valentine's day. Is there an idea that looks interesting or matches your style? Make sure you already consider all aspects before deciding to wear the outfit before going on dates. I hope this topic will help you to find your perfect Valentine's outfit!