Drufashion.com – With the sun upon us and the clear sky is inviting us to join the cheerful summer days. It's hard to resist not going outside to feel the warmth and serenity of the sweltering days. Especially, when the covid-19 pandemic makes us blue by having quarantine time for so long. There is nothing better to go outside and reconnect with nature. Taking the fresh air outside while maintaining health protocol to have a safe vacation for all of us!
Figuring out what types of trendy summer outfits that proper to the situation in 2021. We found out it must be a concern on the casual style with the renewing aspects to give a punch and such a refreshing look. We call it the smart summer outfits ideas for men need to be on your list to make your laidback summer style.
The benefit of styling smart-casual summer outfits is giving you a full comfortable feel without feeling underdressed and disrespectful. Let's gain confidence in casual summer clothes without being less trendy. Without thinking too much, let's dig into the smart mix and match casual summer outfits for men down below!
Smart and cool summer look with a suede jacket!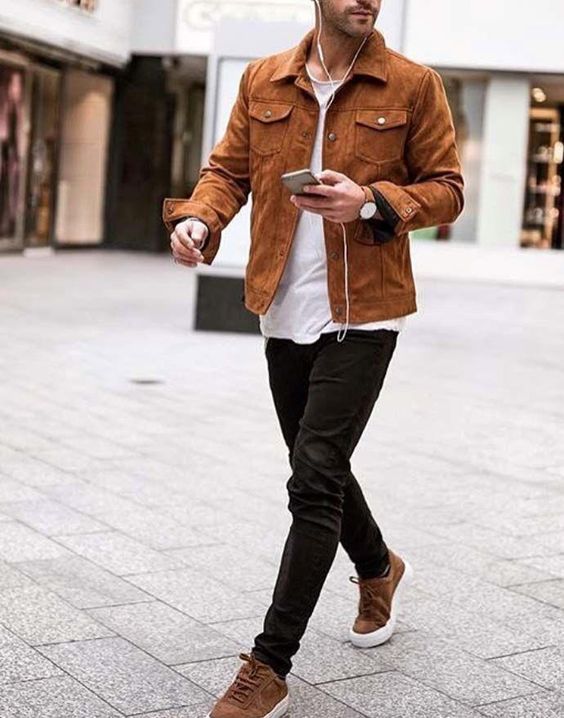 Summer is indeed warm and sometimes extremely hot, it makes us feel to pull off all the jacket in our wardrobe and change it with some light outfit. But, wait, there is nothing wrong to style the warm weather outfit ideas with a jacket! The proper and cool jacket that suits the style of hot summer days is a suede jacket!
Matching up the casual white tee and black jeans will give your appearance less busy. And wrap your casual summer outfit with a statement cool jacket, the brown suede jacket. It wraps up the casualty to be extremely stylish. Don't worry about the hot weather, it is super comfortable to style on a sweltering day! When you achieve mix and match casual items that pack with outstanding outfits. There, you exactly know how to dress smart casual summer outfits are, keep rocking your style men!
Chic casual summer fashion look!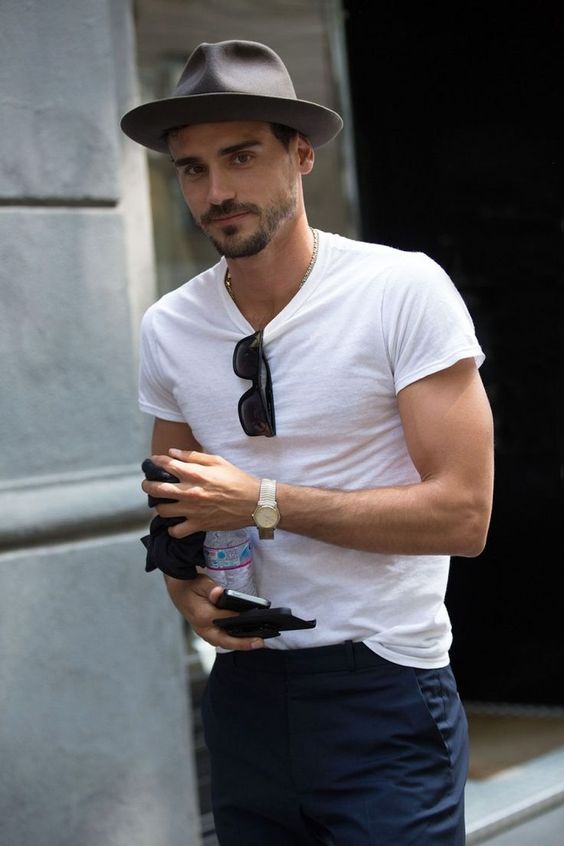 Men, you can make casual clothing to give you a chic summer look! There is nothing better to invest our money with some basics items to make a versatile wardrobe. In addition, a few accessories and a few statement outfits can be added to your basic wardrobe checklist. That will give a good punch to your casual look and make you even more trendy without overdoing the style!
All you need to get this chic summer fashion look above is matching up the white cotton tee and navy trousers. Then wraps up your casual item clothing with a chic accessory statement, there is a dress hat that is perfect to style your summer vacation look! In addition, the black sunglasses and stainless steel or golden watch can liven up your look, believe it you look awesome!
Fancy summer look with styling shorts and a sweatshirt!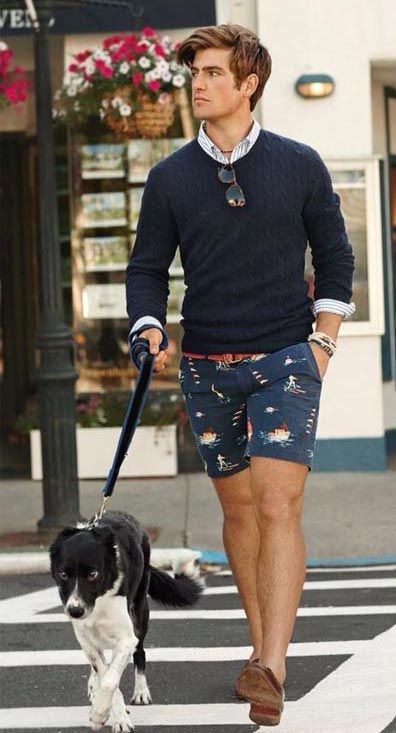 Another smart-casual summer outfit idea for men is appearing fancy look! Taking out your men's summer shorts in your wardrobe and start to match them up with cool upper outfits! Belted navy short pants are paired with the striped shirt inside and then layer it up with a solid and darker color tone outfit, navy sweatshirt! Tuck sunglasses on your collar, wrap the elegant watch on your arm. And a pair of leather sandals accompany your laidback summer style. So, it's possible to styling short pants to look stylish in the summer. While giving you comfort, a nice layering concept gives a proper look for a trendy casual summer look. Walking on the street and hanging out with friends outside with these types of outfit essentials is quite impactful and cool!
Get a casual look with a polo shirt!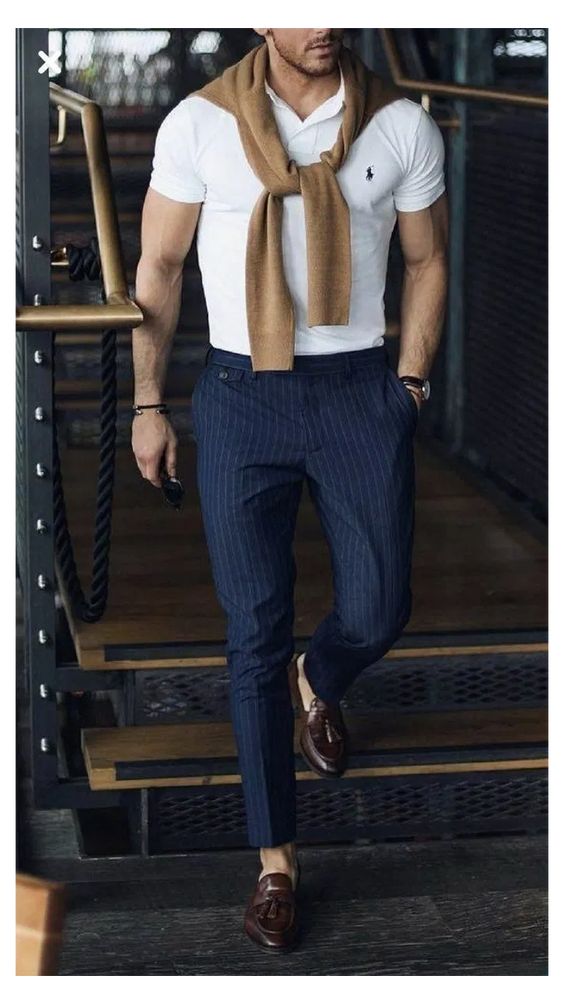 There is a cool shirt to style men's daily casual look idea, it definitely falls into a polo shirt! Open down the button collar and let this neutral while polo shirt stretches perfectly to your athleisure body. For the bottom outfit, you can take striped navy trousers. These two combinations give you a casual look, on the other hand, you've got a semi-formal look by styling a summer outfit like this. For the footwear selections, we cannot go wrong with the shiny leather shoes. It gives you an impactful masculine outfit idea, do you love this cool summer outfit?
Embracing the sweltering day with a quirky floral shirt!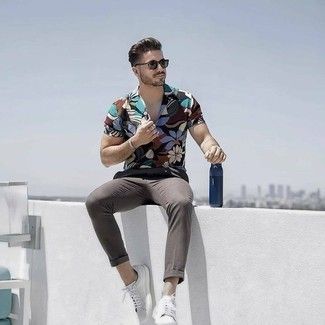 Embracing the cheerful season of the year with a quirky flora shirt! there is nothing better to wear a floral shirt in summer for guys. Choosing the lightweight and breathable floral shirt will make you feel comfortable during the hot summer day. Besides that, if you getting bored with the plain and simple tee. Wearing a floral shirt will get rid of the casualty and give your look more dashing! For the bottom outfit, you can wear long chinos pants and a pair of simple white sneakers. We guarantee, these essentials summer outfit is quite cozy and also trendy both at the same time!
Cool summer fashion look with a sweatshirt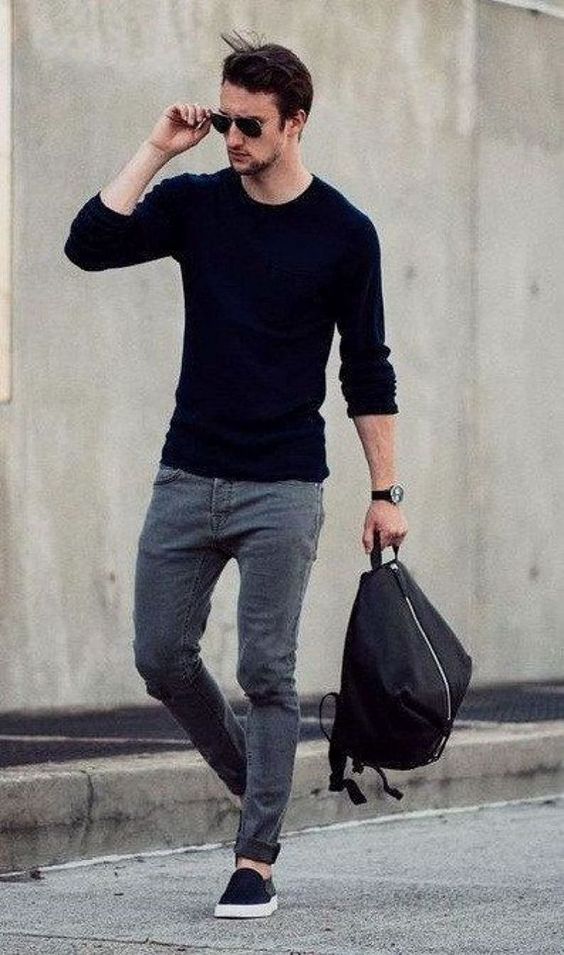 Another smart-casual summer look fashion idea we want to share with you is matching up the sweatshirt and jeans. We can go with a solid color tone sweatshirt for such navy or black. In addition, the soft color tone bottom outfit gives a nice saturation color tone look. A pair of sneakers gives you an easy-going look and a lot of comforts. Moreover, the simple accessories can be worn to stand out your simple look, the sunglasses and a watch look perfect to accompany your classy style!
Trendy youth summer look!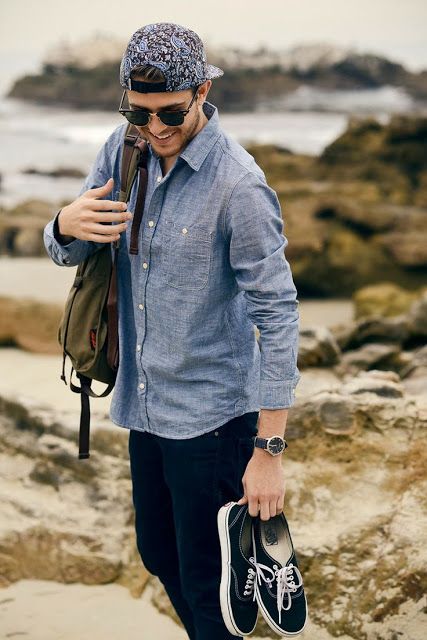 Pairing up the dark blue jeans with a soft blue shirt gives a nice soothing nautical fashion look. Wrap this youth-look by wearing a pair of canvas sneakers and a cool hat. The sunglasses are worn to give a laidback beach style. By having these essentials, you achieve a cool nautical look and trendy street-style fashion look! And this cool hat will give you a successful youth look!
V-neck shirt and neutral chinos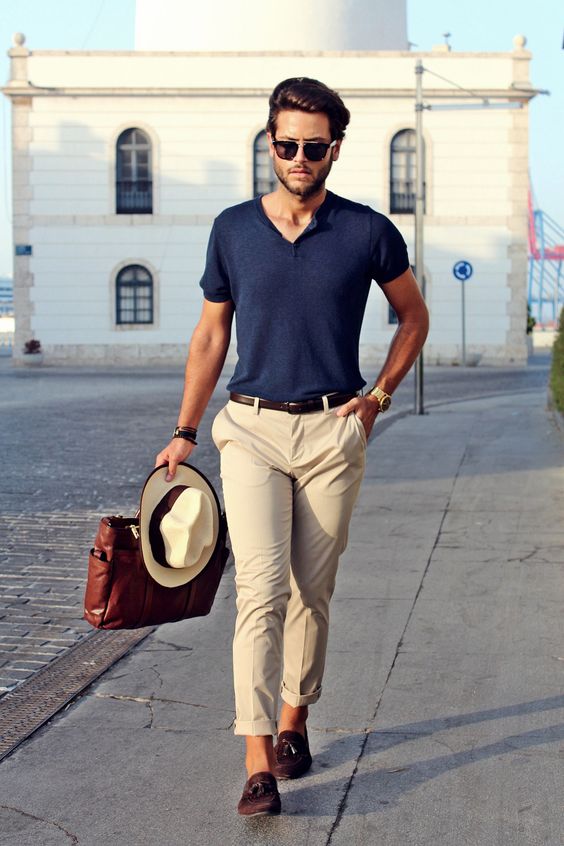 Another cool and comfortable shirt for this summer is a v-neck shirt. The combination of neutral chinos and a dark blue v-neck shirt is perfectly good. A belted pants will make you look less casual but still, you've got the laidback look with a tee. In addition, the leather shoes and bag can improve your masculine look! The summer hat and sunglasses can be worn to bold your warm-weather fashion essentials!
Layering concept for summer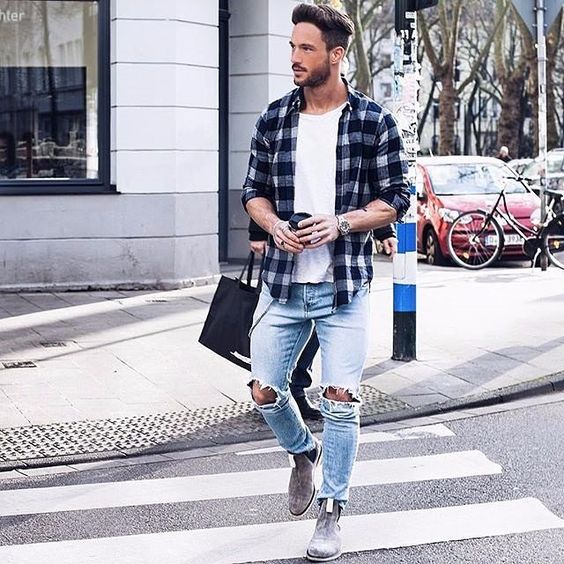 It is not a bad-wearing layering concept for summer! As long as you know the idea and the proper outfit for these hot days. You can wear a basic casual white tee inside and then layer it up with a plaid shirt. For a bottom outfit, you can take a washed denim jeans. To give a statement look you can wear a pair of leather shoes. Now, you have already achieved the trendy casual outfits style for your street style summer look!
Conclusion
Summer has come and offers the warm and joyful weather to come outside! Figuring out what types of outfits match this pandemic situation this summer, we have collected some of the best summer looks. We want to highlight some points about the smart casual summer fashion ideas above:
Summer outfit must be extremely lightweight
With the excessive hot sun during summer days, we need to wear something lightweight to keep our skin breath well. The cotton tee, rayon, is a typical cloth to wear during humid weather.
Super comfortable feature
We do need something super comfortable outfit to embark on the cheerful summer days! The cool fabric fiber will make us super comfortable during the hot summer days. In addition, the lightweight feature that we already highlighted above can support the coziness while styling the outfit.
Wearing simple accessories
Elevate your casual look by wearing simple yet impactful to bold your summer look. There are sunglasses, an elegant watch, and a summer hat. These are a few items you can wear to style a trendy summer fashion look.
Thus are our tips on choosing the casual summer outfit ideas we already shared with you. Basically, we can play on basic casual items and then wearing a statement outfit to create a trendy look. We hope you enjoy our smart casual summer fashion ideas we have shared with you. Have a nice summer holiday!