Drufashion.com – Summer, the cheerful warm sunny days welcome us, and the wedding bell ringing upon us! Many couples celebrate their wedding day on a beautiful summer day! The simple beach wedding style to the most elegant summer wedding decor. You have many privileges on all budgets!
The white-tone bridal gown looks so graceful when the bell is ringing. White brings an elegant, pure, and simply gorgeous look for every bride. The neutral color tone is also n perfect for the warm weather essentials. Having a white gown or dress is very impactful to create a soothing bridal appearance, oh so down-to-earth bride!
If you are going to held the wedding in summer, and when you need some preference of beautiful summer wedding dresses. Here we will show you some gorgeous wedding dresses, from simple, elegant, to the lovely white gown. After seeing some sort of summer bridal dresses, we hope you have an idea which one would you love the most to wear on your wedding day!
A-line bridal dress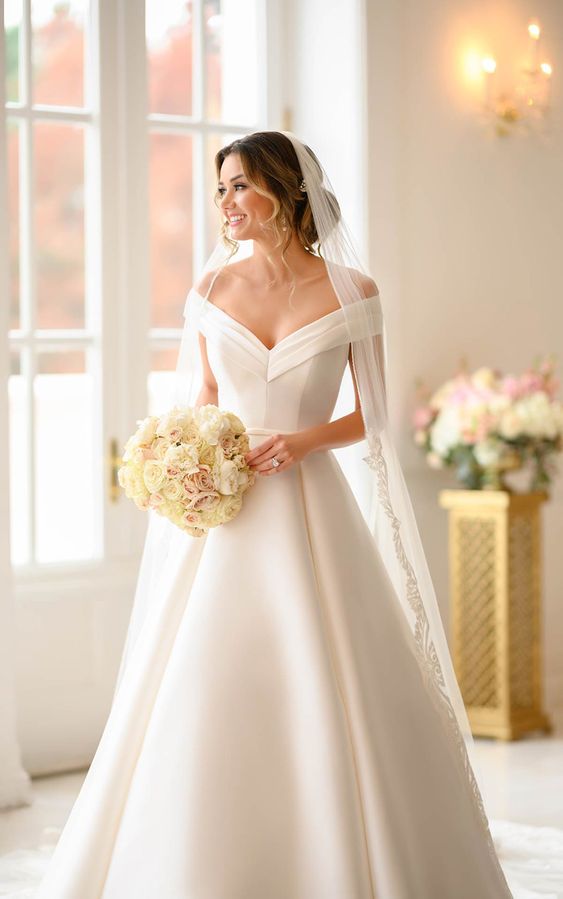 If you love something look simple but so impactful in creating an elegant look. Then this A-line white bridal dress might be perfect with your dream wedding dress! The off-shoulder style and the sleek white dress giving you a graceful wedding look. You can make it more lovely to wear a sheer top over your hair is quite gorgeous! The beautiful A-line dress style is perfect to wear for all women. If you have a weight issue, this type of dress will hide your fleshy legs. The upper waisted design will make your look curvier and shows your beautiful waist. This looks simple but elegant at the same time. If you want to have a simple line and design but looking so elegant, then this summer bridal dress suits you! Congratulation you've got the dream partner of your life and celebrate your summer wedding day with cheer and happiness!
Ball Gown Summer Dress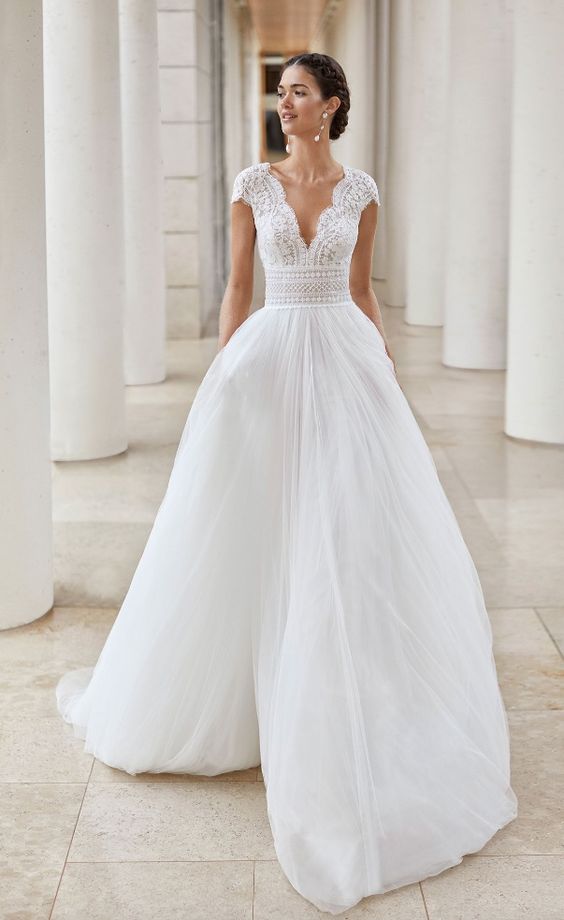 When you want to look fancy and being the queen of the day on your wedding day. The white ball gown will make you shine! Ladies, if you want your gown to look so beautiful but also comfortable to wear during a day in summertime, you can choose the best material to keep you in. Soft Silk is the best material to keep your skin comfortable inside. The silk also will bring out the classy look, so if you are choosing the quality material for your wedding gown. It supports the classy feature it could be. For the top side, combined with the embroidered and lace design give the pattern to your gown. So, it wouldn't fall to be a plain ball gown look. Don't forget to wear the wedding shoe heels that will make you look taller and gorgeous!
Sheath or column bridal dress with lace design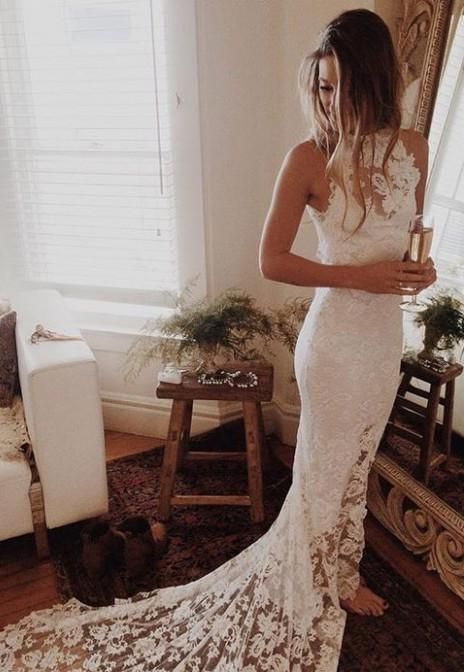 Another gorgeous but simple wedding dress for summertime is the column dress style. A quite different look in appearance with the ball gown. The column dress hands down with a simple straight design that showcases your beautiful body. If you have the body goal and want to show a beautiful bride's look, you can definitely choose this sheath dress. Completed with long lace sheer design make you look simple in the beautiful white dress!
Summer wedding dress on a budget!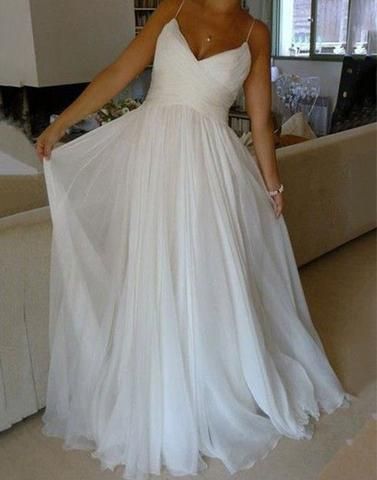 The wedding ceremony could be a lot of spending your money. Figuring out what type of budget wedding cause you want to keep it simple should be good. The most important thing on your wedding day is you feel happy surround by people you love! The beauty you are in the wedding dress feels special and memorable in your life. The 90 or 90000 dollars you would spend on your wedding is your decision with your partner. But, if you love something simple and do not drain your wallet too much at the wedding ceremony. we can choose the simple on a budget wedding dress. This white chiffon dress with straps design is pretty simple. It's enough to have a simple beach wedding theme. Especially if you only gather the closest people to your wedding. This dress is pretty enough and worth wearing!
Elegant minimalist wedding dress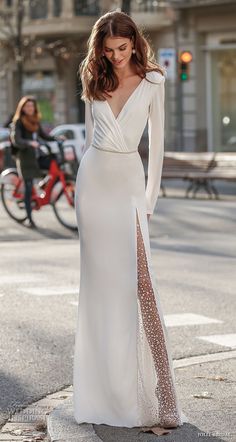 Some people love to show lots of decoration on their wedding look. And half of them love to stand in the simplicity but impactful elegant look! Which one are you? To keep a simple and comfortable outfit for your summer wedding look. You can choose a straight and lightweight satin dress. With the sheer design split on your legs. That keeps you look beautiful and gorgeous in a minimalist white wedding dress! Accompany with the natural makeup and a few accessories that will make you look classy in your minimalist wedding dress!
Luxury lace mermaid bridal dress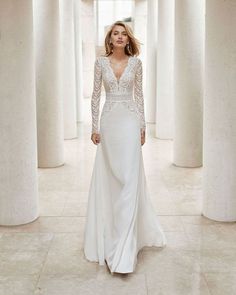 As we alluded to earlier, the wedding ceremony is the special day when you are involved with your beloved heart in solemn promise. Every person who is already married will remind their beautiful wedding day. To give you an outstanding look on your wedding day for the first and the last time in your life. You can choose a gorgeous wedding dress. Capturing your awesome look since the day you are gathered with your husband and being a queen of the day. This mermaid lace dress is perfectly designed that fits your body. The white color tone makes you look so down-to-earth. Then, the beautiful lace design gives a nice trendy bridal look. In addition, the mermaid tail gives more impression to your whole look. Walking straight to your beloved one with the beautiful dress will make you look confident!
Conclusion
Thus are some of the best stunning summer bridal dresses we have shared with you. There are still lots more awesome wedding dresses we could possibly make to create a cheerful summer wedding look. There are some simple and budget wedding dresses. Half of them are looking stand-out wrap in the classy expensive bridal wedding dress look. Figuring out what types of dresses you want, we suggest you have a deal with your partner, and choose based on your budget. The most important thing is that you feel happy at your wedding and celebrate it with your family and close people!