Girls, what kind of your favorite outfit? Or do you have a safe outfit that could be worn when you feel clueless? Of course, almost every girl has it. If you're asking me, I will answer about the outfit that looks basic and can be mixed and matched with any kind of outfit. And the very important is it can use for any occasion.
If you know what I mean, I think you already know what kind of outfit it is. Yes, exactly! What else if not a bodycon dress? I thought it already being essential outfit for almost every girl because you can achieve any kind of style that you want whether a girly or boyish look. Furthermore, you can also wear it for casual until a formal occasion.
The key is just to mix the bodycon dress in the right way! So, we want to share about 22 ways to wear your bodycon dress for any occasion. You have to be thankful to me because this idea is gonna be a lifesaver. I can feel your excitement, that's why we will straight to the topic!
22 Bodycon Dress Outfit Look for Any Occasions
Bodycon Dress for a Party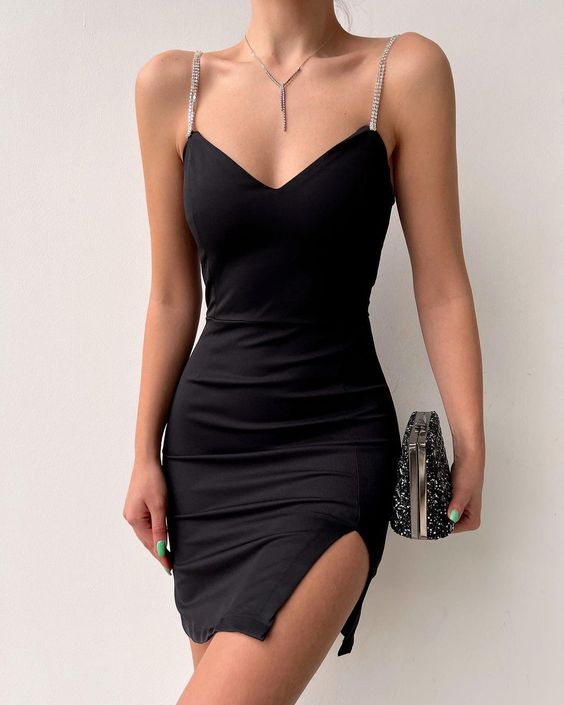 First, we're gonna discuss outfit look for a party! If you just want to go to a casual party or just have a night out with your girls, you may use only a bodycon dress. Just give an accent of necklaces or something that looks sparkly to get the glamorous vibes. Furthermore, add a sequin clutch bag for the final touch. Simple but will make you look perfect!
Bodycon Dress with Shirt for The Office Look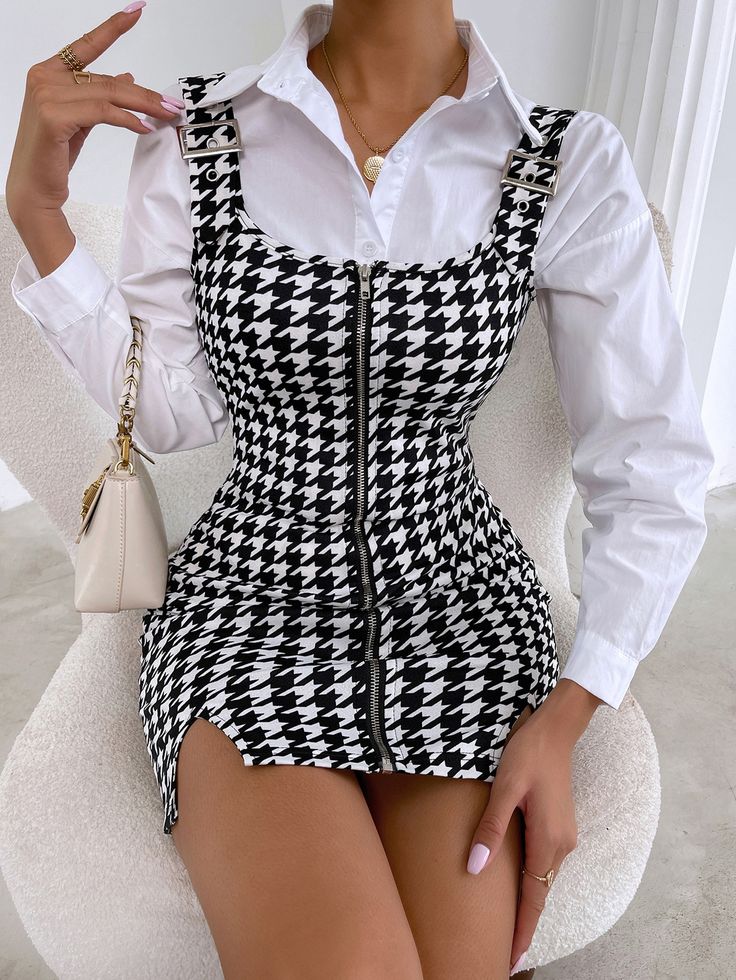 Wear a bodycon dress for work? Obviously possible! Just add a shirt to make it looks casual. There are two ways to style your shirt with the bodycon dress! First, make it as the inner top as you can see in the picture above. Second, you can style your shirt for the outer top. Maybe if you want to look more formal, you can prefer the first style.
Long Sleeves Bodycon Dress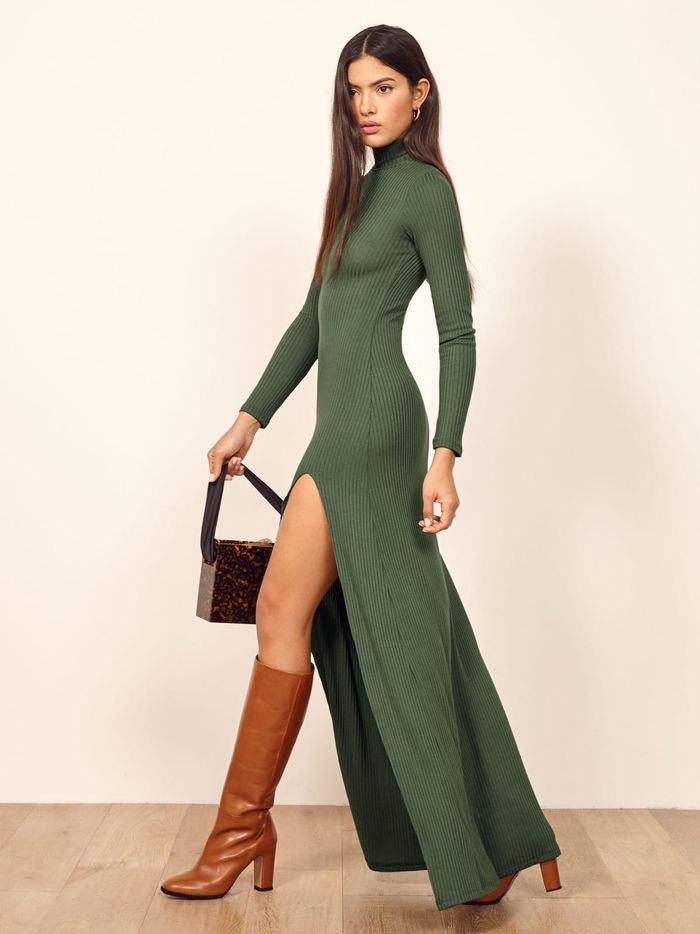 Long sleeves bodycon dress will be great for those who have a petite body because it could give a taller illusion. Besides that, you can wear this outfit for any occasion like hangouts with your friends or attending a formal event. Therefore, you can adjust the shoes and the bag based on the occasion. Make sure it won't make you look tacky.
Style Your Bodycon Dress into a Sporty Look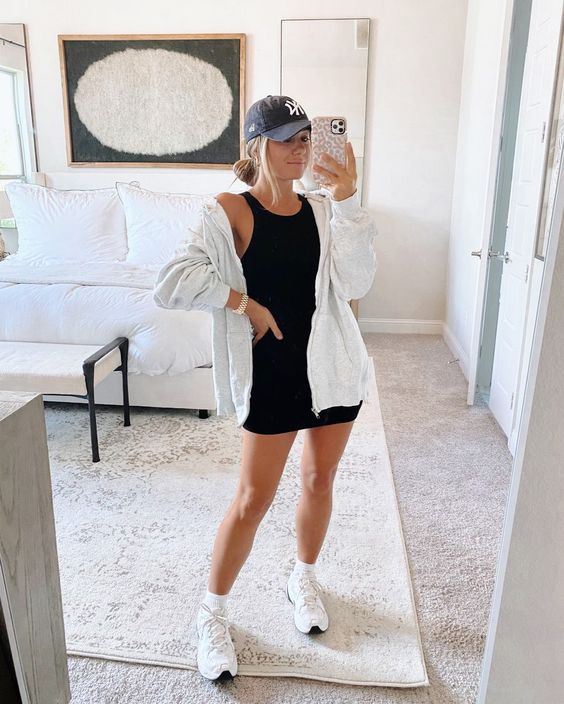 The reason why I really love to wear a bodycon dress is we can style it based on our mood or our favorite style. So, for people who like a sporty style, you still can go on with the bodycon dress. Furthermore, mix it with an oversized jacket or cropped jacket. Just choose which kind of jacket you like! Don't forget about the cap and backpack to complete this look. This kind of outfit might be suitable to wear for exercise or chilling out at the café.
Wear Sneakers to Get Comfortable Feels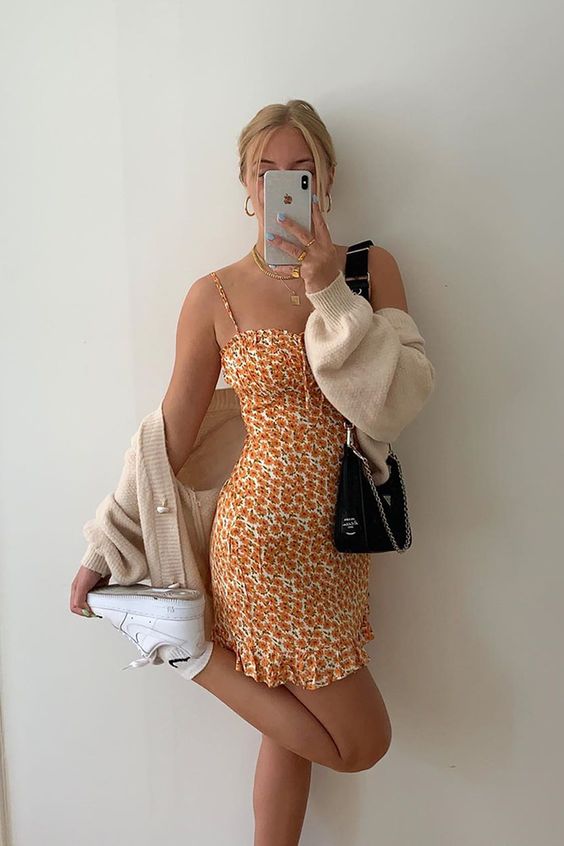 Who said a bodycon dress can't be mixed with sneakers? Conversely, it will make your outfit looks great! Besides that, with sneakers, you can feel comfortable having a long walk and will give you a casual look which perfect for hangouts with your friends. So, don't be afraid anymore to wear your sneakers in this dress.
Combine with Leather Jacket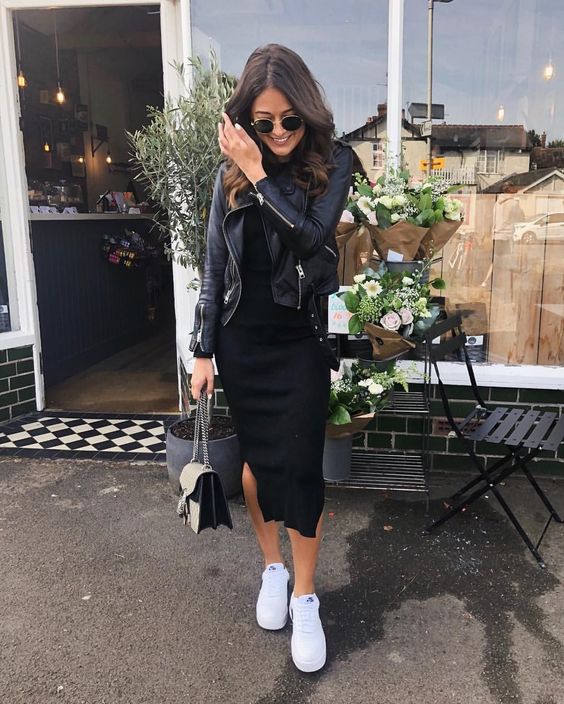 If you want to get a boyish style, you need to use a leather jacket as the outer top. Don't worry, it wouldn't make you look weird, even if it will give you a chic look! Then, choose sneakers to support your style. Don't forget about the accessories that can liven up your fashion for a while and also give you a fancy look. Wear this outfit for hangouts with your friends or just having a street walk.
Belt to Shape Your Body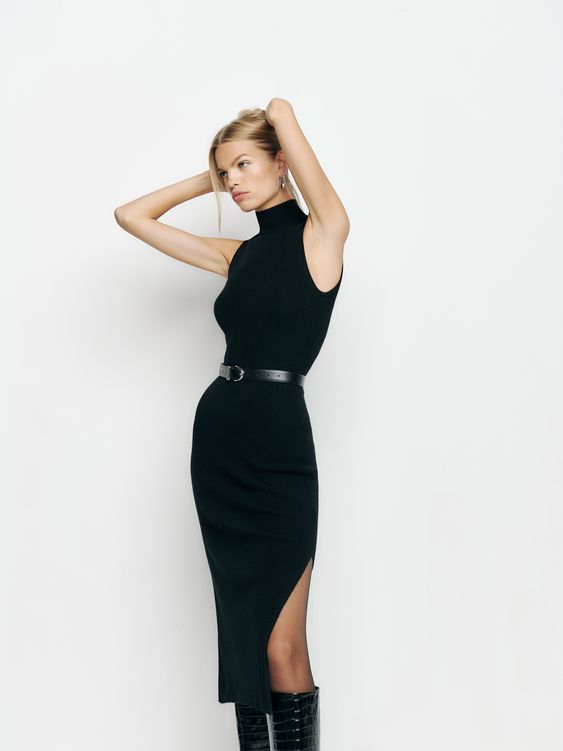 Although bodycon dress already shapes your body, I guess you still need a belt to define it. Another benefit of wearing a belt is it will make your outfit look classy. So, make sure you choose the right style of a belt to prevent looking too much or tacky. Maybe you can prefer that has a simple design, but if you are brave enough, maybe a gold or silver belt can be the best choice.
Look Formal by Adding a Blazer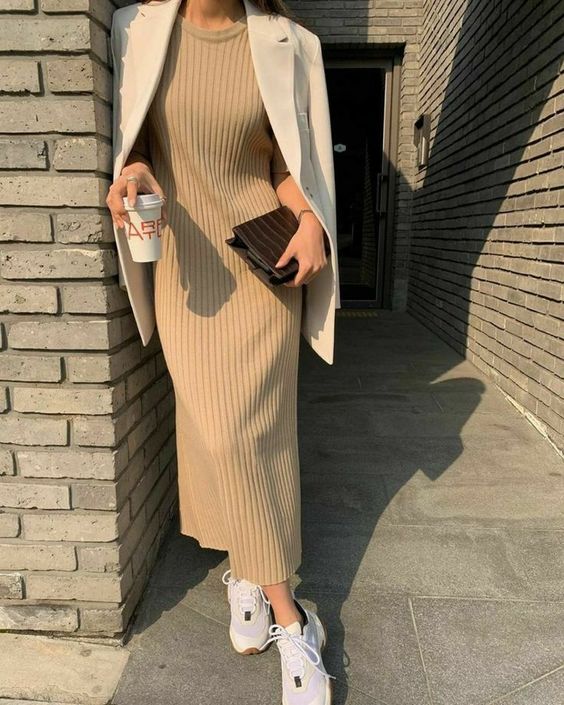 Besides wearing a shirt, wearing a blazer will help you to achieve a formal look too. Not only that, adding a blazer to your bodycon dress will give you a different look than using a shirt. Therefore, you can wear this outfit style for attending a formal event. But if you don't have any special occasions, it's okay to wear them for hangouts with your friends. Just make sure the place that you want to go to is suitable for this look!
Puffy Sleeves Dress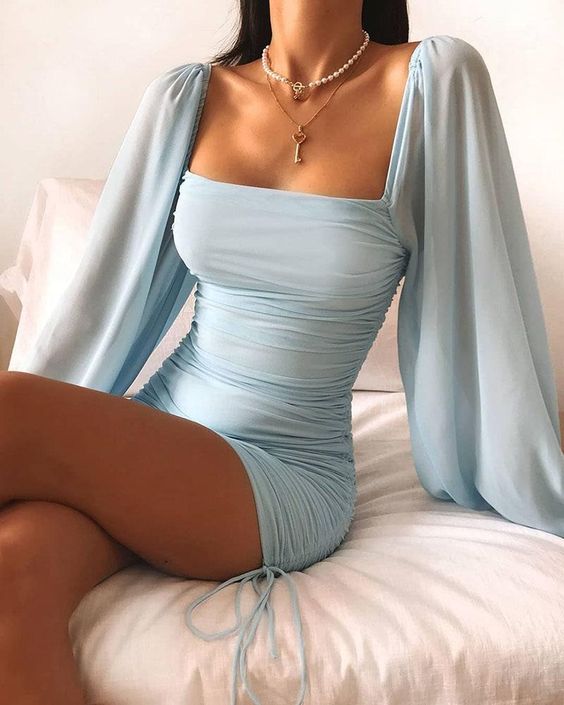 This is the most trendy bodycon dress in the past year! Yes, puffy sleeves dress. I know why this dress become so much more popular than other bodycon dresses. It's because the design looks vintage, can shape your body perfectly, and the sleeves could hide your big arms. Am I right? Furthermore, this puffy sleeves dress can be used for any occasion. So, what are you waiting for? Go have this dress now!
Look Elegant in Satin Bodycon Dress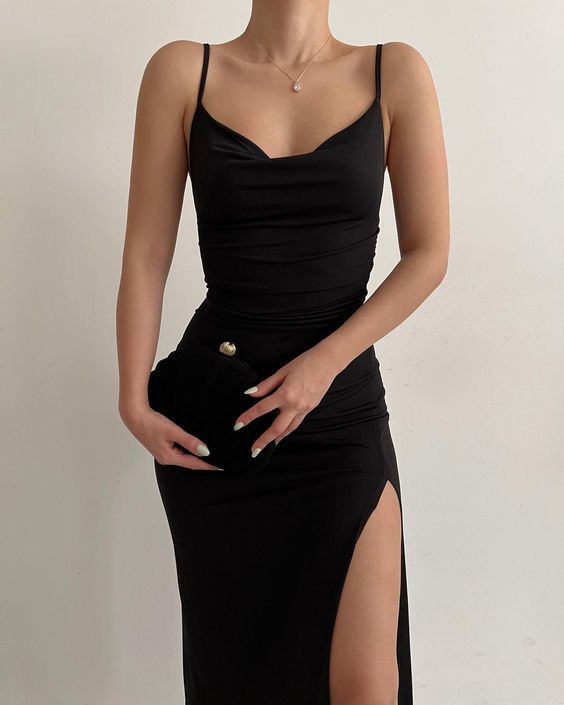 If you want to get the elegant look, you only need a satin bodycon dress! I guess this is one of the dresses that you should have at least in your wardrobe. Because it will never fail to attract everyone around you. The fabric and the design of this dress are the perfect combinations ever. If you wear this dress, you don't need to put a lot of effort anymore, just add simple design accessories, heels, and a clutch then you're ready to slay the party!
Use a Turtleneck Top as The Inner Top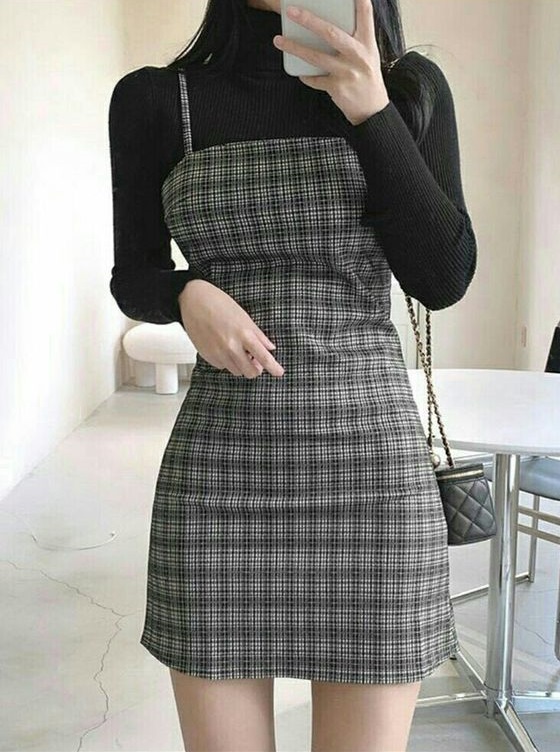 This idea is adapted to the teenager's Korean outfit. You can style the bodycon dress with a turtleneck as the innerwear. But we do not recommend wearing this outfit in hot weather or tropical countries. So, just wear it in the autumn, winter, or when the weather feels cold. Furthermore, finish out your outfit look with a sling bag and you're ready for going out!
Wear High-Knee Boots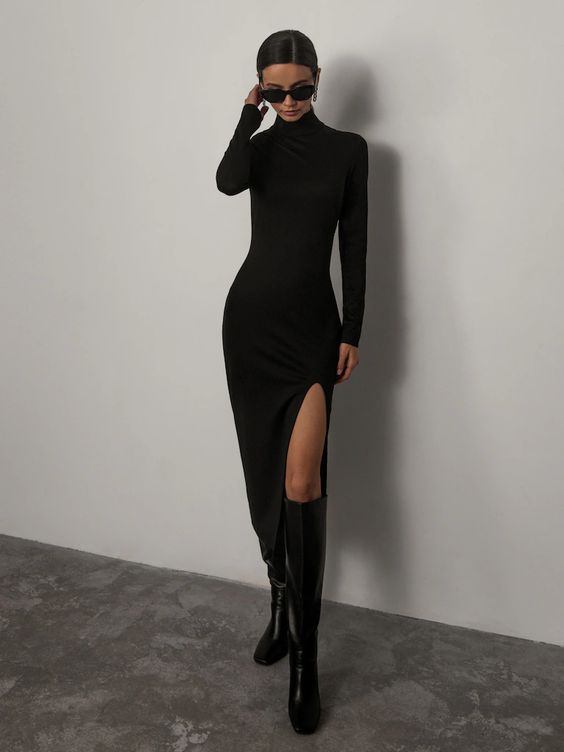 Do you know using high-knee boots in a bodycon dress could make you look chic? Don't believe me? Just look at the picture and try it for yourself! Use sunglasses and necklaces too to support this girl boss style. And last, a handbag to bring your important stuff. This kind of outfit that you can use for having a photo shoot or going to special occasions.
Make Your Style Hype with Zip Bodycon Dress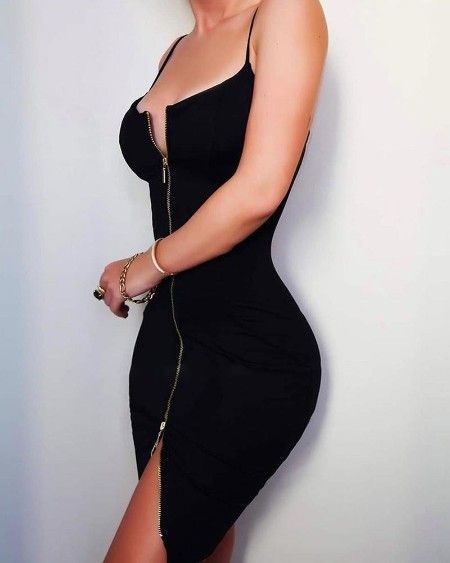 Besides puffy sleeves dresses, there is also a bodycon dress that is popular in 2022 which is a zip bodycon dress. The rare design of this dress makes it turn famous because it can give you a sexy look and is suitable to wear at night. But, that doesn't mean this zip bodycon dress couldn't be worn during the day. You only need to match the style to the occasion and you will look fabulous! Lastly, we suggest you pair this outfit with boots and a shoulder bag.
Gloves for Boosting Your Fashion Style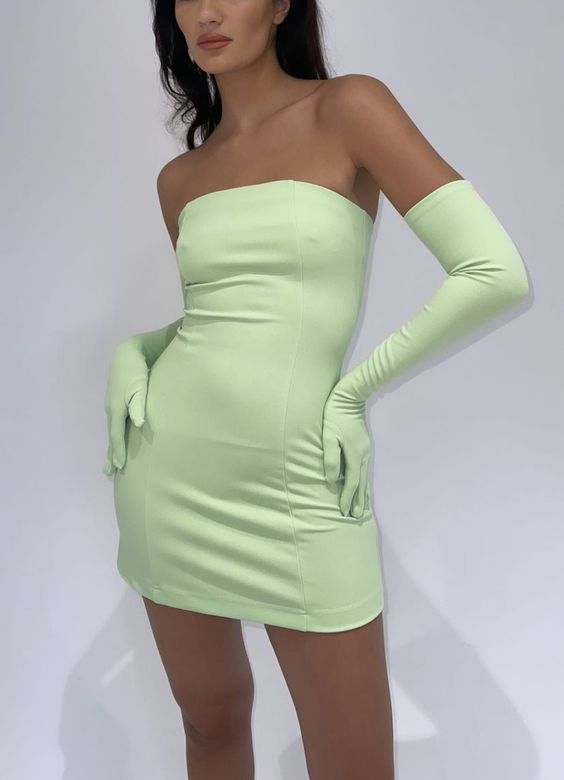 Feels not interested in our previous ideas? Okay, I know it's just an ordinary outfit. But we still have one that might interest you! Wear gloves! Yes, this is one of the accessories that is underrated but believe me, you need this one to boost your fashion style. These gloves will make your boring dress turn into attractive. And of course, this outfit look only can be used in special events or photo shoots.
Get The Warm Feel Using a Furry Jacket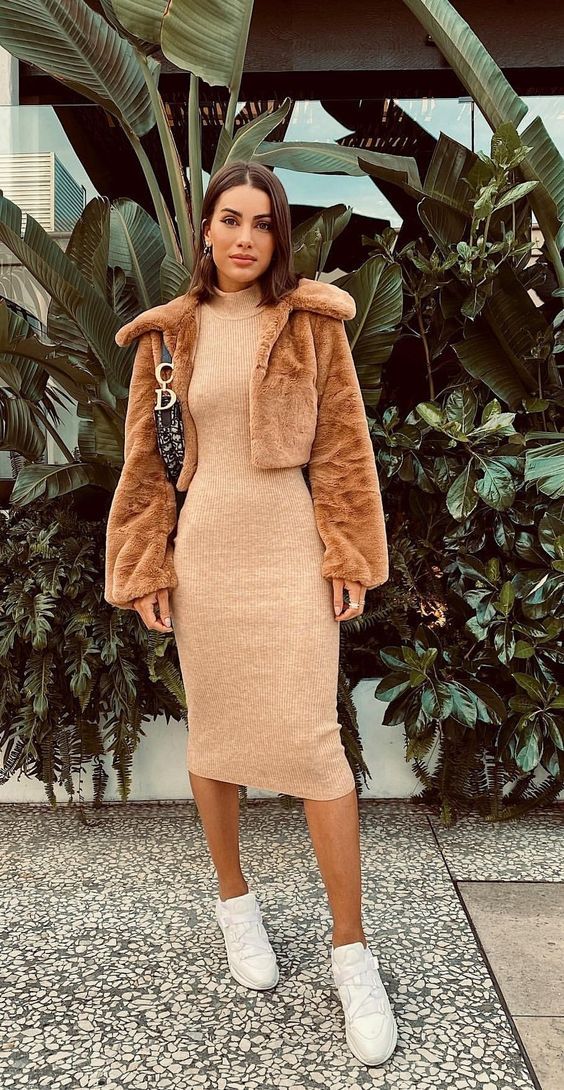 You have to make sure your body is always warm in cold weather. And the effort that you can do is wearing a jacket that has a thick and comfy fabric. Therefore, a furry jacket can be the best idea for this problem. Don't worry, a furry jacket and bodycon dress is the best combo that will make you look fashionable. For the shoes, wear the kind of shoes that can close your feet like sneakers, flat shoes, or boots. Now, it's time to go outside and face the cold weather!
Off-Shoulder Bodycon Dress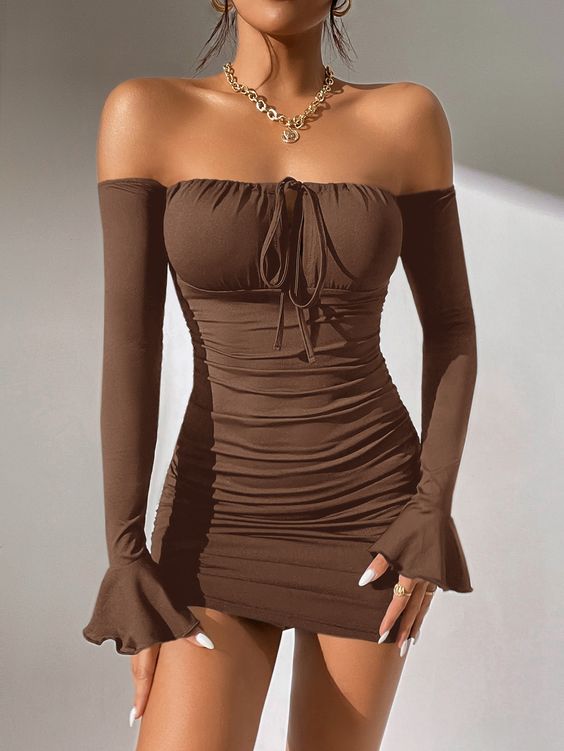 The off-shoulder bodycon dress is the first bodycon dress that we know. This is why this dress is one of the timeless outfits that you must have. The advantage of this dress besides the timeless design is it also can be worn for any occasion. Yes, wear it for going to the garden, hangouts with your friends, or going to a party. So, thinking about going to the store and having this dress?
Looks Casual by Wearing Denim Jacket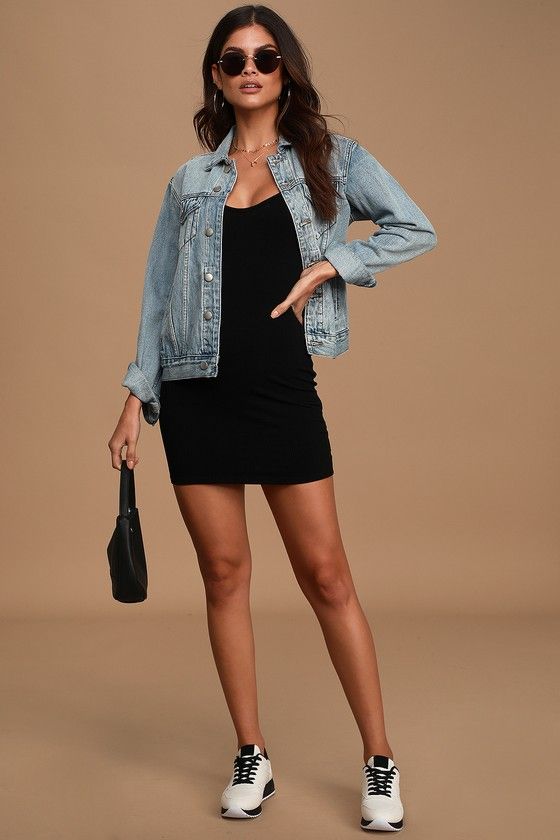 The combination between a bodycon dress and denim jacket will give you a casual look. Yes, because denim can make you look casual. Meanwhile, a bodycon dress is a basic outfit that could follow the style that you want. Don't miss out on the sneakers and a waist bag to espouse this look! Of course, as you can imagine from the picture, it will be great to wear only for hangouts or just chilling out at the café.
Ruffles Bodycon Dress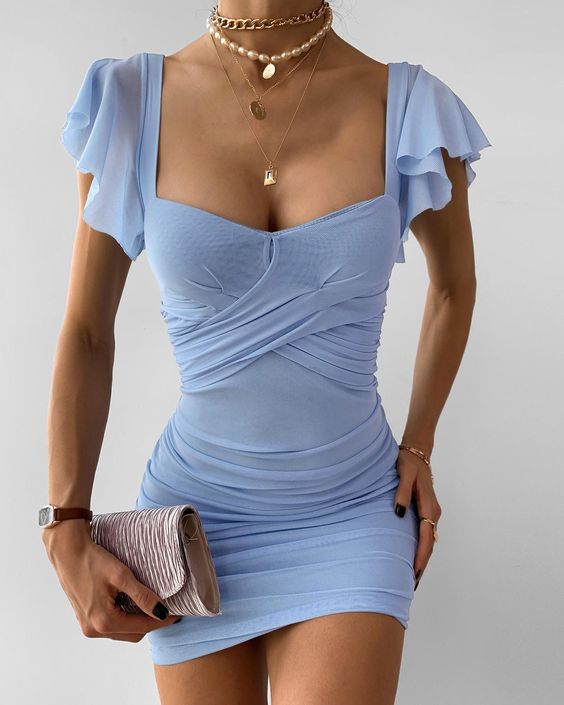 Lack of people knowing about ruffles' bodycon dress. Even if this dress is underrated, but the design will never disappoint you! Especially, if you wear layering accessories, a velvet clutch bag, and heels. I'm sure, you will catch everyone's eyes wherever you are. Poorly, the design of this dress is only suitable to use for a party or another special event.
Wear Chunky Boots to Look Chic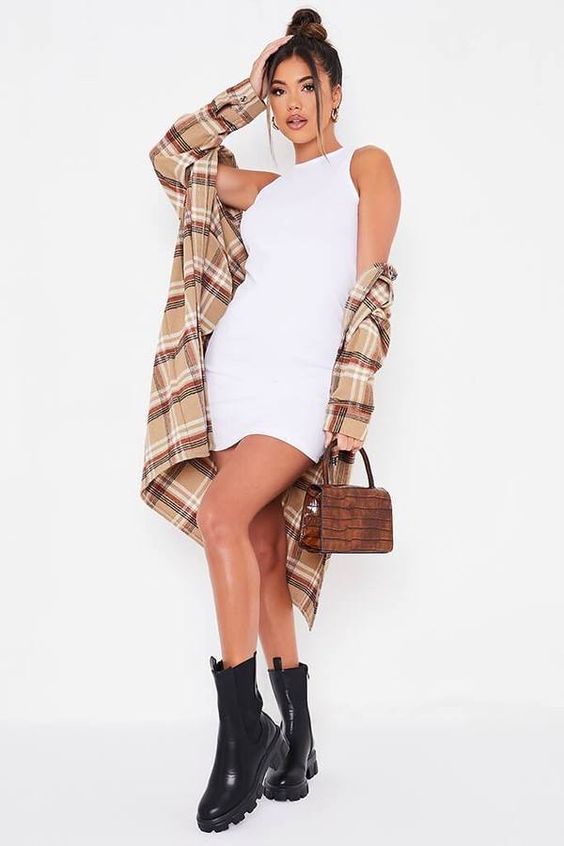 Next, add chunky boots for completing your bodycon dress outfit! This style is meant for those who love to look boyish and chic. Moreover, when you wear a shirt or leather jacket for the outerwear, I think your boyish style looks amazing and can inspire people around you. Give the accessories such as sunglasses, necklaces, or a watch for the last touch to kill this fashion style!
Mix and Match with a Cardigan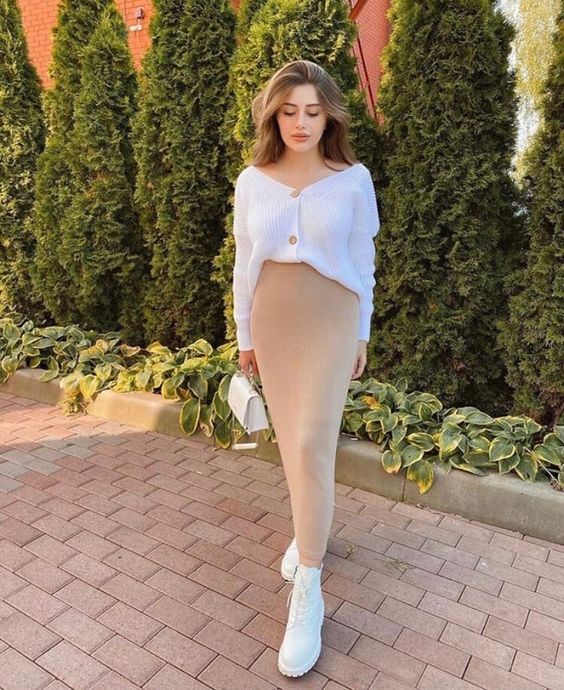 Girly outfit but feels comfy? Here is the answer to what you want! Mix and match the bodycon dress and a cardigan! This kind of style includes the basic outfit, but don't be scared to wear it because you still look stylish. If you still feel not confident, you may use accessories with a simple design and a handbag.
Split Bodycon Dress to Give a Taller Illusion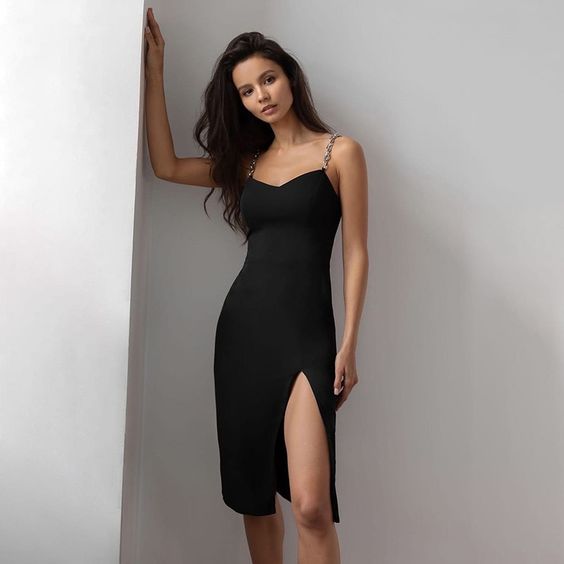 Another outfit idea for a petite body! Because not everyone has a gift with a tall body, you can give a hack for it by wearing a split bodycon dress. By showing the side of your legs, it will give the illusion that you're having long legs. Furthermore, this dress has a lot of types that you need to adjust to your needs to avoid looking too much or wrong costume. Either about the shoes, the accessories, and the bag.
Knit Bodycon Dress for Autumn or Winter Essential Outfit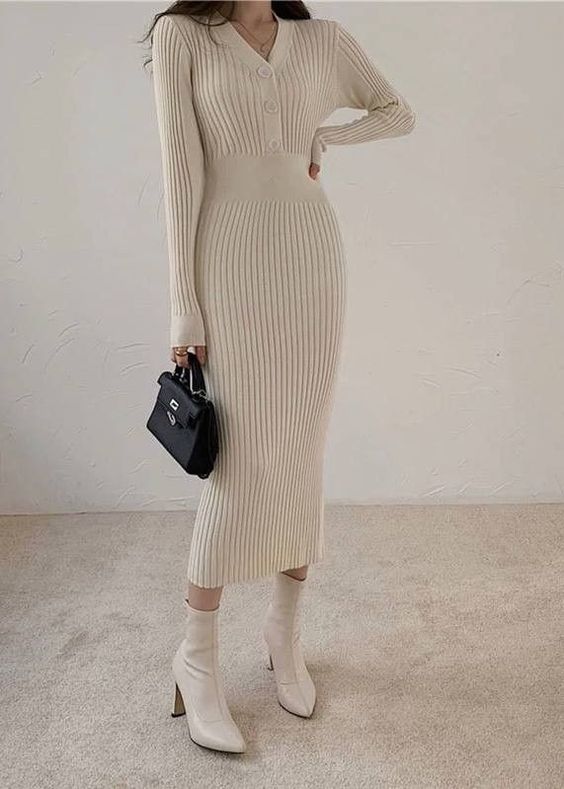 Last is the essential outfit for fall, winter, or cold weather. Do you know what it is? If your answer is a knit bodycon dress, you're right! Knit fabric is very suitable for this season because it can give you a comfy and warm feel. Furthermore, the design of this dress also looks basic that can be mixed and match with any kind of jacket or coat.
That's about 22 ways to wear your bodycon dress for any occasion. Did this topic encourage you to have more bodycon dresses in your wardrobe? And yes, I will be your biggest supporter, because this dress it's a kind of safe go-to outfit. Hope it can inspire you and increase your knowledge about fashion!