Drufashion.com – Over millions of people searching his name, stream his music, and obviously looking for his styles! A pop singer Justin Bieber starting his professional career when he was a teenager. The first album called My World 2.0 in 2010 hit massive popularity. Let's say some of his hits song called Baby, One Time, Never Say Never reminds us back to teenage life. As he's grown into a charming talented singer, he does not stop hit the highest music chart across the globe. His song called Love Yourself, Sorry, Yummy was successfully getting the high-rank chart over the world.
Talking about Justin's music career is endlessly incredible. Besides his luxury life, we are curious about his fashion style. He often spotted walking on the street with an underrated clothing style. For such his pink oversized sweater, snap-back hat lover, we love that! Let's see 10 best Justin Bieber streetwear essentials down below!
Casual look with Drew house tee
Justin Bieber with his wife Hailey Bieber spotted on the street in men's casual style. Let's see Justin's casual streetwear. He's wearing a tee and shorts from his clothing line called Drew House. He just went out from the pilates class in Beverly Hills. To accompany this laidback clothing style, he wears comfortable sneakers and white sport socks. If you consider how Justin loves to wear a hat everywhere he goes. At this moment, he pairs his casual look with a beanie hat, this looking so comfortable!
Styling oversized black hoodie!
Justin Bieber looks so down-to-earth and often fun styling outfit on his off-duty day. As we can see in the picture above, he wears all black outfits except his shoes and hat. He casually pairs an oversized black hoodie with black track pants. There is nothing rare about these outfits pieces. But, then he surprised us with a quirky accent. I guess you got what mean! Right, look at his shoes, he wears pink crocs sandals that are typically for girls. But, he breaks that rule and tells us to wear whatever we love and be confident in it. So, guys, you can steal your sister's sandals to hang out or going outside with friends! I mean, you dare to wear it!
Justin's sporty look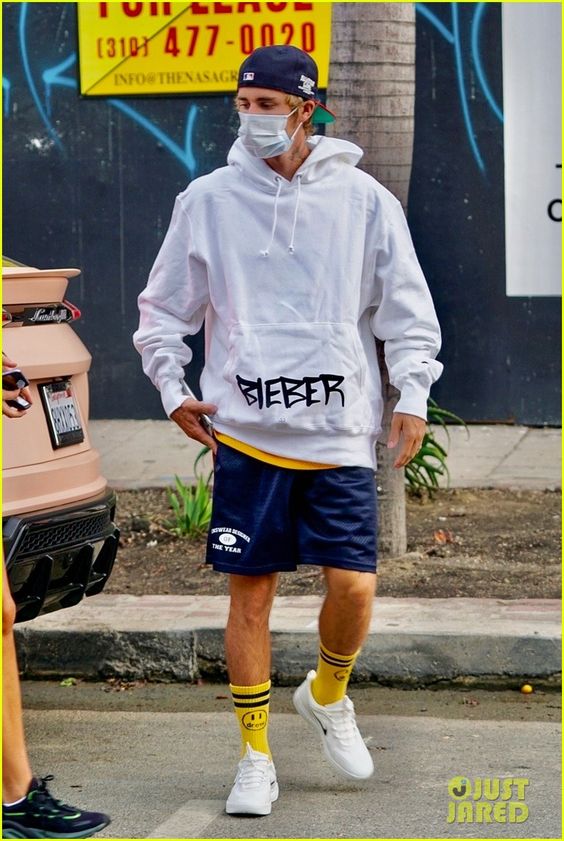 Another best street look featured by a pop star Justin Bieber. He's performing his own clothing style Drew House. Matching up an oversized white hoodie and sheer navy shorts. He also wearing his official socks Drew House collection in yellow, then he paired it up with a pair of white sneakers from Nike. Not to forget his statement accessory that always accompanies his street look, it's obviously a hat! he wraps up his look by wearing a cap.
A quirky summer fashion look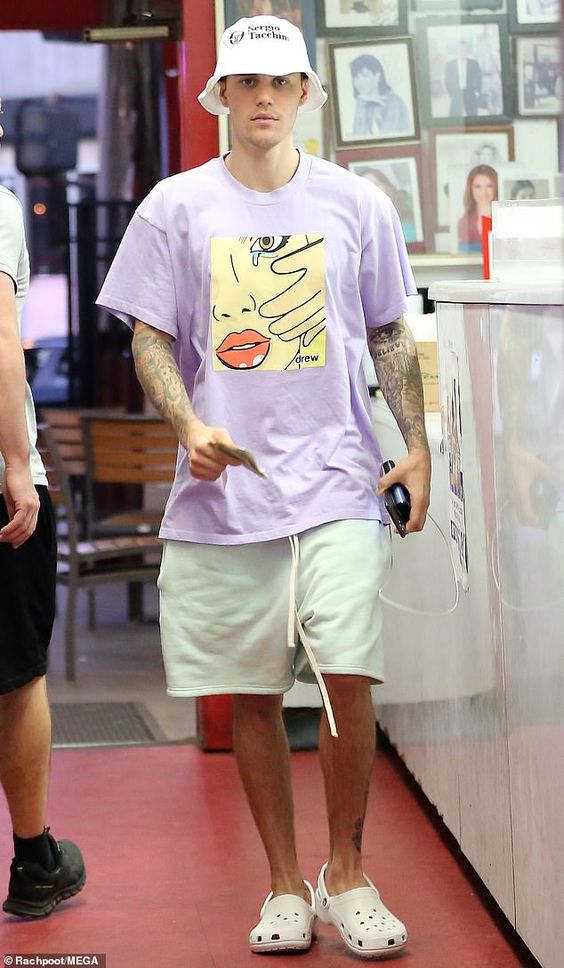 As we already said, Justin's streetwear is quite fun and rare. In fact, he's so confident to wear his own style. In this look, he wears a purple tee from the Drew House collection, then gets a chill vibe with shorts. Complete his casual look with a bucket hat and crocs sandals. This look remains simple and worth trying on summer days.
Funky downtown look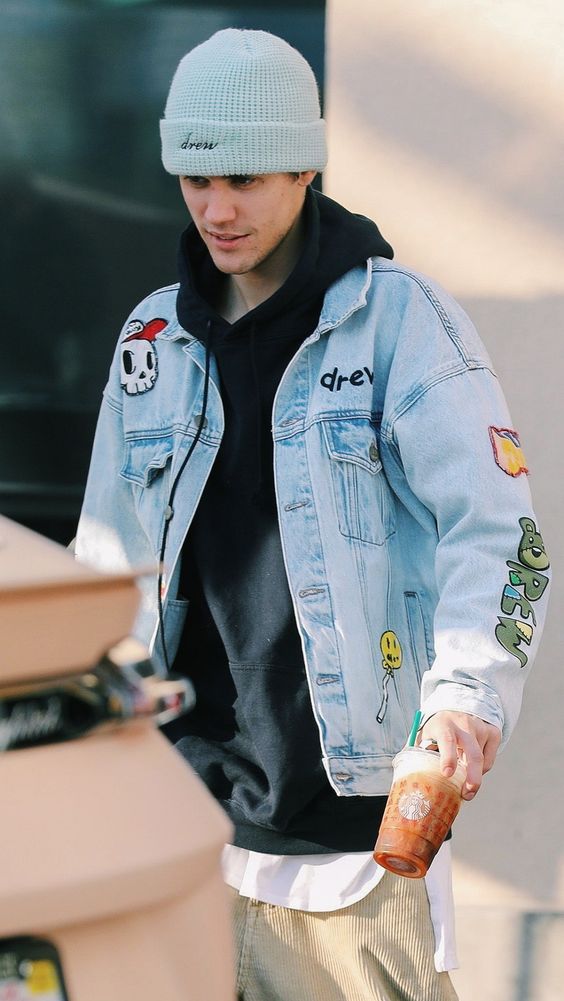 There is no doubt to say Bieber is a fashion trendsetter for young people. His funky downtown look represents urban fashion style. Let's take a look at this style! He's wearing a lightweight white shirt inside, then layering it with a black hoodie. For the last layer, he wraps it with a cool denim jacket from his clothing line. Looking down, we spotted him who love to style saggy pants. Balance off the color saturation with neutral color pants, beige corduroy pants. Finally, he complements his funky look by wearing a short beanie. Would you like to try this?
Floral shirt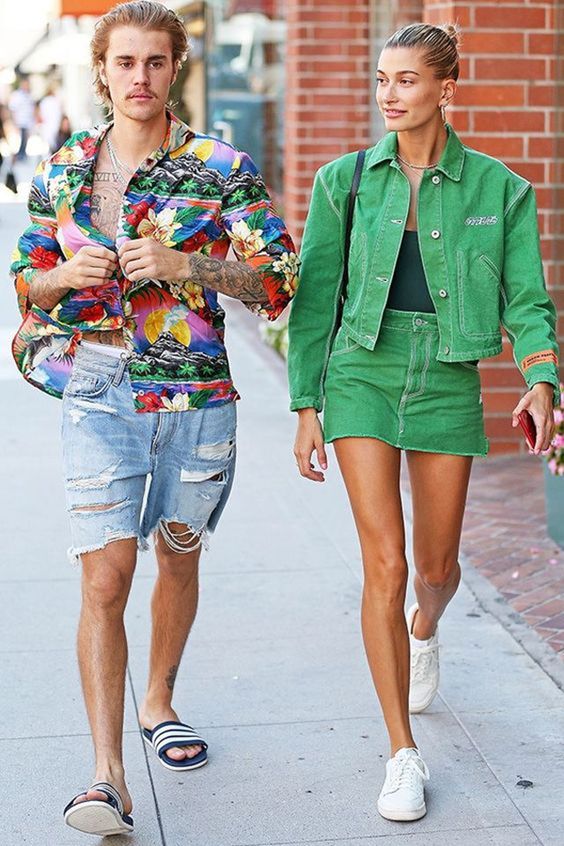 Another essential summer streetwear from the 27-year old pop star is wearing a floral shirt. Then he casually pairs it up with ripped short denim jeans, and a pair of beach strap sandals. He's a great pop star but he just proves to us that he's a normal guy who loves chilling in casual wear. The key to achieving a fashionable look is the way you confident about it no matter what people say just be yourself.
The skater style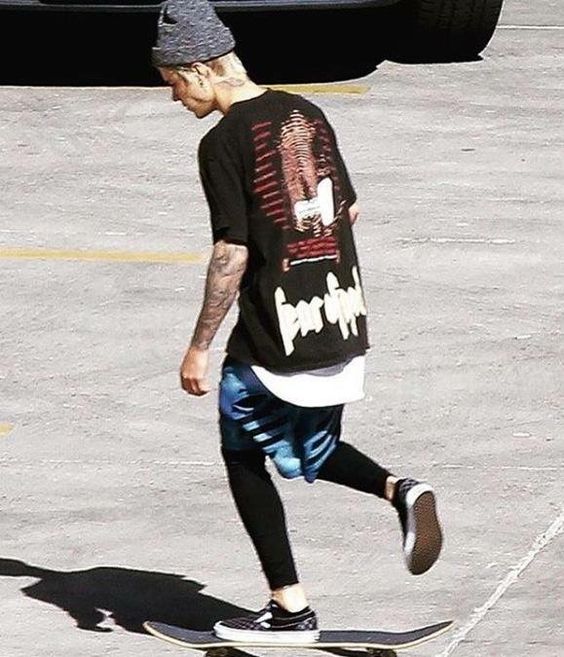 Skateboarding first came in the '60s and much developed when it took fashion. What is skater look fashion style that seems so popular and in great demand among young guys? There is no major rule in styling skater fashion look. It's all about being comfortable with a little bit of cool touch outfit. It has been developed a lot especially in the 90's fashion look, it hits the trend globally. Usually, it has short loose pants, graphic tee, for the shoes it has classic Vans sneakers and Converse.
Now, we look at Justin's skater fashion style. He layers up the white tee with a black graphic tee. Then, he matching up black skinny jeans with classic Vans sneakers. To give an extra skater look, Bieber wearing a beanie hat. The loose outfit skater essential makes it comfortable to wear all day long outside!
Saggy pants style
Justin is serious about saggy pants that's one of his underrated clothing styles. The washed denim color tone and ripped jeans style is looking good. Then, he matches up with an oversized hoodie, this outfit is worth trying for any casual occasion. Creating a statement look by wearing a pink beanie hat.
Versatile street look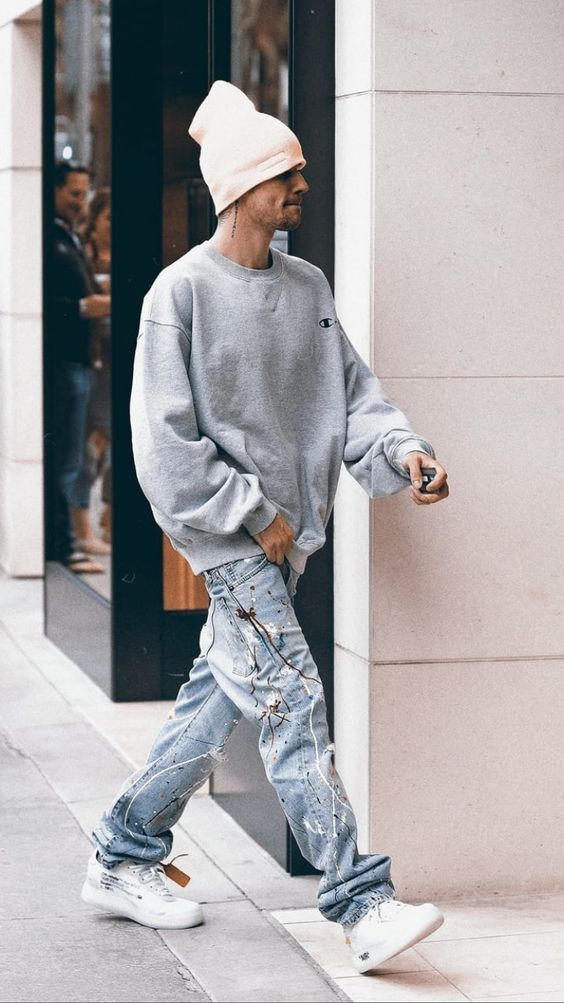 Lately, the street fashion look tends to choose comfortable outfits. But, then still to show trendy look. Now, we are looking for men's versatile clothing items. The sweatshirt is one of the versatile fashion items that good to be paired with jeans, chinos, and track pants. Now, we look at Justin's street fashion look so soothing with pastel color tone outfits. Starting off wearing a gray sweatshirt and then pair it up with washed denim jeans. Always complete his look with a cap or beanie hat. He chooses a light pink beanie hat to give color saturation to his look.
Glow up with a tie-dye hoodie!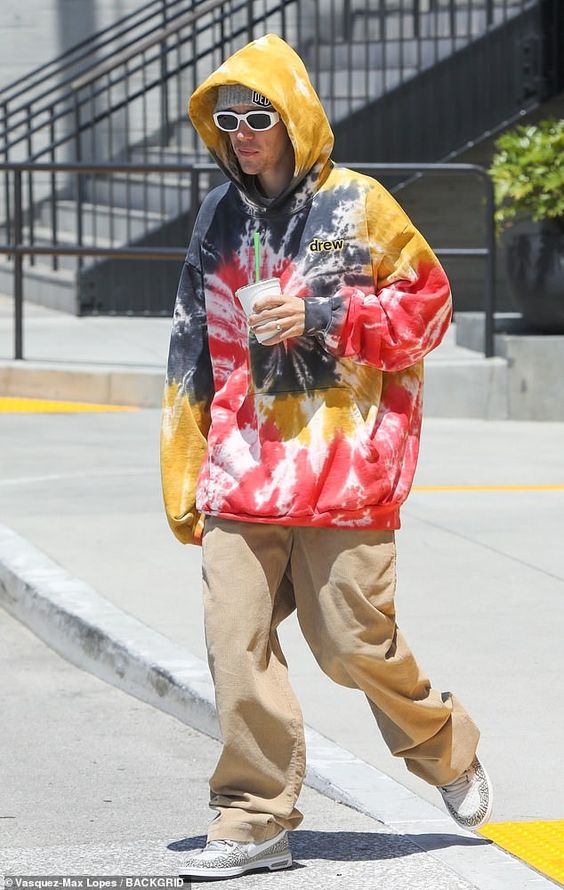 Tie-dye was a cultural reset in trend fashion outfits when it first came. Because it has a unique pattern made from brushing paint on the neutral cloth. Tie-dye also could represent the vibrant summer days with its bright color and unique pattern.
The pop singer styling tie-dye hoodie from his own clothing line, Drew. An oversized hoodie meets with loose chinos makes a serious comfortable laidback style. Quirky tie-dye hoodie pattern and bright color accent will make you glow up on summer days!
Thus are the 10 best looks Justin Bieber streetwear we already shared with you. He has underrated clothing style, he loves to style saggy pants, oversized outfits, and always wears a hat on every occasion. We hope you enjoy the styles and yet could be your inspiration styling casual look!