Drufashion.com – We have come to the transitional season of the year, fall! It is the season that has to embrace because in this season we have the freedom to choose warm or lose outfits. In the early autumn, we still feel the warmth from the summer but the good thing about this season is that we don't feel sweating just like on sweltering days. The cooler temperature but not cold is perfect sartorial weather.
Say hi to boots, sweaters, and jackets, and festive Halloween dresses that will cheer up autumn! When it comes to men's fall outfits ideas, the layering concept is so beneficial for rocking the fall season atmosphere. Layer the shirt or lightweight sweater with a cool jacket that will improve your look! In this writing, we will guide you to see the amazing fall outfit ideas for men. Let's check them out down below!
Flannel essential outfit for the styling fall season!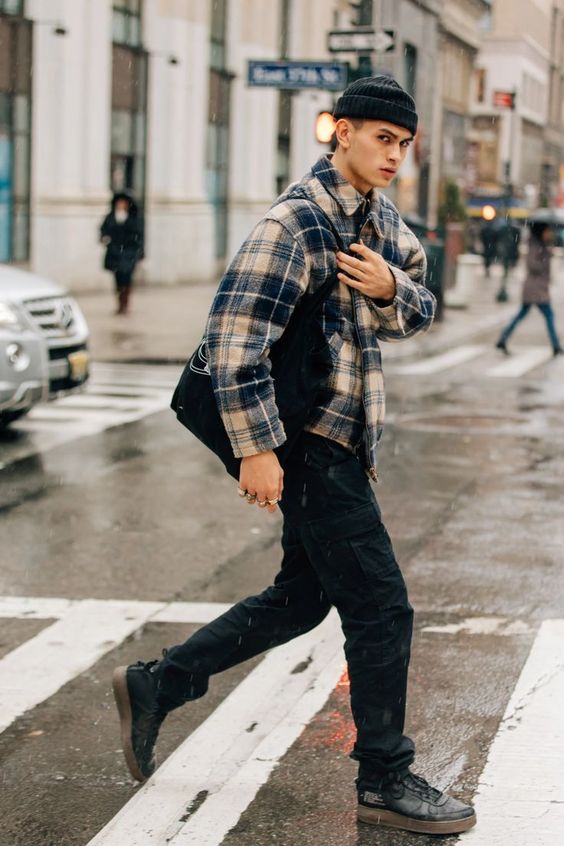 When it comes to the fall outfit ideas, it is the beginning of layering concept outfit looks. Flannel is so popular for styling the casual look idea. This clothing item is also good to be combined with any other piece of outfit and looks cool! We can mix and match flannel with jeans, chinos, linen pants, long or short pants, it just looks timeless and effortlessly cool! In this picture above, he is styling oversize flannel with dark jeans and for the footwear, he wears a pair of sneakers. These pair items are effortlessly cool, this season also find lots of rain and the weather would be slightly colder. So, we can wear a beanie hat to warm up our heads and also style the fall season!
Wrap the casual fall look by wearing wool pants!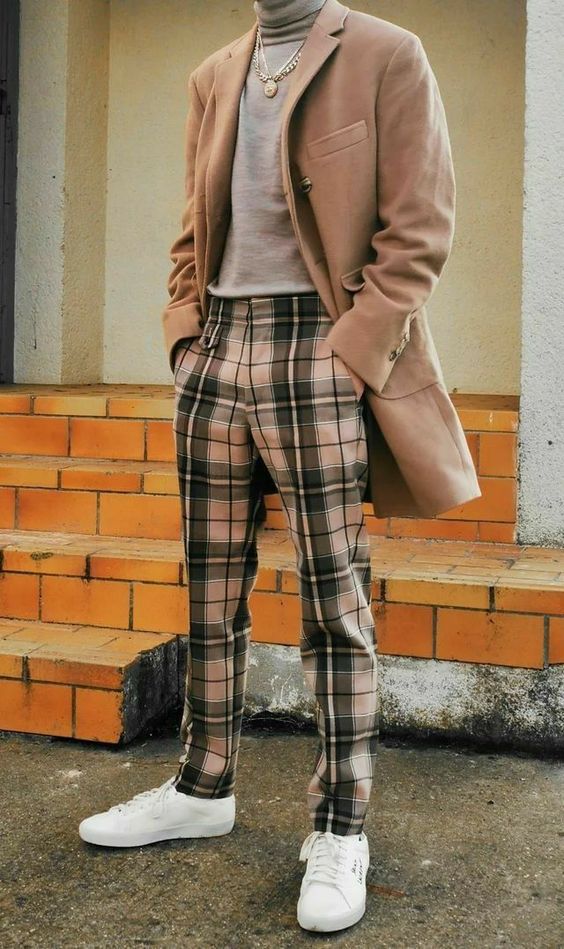 There are many comfortable pants that can be worn in the chilly fall season days. Each one of them is the wool pants idea. We can choose the basic wool pants in neural color tone or in any design like flannel pattern that looks incredibly stylish! For the upper outfit, we can combine a turtle neck shirt then wrap it with the neutral coat. Wearing the soft color tone outfits and the pattern from trendy flannel pants looks so eye-catching. Wrap up your look with a casual street footwear item, sneakers! These combination outfits are so comfortable and stylish at the same time. Do you like this fall season outfit idea?
Styling a laidback fall outfit with a Henley shirt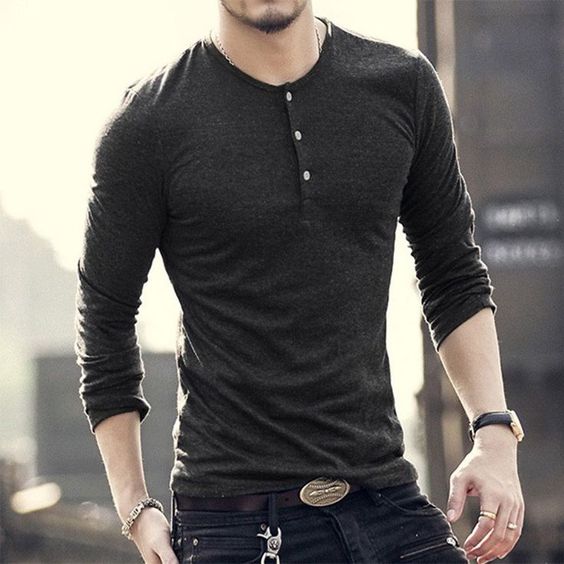 Alright, we have come to another fall season outfits idea. Now, we are featuring a Henley shirt to style the cool weather essential, autumn! Henley shirt basically is a classic shirt fashion item in men's basic wardrobe. It usually has three buttons at the front and the distinctive look of this shirt is collarless. Rolling up the sleeve and choosing an earthy color tone makes you achieve a masculine fashion look effortlessly. Combining this classic shirt with jeans, linen, khaki, and chinos pants are looking so good! In addition, you can wear a few accessories for such as a watch, and wristlet that will enhance your casual look.
Parka jacket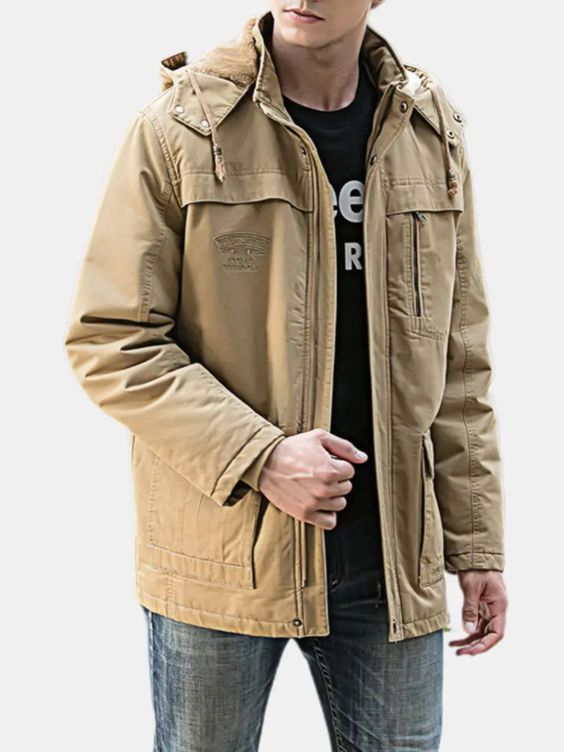 Another stylish casual look for this autumn is wearing a parka jacket! Wearing the casual tee inside then layer it up with a parka jacket. For the lower outfits, you can style them with jeans and sneakers to look more casual. But, if you want to look something bold you can wear a pair of boots. The beige parka jacket color tone meets the black tee color tone create a timeless and soothing look. So, guys, you've got the idea of how to improve your casual outfit. Wearing a cool jacket or having the layering concept is not only keeps you warm inside but improves your look much better than not!
Warm up your look with a comfortable knitwear item!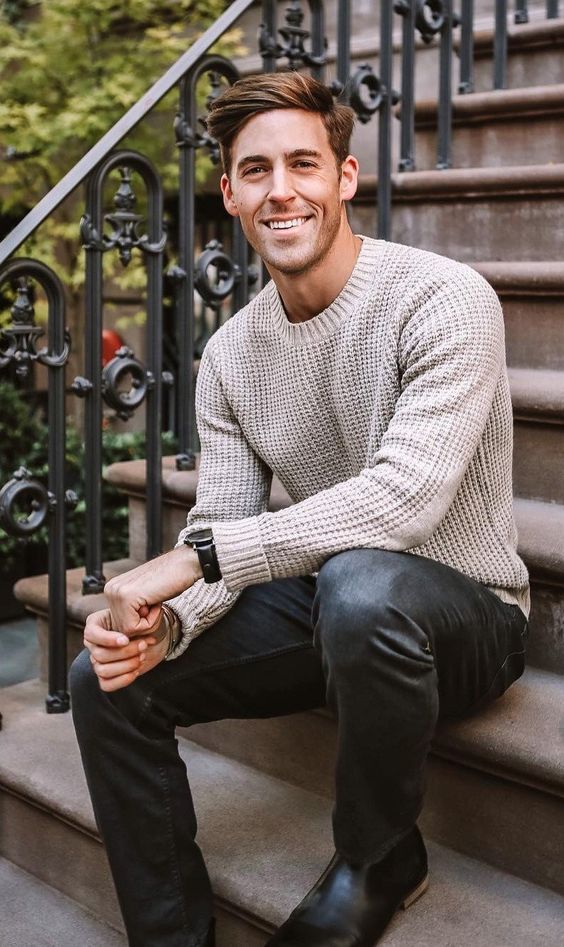 Styling the cool weather essential with warm knitwear is a good idea! The sweater is something we could not forget on styling daily fall season outfit looks. Guys, you can go with a dark color tone or a neutral gray sweater like in the picture. The dark accent color palette represents manly look better than the brighter color. Besides that, the neutral color tone palette creates a timeless and soothing appearance. Let mix and match sweaters to look trendy for fall. First of all, you can wear dark-color tone pants such as black that contrasts with a neutral color palette sweater. Creating the minimalist monochrome outfit looks for fall is so functional. Alright, wrap and enhance your casual look by wearing leather Chelsea boots. These outfits combination are quite simple but look trendy and impactful!
It's hoodie time!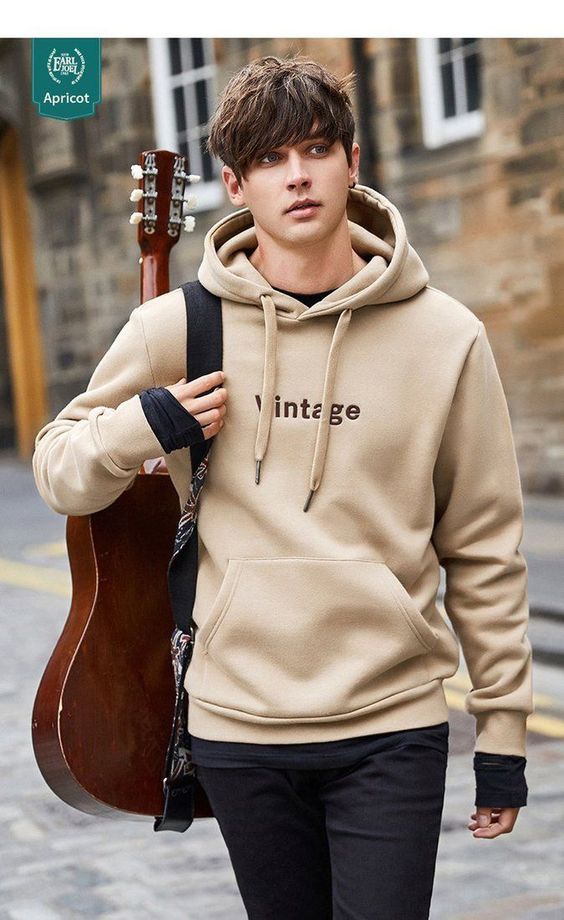 We could not deny in the transitional season autumn the weather turns slightly colder. That means we need something that could warm up our body especially outside. To trick the look in the cool air is wearing a trendy hoodie. Yeah, it's hoodie time! There are lots of stylish hoodies from the color tones to the styles available. For men, the hoodie is a basic item in their wardrobe, no matter the weather outside, the cold or warm hoodie is something they need to style their casual look. Now, we can match hoodies with denim jeans and then sneakers. It's a timeless casual men's look for any weather and season, cause they are truly comfortable and affordable!
Denim style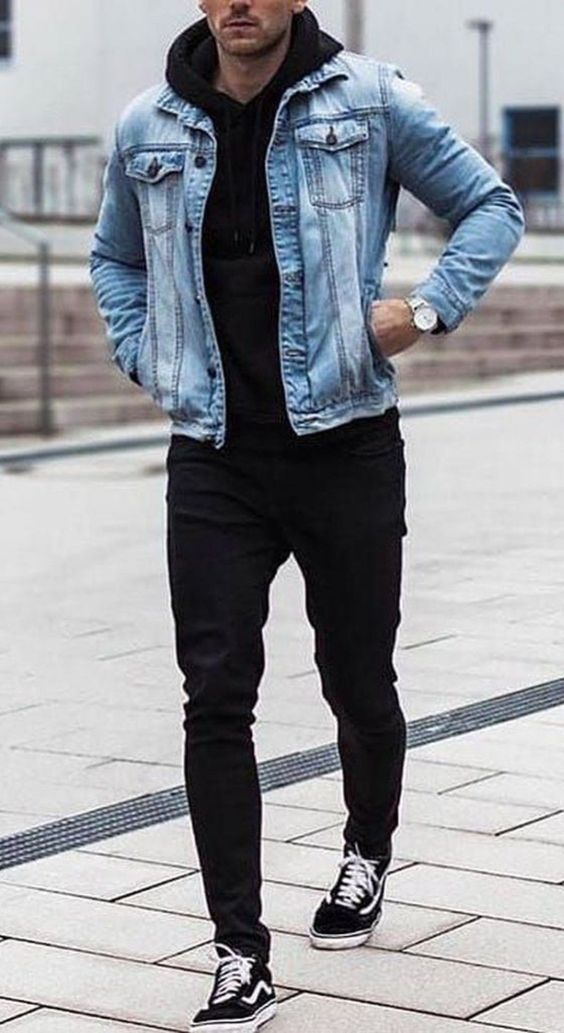 We have come to the last casual fall outfit ideas for men in this writing. Now, let us give a chance to the timeless streetwear denim jacket to rockfall outfit idea! First of all, you can go with straight denim jeans, then wear the dark color tone hoodie. After that, wrap your look by wearing a denim jacket. You might be thinking, the seriously double jacket can be worn at the same time? The answer is definitely yes, look at the picture above the man wears a black hoodie inside and then layers it with a trendy denim jacket outside. It does not look like a mess or something like that. It is totally fit to combine together and create a charming casual look for fall! Complete your casual look by wearing sneakers, and that's it, you're ready to hang out with friends!
Conclusion
We have come to the transitional season this year Fall! The weather in the beginning still feels warm but the good thing is we don't sweat too much like summer. On the contrary at the end of the fall season, the weather turns to be biting cold. Anyway, it is not as hot as the summer day has, and it's also not as biting cold as much as winter. That is why the transitional season is such laidback and enjoy the weather and the way you choose for your fashion look.
In this writing, we have compiled some casual looks for the fall edition. We have to conclude that the fall outfit styles for men are all about simple or layering concept outfits. If you decide to have a simple look, you can go with a lightweight sweater combined with jeans and a pair of sneakers, that's it! If you want to bold the autumn look, then you can try layering concepts such as wearing a hoodie and denim jacket at the same time, not to forget the leather boots will join your classy fall season look! We hope you enjoy these pro tips on creating trendy and comfortable fall outfit ideas!