Drufashion.com – The warm summer days have started to fade and now we are entering the transitional season, fall. There is still warmth in the day but much colder in late October till November. The rainy day comes, the cool breeze touches our skin. It's a perfect time to fill on the wardrobe with transitional dressing items. Even though the air outside is getting colder this season, it won't stop us to look stylish. Infuse the fall season look with lovely color tone outfits, that will cheer our look!
In this writing, we will share some of the best fall outfits trends that you could follow the style too! Mix and match textures clothes to play with blush color tone outfit ideas. So, that your transitional dressing looks more alluring and fun! Let's see the project and start to see awesome mix and match fall outfit looks down below!
Chic and elegant look with black over the knee boots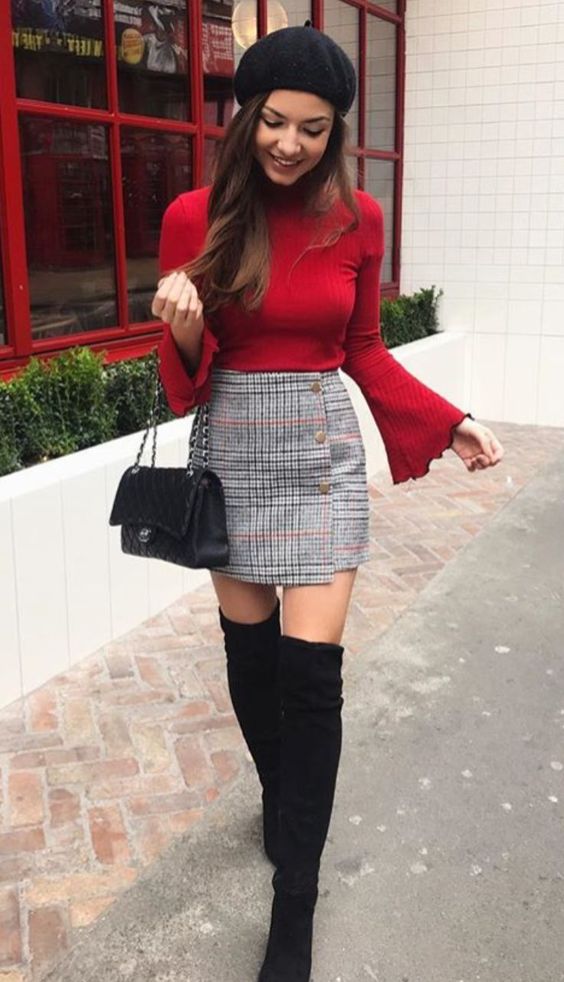 Looking for the chic but featuring elegant look for fall? We have a beautiful mix and match that you will fall in love with! Matching up the plaid mini skirt with a tuck-in red sweater on top. Wrap your look with classy accessories, ladies you can wear a pair of classy black over-the-knee boots and a beret hat. Don't forget to bring your classy leather bag. We are pretty sure this look will make you look so classy for the fall season!
Casual trendy look for fall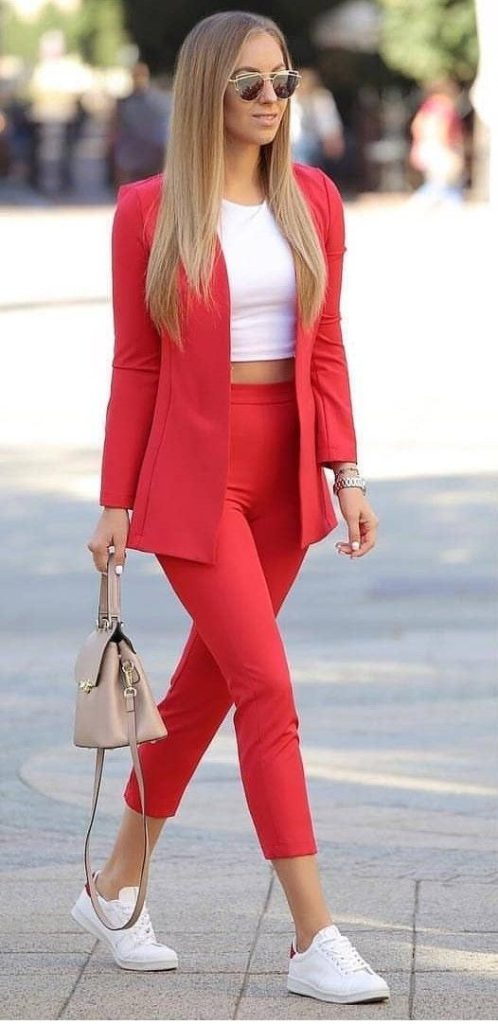 We are entering the early fall season and the other half still have summer days. It is possible to have the rest of the warmth now. That means we still have a chance to wear the lightweight feature outfits and bright-tone color outfits like in the summer. This pretty suit in red is extremely lightweight, comfortable, yet stylish! Matching up the outer with a white top inside. Ladies you are still able to show your wonderful stomach abs! Accompany with a soothing leather bag and timeless white sneakers this transition dressing style look go down easily. In addition, wearing the sunglasses on can improve your classy look!
Styling the transition season with an oversize plaid shirt!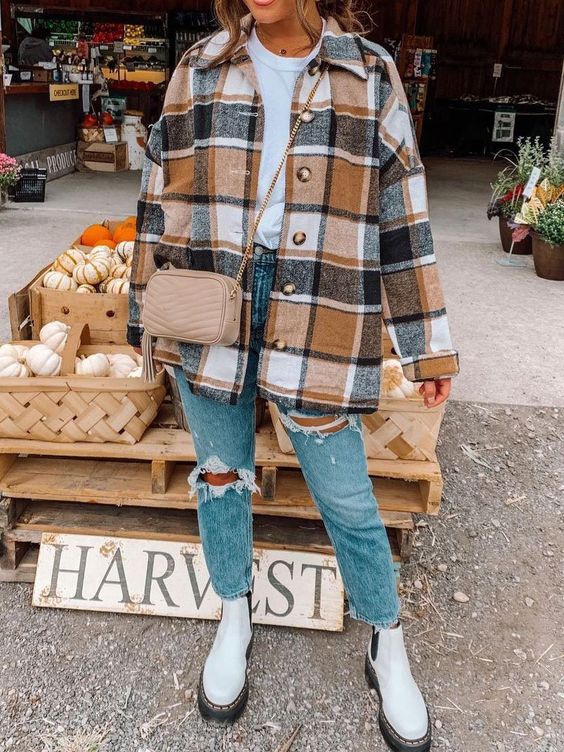 If we have elegant or classy outfits looks to impress anyone else outside. This time here we have the casual look that absolutely looks good to style a laidback fall season! Rocking the street look by wearing ripped denim jeans, then layer on the white shirt above. Then, finally, wrap the look with an oversize shirt. Liven up your look by wearing a pair of leather boots and bring your casual bag. This look is so affordable but successfully creates an interest in the transition time!
Catchy look with Boho style!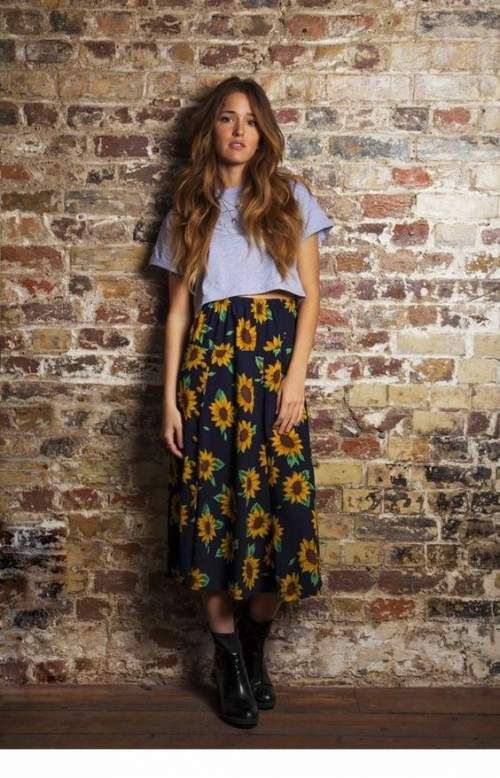 In the term of a fashion look, fall has the unique vibe itself. It is the transitional season that makes us feel both the warm and cold weather atmosphere at the same time. For the early fall season like October, there is nothing wrong to infuse the style with an attractive vibe. For such a boho style, in this picture, she rocks the transition look with a floral midi skirt and then matches it up with the crop shirt. These casual outfits feel so comfortable. Then, to enhance the fall season outfit look, we can wear a pair of leather boots. These shoes simply amplify the casual look with a statement accent! So, ladies do you love this fall outfit look idea?
Trendy knitwear for a fall outfit idea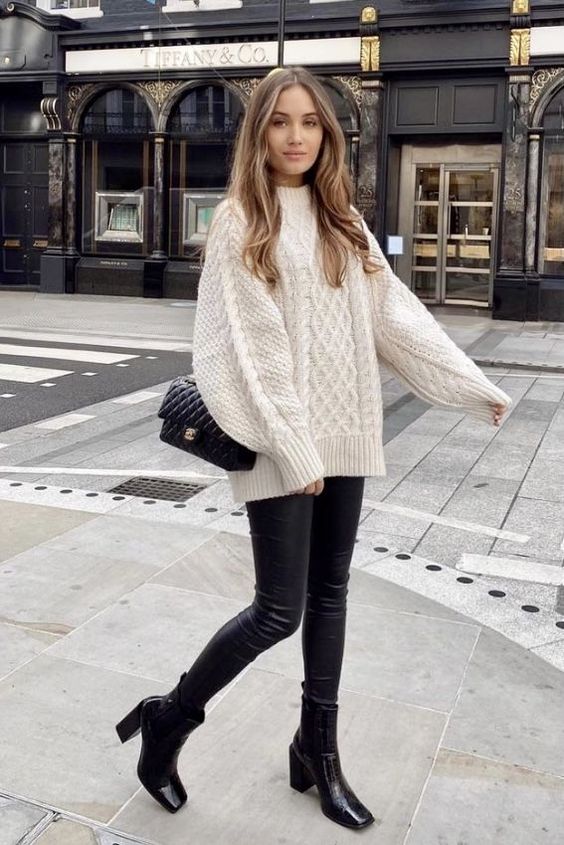 Talking about the fall clothing style essential, we cannot leave behind the knitwear. This oversized neutral knitwear makes us cozy, the loose feature outfit is known as the comfortable one. Matching up the loose white shirt with fitted black leather pants. This absolutely stunning and comfortable too. Then, wrap your transition fashion outfit with heeled leather shoes. These matching outfits are simple and show a perfect curated fall season look idea! Do you love this one?
Turtle neck sweater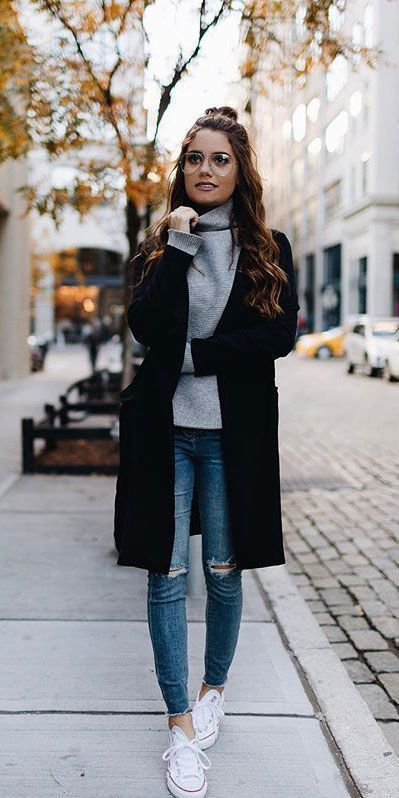 Another cool transition outfit idea is styling a turtle neck sweater. Here we have the gray sweater and then layer it up with a black coat. This matching layer is looking so impactful and cool. For the lower idea, we can wear fitted jeans, trousers, or leggings that shape your leg. Then, complete this cool fall look by wearing a pair of canvas sneakers. You can lift up your look with a few accessories that could represent your style!
Brighten up your seasonal look with a bright corduroy jacket color tone!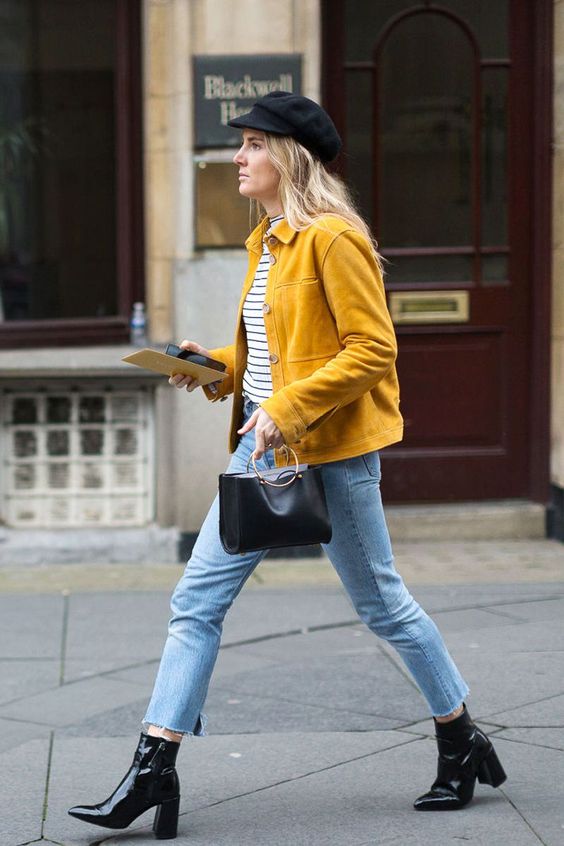 As we alluded to earlier, the pop color tone can liven up the fall season outfit looks. In this picture, a very stylish mix and match clothing items for the transitional season. The washed denim jeans match with a striped tee are pretty cute. Then, create a statement look by layer the striped tee with a yellow corduroy jacket. The unique texture of corduroy material and the bright color tone create a good punch to the calming autumn atmosphere! To wrap your look with a trendy look, heeled leather boots are always good footwear items for the fall season. In addition, a beret hat brings up the stylish and classy look!
Simple fall outfit idea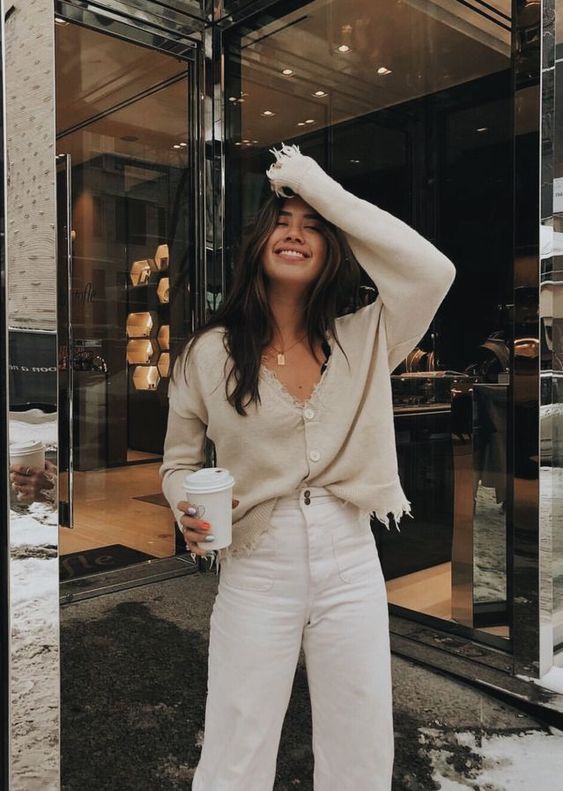 Another casual outfit idea for fall is combining simple clothing items. This white trouser simply matches with lightweight crop knitwear. The neutral color tone outfits are timeless and more than that the loose trouser combined with lightweight knitwear idea looks so cozy. This simple and cozy matching outfit idea is so affordable to follow the style. For the footwear, you can wear sneakers or flats to chill out in the crisp air of the fall season!
Conclusion
The crisp air already welcomed us in the fall season essential. We are at the beginning of the fall this year. We still taste the warm day and on the other side, the breezy air starts to touch our skin. Figuring out what types of clothing styles to wear in the fall season weather. We have collected some of the best looks that could elevate your look. There are some lightweight and pretty simple ideas, the other half showing the stylish transitional fall season outfit looks. We hope you enjoy our discussion about fall outfit ideas above and try the style that could represent your personal taste in clothing!