Drufashion.com – We are entering the late summer days of this year. There is something important we will share with you, guess what it is? It is something that could protect your head and face from harmful UV rays. Well, it is a hat! We know it's pretty late to share the best summer hats at the end of the season now. But, it actually worth sharing it now and you can also invest in the summer hat for the upcoming year! The sun hats are actually what we need at the beach and strolling in the summer days. Alright, in this writing, we will share some of the best summer hats recommendations you can actually follow to keep you safe from UV radiation.
Furtalk sun hat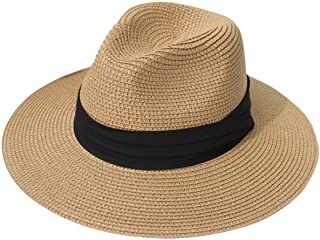 The first sun hat we want to share with you is the fur talk sun hat. It is made of straw, very foldable because it has a bendable rim all around. The wide rim is possible to keep you absolute protection from the harmful UV rays. If you want to wear the sun hat make sure you do it right, pull down the front side of the hat so that your face is protected from the sun. If you've seen a lot of models from magazines wearing the hat and look like fold it up, that is a mistake. It is only for fashionable reasons but that is not protected your face from the heat of sun rays. It is not only useful to protect our skin from the harmful sun rays, but it looks so beautiful with the design. So, you look more fashionable while hanging out on the street and on the beach. The black band on the hat giving a stylish accent and improve the style. So, ladies, you are ready to jump on the beach and have fun without being worried the sun rays will hit your face. It also improves your look, casually wearing a sundress and flats and stick this sun hat on your head. You are absolutely stunning, perfect look!
Wide brim sun hat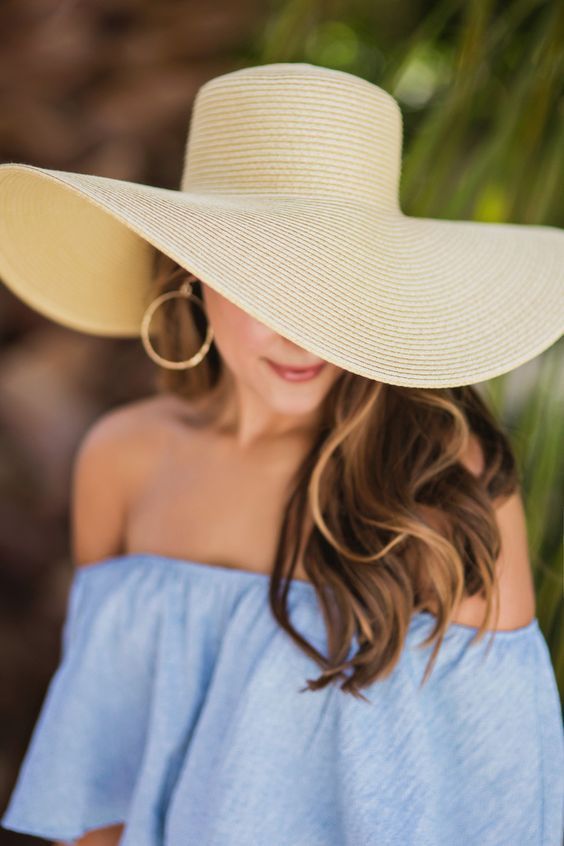 The second-best hat to wear for summer is a wide brim straw hat. The wider brim the better it keeps your face from harmful UV radiation. So, you can fold down the front side of your hat with your hand, so it can give a good shade and protection to your precious skin. It has a neutral brown color tone and is very foldable. So, if you wanna have a summer trip on summer days, this hat is a must-have in your bag. A very foldable texture, neutral color tone, and simple but elegant design will improve your summer look! For the beach look tip, you can wear a soothing off-shoulder blouse and combine it with neutral white pants. And top with this simple but classy summer hat, now you look stunning!
Cute Panama hats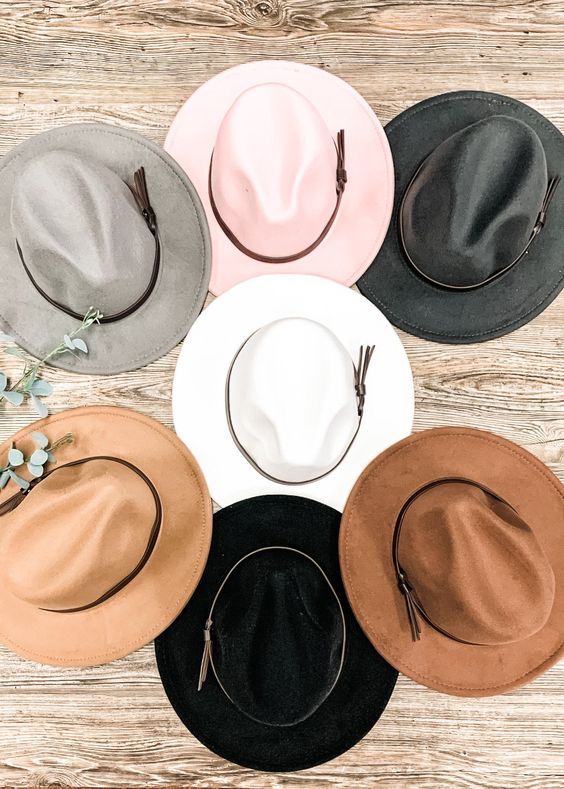 Another idea on choosing the summer hats is a Panama hat. There is a pretty different color of Panama hats you can choose that could go enhance your outfits! There is a simple and timeless neutral color white Panama hat, the classic black, to the cute pink hat. All of them are so good and very fashionable to wear on summer days. There is a gold string hold up the band which makes this hat looks even more classy! If you love most of Panama hats you can collect different colors so that could match with any outfits you wear. But, if you want to invest in one Panama summer hat, choosing the neutral color is the best one! You can go with a white, black, or natural brown color palette. These minimalist colors are so good and blend all together with your outfit!
Classic Fedora Ivory sun hat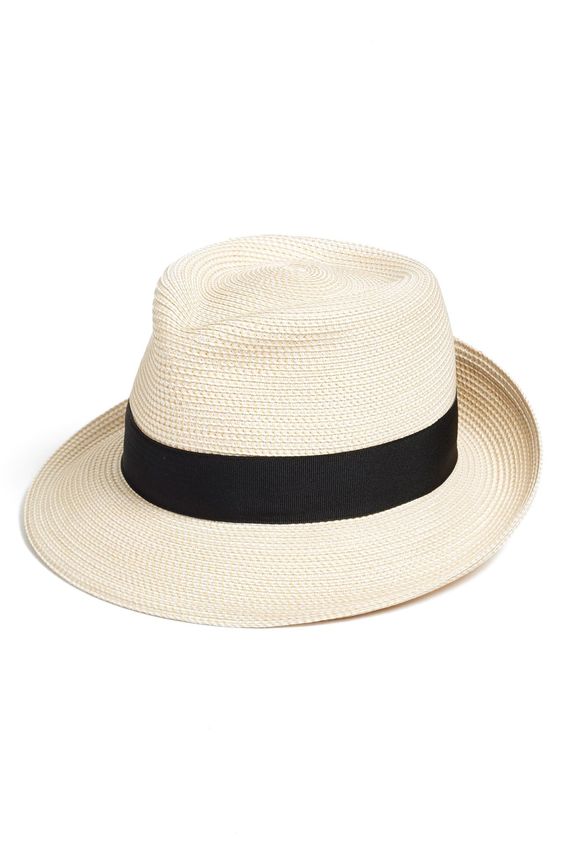 The next stylish summer hat that could enhance your look ladies is a sun hat from Fedora. It is the classic one that is made from the beige wool color tone. The brim is not too wide but it is still can keep you some protection from the heat of sun rays. It is made from wood so it is very foldable and easy to maintain. We can fold down the front side of the hat to give a shade or protection to the sun's rays. The classic Fedora sun hat has the black band wrap it up. It is super stylish and easy to pack in your bag. The small sun hat design and the very foldable feature will make it easy to pack in your travel bag! Another highlight of this hat is that made from wool and weaved perfectly so it has breathable features. This will give the access to air through the head so we will not feel hot wearing a hat all day long, cause it's super comfortable!
Strap raffia hat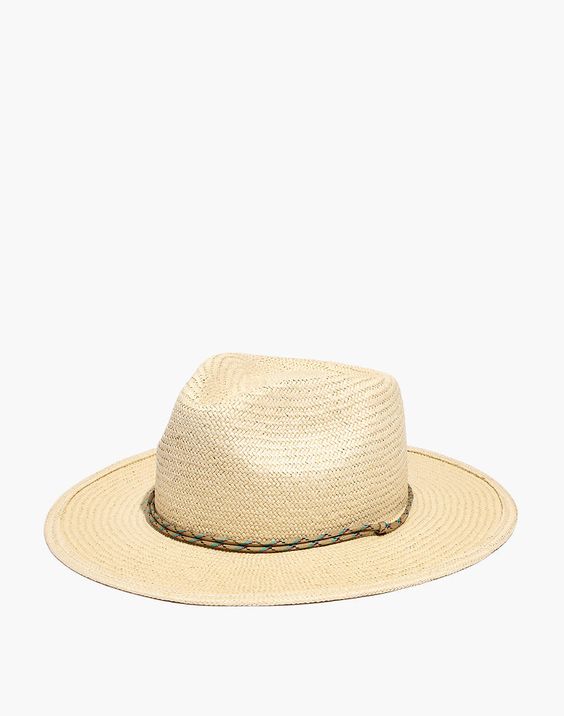 There are lots of fashion brands that offers their stylish sun hats. Here we offer you a totally different texture from the previous hat above. If you love something rare, classic, but so aesthetic. Then this raffia hat could be your answer. The unique texture of the raffia hat giving a unique look, and then decorated with a beautiful pattern little band that is perfect to highlight the simple feature of this hat. You can find this kind of hat on online shopping, or the local store along the beach or in the city. It is absolutely beautiful and classic. Would you like to have this piece of fashion item to improve your summer look?
Conclusion
Summer offers lots of energy, laidback at the coastline makes us forget the tension we have in the real life. Or going to the park has a picnic on the beautiful sunny days will give a positive mood to our souls. We have to say it is the season that is full of joys. Besides that, we have to be true to ourselves that during the summer season, the sun is getting too hot. And we feel uncomfortable on the outside. Moreover, the UV rays are so harmful that could break our skin's beauty. To protect your precious skin damaged by the UV rays, we have written and collected some of the best sun hats to wear for this summer. In addition, sun hats can improve our look to be more stylish! From the sun hats list above, which one is your favorites?