Drufashion.com – We currently come into the mid-summer season this year. The sun is shining, the clear sky above, it is such perfect weather to chill outside. Summer is all about being free. The freedom itself means to pull off the thick and heavy clothes that tuck on our bodies. Let's wear the comfortable lightweight feature outfits in the warm weather!
Summer fashion style is highlighted on the laidback, comfortable, and sometimes it is necessary to go on the cheerful pattern and bright color tone outfit to embrace summer! If you feel running out of ideas to style summer fashion look for the whole days in this sultry season. We've got the compact ideas to create a trendy summer fashion look! There are lots of options available to choose from to perfect your daily look in the summertime! We cannot wait to share all with you down below. Get a stylish look by following our summer fashion lookbook essentials down below!
Chic summer outfit idea!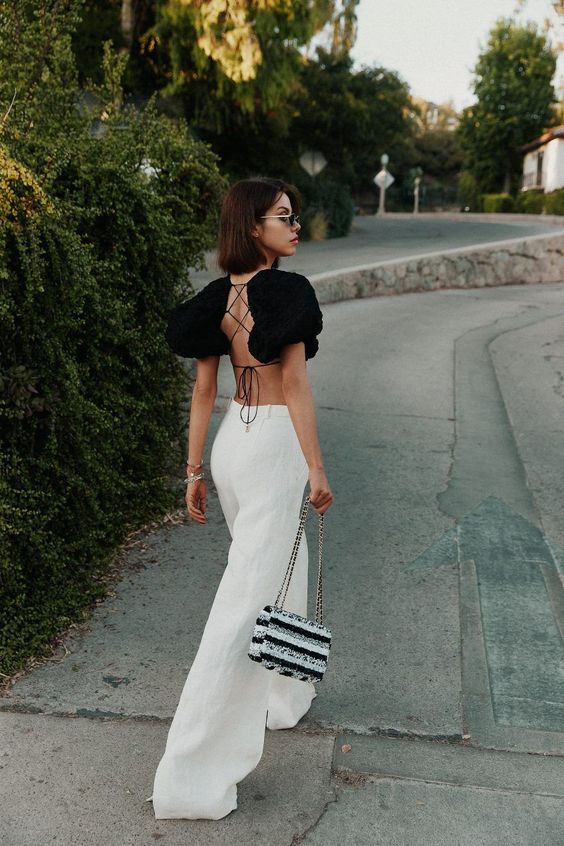 The first summer lookbook essentials we offer to you is a chic summer outfit idea! There is plenty of casual wear we can mix and match to create a chic summer look. For instance, the white linen wide-leg pants are paired up with a black cropped top puffy sleeve. In addition, the classic flap bag from Channel gives you a simple and classy look. Moreover, the sunglasses and golden accessories can liven up your chic summer look! For the footwear option, the heels sandals can be worn to make your leg a mile looking length!
Cute summer travel look idea!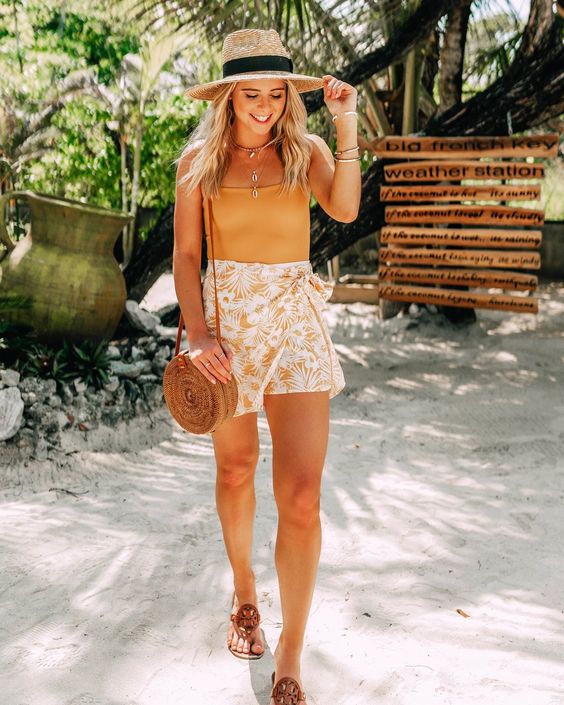 With the upon us and the earth of the sun touches our skin, the breezy air in the ocean, summer is such perfect weather to travel and explore great places! Here, we have a cute summer travel look that could be your inspo while you go on summer vacation! The vibrant orange top and the floral wrap skirt are a perfect match to style your summer beach look! Wrap your laidback travel outfit idea by wearing a summer hat, woven crossbody bag, and comfortable sandals. Are you ready for the cocktail party ladies?
Grab some shorts pants for the hot season!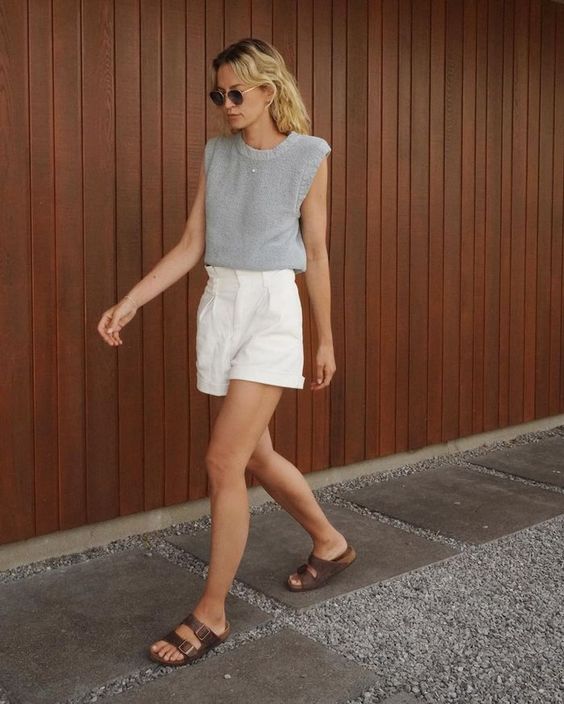 With the blazing hot weather in the summer season, it's a perfect time to wear some short pants. There are lots of summer shorts fashion styles available. From casual white shorts, denim shorts, to quirky floral shorts. Matching up the shorts with a tee or cropped top, and you already styled the casual summer fashion look! In addition, a pair of comfortable sandals accompany your laidback look!
Matching up summer tube top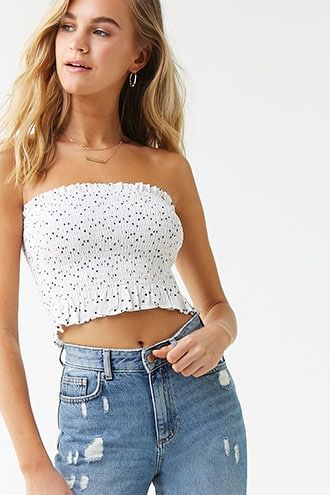 With the blazing hot sultry summer days outside, it's comfortable to wear something light and breathable feature. Ladies, we can mix and match summer tube tops with short pants. It's literally a comfortable summer outfit idea! Besides that, you will look sexier wearing the tube top, especially if you have an athleisure body. You are looking damn hot girl!
Classy summer outfit look!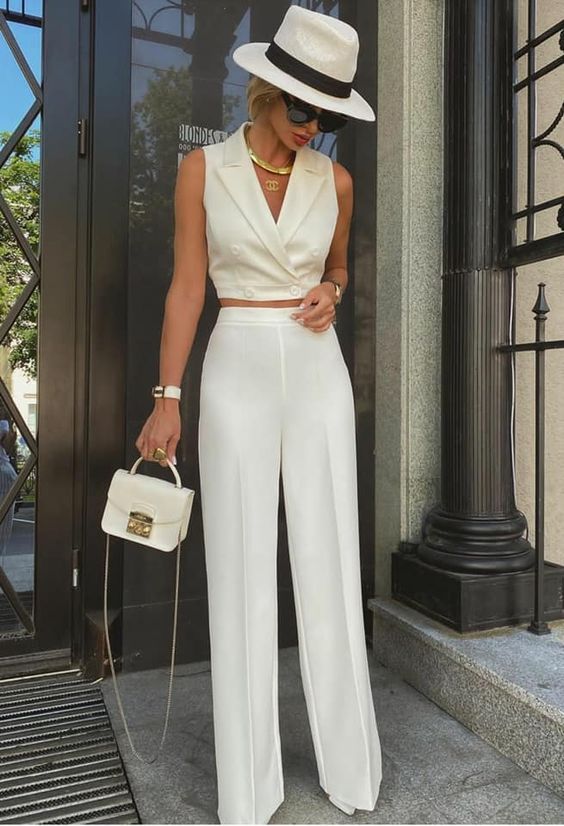 The casual and laidback feature is so identical to summer fashion essentials. But, we can prove that the summer lookbook also has the unbeatable classy fashion style! If you are searching for a super classy summer look. Actually, it is quite varied, there are lots of options available and in many ways. There is a proverb that says "All roads lead to Rome" it means that we have many ways to get through the same goal. Just like styling a classy summer outfit, we have a lot of options!
In the picture above, the classy look is made from neutral white color tone outfits and simple feature outfits. Simply, white is an elegant color, so ladies, we can mix and match this color tone outfit to achieve the elegant summer look! the white button top is paired with very sleek white trousers. These two combinations are simple but so impactful in creating an elegant summer look! A few accessories can be added to enhance your classy style. For such, the golden necklace, sunglasses, cute white bag, and don't forget to wear the sunglasses. these mix and match outfits definitely give an impactful classy summer outfit look!
Trendy summer airport travel outfit idea!
Many times we say that summer is a great and perfect time for traveling! The comfortable warm weather and the clear sky will make our journey feels great! If you are going to travel abroad, you must be prepared with essentials travel outfit items in your bag. Besides that, you also need to prepare well the travel airport outfit idea.
Figuring out what types of outfit that match with summer vacation. Well, basically styling the summer travel outfit idea is quite easy and simple. Yeah, we are highlighting the simple outfit essential. Something light, the easy-going look is what you need to! For instance, mix and match the striped tee with neutral white high-waisted pants. A pair of sneakers and simple accessories such as sunglasses give you a simple but sweet summer look! So, ladies you don't need to think too much about the summer airport travel outfit look idea, you can play on mix and match chic casual wear in your wardrobe!
Floral summer dress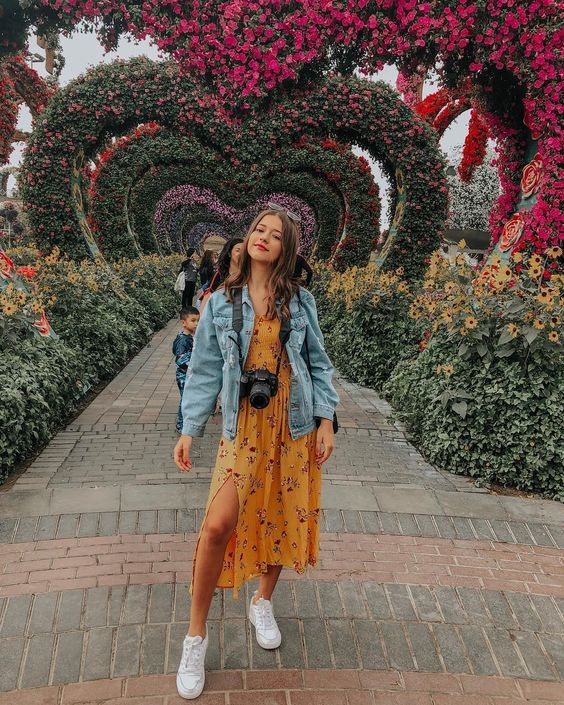 Embracing the cheerful summer days by wearing a beautiful floral summer dress! It gives you the feminine look, which is so beautiful! The bright floral midi dress can be worn to accompany your outfit of the day idea. In addition, you can layer it by wearing a denim jacket. A pair of comfortable white sneakers accompany your relaxed style. Having sightseeing around with this lovely street-style outfit idea can be your option to style summer fashion look!
Conclusion
The warm weather and the clear sky of the summer season are quite attempting! Walking around or hang out with friends and even going traveling is so comfortable in summer! To embrace this cheerful season, we have a complete guide summer fashion lookbook that will cheer your day with happiness!
There are many ways to style this warm season fashion styles. From casual items, lightweight and breathable features, to the classy look, we can achieve all of that. In this writing, we already shared with you a compact guide on styling every single day of summer fashion essentials. There are some chic casual looks and also some of them look incredibly classy. Which one is your favorite summer fashion lookbook above?