Drufashion.com – From the drama to the music industry, Kpop has been in massive development. There are millions of people watching and streaming Kpop on any type of media platform such as Youtube, Instagram, Netflix, and many more. Now, we are focusing on the Korean music industry widely spread all over the globe. Let say one of the biggest and popular Kpop girl band, Blackpink has millions of fans all over the world.
Blackpink is a legit Kpop girl band, their former song called Ddu ddu ddu is surprisingly legit and hits the top chart for many countries. In addition, they also collaborate with top world musicians Selena Gomez, Lady Gaga, and Dua Lipa. Besides the brilliant music career they have. These girls also succeed working as the ambassador of the world's most fashion brand. There is no doubt about their fashion style on stage, we have seen it a lot. From the cute, elegant, and casual events, they really rock it! In this writing, we will be focusing on Blackpink's icon Rose street styles! Our lovely Aussie girl has an abundance of effortlessly trendy casual look ideas that could be your inspiration! Let's check them out down below!
Looking trendy with double denim style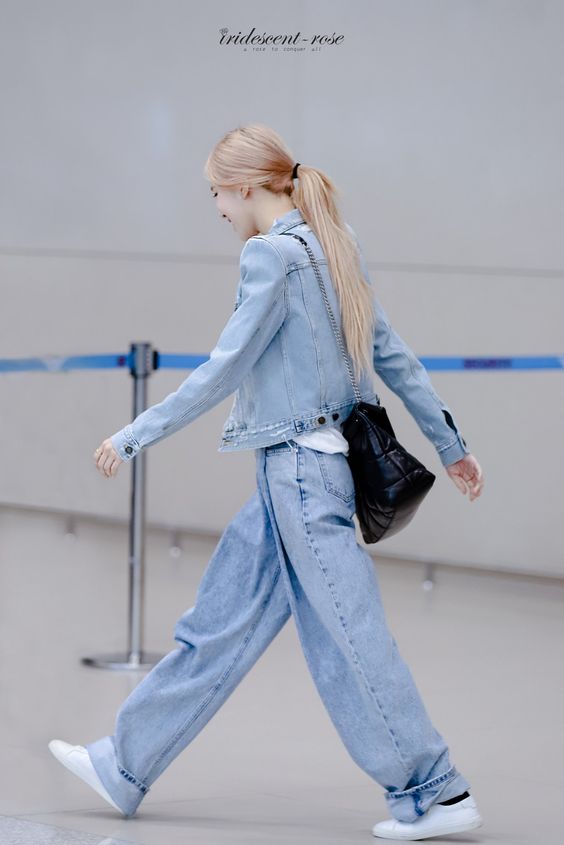 The Kpop star, Rose was spotted in the international airport, Incheon. She just came back from the Saint Laurent campaign. She looks so flawless in her casual look. She's wearing a cropped denim jacket from Saint Laurent and then casually paired it with brace pleated jeans. In addition, she perfectly paired the washed blue jeans color tone with a neutral color, white. It blends subtly creating a soothing Rose's casual look. As the final touch of her fun street style, Rose brings a black leather puffer bad from Saint Laurent. This kind of versatile street fashion style you can follow!
Rose's trendy sporty airport look!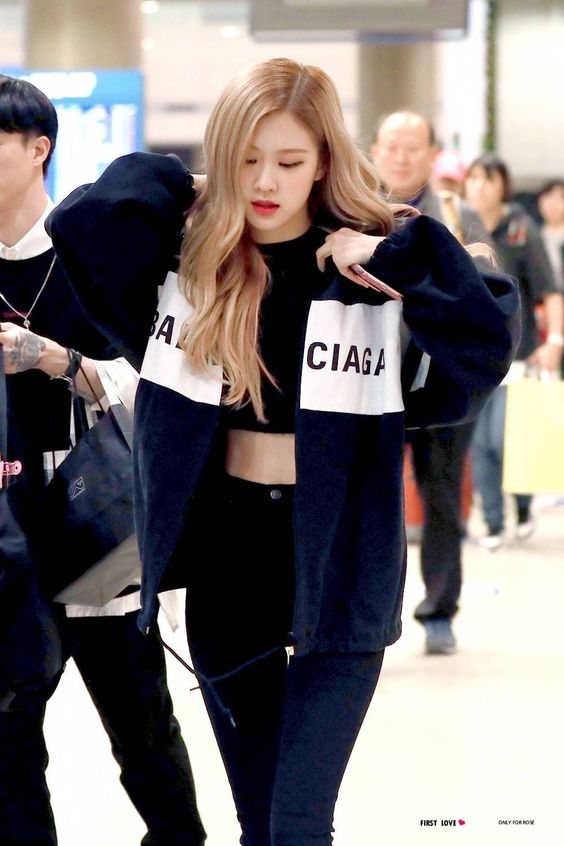 With a brilliant music career, Blackpink has millions of fans around the globe. Their face becoming so familiar to anybody, almost hard to not knowing them. Wherever they go, there always be paparazzi chasing them. We found out interesting looks when they have an off-duty day. At this time, Rose looking so gorgeous with the trendy sporty outfit style! She's wearing the blacktop inside and then layering it up with a tracksuit jacket from Balenciaga. Then, she joins her sporty look by pairing it with skinny jeans, Rose successfully blends the sporty and trendy streetwear item.
Absolutely looking cool with masculine outfits style!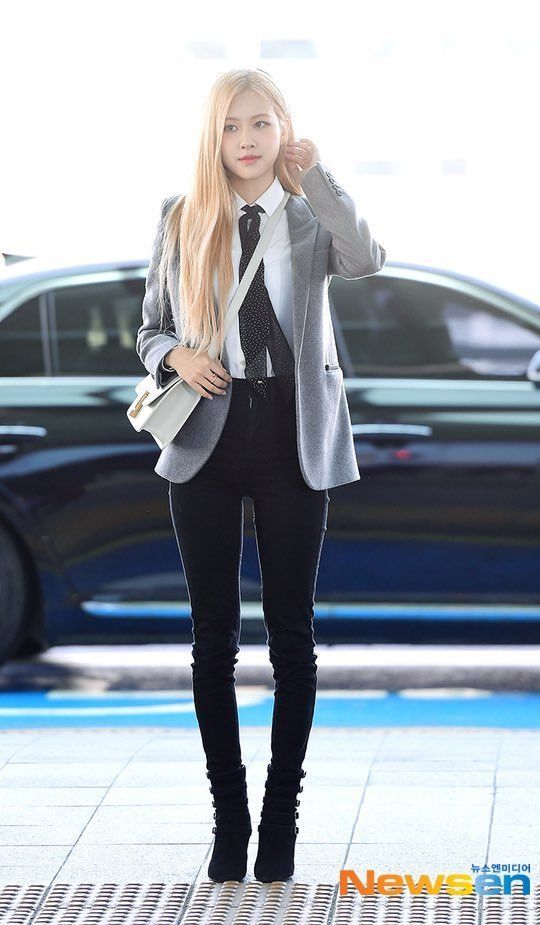 It's always interesting to talk about Blackpink's icon fashion style. Each member in Blackpink has their own unique fashion look. Now, we are highlighting Rose's trendy look, she's featuring her quirky masculine fashion style. Collaborated with Saint Laurent, Rose successfully shows her different looks that used to be feminine and looking cute in casual wear. Alright, she wears a body-fit white shirt with a black polka tie. Then, she layers her masculine fashion array with a gray suit. The black skinny jeans and a pair of black boots complete her outstanding airport look. She's absolutely looking cool!
Casual sporty look!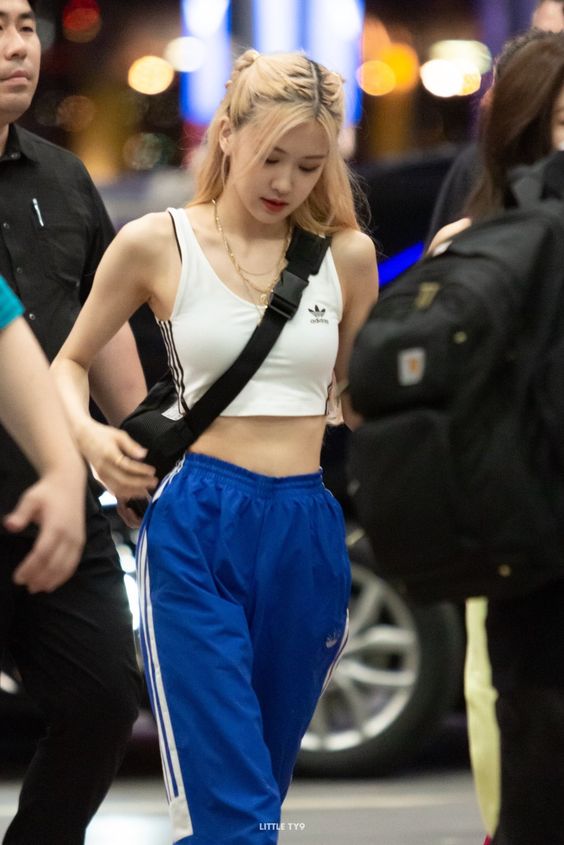 If you are bored with styling daily outfits, then you will never go wrong by seeing Blackpink's icon fashion styles to be your fashion inspo. Now, we display Rose's simple sporty look, she casually wears blue track pants and a white sports bra. To complete the simple sporty look, Rose wears a black sling bag. This look is so practical to follow but has a great impactful sporty look. To complete these sporty look essentials, a pair of running shoes can join!
Chic minimalist aesthetic vibe!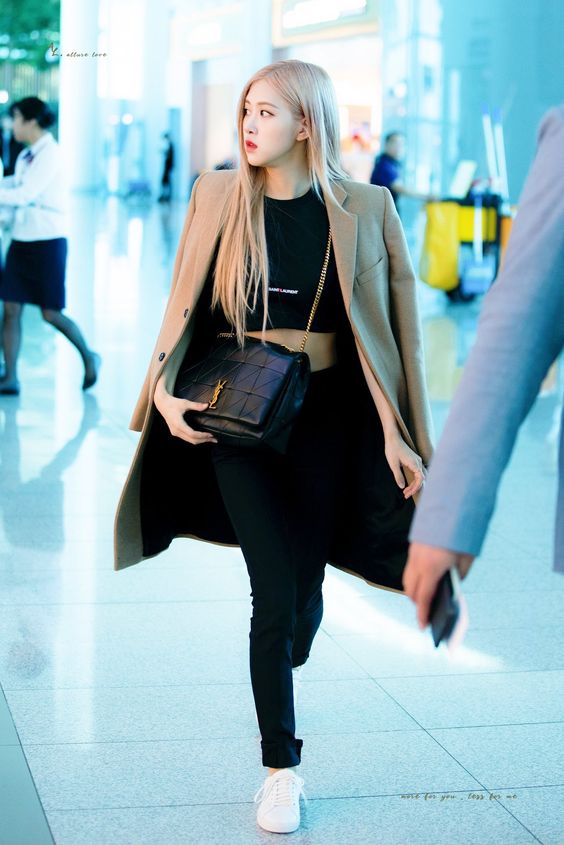 As the pop star, Rose never stops makes us amazed with her clothing style essentials. In the picture above, she pairs the black pleated jeans with a black crop top. I can say that she's the queen of styling crop tops! Back to her fashion essentials, she wraps her crop top with a beige coat. The black leather bag from Saint Laurent keeps her look so classy! Overall, we can say that Rose applying chic minimalist aesthetic outfit style! The simple line of clothing meets the quality fabric and neutral color tone to create an outstanding simple outfit!
Looking cute with a ruffle dress!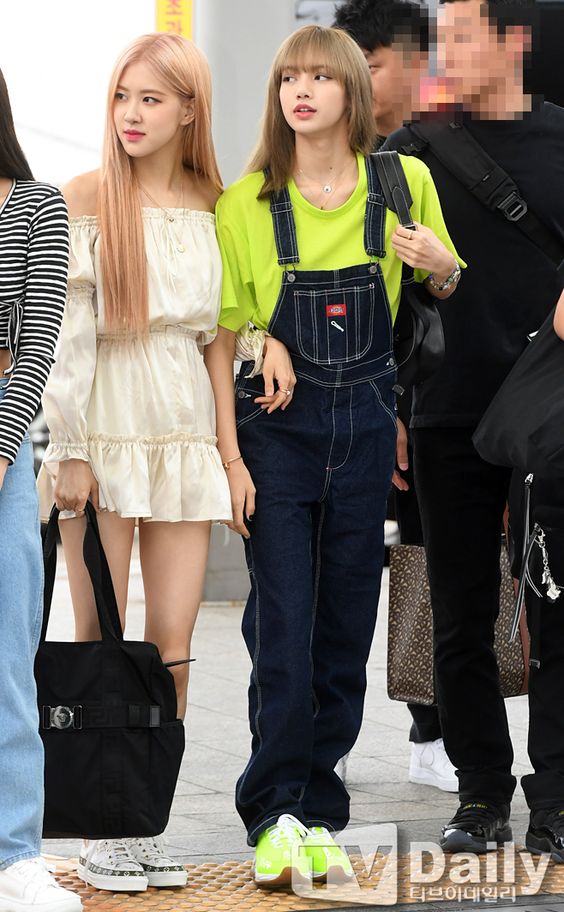 On her off-duty days, Rose loves to pair comfortable and laidback casual wear. To accompany her summer vacation, the ruffle mini dress in a neutral color tone being her choice. Then, she matched the dress with a pair of sneakers. These outfit essentials represent the laidback holiday outfit idea. To enhance the simple look, she wears a few gold accessories, she's absolutely stunning and down to earth! Do you fall in love with Rose's casual look idea?
Casual streetwear ideas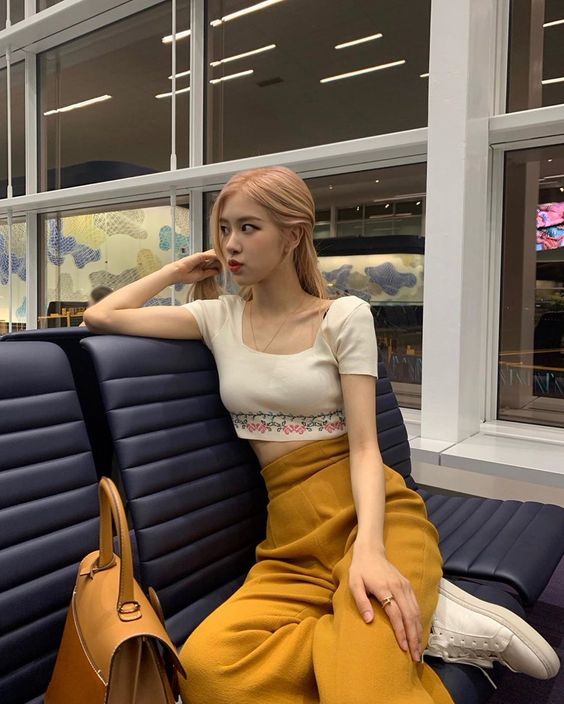 We love how Rose being so generous and down-to-earth on her off-duty day clothing style. In this picture, she casually mixes and matches the orange trouser that has a wide-leg feature with a neutral floral crop top!  Wearing simple golden accessories and bring her leather bag. That is absolutely comfortable and chic casual outfit style!
Beautiful Rose in polka dress!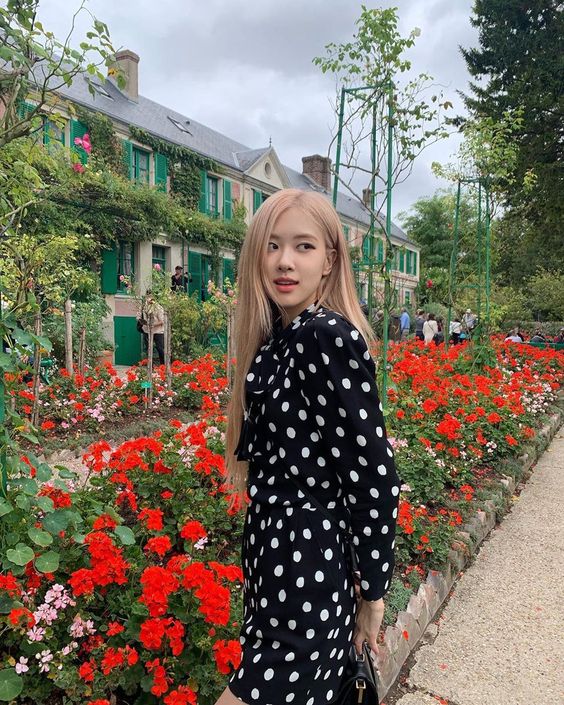 The spring comes and blooming flowers welcome us with their beauty and beautiful colorful natural scenery! Embark this spring fashion outfit style with some cute dress! Just like Rose that wears a black and white polka dress. Surrounded by beautiful blooming plants, and you get the dress in a beautiful and cheerful patterned polka dress. That's just awesome! Would you like to try it?
Blend with nature!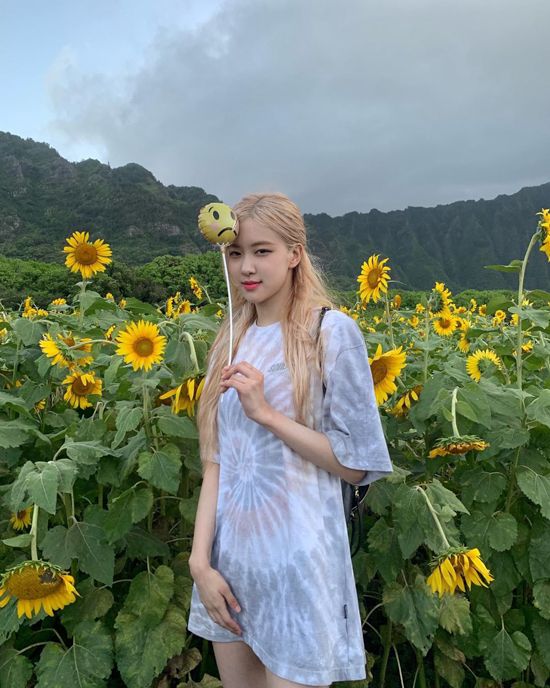 With the sun upon us and the warm summer days has welcomed us. Let's pick some floral or cheerful outfits that could embrace the summer outfit essentials! Let's have a look at Rose's summer vacation outfit ideas, she's wearing an oversized tie-dye tee. Then combine her down-to-earth casual look with a pair of comfortable shoes, sneakers! Then, complete your chic simple look by bringing a small bag pack. Now, you are ready to have the summer vacation!
Final words
The Blackpink's icon Rose with her friends has an outstanding music career in the decade. They also collaborated with top pop singers such as Selena Gomez, Lady Gaga. They are not only successful in their music career but also have another great job. Rose has been working as the Saint Laurent ambassador, her casual style takes the attention of the Paris fashion brand. In this writing, we already shared with you some of the best and effortlessly casual look ideas by Rose's Blackpink street styles inspired outfit. She has an abundance of casual fashion look that will make you always look trendy every single day. We hope you enjoy our Rose's off-duty day outfits style!