Knitwear is one of the hype fashion trends lately. How could this happen? It's because the fabric is very soft to wear and perfect for a casual day. Moreover, this outfit can be used in any season. It's perfect for warm weather but also can give a warm feeling in cold weather. So, the conclusion is knitwear is one of the fashions that will never go out of style.
But the problem is the lack of people knowing about styling this outfit which makes this knitwear looks old and not fashionable. Therefore, we want to talk about 15 outfit ideas to nail your knitwear! It would very inspire you and you might love this kind of outfit after knowing the ideas. Because our ideas will regenerate knitwear to look trendy.
If you want to follow, make sure you adjust the ideas to the occasions you want to go. Prepare your books to write this idea and enjoy!
15 Ways to Mix and Match Knitwear
Chilling Out with Knit Short Pants and a Cropped T-Shirt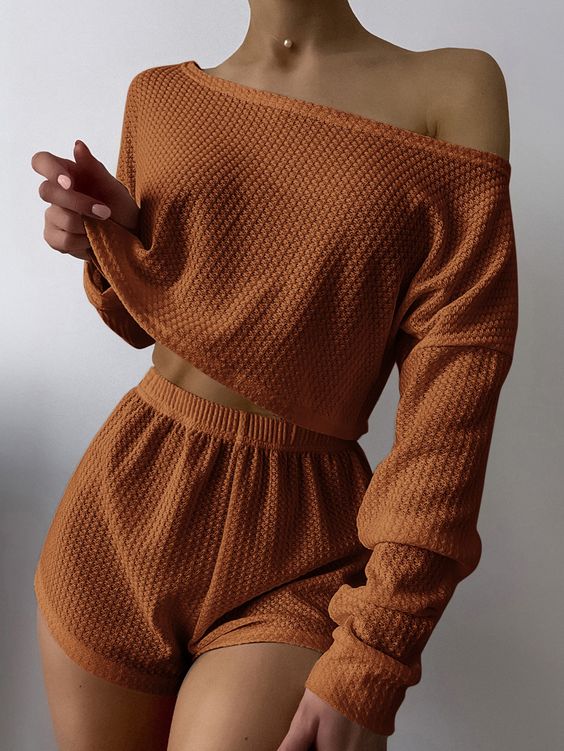 First, we go on with knit short pants and a cropped t-shirt! Look at the picture about how very comfortable this outfit is. Therefore, we want you to wear this idea for chilling out at home or just having groceries. It looks simple and ordinary, but when you put in some accessories, it will change the whole look of this outfit.
Pairing this style with a messy ponytail to support the chill look. Meanwhile, if you want to look more elegant, French twist hair can be the right choice. After that, wear chunky sandals as shoes that can give you a comfy feel for walking. Or chunky sandals if you want to get a simple look. Furthermore, a tote bag to put some of your stuff in.
Knit Turtleneck Top and Jeans Are the Perfect Combinations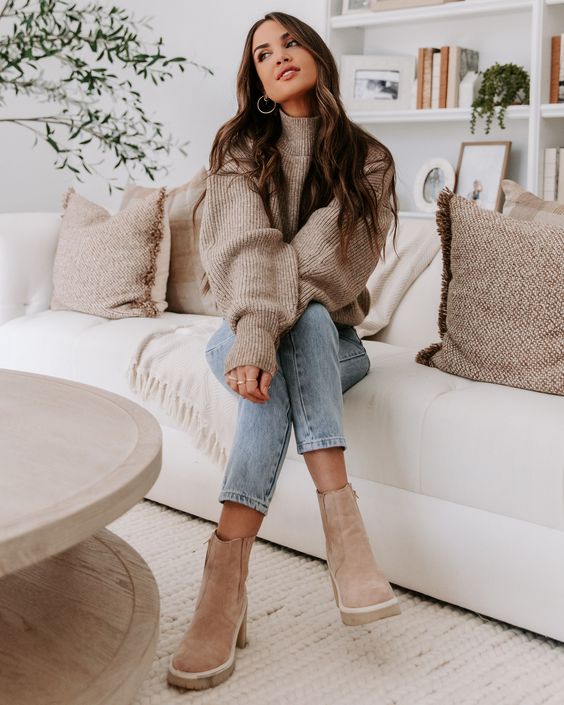 A Knit turtleneck top and jeans are the most used outfit, especially in cold weather. Even though, this combination is perfect together that's why many people are making this look for their daily outfits. If you are a person that avoids using a similar outfit to another, you can nail this style with a scarf or some accessories.
Then, letting the hair loose with a beanie hat also makes this outfit looks more perfect. But for those who prefer tying hair, it would be great to make your hair into a high ponytail or dutches braid. For the shoes, you can look chic in ankle boots or look casual in sneakers. So make sure you choose the right kind of shoes based on the situation. Lastly, wear any kind of bag that you want because this outfit is universal.
Knit Off Shoulder Dress is The Most Popular Knit Wear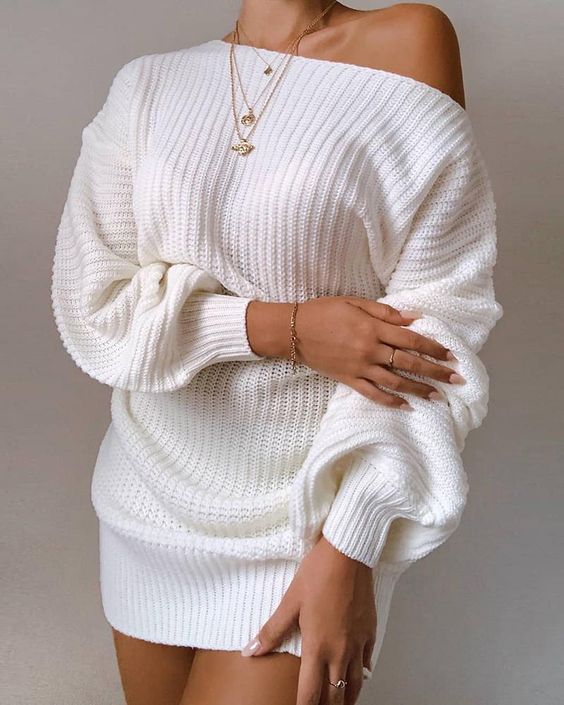 I believe you already meet this outfit before because this is the most popular knitwear so far. You're right, a knit off-shoulder dress! Many people love this outfit that can give a feminine and elegant vibe so you can look more mature when using this dress. Also, this kind of outfit suits to use in fall or winter. Make this outfit more trendy by giving a touch of gold accessories.
Being confused with the hairstyle? Try a high bun or French twist hair that would support showing your pretty neckline. Or you can make your hair curl and then use hairpins to look pretty. Furthermore, ankle-strap heels for complete your outfit look and combine with a sling bag.
Knit One Set When There's Nothing to Wear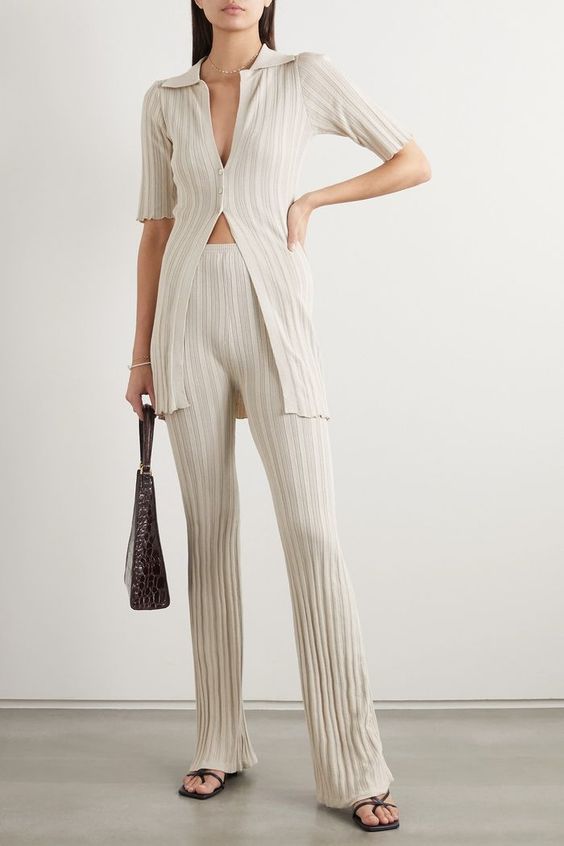 There's nothing to wear? Don't be curious, because there's a knit one-set that will help you with this problem. From the picture, you might combine knit loose pants with a knit cardigan. Is up to you if you want to button the top or not. But if you don't want, you can go on with a tank top to complete the style. Now, you just have to add a simple design accessory to look stylish.
Turning your hair into a braided ponytail can give you a chill look like your outfit. But if you have an extra mood, you may do a curl and let it loose. Mix and match this outfit with chunky sandals and a shoulder bag.
Looking Cute in Knit Cardigan and Tennis Skirt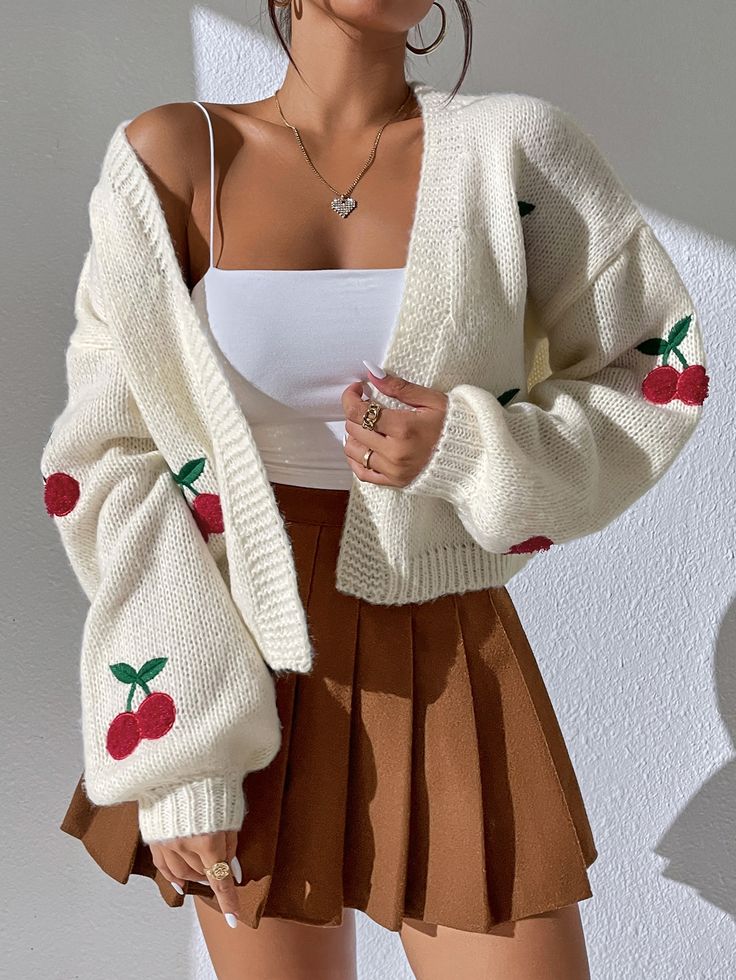 Vintage and cute are the high fashion trend right now. So, you can get this style with tennis skirts and a cardigan. Don't forget to add a tank top that you can wear as an inner top. If you an accessory addict, combine this style with a necklace or earrings that have a cute design. To make this outfit perfect, you also have to give attention to your hair like doing a dutches braid or space bun hair. Then, for finishing your style, you can go on with sneakers and a shoulder bag.
Turtleneck Dress For Special Event
Finding an outfit for a special event is not easy. Moreover, it might be harder if you want to look casual too. But, there's nothing is impossible, right? So, we have the answer for you which is wearing a turtleneck dress! Next, make your dress look glamorous by wearing accessories such as a belt, necklace, or earrings.
Now, it's time to focus on your hair like doing a curl and then tying it into a half ponytail. Believe me, it would great for you! Especially, when you add ankle boots for the toe and a clutch that can save your things.
Get a Chic Style with a Cropped Sweater and Jeans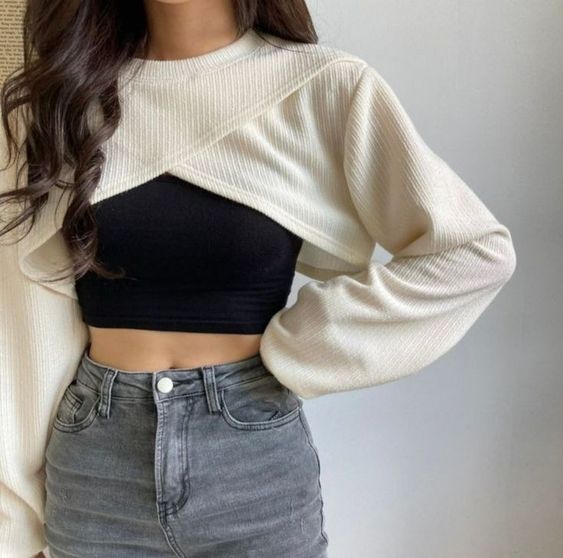 After an off-shoulder dress, a cropped knit sweater is also one of the famous outfits. This outfit is usually used by a teenager or dancer. You can style a cropped knit sweater with jeans, loose pants, or a span skirt. Just adjust the bottom to your needs and make sure you feel comfortable.
Meanwhile, for the accessories, I think you can leave them because it's already enough. But if you want to wear it, maybe accessories that look simple can balance this style. Next, wear sneakers to get the sporty look and a shoulder bag for the bag.
Mix and Match Pants and a Turtleneck Top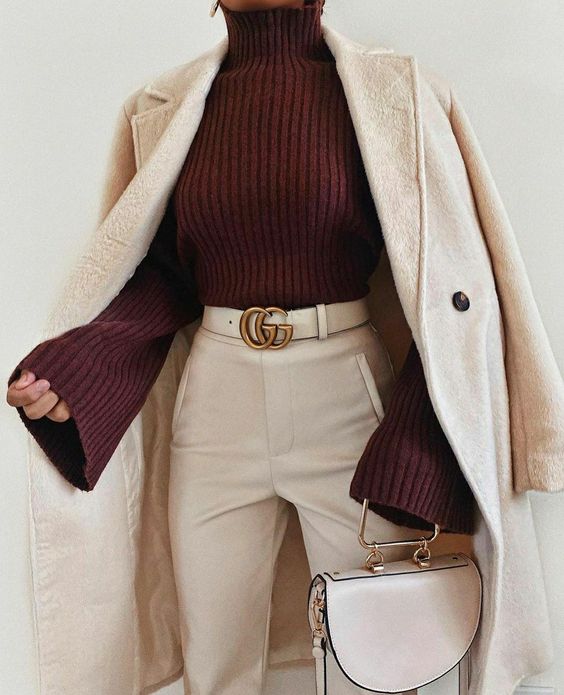 In cold weather, I know you will prefer an outfit that can give a warm and comfortable feel but still look fashionable. That's why knitwear can be the one and only choice that you can wear for getting what you want! Usually, people use a turtleneck top, then mix it with pants and a coat.
If you want to look glamorous, you can prefer to use a belt and scarf that can give a warm feeling too. Don't forget to finish this style with ankle boots and a handbag. So, isn't it looks suits to use in winter and fall?
Office Look Wearing Leather Pants and a Vest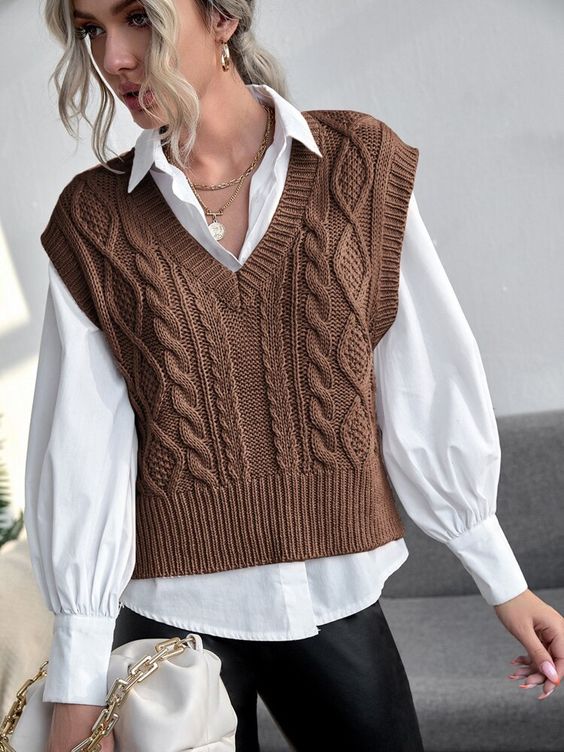 Going to work every day can make you feel clueless about the outfit that you have to wear. Therefore, many people just go with a pants and shirt which sounds very boring. But now, you have to look different by wearing a knit vest. This kind of outfit that you can combine with any kind of outfit!
Like the picture above, she wears a knit vest, then mix it with leather pants and a shirt. Isn't it look chic for work? Definitely yes! Furthermore, we recommend you pair this style with ankle boots to make it chicer and you're ready to attract your co-workers!
Style a Knit Cardigan with Sweatpants for School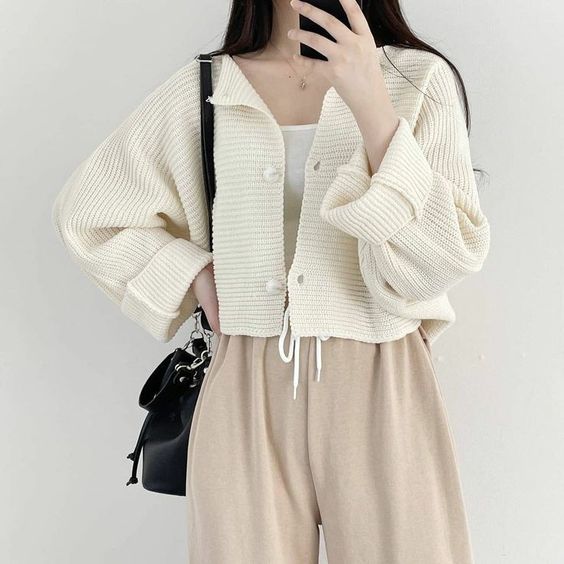 Besides outfits for work, you can also wear your knitwear for school or college. Mix a knit cardigan with sweatpants to look casual. But if you don't like wearing sweatpants, just change them with loose pants or any kind of bottom outfit that you want.
Still, a teenager is a time for you to explore your fashion, so don't miss out on the accessories and do layering techniques to make your outfit more trendy. Next, balance the outfit by making your hair into a high ponytail. Furthermore, wear sneakers and a tote bag that has a large size that can bring your books.
Make a Knit Mini Dress More Stylish!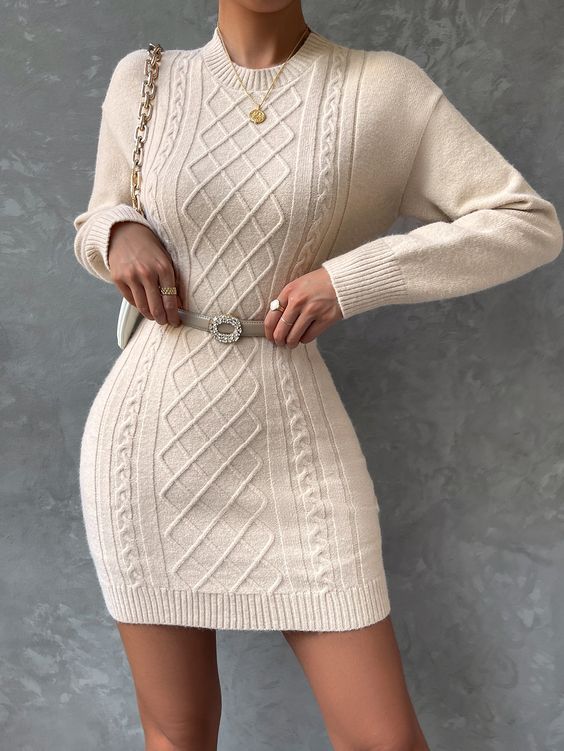 Use a mini dress? I think it sounds very usual, but have you ever tried a knit mini dress? If you never try or don't have this one, now you might go to the shopping mall and find this knit mini dress! This outfit will make you look wonderful. If you feel it looks old, you may add a belt that can shape your body and a gold accessory.
Besides wearing it in cold weather, you can also use this dress for a Christmas party. Just combine with ankle boots and a handbag, then choose a half ponytail with a bow for the hairstyle. Now, you're ready to go!
Combine a Knit Cardigan with Short Pants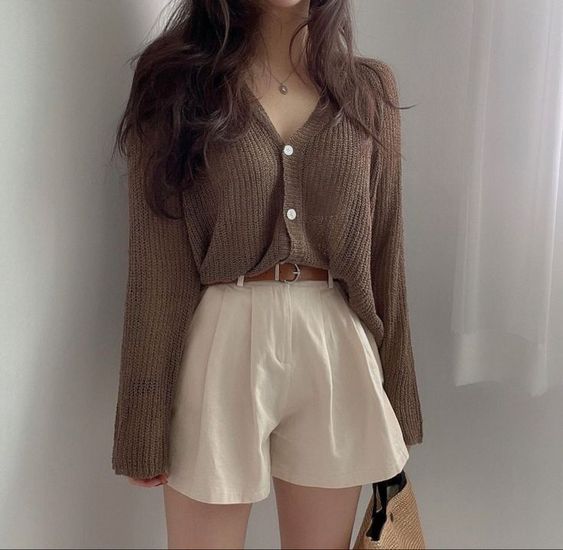 Next, we have a knit cardigan and short pants. Who doesn't know about this style? This combination is suitable to use during summertime or springtime. It will make you look casual but trendy when you wear it for hangouts or just spending time at the beach or garden.
For those people who love the complicated style, you may use accessories to level up your outfit. Furthermore, sneakers or chunky sandals for your toe. Then, finish out this outfit look wearing a shoulder bag and doing a messy bun to your hair. So, how was it looks on you? Isn't it look great for daily wear?
Ripped Jeans and a Cropped Knit Cardigan for Hangouts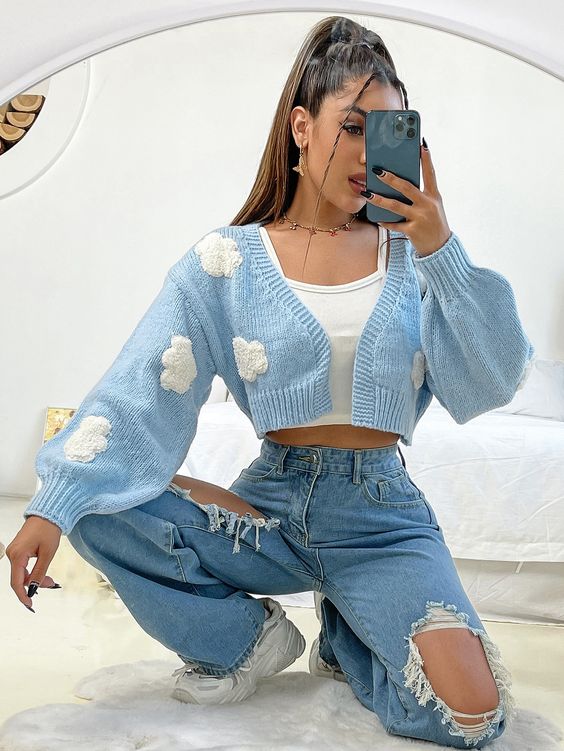 Still with a knit cardigan! I know this kind of outfit that you already have in your wardrobe! So, we will give you some more outfit ideas using a knit cardigan. Now you can change the short pants with ripped jeans to get a chic look. I'm sure, this kind of style that suitable for you who love to look boyish.
Go add some of your favorite accessories to bring this outfit chicer like giving a touch of sunglasses, necklaces, and hair accessories. Next, choose a high ponytail for your hair but make it messy for supporting your looks. Wear sneakers and a shoulder bag for the last items!
Get Your Feminine Style Using Knit Span Skirt and a Cropped Sweater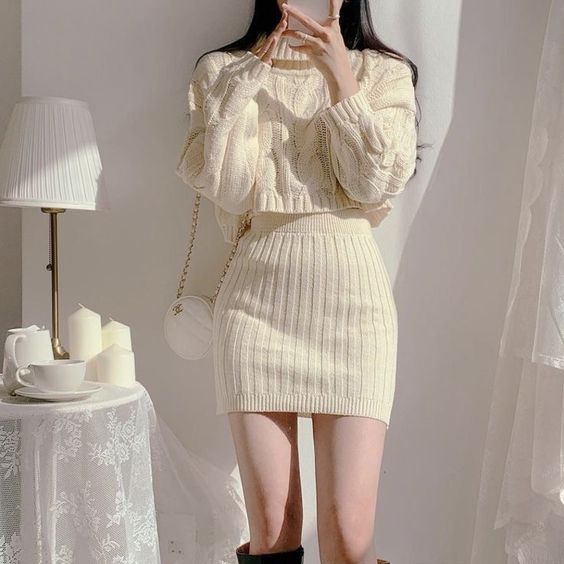 If you are a feminine girl, don't try to skip this idea! You can look feminine in knitwear! The thing that you need is one set of span skirts and a cropped sweater. Now style your hair into a curl and do a half-braided ponytail for completing the vibes.
Feeling clueless about the shoes and bag? Don't worry, because this outfit can be mixed with boots, heels, or even sneakers. For the bag, you may choose a shoulder bag or sling bag. Adjust it to your mood to get a pretty look! So, what are you waiting for? Use this style for hangouts or attending special occasions.
Look Casual in a Knit T-Shirt and Short Jeans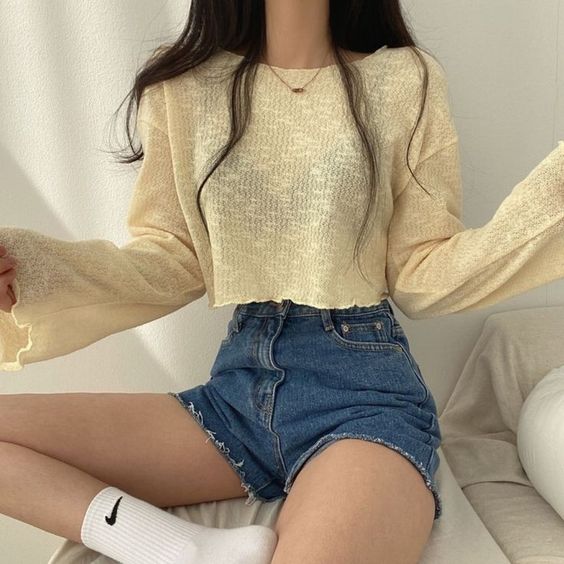 The last outfit idea that we want to share is about the casual outfit because knitwear is a perfect outfit for a casual look. Mix and match a knit t-shirt with short jeans! So, if you want to look young like a teenager, this outfit gonna be the best choice ever. Add accessories such as socks, caps, or cute design accessories to make it look fashionable.
Support your looks by making dutches braids or space buns for your hair. Next, using sneakers can help you to balance this style and give you a comfortable feel for walking. Last but not least, a mini backpack if you want to carry your stuff with a bag.
That's it about styling knitwear! Do we already regenerate this outfit? Isn't it change your mind about knitwear outfits? Now, leave the old look and go on to our ideas to nail your knitwear. Don't be afraid of looking different guys, being yourself is the most important thing after all. Go buy knitwear and find your fashion style.