Drufashion.com – We're not gonna lie, we all have to observe some outfits to improve our look. None of us wanna have an underrated look. Besides choosing the best outfit that looks good for us. There are some tricks on styling the outfits to make them more interesting. Each one of them is styling your shirt or tops outfit with a French tuck-in shirt style!
For a long time, the French tuck-in tops being greatly successful in tricking the outfit to look more trendy! To style the latest fashion look in 2021, there is nothing wrong to have the French tuck-in shirt, they are so good. This style is able to lift up the casual outfit and craft it into more looking stylish, in an affordable way too! In this writing, we will be sharing how to master the French tuck-in shirt to keep you in style every single day!
What is the French tuck style?
The French tuck style is a styling technique and pulls off your shirt or other tops. So, it gives a more stylish look. Usually, the French tuck using the oversized shirt, loose tee. The way you style an oversized tee with a tuck-in tee. You've got the slimmer and fit trendy look! Well, we will be sharing with you how to nail the French tuck-in shirt down below, so don't miss any of them!
A half tuck-in shirt French style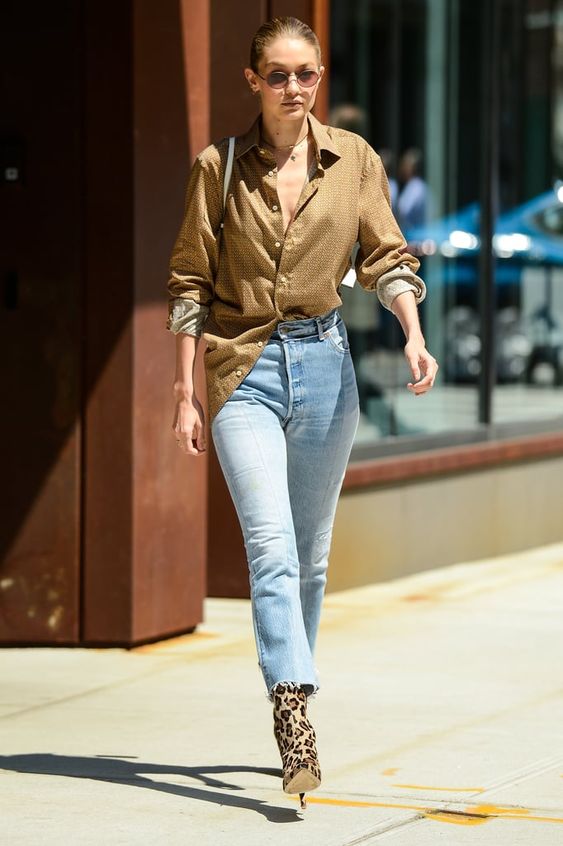 The world's top model Gigi Hadid caught up styling the French tuck-in shirt. She wears a beautiful mocha shirt with washed denim jeans. But, what makes her look even more stylish? We found out that she wears her shirt with a half-French tuck-in shirt. She showcasing the half of her shirt being exposed and the other half is flip into her jeans. In addition, Gigi Hadid's street style is even more stylish when she mix and match her outfit with a pair of gorgeous animal print heeled shoes! Then the sunglasses make them even more beautiful in her casual dress for summer essentials! Do you love Gigi's French summer fashion look above? Don't hesitate to try this half-tuck-in shirt and nail the street look like Hadid's did!
Front tuck-in shirt French girl style!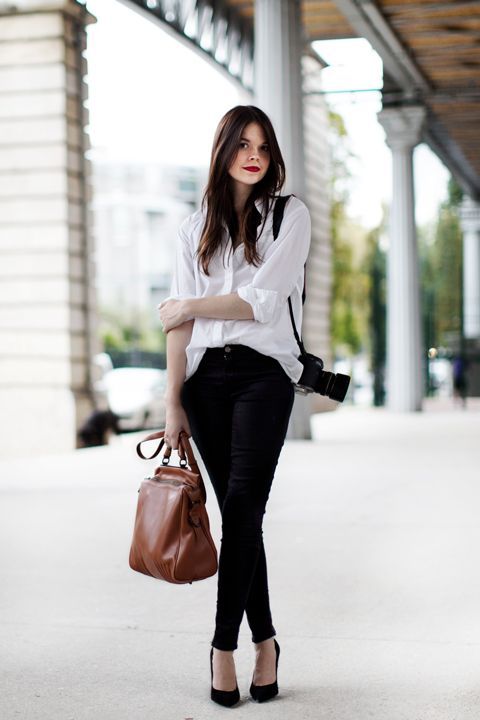 The French girl knows exactly how to maximize the look in casual outfit items. Just like in the picture above, we can see the French girl styling her shirt with front tuck-in style. She tucks in the front side of her loose shirt into her black skinny jeans. And for the backside, she let the shirt dangle normally. The way you style your shirt with tuck-in style, you will have a simple look and showcase the beautiful waist you have. Mastering the French tuck-in shirt can be your option to keep you in style outfit of the day ideas!
You can follow the casual French look above with an upgraded-style tuck-in shirt! A neutral color tone has been chosen, the white loose shirt combine with black skinny jeans. Completed the casual look with black pumps and a beautiful sleek leather bag! Ladies, we can take a lesson from the French fashion look essential above! The wat they are able to mix and match basic items and upgrade the look with fashion tricks. This absolutely giving an impactful accent to your look! Are you ready to style your loose shirt with an aesthetic front tuck-in shirt French style?
Looking chic casual outfit ideas with tuck-in tee style!
Do you love to tuck in your tee over your jeans? Well, that way will make you look cute and simple at the same time! Especially, when you want to layer up your tee with other tops outfit essential. Let's have a look at these beautiful French girl summer outfit ideas that you can follow this style too! She's wearing the black skinny jeans at the bottom, and they pair it perfectly with a bright orange-black striped tee! If you want to have the layering concept in the summer, just make it simple! For such, using the tuck-in tee trick to keep your look simple, And then, you can layer up your tee with the lightweight knitwear. This looking so cute Parisian girl summer outfit is essential! This outfit look also inspire us to style the school outfit idea for summer, go glowing girl!
Nail your daily look like a French fashion expert!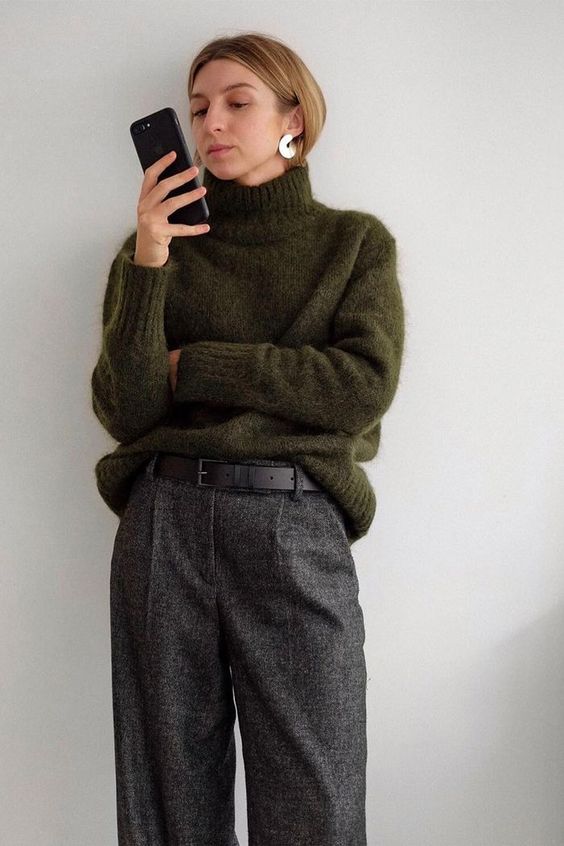 French is well-known for it fashion icon, there are many world's top fashion brand coming from this romantic country. When we come there, we will see many girls looking so stylish in their outfits! Now, let's nail the French tuck-in top style. Ladies, we can pair the neutral trouser with knitwear. This looks unusual but will definitely give you a trendy look! When you are able to style your outfit like this, you will look like a French fashion expert! The earthy color tone outfit, combining the different texture item, and polished with a leather belt, make your tuck-in top style looking so unbearable stylish! You can use this style for the early spring and autumn seasons.
Tuck-in tops style with skirt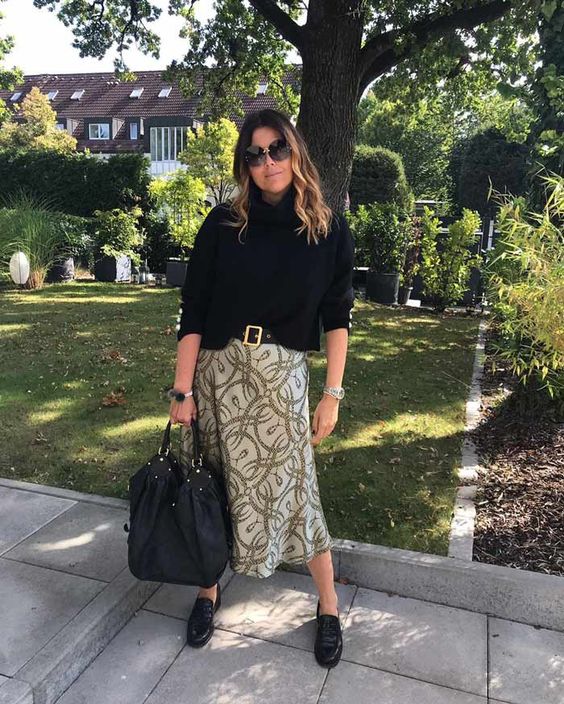 The tuck-in tops are not always aiming for jeans and trousers. Because it really works too with skirty! If you don't believe it, just try this essential ad see how it goes! Many French girls and women love to style their lovely skirts with tuck-in tops style! This will also elevate their look, and looking good all year round. For the summer essential, we have facing now, wearing a summer dress is quite appealing! But, there are many options available we can take to get a trendy summer look! For such styling the skirt!
Wearing the printed or floral skirt and they combine it with neutral lightweight knitwear. This look will make you nail the summer fashion essentials! Then, you can wear a few accessories to give aesthetic look! There are sunglasses, a classy watch, and a gorgeous leather bag is a summer fashion combo!
Tuck-in tee casual look ideas!
There is nothing better to pick a few affordable outfits in our basic wardrobe essentials! We can maximize the look by pairing the white tee and denim jeans. These casual items' outfits are quite versatile! You can simply tuck your tee into your denim jeans. Youn can choose the tight tee to showcase your beautiful flat tummy, or you can also wear the loose tee feature to get more comfortable and confident on it!
To nail the Parisian look, we can tuck our tee into our denim. And then, don't forget to bring the french straw bag to nail the summer essential outfit ideas! Complete your look by wearing comfortable summer sandals. Believe us, you already achieved the stylish daily outfit idea with this French style!
Conclusion
The French tuck-in tops style is one of the most helpful tricks on styling the outfit to look even more trendy! We can say, that even though we choose some basic outfits but craft it with proper fashion heck. You've got the trendy look! Thus are some of the best French tuck-in shirt styles we have shared with you. We hope you get more confident in styling your own outfit desire. We hope this writing could help you all out to nail a daily look of casual French girl look style and to keep you in style every day!