Drufashion.com – Cheers for the summer season! With the comfortable warm-weather essential, we do love to spend most of our time outside. There is nothing better than doing such fun outdoor activities in the summer season! Considering there are lots of time to spend in the summer season, looking chic in the laidback comfortable outfit is a must-do to style summer outfit essential! Now, let's have a look at one of the most fashionable countries, France. The capital city, Paris is home to many branded fashion items. That is not surprising that many people look so gorgeous on their statement piece of outfit!
The French girl style can be your idea to style a summer fashion look. As we all know, they are looking so gorgeous in the neutral color, comfortable feature, and statement piece of summer accessories. That is what makes the French girl's summer fashion look awesomely good! If you are bored styling your jeans and tee, let's have a cultural reset this summer's fashion look. We believe the Parisian look will elevate your fashion style this summer!
Showcasing the natural laidback piece of fashion item is needed for summer! French-style never misses to style their look for summer, that is a lovely straw bag! When you have the neutral color tone outfit and then touch your look with a friendly accent, bring the straw bag, you look so damn chic ladies!
Mango Jute basket to accompany your laidback style on the beach!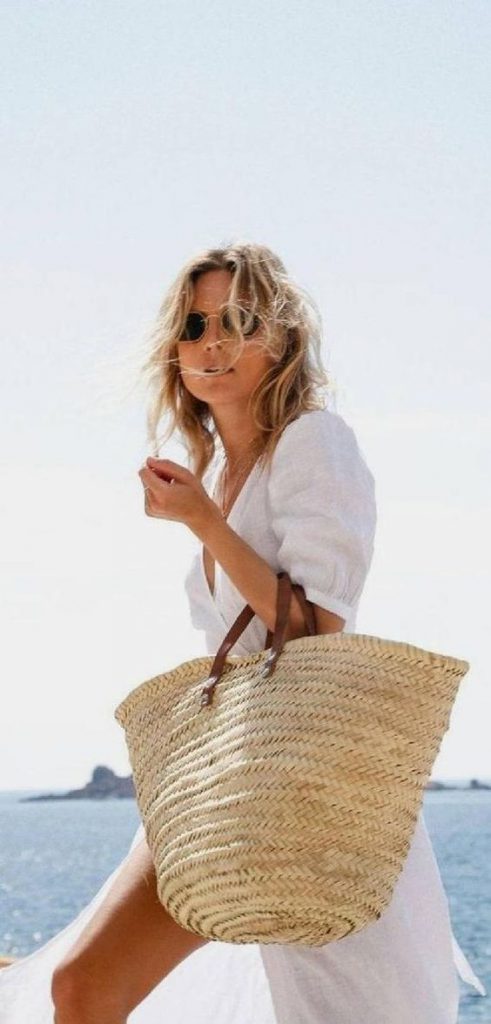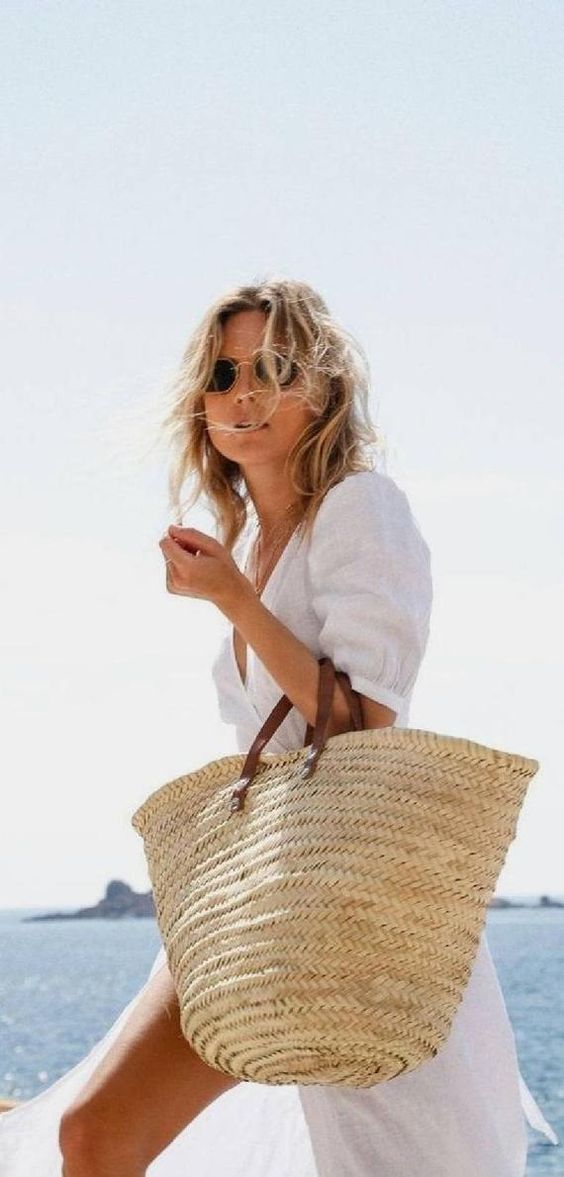 Wearing something neutral and eco-friendly item for summer is so appealing! The sun is shining, the blue clear sky above, and the warm weather touch our skin. It's a perfect beach time! Do you confuse about choosing the beach outfit style? The important rule on styling summer outfits is all about the neutral, easy-going look with friendly accessories, you've got the chic summer look!
Let's have a look into summer French summer fashion look to infuse the summer outfit essential! The Parisian girl always has a comfortable and chic summer sundress. The neutral white summer dress is pretty common when you need to style the Parisian summer look! Feel the breeze of the ocean touch your skin in the beautiful sun shining summer season. Then, to make your look even more lovely, you can bring the mango jute bag! This neutral straw bag is seamless and will perfectly match your soothing summer look!
Jane Birkin-inspired straw basket bag!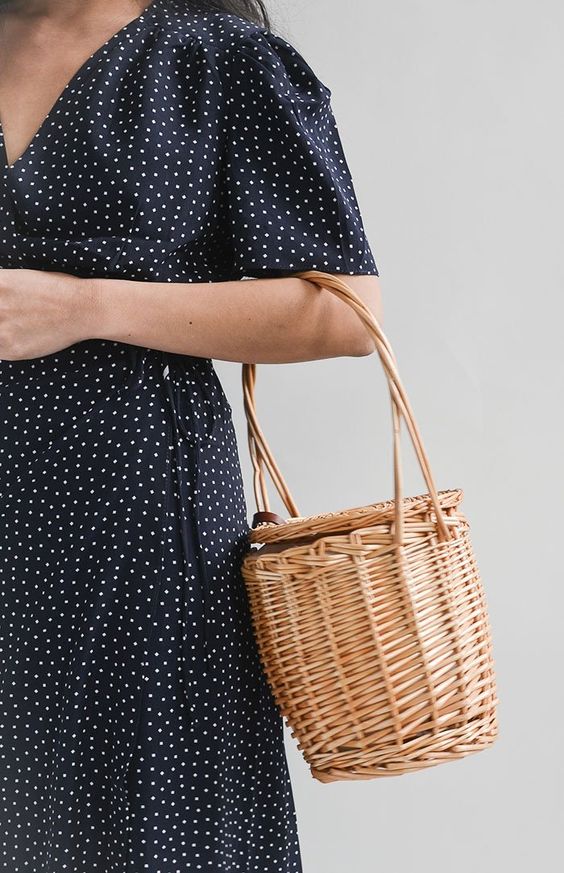 Another loveliest French straw bag style we want to share with you is the rattan basket bag inspired by Jane Birkin. When you are going to shop, this beautiful bag can accompany your style! Or when you are having a picnic, this bag absolutely gorgeous and will make you look chic! Wearing a beautiful Parisian sundress and complete your soothing look, by bringing the seamless bag, the rattan bag!
Eco-friendly palm leaf straw bag!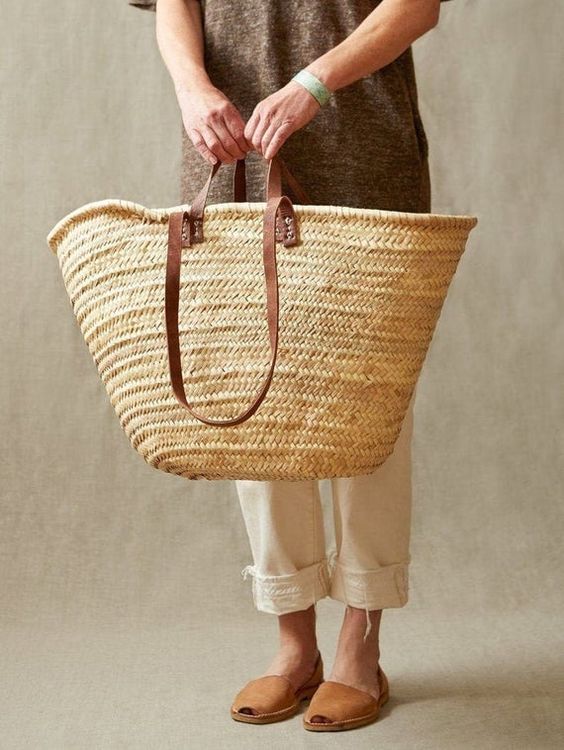 When you try to nail the chic summer fashion look, choosing something eco is one of the best options to show the laidback summer fashion essential! The seamless feature from the straw bag makes it even easier to mix and match with your summer look essential. The comfortable leather hand also matches perfectly with the woven bag. To get the French girl's summer fashion style, you can pick some neutral outfit ideas. Let's mix and match the earthy color tee and neutral trousers. This bag is made from dried palm leave that will bold the aesthetic of summer looks essential! Wrap your soothing warm fashion look essential by wearing the comfortable leather flats sandals! This is a super classic summer French girl look, would you like to try this aesthetic summer essential?
Backpack French straw bag style – Chic back-to-school outfit idea!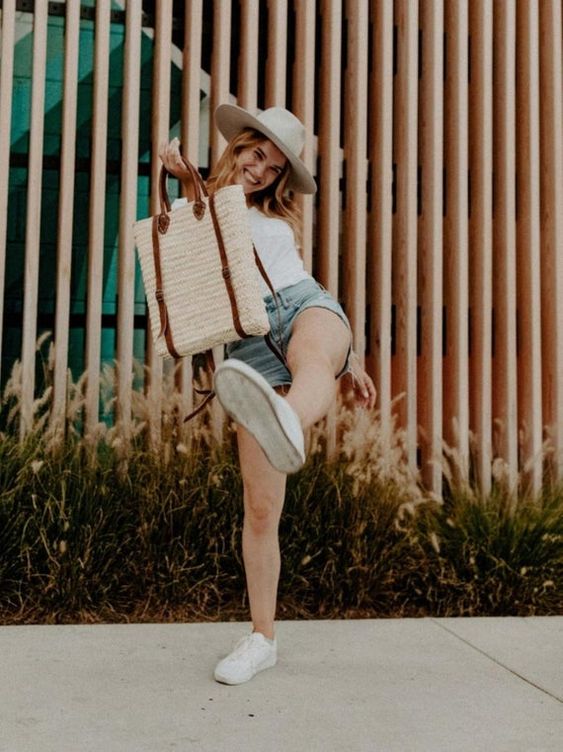 Young girls, are you ready to have a chic back-to-school outfit idea this summer? With the cheerful summer ambiance, let's embrace something laidback feature to enjoy the beautiful perfect warm weather! You can pair the jeans and simply casual white tee. Hiding under the beautiful summer hat will make us comfortable but also elevate the summer aesthetic fashion look! The pair of white sneakers giving the casual look and easy-going street fashion style. Don't forget to bring the straw backpack, the seamless look made from the neutral color tone, and eco-friendly product. That is just a perfect match to style a back-to-school outfit idea!
Crossbody straw bag with pearls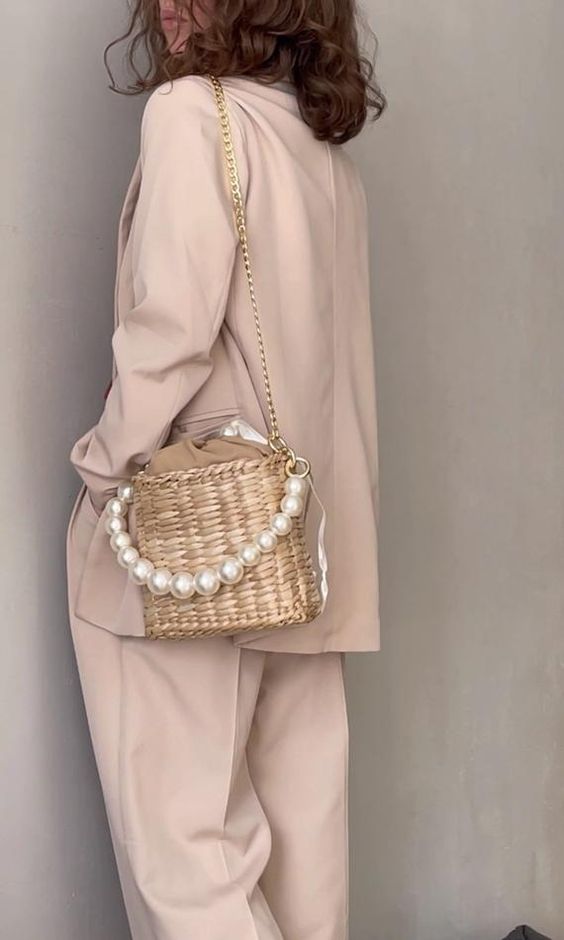 There are lots of loveliest straw bags available, but this crossbody straw bag should not be out of the list on styling straw French bag style! YOu can style your summer French fashion look, you can choose neutral color tone outfits. This mix and match soft blush pink trouser and coat look so soothing to the eye! In addition, the straw crossbody bag looks seamless and perfect to accompany your lovely outfit. The pearl accessories accent improves this casual look to be more elegant! As you can see, the French summer fashion style tends to choose the soft color tone outfit and choosing brilliant statement of accessories that could define the summer essential!
Beautiful straw basket handbag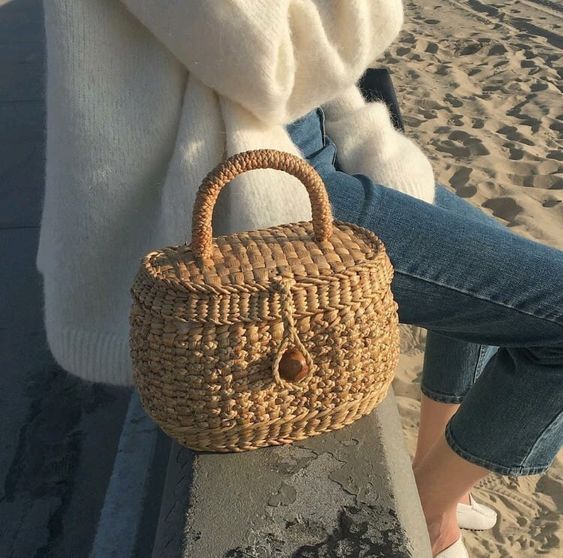 The next loveliest straw French bag style we want to offer to you is a beautiful basket handbag style. We can put some stuff in this basket. This bag is pretty cool to accompany your summer vacation outside, for such having a picnic or having a laidback vacation on the beach! The neutral color tone of this bag giving the green eco-friendly look to our style. That is why the straw bag looks seamless to accompany your summer fashion style!
Versatile summer fashion look with a lovely crochet jute bag!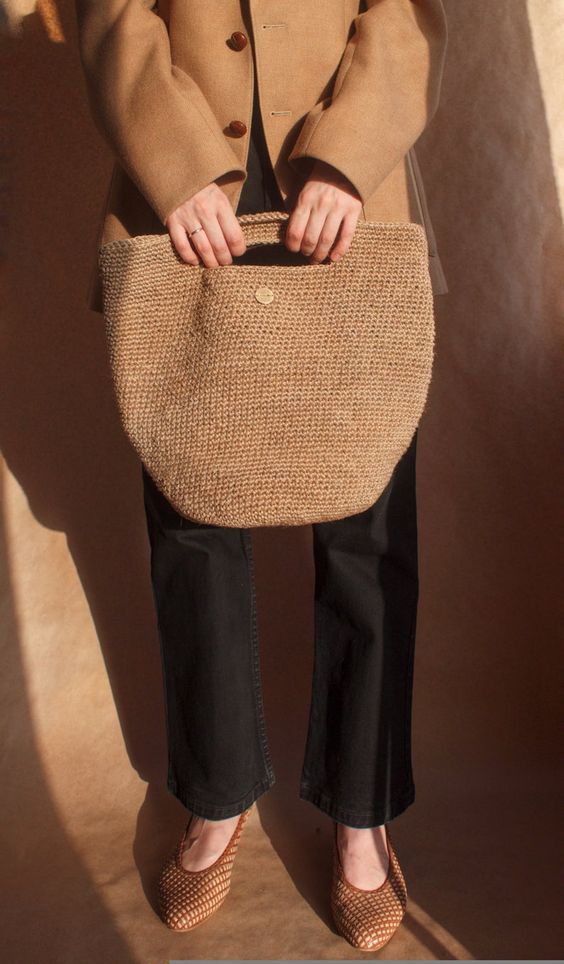 Embrace the laidback summer environment with the natural fashion look. Here we will guide you to have an outstanding French girl fashion style! As usual, we can begin with choosing the neutral color tone outfit. First of all, we can choose the French jean style for such the straight wide-leg jeans style. This feature will give you a comfortable feel during the hot summer day. It's pretty common to have a layering concept in summer French fashion style. Wearing the neutral top color tone then layer it up with a neutral or earthy color tone coat. To give the soothing and down-to-earth summer fashion look idea, we can choose beige flat shoes. The same color tone saturation from the coat, bag, to the shoes gives the actual soothing summer outfit essential ideas! So, ladies, the crochet jute bag has the natural texture and calming natural color tone, what perfect seamless accessories to style the calming summer fashion look!
Conclusion
The French summer fashion look is perfect for those who want to style their look with an absolutely soothing appearance! From what we have learned from above, the French style integrates with the neutral color tone outfit to create a soothing look. Then, they know very well how to improve their look with the proper accessories. For the summer outfit essentials, their accessories must go beyond eco-friendly products to create a natural look. We have shared with you some of the loveliest French straw bag styles to join your chic summer fashion look!
There are lots of beautiful straw bags in many styles and sizes. We have showcased to you, from the tote bag style to the crochet jute bag style for the last. They are all absolutely amazing and perfect for accompany any summer occasion. Their seamless look made from their calming neutral color tone will successfully transform your look so chic and soothing! We hope you enjoy the straw bag styles we have shared with you above. Don't ever get tired to find your perfect look. Then try to mix and match outfits in your summer wardrobe essentials!