Drufashion.com – Bonjour! Are you interested in the French or Parisian fashion look? There is no doubt that Paris is one of the most fashionable cities around the globe. We already know some of the topped fashion brands came from this romantic city, let's say, Chanel, Paris Saint Laurent, Christian Dior are some big names of fashion icons in the world! It's not surprising that many Parisian and most all French girls look so elegant in their casualties. They are confident in what they are wearing and brilliantly mix and match clothing items. Before, we already shared with you some of the best Parisian casual fashion looks. Now, we want to share with you another idea to catch the chic French girl styling their jeans. We will find out some of the best jean styles that every French girl loves to wear on a repeat!
The comfortable feature and mix with chic top clothing items, make the French look fashionable look simple but fashionable at the same time! In this writing, we will be sharing with you a trendy daily look from an aesthetic Parisian summer fashion style. Showcasing the casual street item, jeans, and then match it with a chic top cloth. So, don't miss any of them!
High-rise straight-leg jeans style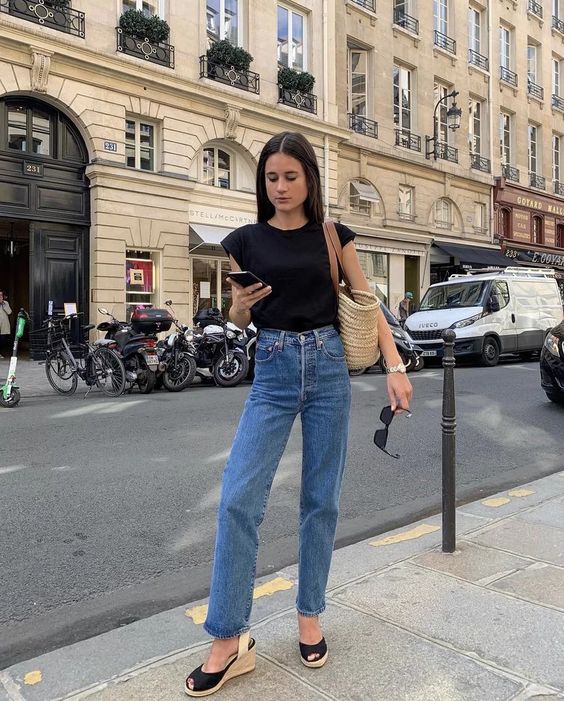 This look is perfect to accompany your street style. Pairing up the high-rise straight-leg jeans with the black short sleeve tee is so comfortable. There is space between your jeans and your skin that will access the air to come in, so, you will not feel extremely hot on the summer day. To make your daily street outfit look unique, you can bring the woven bag as the aesthetic French girl casual summer style. Complete your look by wearing a pair of black wedges that match your tee color saturation. And then the soft beige color tone on your wedges looks perfectly fit your woven bag. Don't forget to bring your sunglasses when hanging outside on a hot summer day. Now, you have a daily trendy look of French girl style!
Matching up mom-fit-jeans style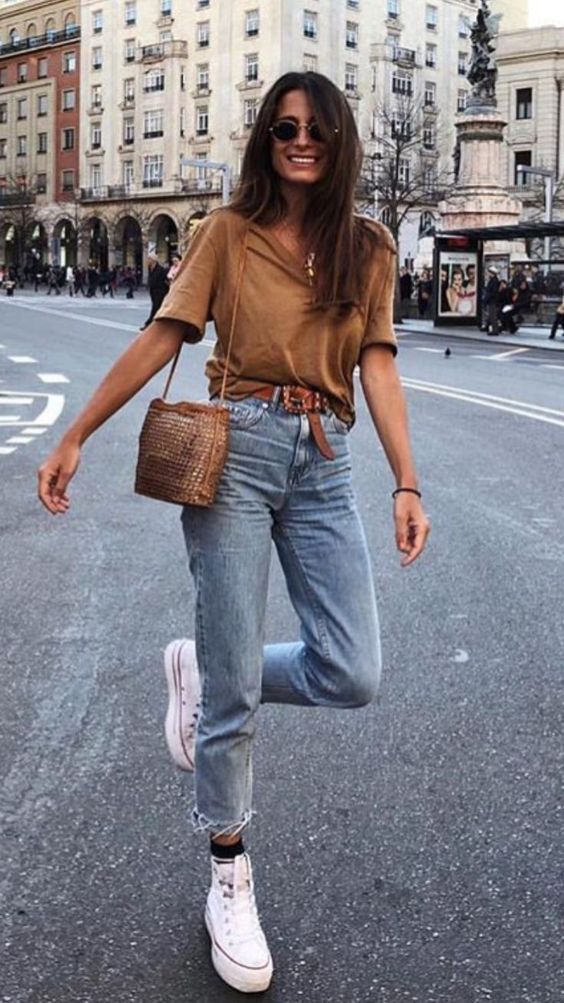 For women over 30, you can choose the mom-fit jeans style to accompany your street fashion style aesthetic! The tuck-in top style with these sweet and stylish mom jeans looks so adorable! The beige color tone outfit top looks so natural and blends very well with your the washed denim jeans color shade. Uplifting your look by wearing a stylish brown leather belt. Giving the youth style to your look, so it doesn't look too old and plain. The pair of white canvas sneakers can be worn to give an attractive French look! When it comes to summer, the French girl loves to bring their chic woven bag wherever they go. This look is quite simple but also trendy at the same time!
Upgrade the look by styling the street fashion item flare jeans like a French girl!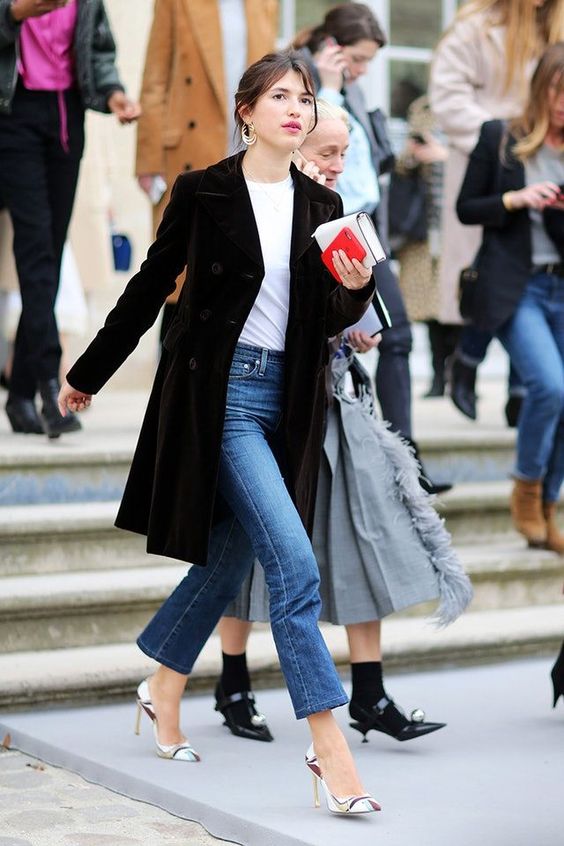 These ladies are looking so fashionable by styling their flare jeans! The Parisian girl always have the space for jeans in their wardrobe, cause they love this piece of fashion item! No matter what the season, they always have the ideas to pair their jeans with any top, and that's all look incredible!
If you love to wear jeans for your fashion style. There is nothing wrong to include this street fashion item to accompany your semi-formal occasion. It's not bad to style the jeans for such an event as long as you have the idea to craft them more politely! Well, we can have a look at this French girl style. She wears casual flare jeans with the white top above. You can make it look simple by wearing the tuck-in top style. Then, you can do a layering concept, it's very important to upgrade your casual look! Choosing the trendy coat will make you look remarkably good. The black coat gives the minimalist aesthetic to this semi-formal fashion look. Finally, you can wear the neutral color tone heeled shoes. Wearing simple gold accessories will sweeten your look, do you love this trendy look by styling French jeans outfit ideas?
Cropped wide-leg jeans aesthetic casual look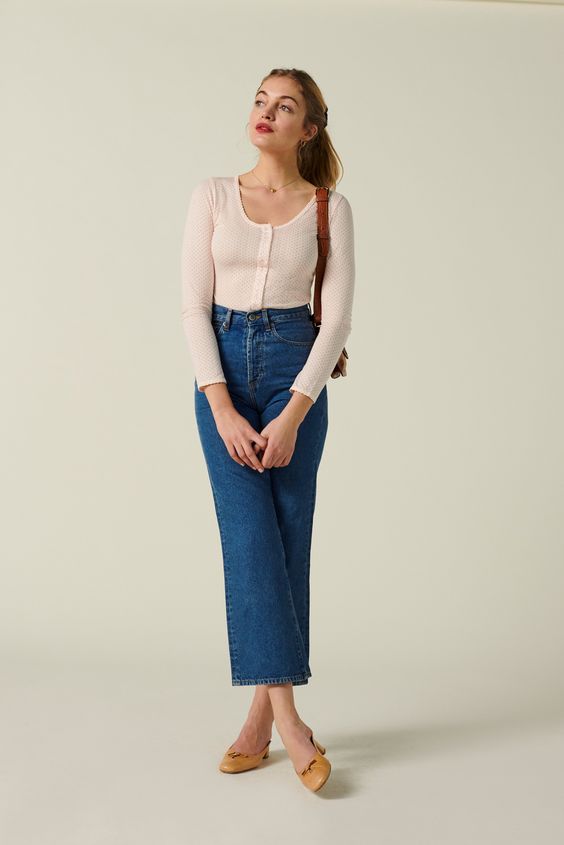 The cropped wide-leg jeans style is perfect to accompany your casual look! A simple and sweet, also comfortable jeans feature is worth to style your daily outfit look ideas. Especially when it comes to the warm weather like summer. To create a French girl aesthetic look, you can style your cropped jeans with tuck-in top style! The simple front button knitwear also looks sweet to accompany your casual jeans. Giving the aesthetic French style by wearing trendy and comfortable wedges shoes. The earthy color tone such as beige is perfect to give a soothing fashion look by your side. In addition, the chic leather bag makes your look sweet. Moreover, when you tie your lovely hair with a beautiful scrunchie that will elevate your trendy casual look!
Styling skinny jeans, looking simple and lovely!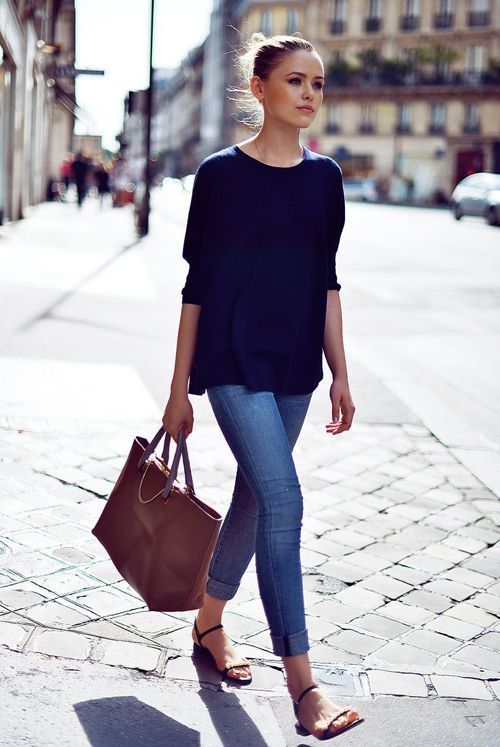 Remembering to keep your style look simple, functional and chic at the same time, that is what French girl or women does. Just looking at this gorgeous look by styling the skinny jeans. She wears skinny jeans and pairs them up with a blue simple blouse. Wearing comfortable summer sandals, giving her look so chic in a casual item. Then, give the statement to her look, she brings the beautiful leather tote bag. This simple looks absolutely stunning! So, ladies do you love this simple pair for your summer fashion essentials?
Liven up the summer look by styling the short denim jeans!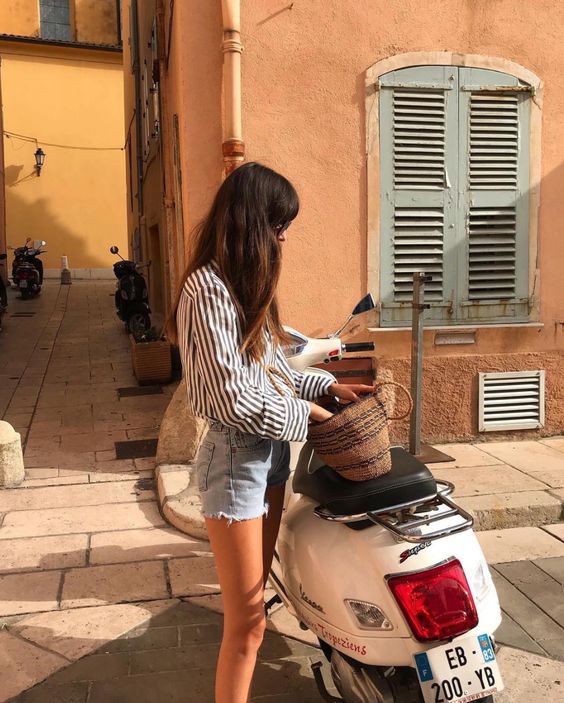 With the blazing hot sun of the summer peak season. There is no doubt to wear a simple outfit that has so many breathable features! Let's give the chance to the short denim jeans to take the role of your summer fashion essentials! Styling the washed short denim jeans with the laidback white striped long sleeve tee is enough presentable to style like a French girl summer fashion look! Wearing comfortable sandals or sneakers will give you double comfort during humid weather. Giving the aesthetic French fashion look, you can bring the lovely woven bag for your street fashion style!
Mix and match jeans with a white blouse – The aesthetic summer French fashion style!
The French girl has plenty of mesmerizing mixes and matches outfits ideas. Just like this gorgeous summer look aesthetic style. We can wear high-rise jeans with a tuck-in top style. Matching up this casual item with an outstanding white blouse, made from satin material will make your skin feel so comfortable during the warm summer season. Then, give the aesthetic look into your style by wrapping the classy vintage leather belt on your waist. You look so elegant in simple wear, absolutely looking down-to-earth! Do you love this trendy daily look by styling French jeans outfit ideas?
Conclusion
The fashion icon and the romantic city have been attached to Paris, French. There are many world's top fashion brands that were born in this city. Actually, it makes us curious to know how the French girl styling their daily look! Well, they mostly look so fashionable showcasing the casual clothing items but wrap it brilliantly with impactful statement punch!
In this writing, we have shared with you some of the best ideas on styling jeans as a French girl does. There are some types of jeans available you can choose based on your comfort. Overall, we found styling French casual look, they are being so generous on choosing a casual piece of an outfit. But, then manage it with an impactful statement for such wearing the woven bag for the summer aesthetic, or wearing classy vintage style and simple golden accessories to give a classy look. That's all we can share with you in this writing, we hope you enjoy it and help you to keep it in style!