Drufashion.com – Happy summertime to all! We are facing extremely hot summer days in Europe this year. The temperature hit 40-celsius degrees and even more! With the blazing hot summer days, we obviously need to fulfill our wardrobe essentials with comfortable dresses for this summer!
Figuring out what types of comfortable dresses for the hot summer days. Something lightweight, breathable, and laidback feature outfits are what we need! Although we are facing some very hot summer days this year. Still, we have to cheer and embrace the essence of the bright and warm season of the year! Looking trendy while get in comfortable dresses is a great idea! The Parisian summer style offers a lot of cool outfit ideas to wear on these hot summer days!
The French girl does know exactly to pick some beautiful dress without sacrificing the comfort being on the outfit itself! In this writing, we will be sharing with you some beautiful sundresses to get a chic Parisian summer-style look! So, don't miss any of them, these dresses are so cool and deserve to be in your summer wardrobe lookbook! Check out chic French sundresses right down below!
Chic white polka dress
The french girl fashion style essential for summertime is quite chic. They prefer to choose laidback breathable features with comfortable outfit styles. Don't think about something tight and dress in a very sexy summer outfit feature, that is not definitely what French girl summer fashion style essential! The outfit must be comfortable, with simple prints in earthy or neutral color tone, then add with some classic attire that makes Parisian style looking so chic!
This white polka dress can be added to your summer wardrobe basic checklist. The breathable, lightweight, and for sure comfortable feature outfit is perfect to wear on these hot summer days! Combining this beautiful sundress with a pair of white heeled strap sandals and sunglasses. Don't forget to bring the classic vintage bag to make you in style! Now, you've got the chic Parisian summer fashion style, that's absolutely beautiful and cozy!
Effortlessly looking stylish with a beautiful classic vintage maxi dress!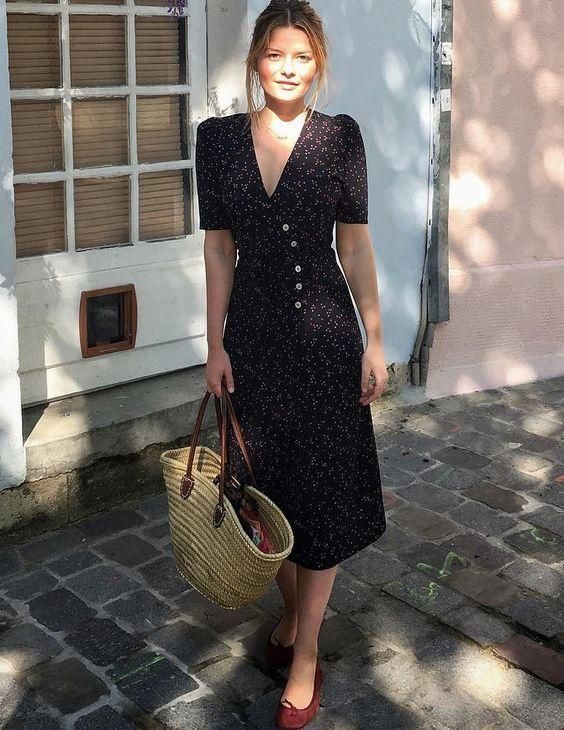 As we alluded to earlier, the Parisian summer fashion style highly embraces comfortable feature outfits rather than styling a very sexy summer look! This black floral maxi dress in vintage style is definitely beautiful! It has the neck collar style, made from a cool fabric feature that will make your skin breathe well on the hot season day! Then, combining your down-to-earth sundress with a pair of earthy color tone flat shoes. Don't forget to bring the classic woven tote bag. This look is an effortlessly stylish and bold Parisian summer look! Now, you've got the gorgeous French fashion look for this summer, happy summer holiday ladies!
Puffy sleeves Parisian maxi dress style!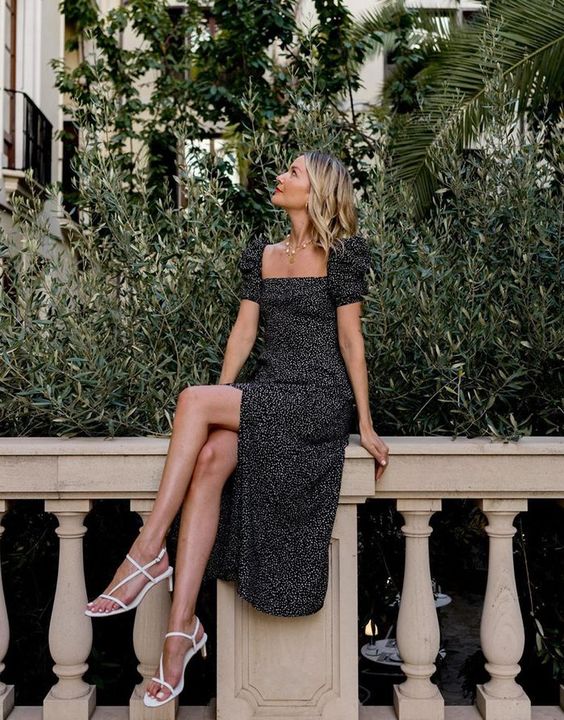 Simple but beautiful and attach a classic element, that's what French girl fashion style love to wear! When it comes to summer, there is an abundance of beautiful sundresses available to pick! And when you shop in the peak summertime for it, you'll get high prices. So, our tips on shopping for summer dresses, you can buy them earlier, probably in spring or wintertime is not a bad idea to save your budget!
Well, we have come to the peak summer season this year, it feels so hot, isn't it? It's a perfect time to wear a comfortable sundress all day long! We have an intriguing Parisian sundress that will activate your good mood to liven up your summertime! The beautiful floral maxi dress with puffy sleeves style. The earthy color tone outfit and small floral prints will absolutely make your look so down-to-earth! Wrap your lovely look by wearing simple accessories and nice strap heeled sandals. You are a goddess in a beautiful sundress!
Looking gorgeous in a satin dress!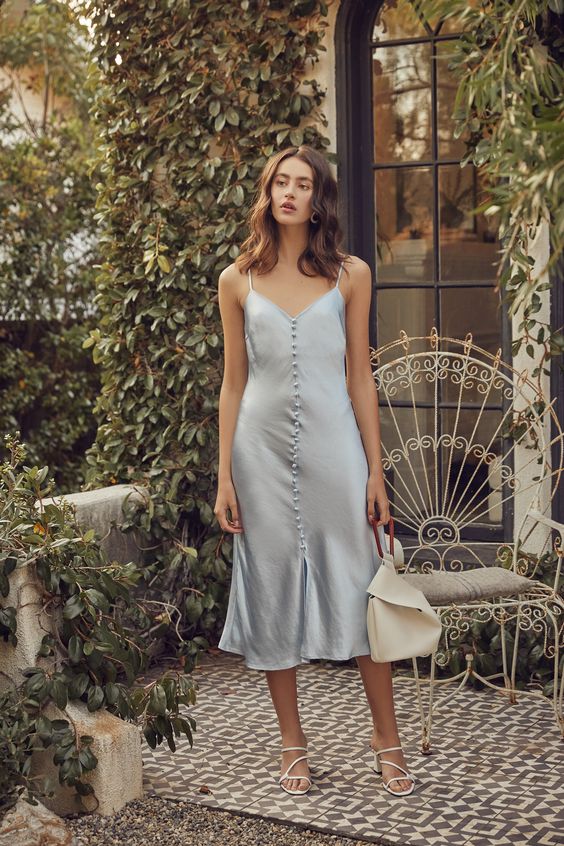 There is another Parisian girl who loves to style their summer fashion essentials. There are plenty of satin dresses in soft color such as pastels available. The dress that is made from satin material has a really soft texture and cool outfit feature. These essentials absolutely will make you feel comfortable moving around on a hot summer day! Completed your casual summer look by wearing a pair of heels sandals. Then, the white leather bag can join your chic summer look! Would you love to have this look styling your summer look?
Cute gingham dress!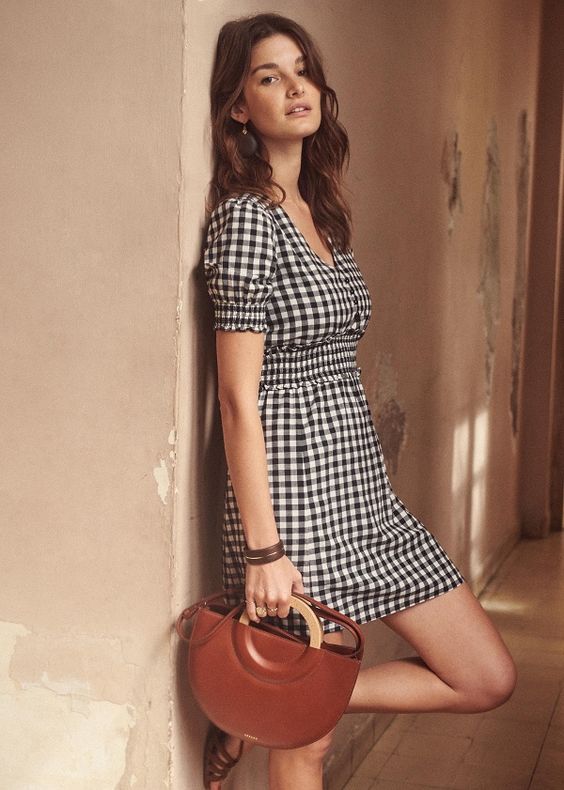 Parisian fashion look lovers! Here we have a dashing Parisian summer dress you can wear to cheer your summer look this year! Yes, here we introduce you to a very cute gingham dress! The puffy sleeves and flexible belted waist style make this dress is so lovely! There are lots of variants of the gingham dress from the maxi to mini dress, you can pick one, which one you would like to wear on these hot days? Ladies, you can wrap your lovely look by wearing comfortable summer sandals and a leather bag! The earthy color tone accessories will make a soothing Parisian fashion look! Simple and play in natural color tone and minimalist prints are what French girl's fashion desire! Do you love this cute Parisian fashion look for summer?
Chic wrap dress with a trendy denim jacket!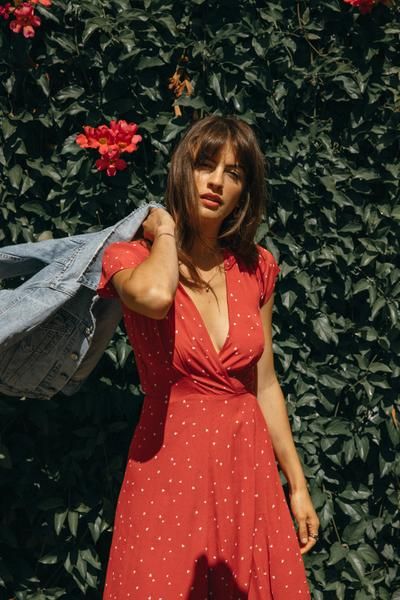 There is another trendy Parisian summer look by styling a summer dress! Now, we have the beautiful polka wrap dress in red! Although many times we share to choose the neutral and soft color tone for Parisian summer dress rule. But, sometimes choosing a vibrant color such as red is quite attempting too! So, you are free to choose what color you want! But, one thing you have to notice to choose Parisian sundress style, the simple prints! This beautiful polka wrap dress in red is so lovely! To polish your look with a modern touch, you can wear a washed denim jacket for layering style! The comfortable summer sandals and the woven bag can join your lovely summer look essentials! Do you love this casual look with French summer look essential?
Conclusion
Thus are some beautiful summer dresses from Parisian fashion styles. You can check out the sundress from online shopping or going to the store, they are lots available!
There are some rules on choosing Parisian summer dress essential:
Choosing simple prints such as floral and polka prints. The small floral prints and polka pattern is quite lovely to liven up the Frech girl's summer fashion dress style!
Choosing natural color tone is necessary. The french girl mostly chooses natural color tones to style their fashion look. The neutral and earthy color tone outfit can be your option to get a down-to-earth Parisian style!
Integrated into a comfortable feature outfit. They love to showcase trendy looks but at the same time, the French girl doesn't want to sacrifice comfort while styling trendy looks. So, the laidback, breathable, and soft feature outfit is the best opt to start your Parisian essential outfit style!
Going with simple accessories. The French girl does not need some glamorous and heavy on accessories to liven up their style. They only need statement pieces of accessories that could make them look chic in a proper amount. What a brilliant fashion taste they have!
Thus are some tips on choosing the beautiful Parisian summer dress. We hope you enjoy it and start to begin observing your Parisian look by wearing a lovely dress. Happy summer holiday everyone!