Drufashion.com – Kpop has been invaded the American music industry and spread widely across the globe. Let's say the famous Kpop boy and girl band. Blackpink and BTS that has millions of fans throughout the world. They are not only recognized for their dancing skills but also for their catchy Kpop fashion style.
One of the most recognizable girl group fashion styles is definitely Blackpink. This group is blessed with talented and super pretty girls. Their charisma and fashion look to catch the attention of some of the top designers in the world. All member being an ambassador of top fashion brand. They are all working very well with top fashion brands Jennie with Channel, Jisoo with Dior, Lisa with Celine, and Rose have a campaign with Saint Laurent. What a spectacular Kpop girl band they are!
Blackpink start debuted their music career in 2016 with the hits song called Boombayah. Their brilliant career rise after launched the song called Ddu ddu ddu. Lately, they have been launched their music and be a hit over the globe. They also collaborated with top artists such as Selena Gomez with the sweet song called Ice Cream, working with Dua Lipa with the song called Kiss and Make up.
As we alluded to earlier that all member of Blackpink has outstanding fashion style. Now, we will be sharing with you Jennie Blackpink's fashion style. She is well-known for her rapping, dance, and singing skill. Out of the stage, we found out Jennie street style could represent the cool and effortless millennial fashion look. We will be sharing with you how she dresses casually and rocking the star fashion style down below, let's have a look!
Jennie's cool street look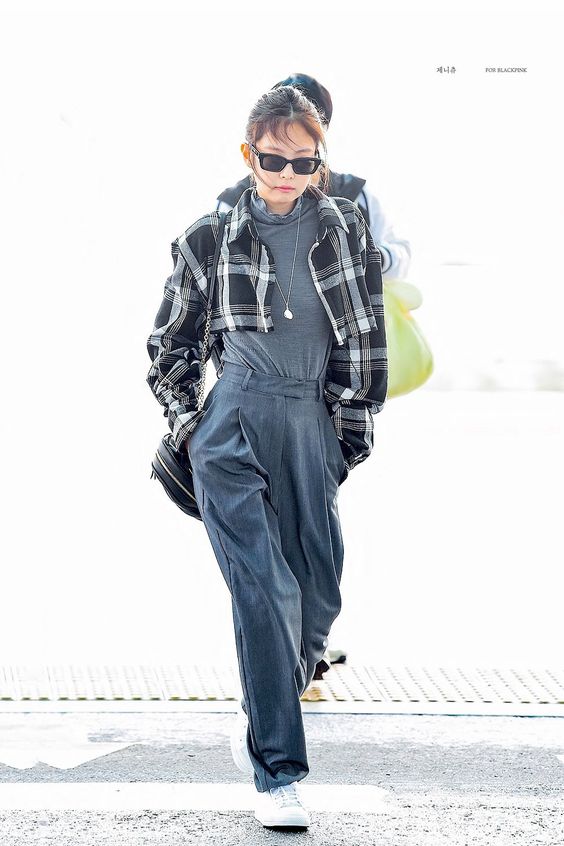 Gently called Human Chanel, Jennie Blackpink spotted a lot wearing this Paris fashion brand on her off duty style and even on the stage fashion look. Jennie has dozens of adorable and cool street look. Reportedly from the international airport, Incheon. Jennie absolutely gorgeous wearing the street top cardigan and gray matching suit. A pair of white sneakers join her cool airport look. In addition, the sunglasses and small channel bag join her classy look!
Cool outfit for a cold-weather edition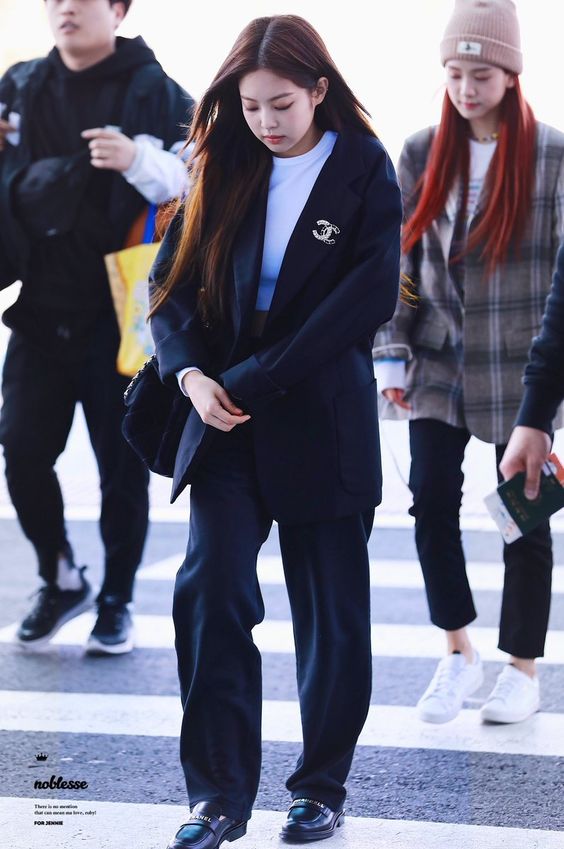 When the cold weather comes, winter does not mean to stop you from looking fashionable. The proper layering concept will make you look effortlessly look lovely even in the cold season, winter. We have captured Jennie Blackpink's street style for the cold season edition. As usual, she loves to wear clothing items from Chanel. This time, she paired the navy suit from Chanel. In contrast and give the color saturation, she pairs the suit with a white long sleeve tee. Jennie wraps her formal look by wearing a pair of black leather shoes, she's absolutely stunning!
Cute mini dress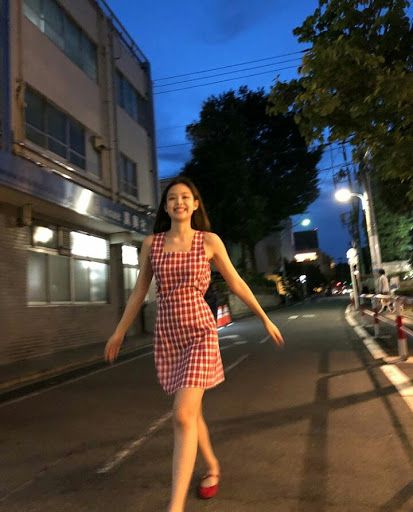 If you are looking for a cute spring look, then you can go with a plaid red and white mini dress. Feel the warm weather and cheerful spring season with a cute dress. The red color tone could embrace the cheerful cherry blossom season. Girls, you can steal Jennie's cute and girly look for the spring. Then she completes her cute look by wearing red sandals.
Jennie casual style with a hoodie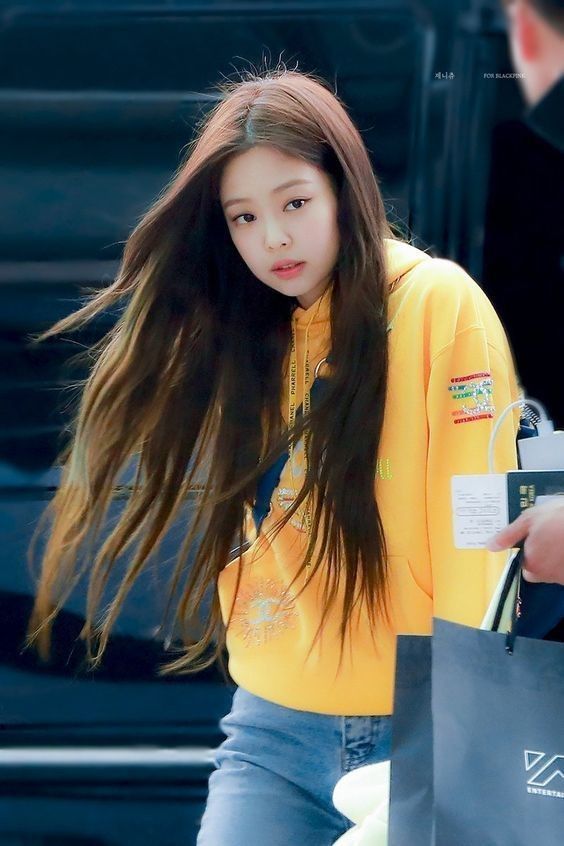 The Kpop star Jennie Blackpink looking in the casual look. A styling hoodie and denim jeans can be an easy option to hang out with friends outside. Choosing a yellow hoodie will make you look cute and glow on summer days. Giving a nice saturation color tone outfit by pairing it up with washed denim jeans. Finally, wrap your casual look with sneakers.
A great way to style a crop top!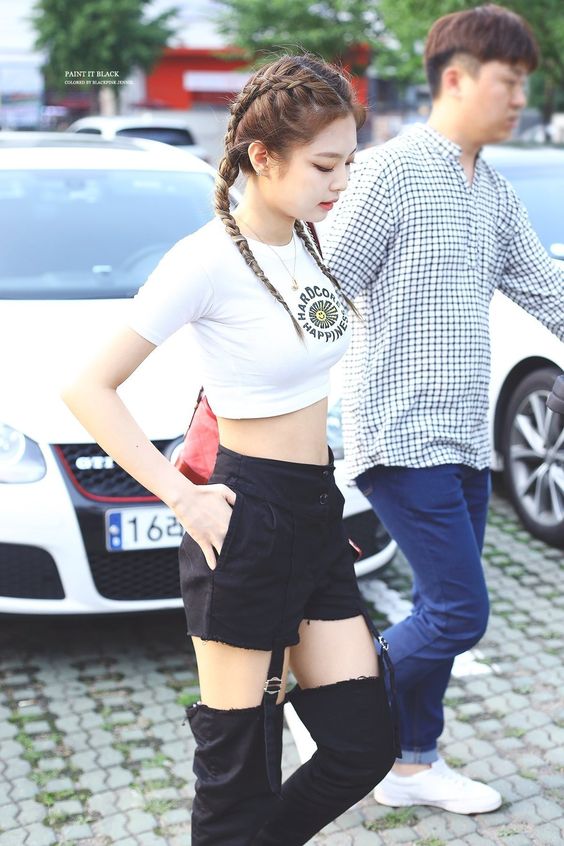 Jennie's fashion style not only looks dashing on stage, but it's equally the same when she has of the duty day. In the summer vacation, it's a perfect time to style crop top! In this picture, Jennie matching up the white crop top with black convertible cargo pants. She looks so stylish with these matching-up outfits! In addition, her braid hairstyle elevates this remarkable street look. She's the apple of the eye!
If you still looking for streetwear preference then you can check our Selena Gomez street style. She will give you a bunch of streetwear ideas that could inspire your daily look!
Simple and chic streetwear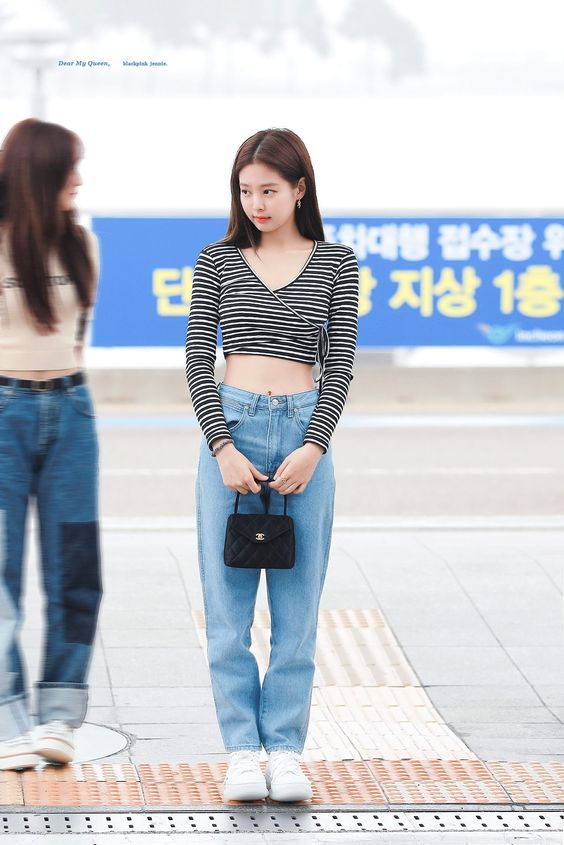 If you are a simple outfit fan then you can try this simple Jennie's outfit look. She casually matching up denim jeans with a pinstriped crop top. Then, wearing your basic white sneakers will make you look cute and achieve a chic street-style look. Then, she completes her cute look by bringing a black Channel purse.
Looking cute with a neutral mini dress!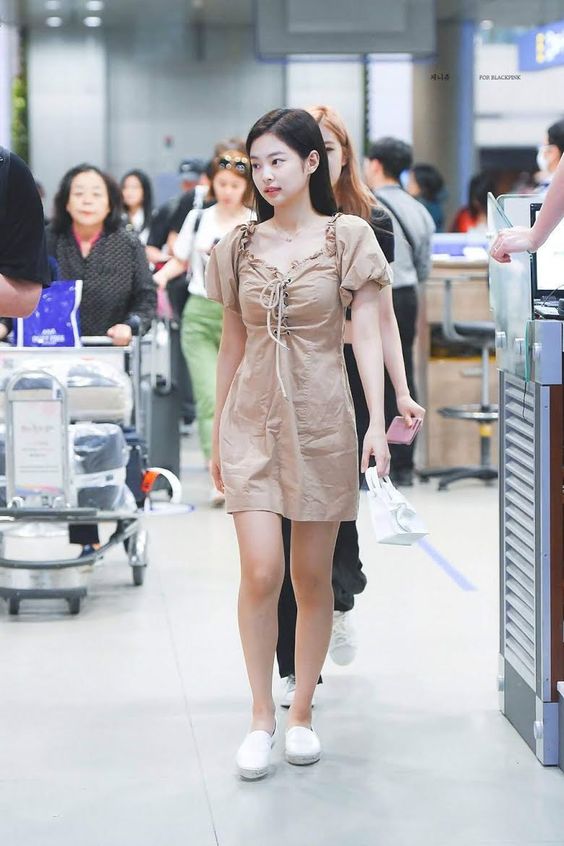 Jennie spotted in the airport with her Blackpink member. She's one of the biggest Kpop stars who have great taste in fashion trends. In this look, she wears a mini dress in a neutral color, soft beige. It has a ruffle shape on the collar and bubble sleeve which make her look totally cute!
Chic minimalist aesthetic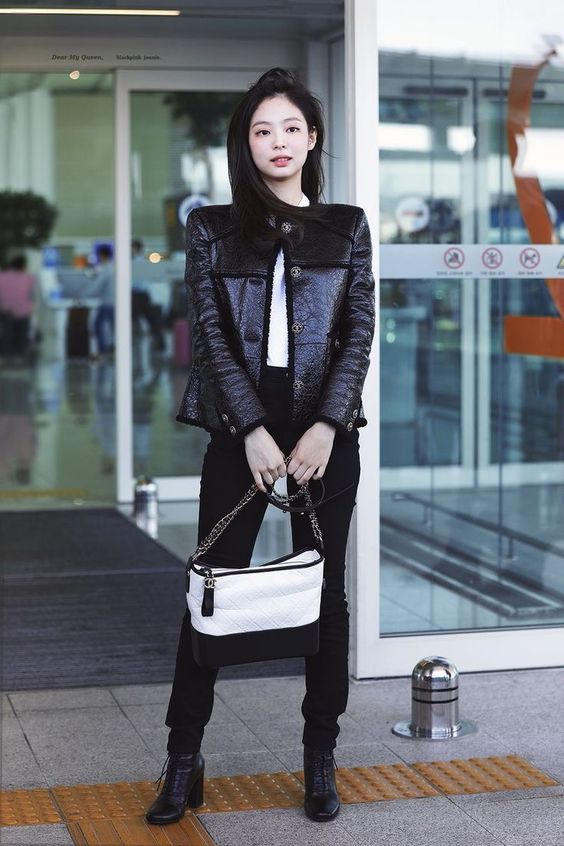 Jennie Blackpink really knows where she will go, everything about her look is absolutely stunning. Just like in the captured photo above, she's attending the semi-formal event. She's in a chic minimalist aesthetic style, where we can see she uses a two-tone minimalist color outfit, black and white. The black jeans, looking above side, she's layering the white wool sweater with an edgy black leather jacket. Complete her rock street style look with a pair of black combat boots! Human Channel is given closely to Jennie because she always wearing Channel products almost where she goes. Then, she wraps up her look by bringing a white sling bag from Channel. Would you love to try this killer street moto look?
Styling mini skirt for a cute look!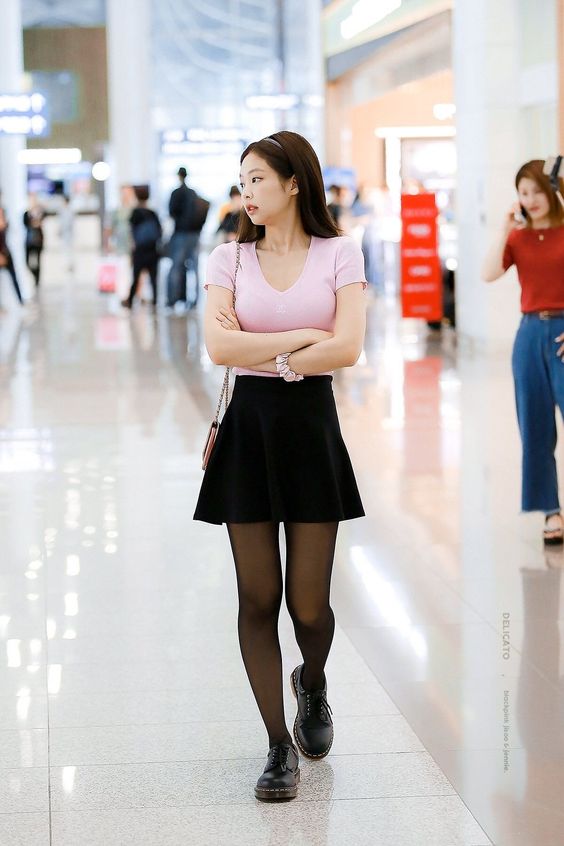 If you are looking for a cute look for your first date and might be want to show a feminine side of yourself. Let's give a chance to mini skirt that will make you look so girly all of the sudden! For the casual girly look, you can match up the black mini shorts with a pink top. In addition, wearing black sheer thigh stockings will give you comfort and even more stylish! Stealing Jennie's cute look by picking up the black leather shoes. Don't forget to bring a simple sling bag to accompany your date!
Going out with cool streetwear: Styling oversized tee!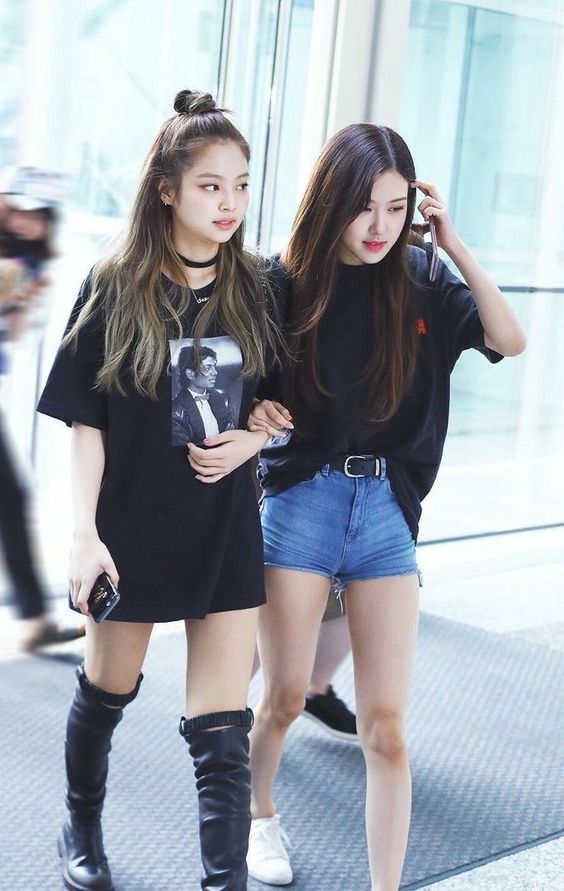 Talking about Jennie Blackpink's fashion style will never get enough. She has a bunch of adorable fashion items you can follow! In the trend fashion outfit now, styling an oversized tee has been a favorite item among young people. Just like this Kpop star, Jennie wearing an oversized black tee until her thigh. Then, she makes a big statement to her look by wearing a pair of knee-long leather boots. In addition, to supporting her quirky 90'S fashion style, she wears a black chocker to get a funky rocker style. What a cool and effortless millennial fashion look!
Casual sporty look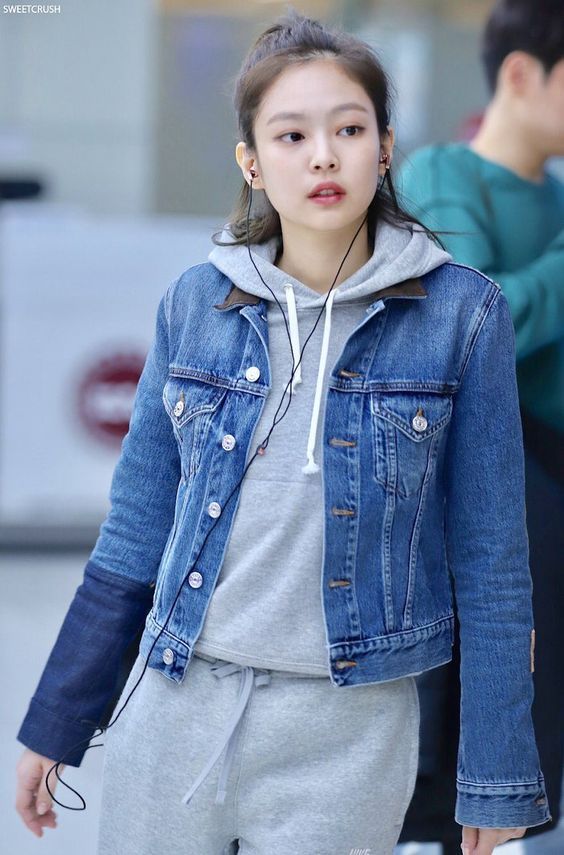 Jennie Blackpink has lots of interesting fashion items to try. Her fashion look wouldn't make you look old and outdated. She's a queen in matching up outfit of the day, she slays every fashion look wherever she goes. In a laidback time, she chooses to have a casual sporty look to comfy her free time.
She's wearing a gray tracksuit and then layers it up with a denim jacket. A clever way to wrap casual wear into an improvised look! Complete your look with a classic canvas sneaker or running shoes. You will never fail to have a casual sporty look by applying these essential outfits!
Elegant casual holiday outfit idea!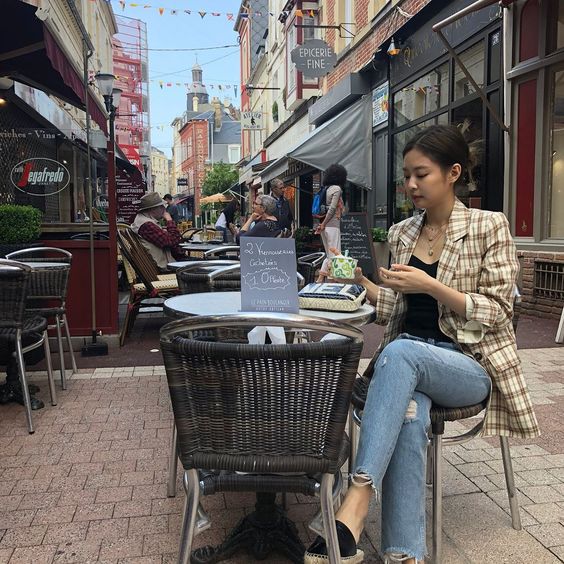 Let's take a break and enjoy the short holiday vacation by chilling outside with friends. Taking your ripped jeans out of your closet and simply pair them up with a black tank top. Elevate your casual look with a trendy plaid coat from Chanel. To give a classy accent to your look, gold accent accessories can be worn to improve your look! Now, you are ready to have some fun outside and achieving yourself with an elegant casual holiday outfit idea!
Conclusion
The Kpop music industry has been rivaled to American music dominance. It's proven by many Kpop fans that rise in recent years. One of the biggest Kpop girl bands now, Blackpink has been proven its presence in the music industry worldwide. They are not only famous for their hit songs but also for their look that inevitable to resit. Their charm makes them starring the world's tops fashion brand. For such Kim Jennie, the Blackpink member has been being a Channel ambassador.
Jennie has dozens of outstanding fashion styles on stage and equally the same off stage. In this writing, we already share with you some of the best Jennie Blackpink's street style that could inspire you to achieve a cool and effortless millennial fashion look! We hope you enjoy Jennie's streetwear ideas. Which one of her looks could be your favorite streetwear look?