Not only do women need to pay attention to their outfits, but men need it too. Yes, looking neat and clean will determine your day. Also, some people will judge you by your appearance. Imagine, if you wear the wrong outfit or wearing unrelated outfit, isn't your image will be bad? So, if you are men who still don't care about looks, you have to change this habit now.
Are you a beginner and don't know anything about fashion? Here, we will guide you by giving you some outfit ideas in Korean style that you can use daily. Of course, we'll start with an outfit that looks basic and comforts you to avoid unconfident feelings.
Don't worry, you won't waste your money buying a new outfit. Because I believe, you already have this outfit in your wardrobe. You only have to mix and match your outfit in the right way to get a stylish look. So, if you want to know about this topic, let's start it!
Daily Korean Men Outfit Lookbook to Get Stylish Every Day
Baggy Short Pants and Basic T-Shirt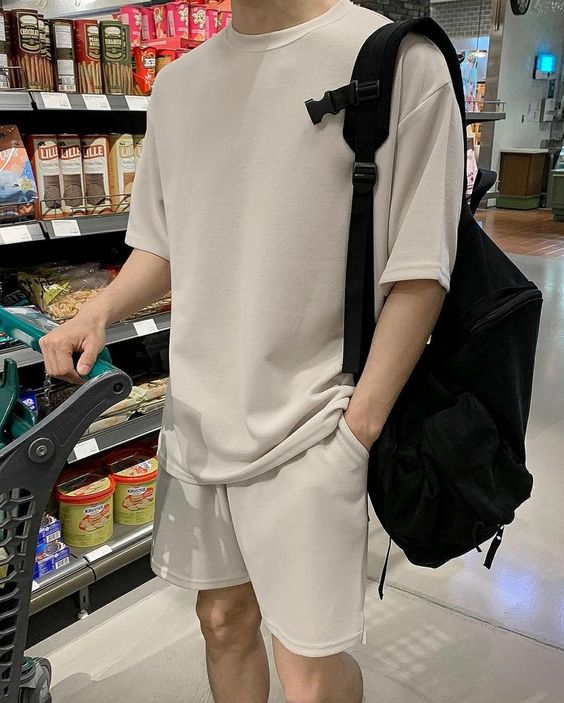 Start with the very basic outfit that you can wear for chilling out at home, gym, or groceries shopping. In this idea, you can wear baggy short pants that have stretch fabric. Furthermore, style it with a basic t-shirt. Meanwhile for the shoes, just use chunky sandals or sneakers if you want to go to the gym. Last, a waist bag for the bag part.
Daily Outfit for Work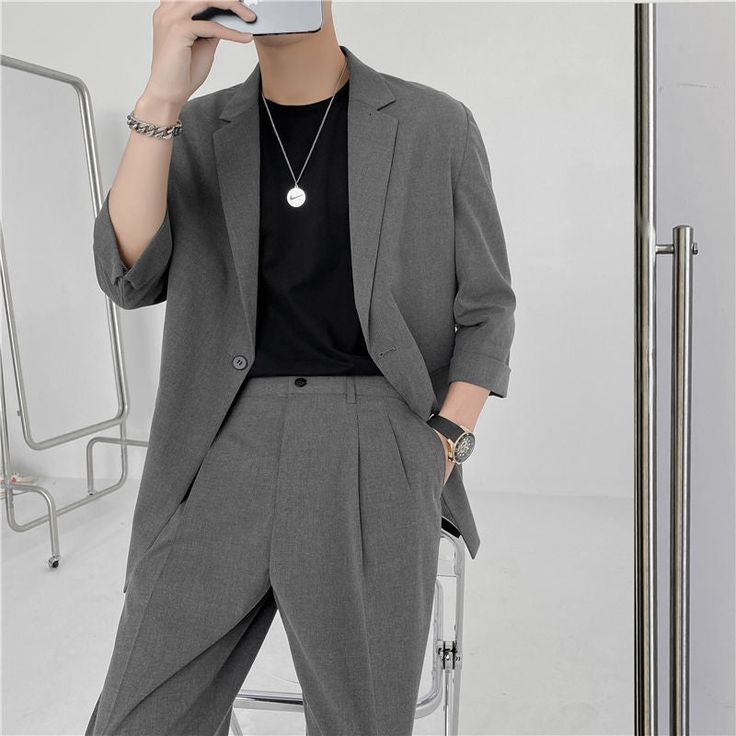 Now is about the outfit for work. I know, to go to the office, you have to wear a formal outfit that possibly makes you look boring. But now, you can say goodbye to the boring look because you can combine one set of pants and a blazer with a basic t-shirt as the innerwear. It will give you a casual formal look that makes you look relaxed. Furthermore, use a necklace to make your outfit more stylish.
Make Your Outfit Look Stylish by Using Hoodie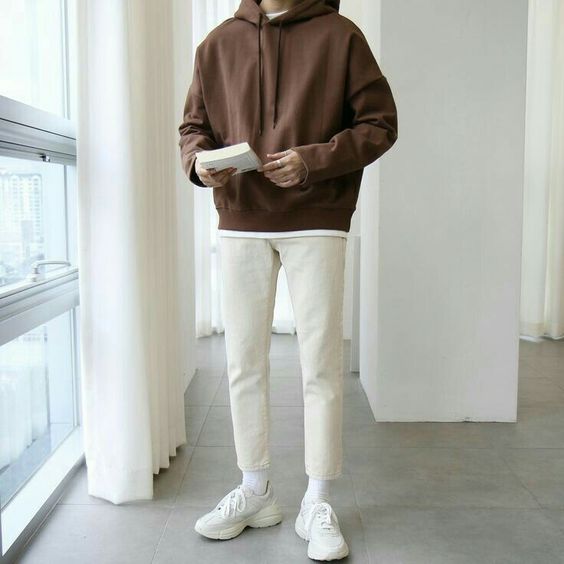 I guess the hoodie is one of the most favorite fashion items to wear by men. They believe that hoodies can make their look stylish without putting a lot of effort. You only need to mix it with any kind of pants that you want and now your outfit is done! Very effortless, right? So, it can be an idea when you feel lazy about styling your outfit.
Looking Cool in Denim Jacket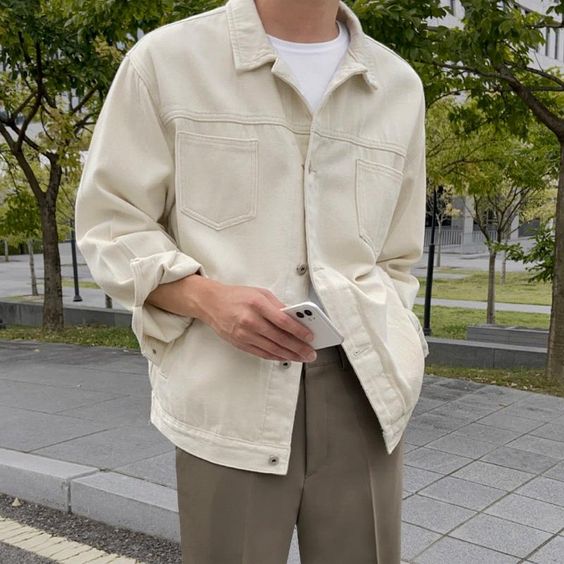 If a hoodie can make you look effortlessly stylish, a denim jacket can make you look cool! This is a great idea outfit if you searching for outerwear. Moreover, you can mix it with any kind of casual outfit that you want. I'm sure, having this denim jacket gonna be the most grateful thing decision ever. Don't forget about adding some accessories such as necklaces, watch, and caps.
Knit Sweater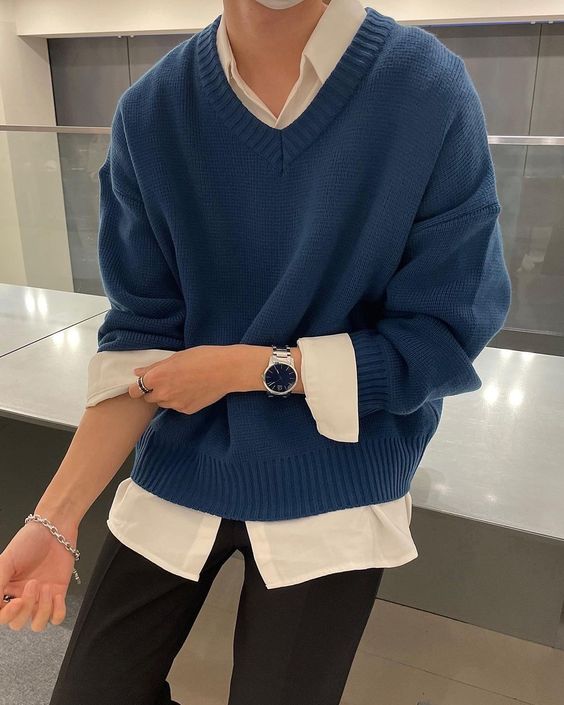 Want a simple outfit over a hoodie and jacket? I think, a sweater gonna be the answer. In this idea, we're gonna use a knit sweater. You can use it only or style it for layering outfits. If you're interested in the picture above, just mix pants, a basic t-shirt or shirt, and last a knit sweater as outerwear. This outfit look will be suitable to use for hangouts, dates, or going to the office.
Mix a Basic T-Shirt with Loose Pants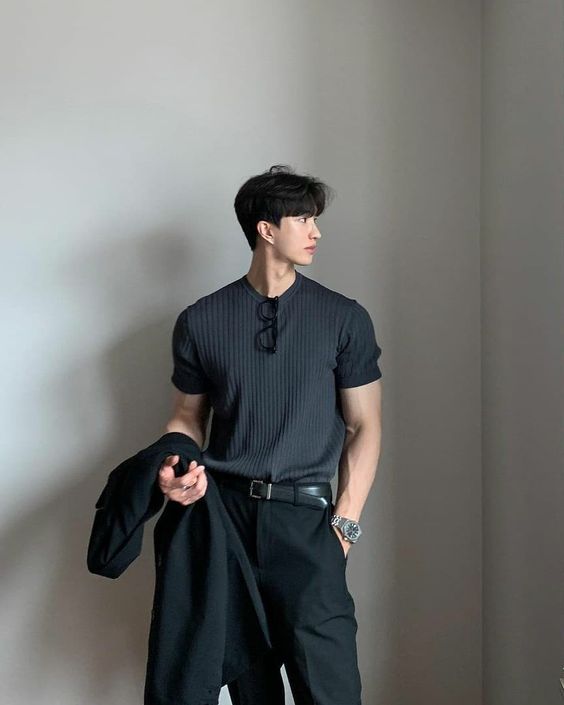 This outfit will make you look like a Korean actor in K-drama! Yes, the combination between a basic t-shirt and loose pants. You can add outerwear if you want to make your outfit more fashionable or keep your body warm. Then, mix it with sneakers for a casual look or loafers for a formal look. So, which kind of shoes that you're gonna choose for this style?
Polo Top and Short Pants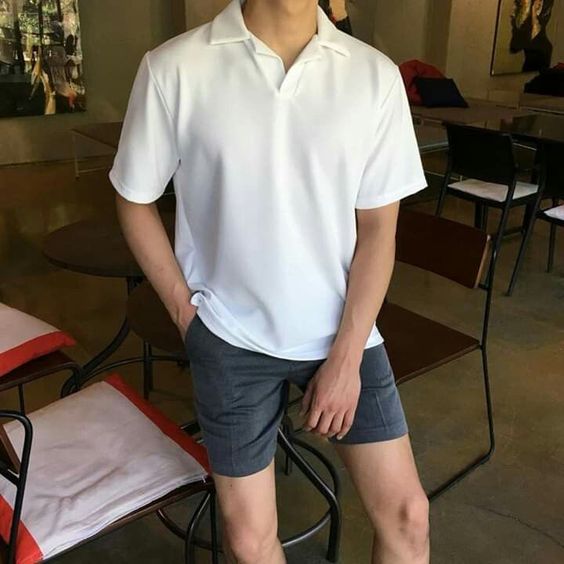 Mix and match short pants and a polo top for daily use. This kind of outfit that inspired by a golf outfit look. Add a cap to level up your fashion style and protect your head from the sun at the same time. Next, complete your style with sneakers and a waist bag. Now you're ready to go face the day!
Jeans and a Shirt for the Date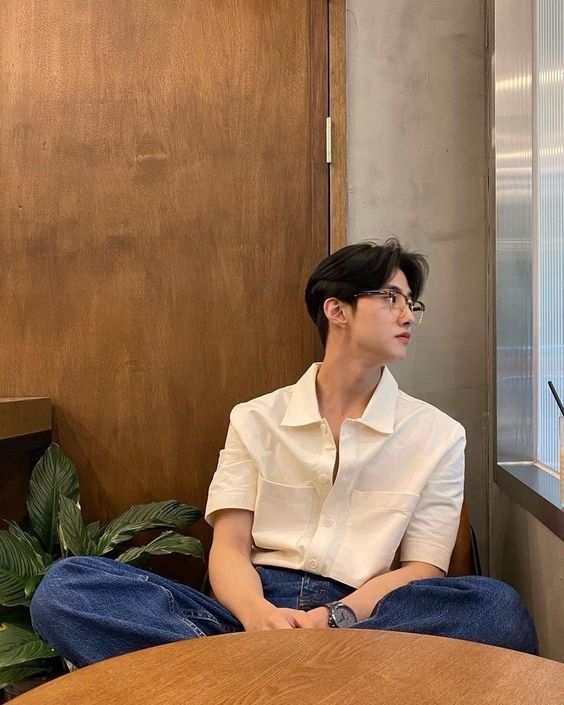 Not just women who want to look perfect on dates, but men also want it too. Okay, if you need the kind of outfit that can make you many times more handsome, this one idea is gonna give you what your desire. Put on your jeans, and try to pair them with a shirt. It is much better if you can choose short sleeves shirt to keep the casual and relaxed look. Furthermore, to make you look neat, you need to wear sneakers for the shoes.
Styling Your Vest in Korean Style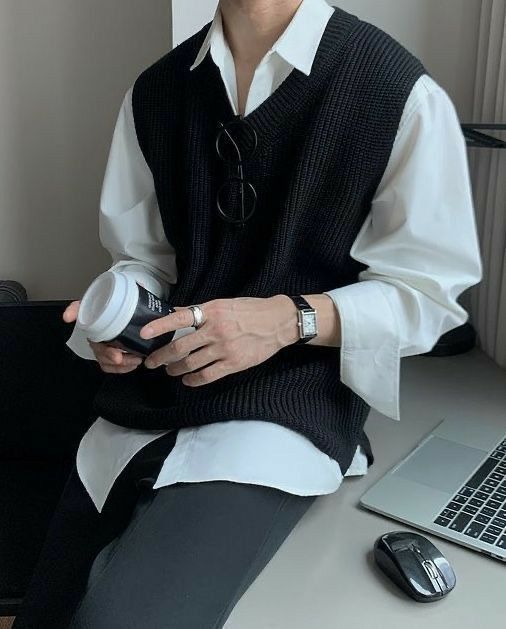 Still, need another outfit for work? Okay, you must add a vest to your outfit collection. This outerwear will give you an amazing formal outfit look without being stiff. You can compare this outfit with a shirt, blazer, or t-shirt. Just adjust it to the place that you want to go to.
Cargo Pants and Polo Sweater for the Chill Day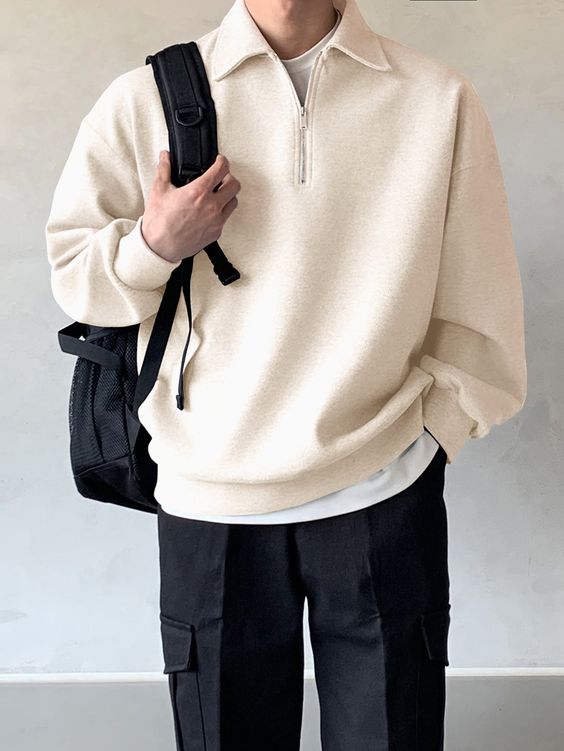 A chill day will be complete with a comfy outfit. Like using cargo pants and a polo sweater. It's up to you want to use innerwear or not, because only use a polo sweater, you already look fashionable. Furthermore, you may give a touch of accessories like necklaces, earrings, or a watch to bring your fashion look to another level.
Button T-Shirt to Look More Fashionable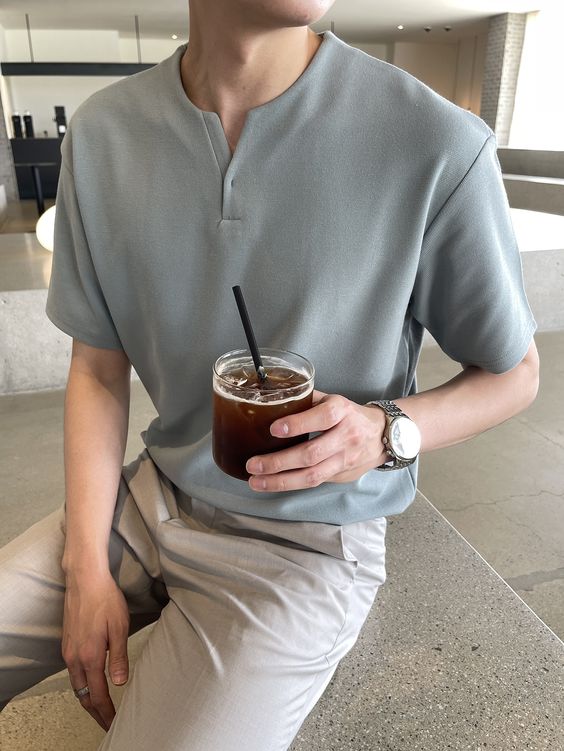 Maybe a lot of people who use a basic t-shirt, so if you want to look different, you could prefer a buttoned t-shirt. It's almost similar to a polo t-shirt, but the difference is the button t-shirt doesn't have a collar. Quite worth having because you can mix it with any kind of bottoms and is suited for casual occasions.
In the picture above, you could pair your buttoned t-shirt with loose pants. You are allowed to use some accessories if you want to make your outfit chicer. Furthermore, wear slide sandals or sneakers for the toe.
Get the Playful Look with Denim Overall and a Sweater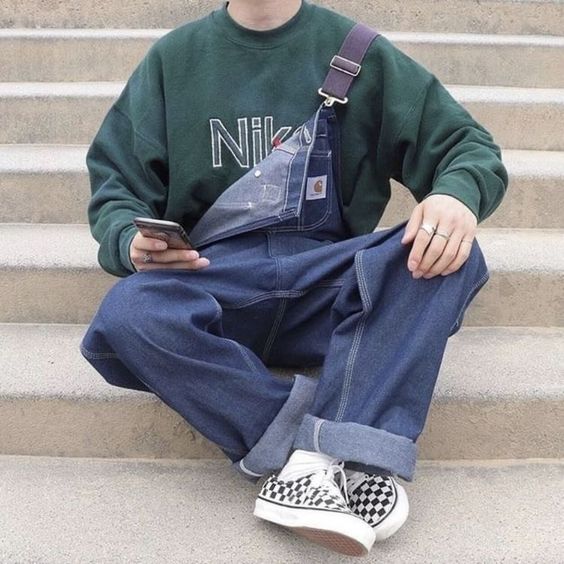 We intend this idea for those who are still teenagers. Because this outfit style gonna give you a playful look that is good to wear for hangouts or photo shoots. First, put on your sweater as innerwear. Then, use denim overall for the outer and bottom at the same time. How do you look, right now? If you feel not satisfied, you may use a few accessories that can support this style. Lastly, sneakers to finish out your outfit look.
Wear Corduroy Pants to Get the Vintage Vibes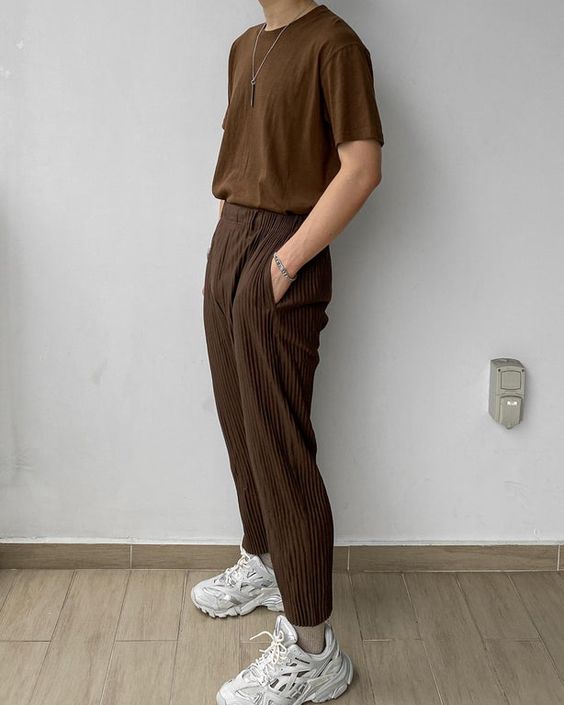 If you are the kind of person that loves vintage and aesthetics, you may love corduroy pants. Because it can give the looks that you want and is also suitable for any occasion. Yes, you can pair these pants with a t-shirt, sweater, hoodie, shirt, blazer, cardigan, or even coat. Therefore, we highly recommend having this one item. Ensure you mix it right based on the occasions that you want to go.
Knit Polo Top and Loose Pants are the Perfect Casual Outfit Combination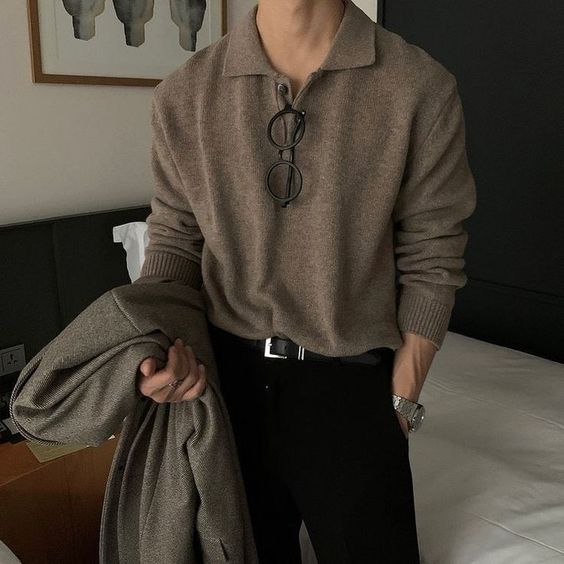 This one Korean outfit style will give you a classic men's look. Because styling a knit top with loose pants is capable of making you look formal but also casual. Maybe if you love watching Korean drama, this outfit style usually being used with businessman characters. Okay, if you are interested in this look, you can complete it with loafers and a clutch.
Formal Outfit Wearing Long Sleeves Shirt and Slim Fit Pants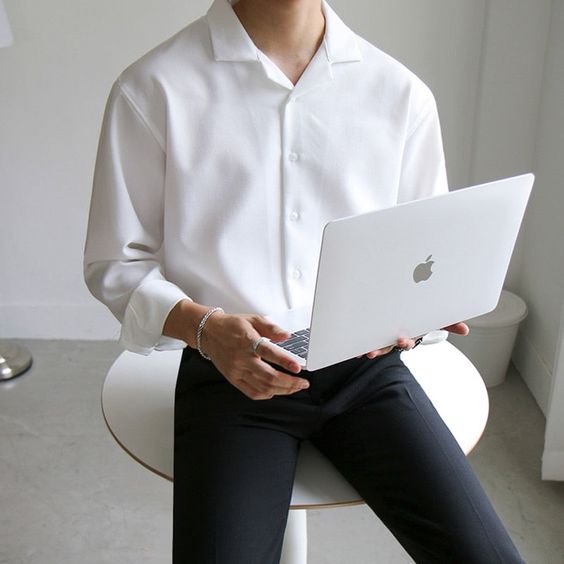 Still looking for a work outfit look, okay you have to put this idea into your list. This going to be very simple because you only need slim-fit pants and a shirt. That's it! If you feel it doesn't enough to give you a stylish look, then some accessories like a watch or necklaces will help you. Furthermore, use derby shoes or loafers for the finishing touch of this style.
Cargo Short Pants and Oversized T-Shirt for Coffee Shop Hangouts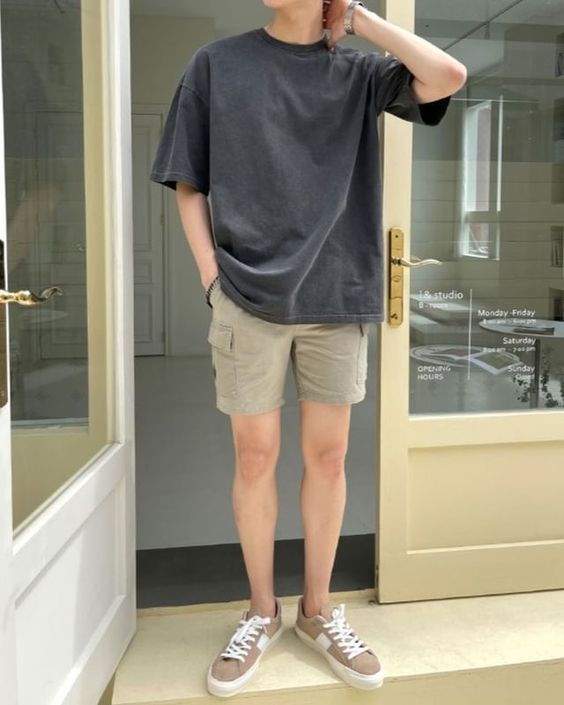 If you have a plan for a coffee shop hangout, you will need an outfit that can give you a comfy and chill look. Like wearing cargo short pants and an oversized t-shirt. Level up your fashion look with a cap, bracelet, necklace, or any kind of accessories that could match this outfit. Furthermore, for the shoes, you will need sandals or sneakers.
Warmer Your Body Using a Cardigan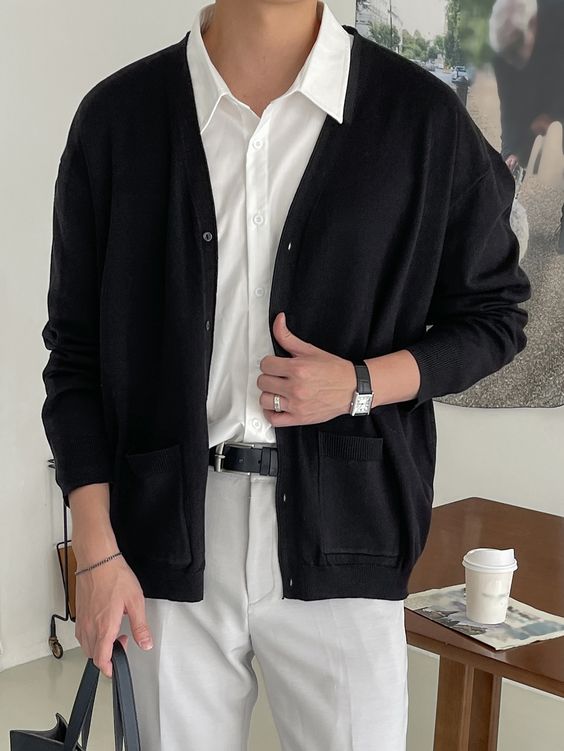 Feeling cold outside or you are the kind of person who easy to gets cold? Maybe a jacket will make you look too much or even not suitable for being used for formal occasions. Okay, to change the use of a jacket, you could wear a cardigan. I guess a cardigan will be more classy than a jacket. Therefore, it's perfect to be combined with a formal outfit.
Mix and Match a Turtleneck Top with Loose Pants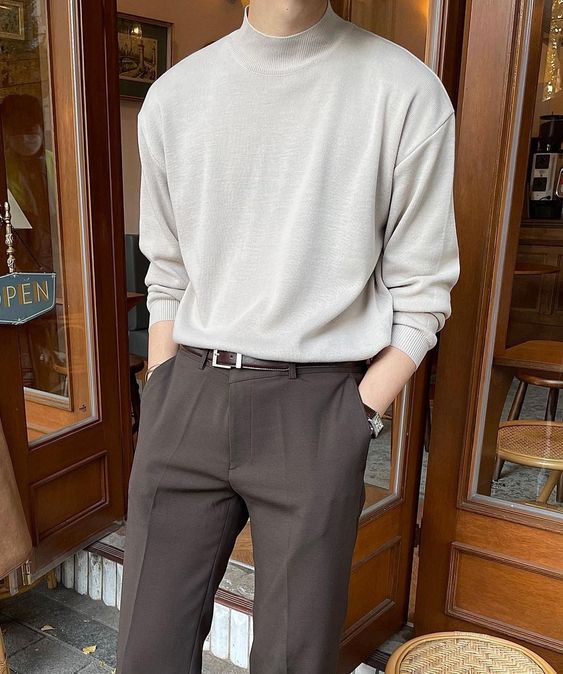 Mix and match a turtleneck top and loose pants. This kind of outfit that you can wear in the cold weather like autumn or winter. Even just wearing two outfits, you already achieve a fashionable look. Moreover, when you add a belt to your pants and wear a beanie hat. For the last touch, put on sneakers or loafers. Don't ask me how cool this outfit going to be!
Wear a Leather Jacket to Look Chic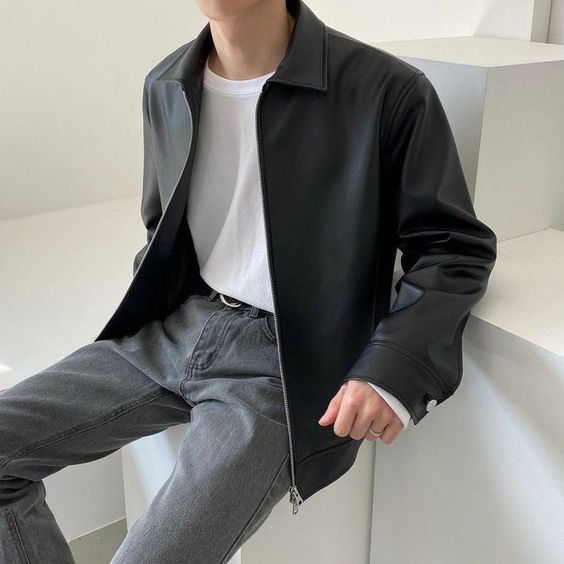 I know not everyone loves wearing a leather jacket. But believe me, when you try it, you're gonna fall in love for the first time! Although this outfit will waste your money because of the pricey price, it still being a worthwhile thing to have. Because a leather jacket can conjure up your outfit into a chic look in a while. So, if you are having a date or want to go to a party, we suggest you add this outfit as outerwear.
Lack of knowledge about mixing and matching a leather jacket? Don't worry, we will help you. For casual occasions, you can use a leather jacket with jeans and a basic t-shirt. Meanwhile, if you attending a formal event, you could pair it with loose pants and a shirt.
Style Your Pants with Short Sleeves Shirt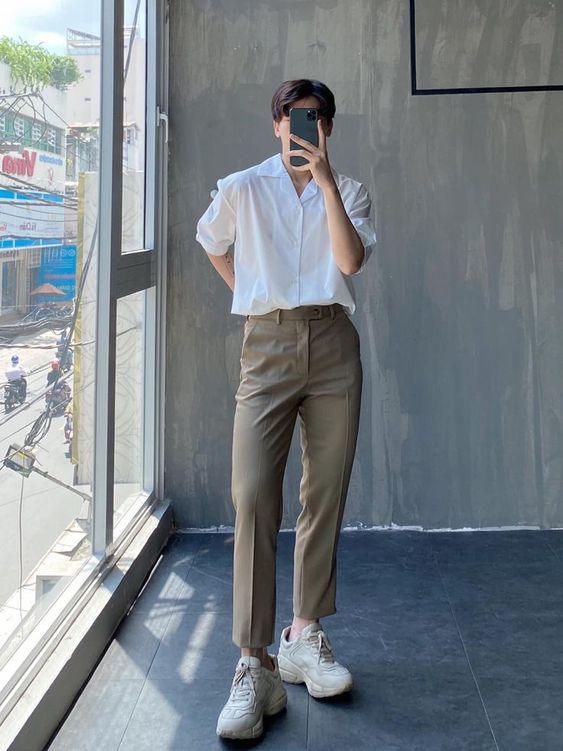 If you just want to hangouts, you could choose short sleeves shirt over a long sleeves shirt. It is way more casual and comfy too. Mix it with any kind of bottom that you want, could be pants, jeans, cargo pants, or short pants. Just pick the bottom based on your mood or place. Furthermore, slay this outfit look with chunky sneakers. Now your outfit is done!
Daily Outfit for the Cold Weather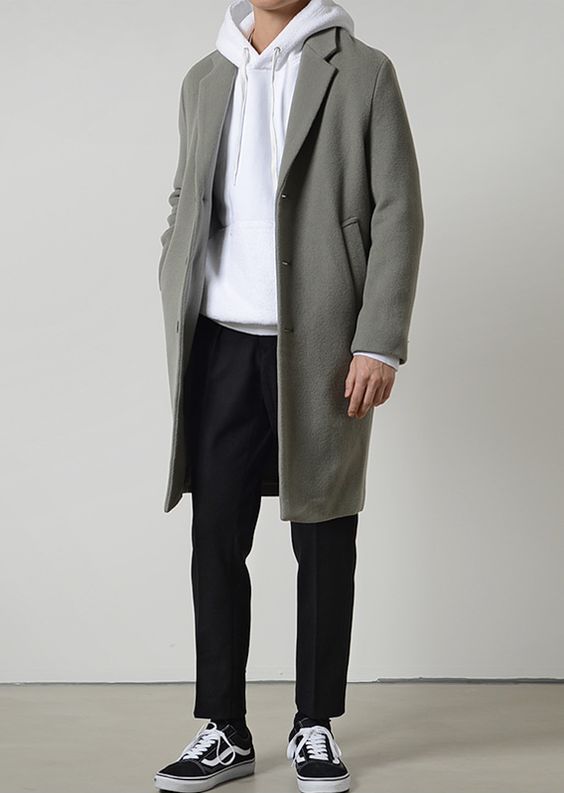 Entering autumn or winter, you need a lot of ideas to keep your stylish look. Now, we will give you the warmer outfit ever. Very great for those who don't like cold weather. Combine your pants with a hoodie as inner and coat as outer. If you need something to support the warm feel, just add a scarf and a beanie hat.
Bomber Jacket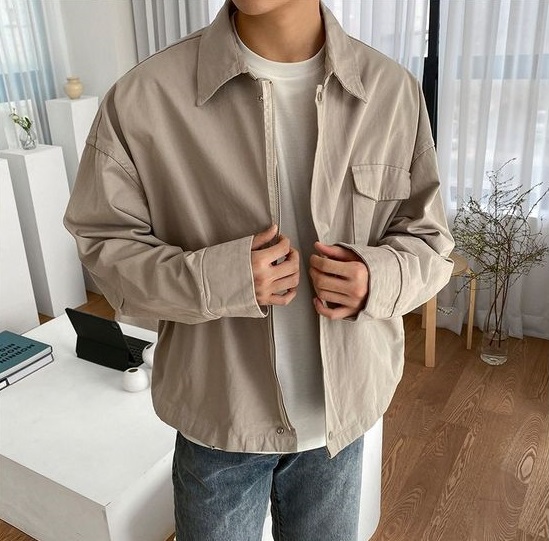 Don't be sad if you don't have enough money to buy a leather jacket. We will give you some alternatives to get the chic look! And a bomber jacket can solve your problem. Yes, this kind of jacket that you can wear for any occasion too. Maybe not as chic as a leather jacket, but I think it's more than enough for a low-budget outfit.
Look Cute in Baseball Jacket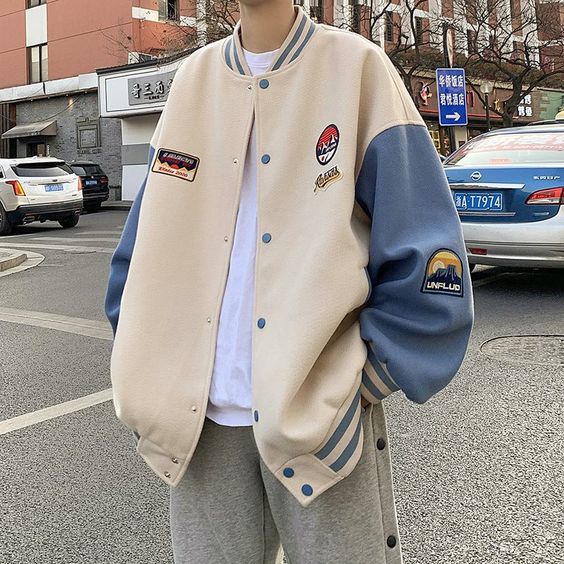 Cute boys always being more attractive than cool boys. Who are agree with me that the boy wearing a baseball jacket will look much cuter and hot? Okay, if you started to like this outfit, you need to style it in the right way. Our suggestion is to mix this outfit with a basic t-shirt. Then, for the bottoms, you may choose between short pants, cargo pants, or jeans. Don't miss out on the beanie hat or cap to boost your fashion style.
Flannel Shirt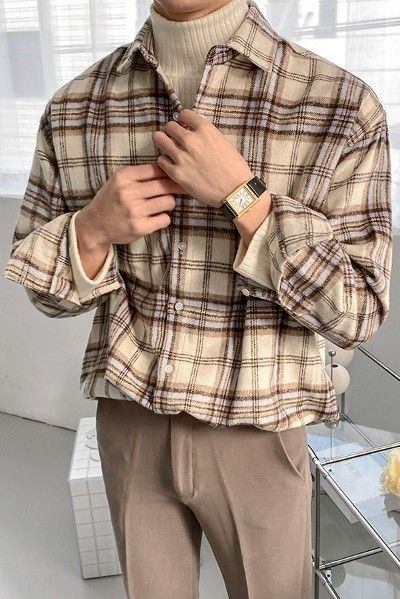 A flannel shirt is one of the most popular fashion items in 2021. This could nail the cold or even warm weather. Although it has a thick fabric, it doesn't feel hot to wear in warm weather. And it also could give you a warm feeling when the weather is cold. Such a very multifunctional outfit, right? Therefore, it's kinda worth having items, because you can wear it in any season.
Short Pants and Shirt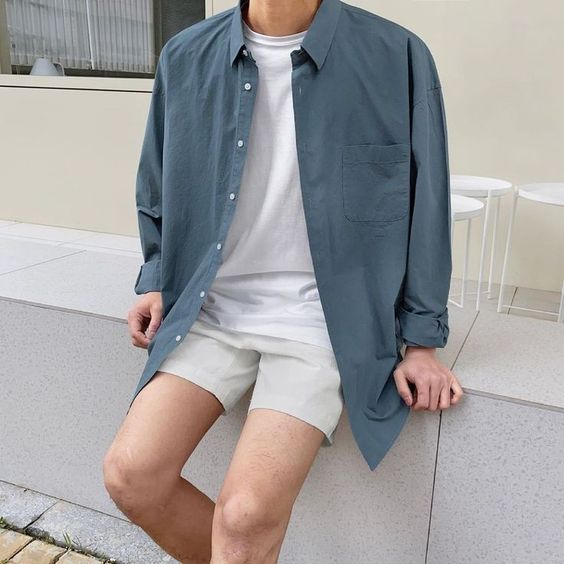 Short pants and a basic t-shirt doesn't enough for you? Okay, you need to add a shirt as the outerwear to make your outfit more fashionable. This outfit will be useful for hangouts, casual dates, going to the garden, and any casual occasion. Don't be confused about the shoes, because this outfit style going to be amazing with every type of shoe.
That's about 26 daily Korean men's outfits inspired. Don't ever feel doubt about our idea, because it will give you an instantly stylish look. So, which idea caught your attention? I hope all of the ideas suited on you and hope you like this topic too!