Drufashion.com – When you and your partner already committed to each other to share life together. You and your partner will step forward for the wedding. After you decide the perfect time to celebrate the happy moment, you moving on to choose the proper wedding theme that could show the character and personality of both of you. There are plenty of wedding themes available to decide on, but sometimes it makes fall into confusion. With the essence of summer essential we get to know, why not have the beach wedding theme decor? The elegant coastal wedding, decor event will make us amazed! But if you want to create a low-budget wedding theme, we have a big chance to make it beautiful with affordable nautical decor. Here we will be sharing with you some beach wedding decor ideas on a friendly budget. Celebrate your big day with beautiful calming nautical decor ideas!
Simple beach wedding arch decor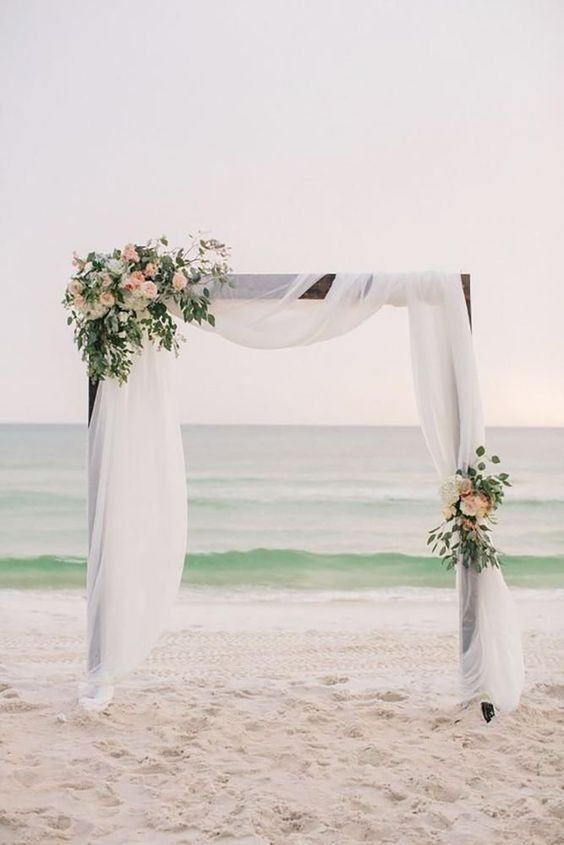 When you already pick a beach theme for your big day. There are much affordable and budget-friendly decorations you can decide on. With the gorgeous backdrop of ocean scenery, it's so lovely to capture the sweet moment with your partner! Here is the simple beach wedding arch decor you can follow for your wedding. We only need to stick the wood frame sturdy on the sand, then enhance it with white sheer fabric. The beautiful flower is added to give a lovely arch look! Standing on this lovely beach altar style is pretty and saves your budget a lot. Listen to the vow blissfully and then share happiness with invited people to join the meal!
Beautiful floral decor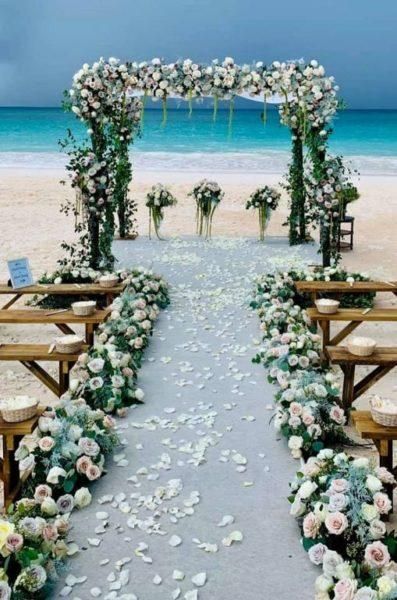 Embracing the warm and cheerful summer season with floral wedding decor. Roses are decorated on the bridal pathway and lots of roses are on the arch. The beautiful full floral decor meets the lovely ocean scenic view makes this budget beach wedding design looks so picturesque!
Simple beach wedding photo booth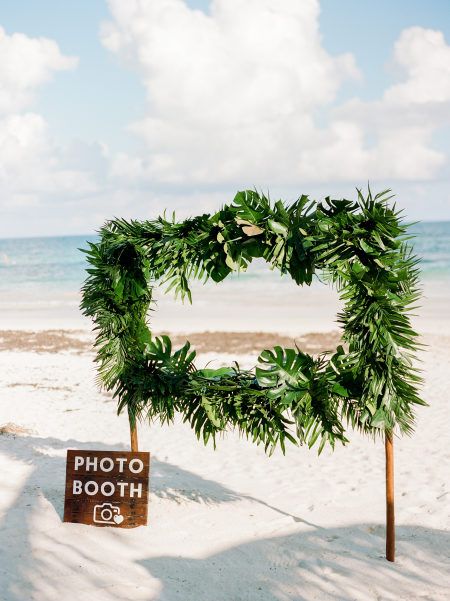 What makes a beach wedding feels so inviting? The lovely bright shining beach sun grates us with cheer and happiness. Listen to the sound of the waves and feel the sand on your toes. Beach is such a romantic place to roll out wedding events. This simple beach wedding photo booth is lovely and low-cost budget too! Put this standing photo booth in front of the perfect beach angle view. So, we can have a lovely picture with a beautiful blue ocean background!
Romantic candle decoration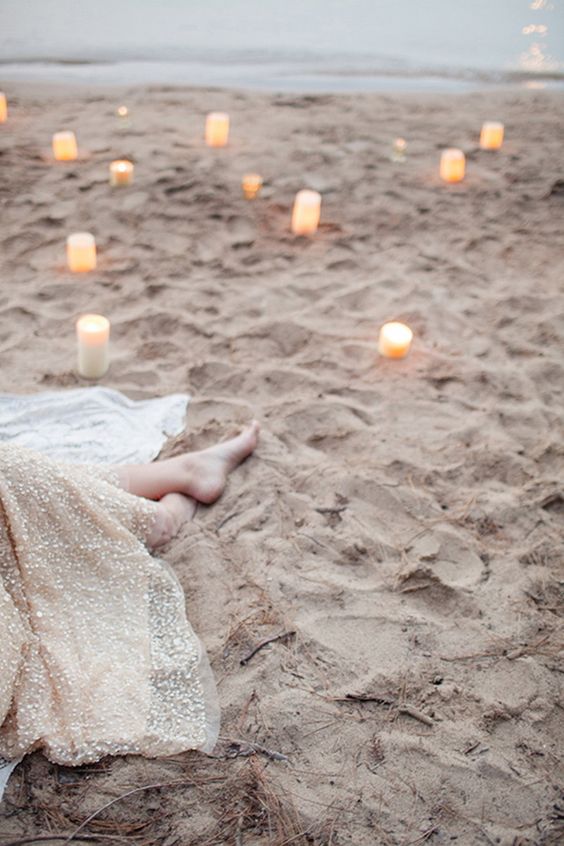 When the sun starts to go down, it's a perfect time to set a lovely lighting decoration. The lighting source from candle giving romantic setting. Especially at night, when the ocean is getting dark, never stop admire the ocean's beauty. We can turn on the candle and let it shines. Enjoying a summer night with your partner at the beach surrounded by candles is so lovely! We can DIY love heart candle line or circular line around us that is so romantic!
The nautical wedding cake theme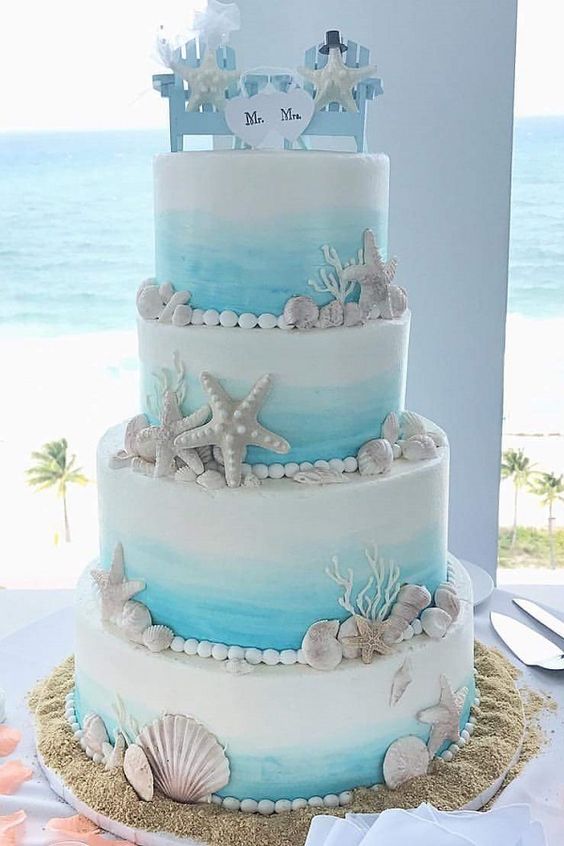 Food is everywhere, where you attend wedding party food is a must. There is plenty of mouthwatering buffets, also the sweet and dessert sections are intriguing. The most iconic sweets in a wedding ceremony must be a wedding cake. Most people across the globe celebrate their wedding day with the presence of gorgeous cake designs. For your beach wedding theme, you can choose a nautical wedding cake design. Whipping the cake with whip cream and blush blue color tone to showcase the ocean setting. Then, decor your cake with a chocolate sea animals character. This nautical wedding cake looks so lovely and also successfully defines beach wedding style!
Simple wedding buffet style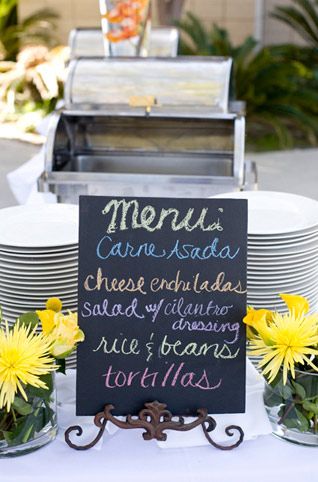 With the laidback beachy ambiance, having a simple wedding buffet style is enough. Remember to serve delicious and good food. Many people feel satisfied after come to a wedding party that serves delicious food and simple decor rather than focusing on the heavy decor but the food is unsuccessful. So, we have to make sure to choose delicious food that loves by all invited guests. For summer wedding food decor, Spanish and Mexican food is a great deal to nail tropical taste besides the seafood section of course. Pile up the plates on the table complete with cutleries and give the privilege for guests to have self-service taking their food. The simple wedding menu is written on the black chalkboard and a few flowers giving the sweet beach wedding accent details!
Romantic dinner with fairy lights decor!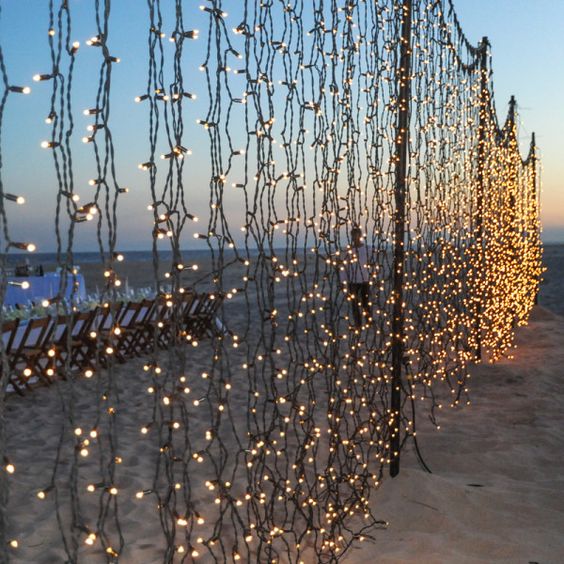 After the sacred event saying wedding vows had passed, and the sun goes down. It's a perfect time to do a beach wedding party! Setting up the fairy lights around the dining area. These light essentials give a warm and serene beach view overnight. The perfect lighting guides us into a romantic dinner after the wedding day. Eating with our family and friends to celebrate our big day creates an unforgettable moment!
Decorate wedding chairs!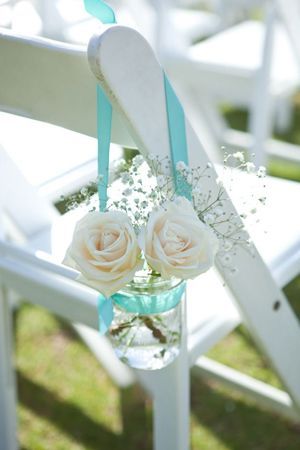 Another way to make a simple beach wedding decoration is to decorate the chars. The glass jar with roses is so good to show love wedding decor. We can hang this roses jar beside the guest's chairs using the bow or ribbon. The blue ribbon color tone transforms the nautical style, then the lovely two roses are the symbol of you and your partner's love. The two roses are wrap in a jar and it successfully beautifies your wedding decor with a simple trick but quite meaningful!
Boho coastal wedding decor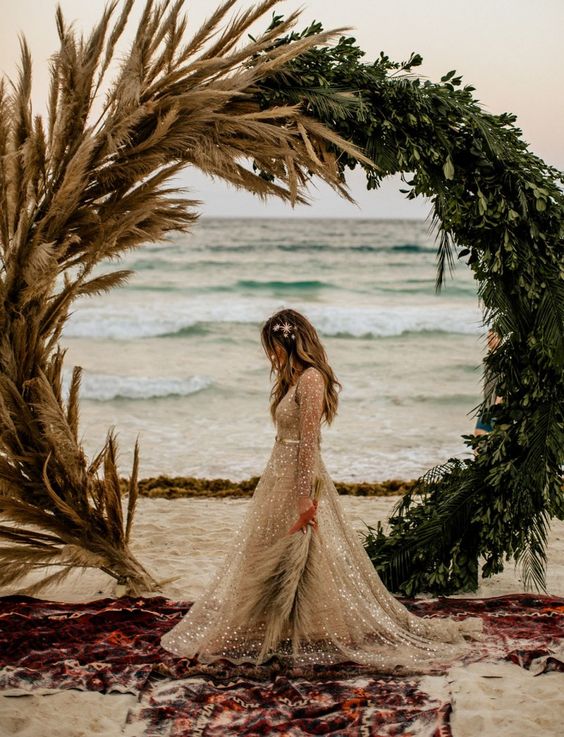 Figuring out what types of decoration that suit your beach matrimony. There is a chic boho and coastal blended style stand for you! Combining the green and dry leaves giving another texture and laidback coastal decor! Don't forget to spread the boho rug on the sand to define this chic style! The combination of green and dry leaves wedding arch is so beautiful! Wearing the beautiful lace bridal dress, you step your foot on the sand and stand on this beautiful altar will remind you of the sweetest wedding day ever!
Conclusion
With the laidback feel of summer days, we can enjoy the serenity of sunny days outside. And if you will celebrate your wedding nearly, congratulations! What comes to mind after you get a wedding proposal. Yeah, some sort of confusion to choose a proper wedding theme that could represent you and your partner. We have the best solution for you, why not celebrate your big day with the beautiful ocean background? We have compiled to create low-budget beach wedding themes that could be your inspo! Using natural sources from the coastline for such as green palm leaves, dry leaves, or sea animal shells to decorate your nautical wedding decor. So, it's safe to say that creating budget-friendly wedding decor in summer offers a big opportunity!