Drufashion.com – When we talk about work-proper outfit essentials, that should be easy to be applied with no hassle. Especially when we run out of time, jump out of the bed to not coming late to the office. It will be such a bad day when we open our wardrobe, and we feel like there is nothing I can wear! It drives us into a dreadful moment every morning. We don't want that to happen, shaking our minds before going to the office. That's literally messed up! To avoid that such a bad dream happen, we have to prepare the basic office workwear ideas. At least, they will save us to get dress quickly and save time from getting late to the office.
When you get confused about the office wardrobe basic checklist, chill out. Because here, we will help you with the ultimate guide business casual outfit ideas for ladies! Featuring some basic clothing items you have to grab for your wardrobe, you will not be afraid of styling office workwear outfit any longer. Let's check the essentials down below!
Tops office workwear essentials
The first workwear outfit essential we're going to share with you is starting with some basics tops, let's have a look!
Turtleneck pullover sweater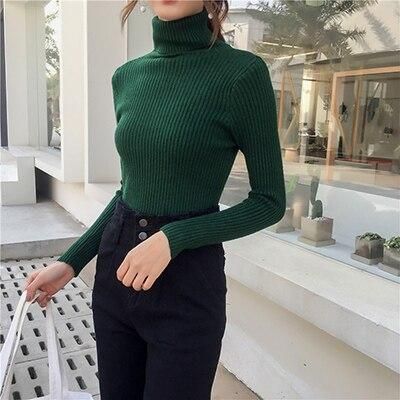 There is nothing wrong to grab a turtleneck pullover sweater for the essential basic workwear ideas. The safest way to choose a turtleneck pullover sweater with a neutral or earthy color tone outfit. This color saturation will make us easier to pair with a bottom outfit or layering concept. For such, you can follow the style like in the picture above, she pairs the green turtleneck pullover sweater with black jeans. This work casual outfit idea can be your option to go to the office this summer. Let's have laidback appropriate workwear ideas to embrace the summer!
Printed button-down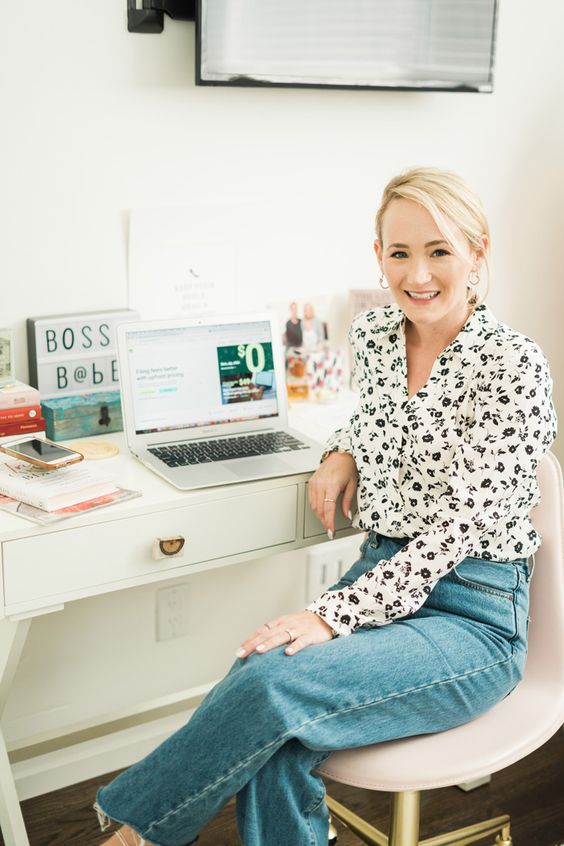 Another basic tops workwear idea is a printed button-down. Basically, there are lots of lovely printed button-down shirts you can choose from. The tip on choosing the proper printed style is based on your age. If you are a busy working mom around 40 years old, you can choose the soft neutral palette shirt with little floral prints that will suit your look! Styling a tuck-in shirt with jeans is a great idea to show the business casual outfit idea for women. Wearing simple accessories and a pair of heels sandals will give you a chic office look!
Solid button-down shirt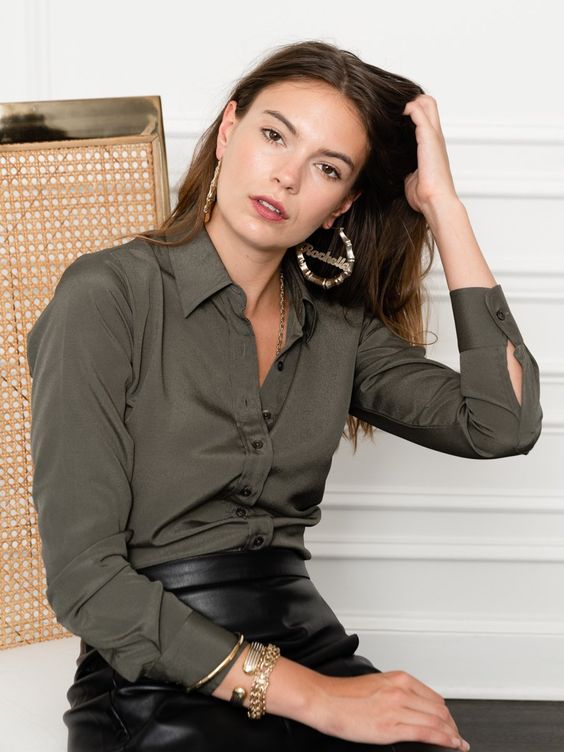 Another basic workwear top you can grab for your women's capsule wardrobe essentials is a solid button-down shirt. For a very long time, a solid button-down shirt has been the identity of women's workwear items. They are perfect to style for a formal occasion, for such having an important company meeting. If you want to style an elegant office look, you can pair the solid button-down shirt with a leather skirt. In addition, wearing golden accessories will give you elegant look.
Sleeveless shell top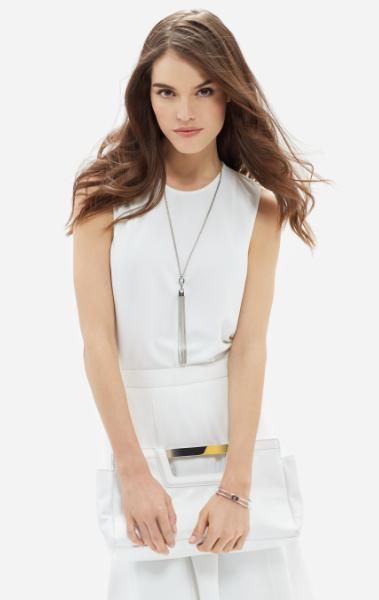 When the summer comes, the warm weather welcomes us with the bright sun. It's a perfect time to enjoy the summer day in a laidback outfit. Choosing a lightweight outfit for summer days is a good option. The sleeveless shell top should be on the list of the casual business wardrobe checklist. We can pair the sleeveless shell top with wide-leg trousers. These matching outfits are super comfortable to wear on warm summer days!
Bottoms workwear essentials
Moving on from the basic casual tops office outfit ideas, now we will be displaying a few bottoms outfit essentials we need to have in our wardrobe basic checklist! Let's check them out!
Black trouser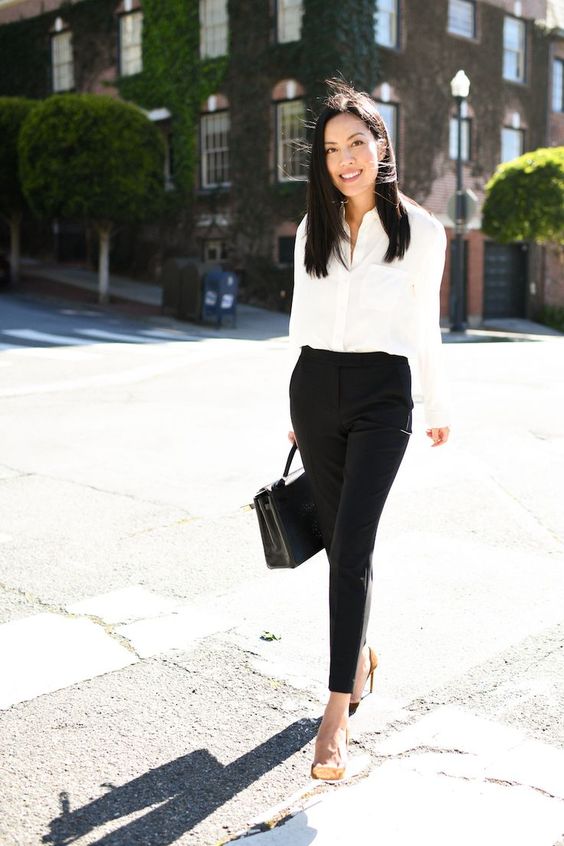 The first work bottom attire for styling women's casual business outfits is definitely trousers. There are abundant shapes, colors of trousers available. But we just need a basic to save our look in a minimal wardrobe workwear checklist. Our decision must come to the black trouser. Why we should go in black trousers not orange, purple, or any bright cheerful color? The simple answer is that black is a timeless piece of outfit, we can style it for formal or informal occasions. We can style a pair of black trousers with a white shirt to have a basic look. Moreover, we can style the black trouser with a printed shirt or blouse to create a lovely casual look idea!
Neutral A-line skirt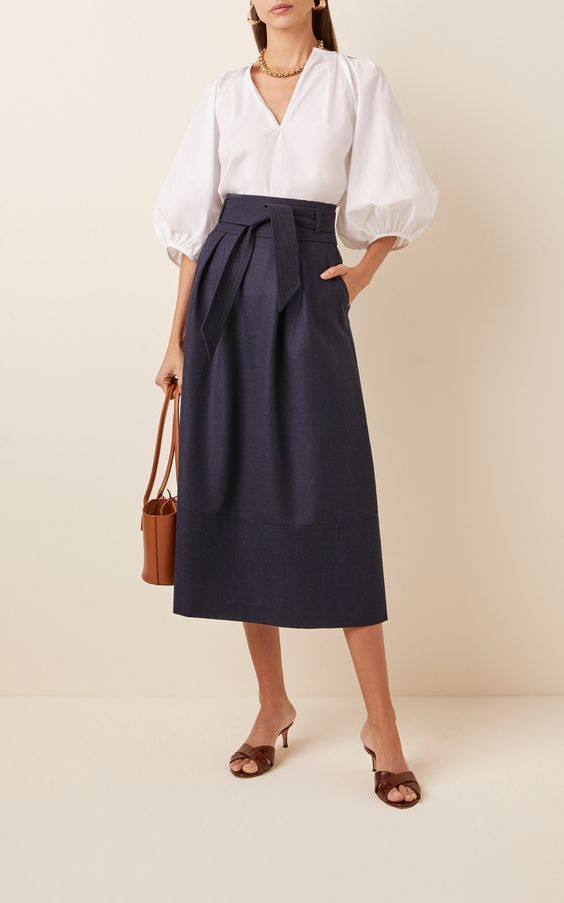 Another bottom casual outfit idea for working is a neutral A-line skirt. It would be so boring styling office outfits only with trousers, it will be cute to style workwear by wearing a skirt. We can choose a neutral A-line skirt for our daily casual office wear. Pairing the black skirt with a puffy white shirt will make your look so effortlessly cute! To complete your casual office style, you can wear a few simple golden accessories.
Business casual jeans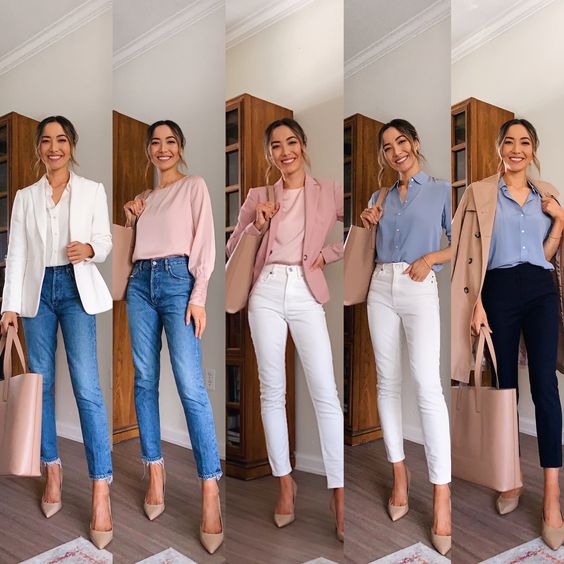 There is nothing wrong with styling jeans when you go on casual business attire. The jeans will improve your office work fashion style. This casual attire will be perfect to be worn on warm days in spring and summer. How to style jeans that work properly for the office style? We can pair this casual wear with a blouse or button-down tops. In addition, we can layer it up with a blazer to give a formal accent to our look! Then, wraps with a pair of heels sandals and complements with a leather bag. Now you are ready to go to the office by wearing jeans.
Dresses
When it comes to summer, we're pretty sure you won't shop for the last office wear. But actually, in this season, we will get a lot of sales and prices, what a great deal! Let's invest our money to grab some beautiful transitional office attire! Let's have a look at a few proper dresses to improve your workwear style!
Bodycon dress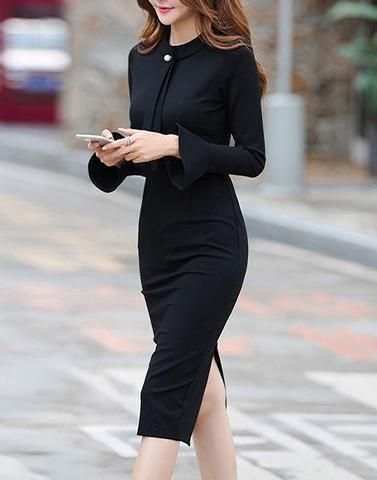 A black bodycon dress can be a good option to style your elegant office look! Especially, when you have a nice curvy body, this dress perfectly suits you. Complete your lovely look with a pair of heels sandals, you got a nice summer workwear idea, definitely stunning!
Elegant belted split dress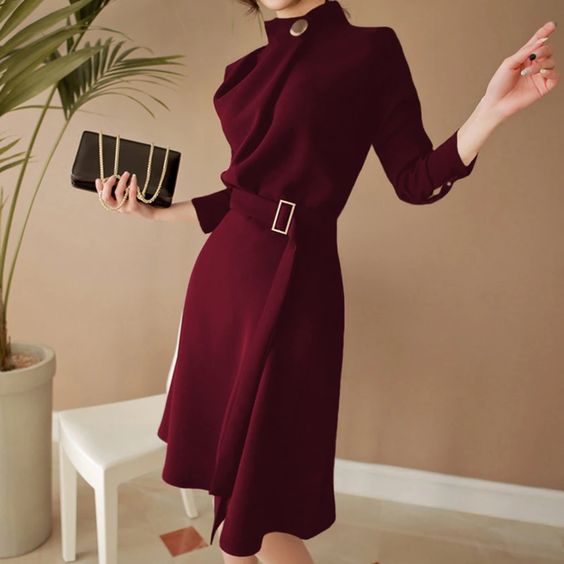 Another must-have dress for a business work woman is an elegant belted split dress. Choosing the statement color tone dress such as maroon or navy to bring the bold elegant look. In addition, a simple couch bag and a few golden accessories can be worn to enhance the classy accent in your look! Complete your fashionable office wear by choosing heels shoes.
Outerwear
In this ultimate guide of business casual wear, we will be sharing the must-haves outerwear to improve your office fashion styles!
Neutral white solid sheath long sleeve outerwear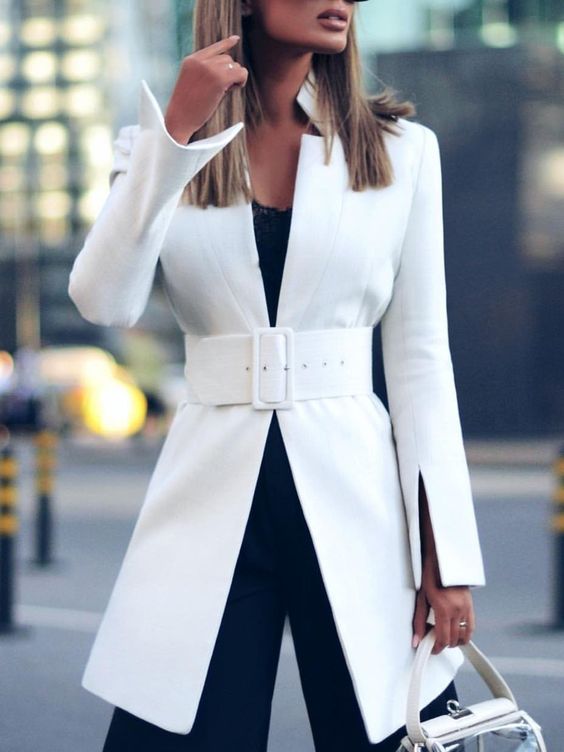 Outerwear is one of the most important workpieces of the outfit. Layering our office outfits with outstanding outerwear will create a stunning look! The first must-have outerwear for businesswomen is a neutral white solid sheath long sleeve outerwear. We can style this outerwear with a belted split style.
Trench coat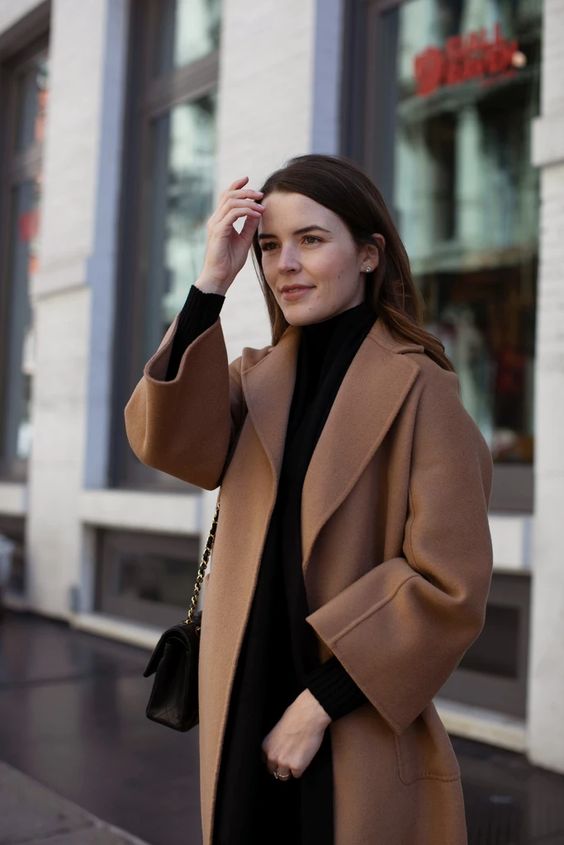 Another outerwear essential to improve your look is a trench coat. The brown trench coat is timeless and versatile outerwear that will fit into any occasion you have. And the brown trench coat won't break any season essential, whether spring, autumn, spring, and even summer, the timeless trench coat color tone is ready to style your office look all the time!
Trendy blazer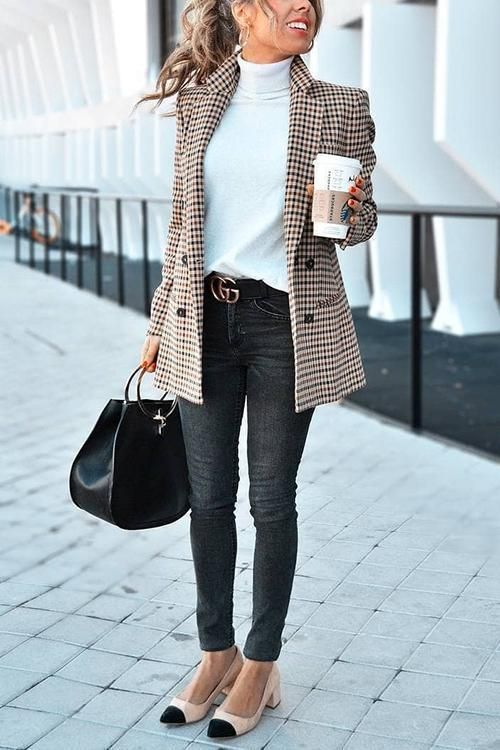 Enhance your office look with a trendy casual vibe. The plaid blazer will absolutely give your work outfit a look fresh and trendy! We can style it with a neutral turtle neck sweater and casual jeans to give a pleasing and laidback work outfit style. Complete your casual outfit look with flat shoes or heels sandals!
Shoes and heels
There are tons of women's shoe styles available, including the office shoe style. Regardless of the abundance of shoe styles, there are a few basic shoes we need to have in our essential office wardrobe. Let's check them out!
Heel sandals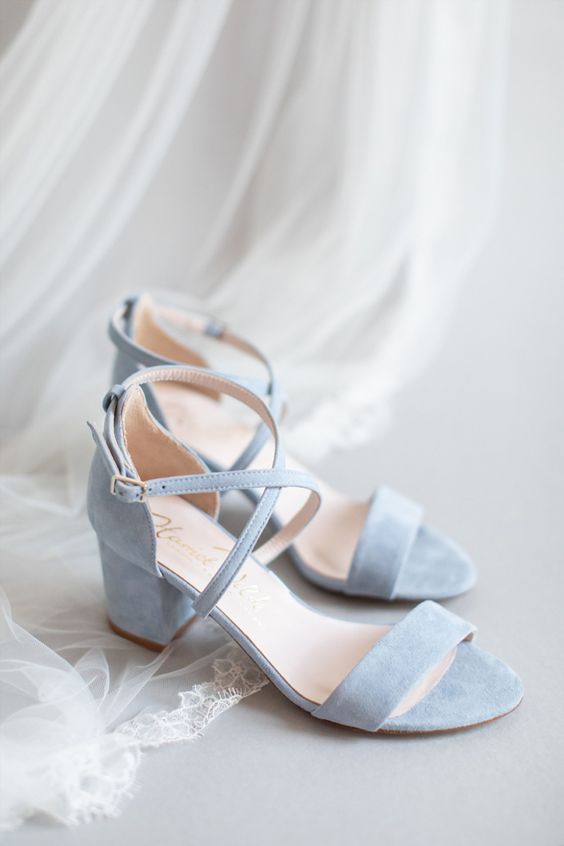 The heel sandals or shoes are the common footwear for businesswomen. They can improve the look and give a feminine touch to your appearance. Some women that have height issue, they can trick their short body by wearing heels sandals. In this way, they gain confidence more after wearing heels. With a rapid technology movement, the world of fashion also has some innovations for such interchangeable heels. Wearing heels for too many hours will give a sore foot. Then, the interchangeable come to eliminate the sore foot caused by wearing heels too long. We can remove the heels when we feel tired all of a sudden we transform the heel sandals into flats!
Ankle boots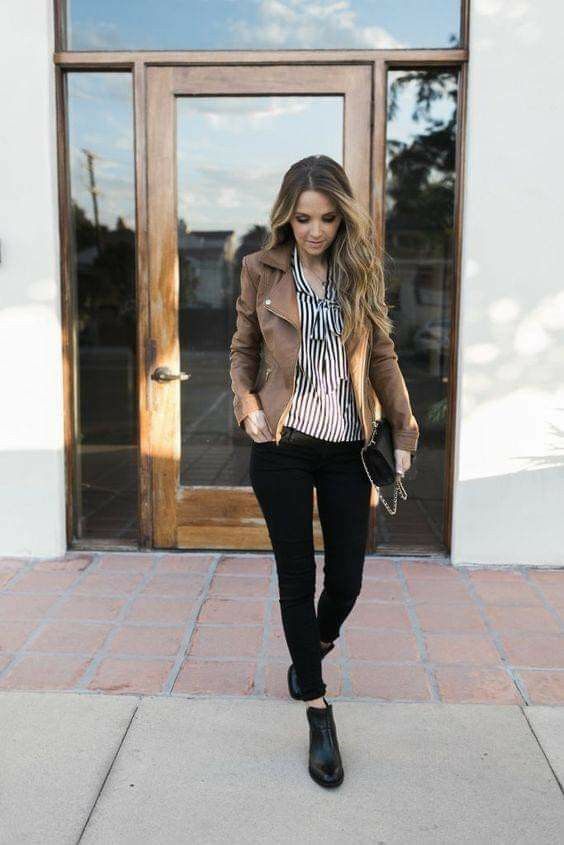 Black or camel ankle boots can be your option to fulfill your office wardrobe-essentials. They will give a statement to your look or creating trendy work casual outfit ideas!
Conclusion
We have come to the wrap-up ultimate guides business casual outfit ideas for women. We have compiled abundant outfits you have to grab on your casual work outfits wardrobe. Featuring basic tops, bottoms, dresses, outwears, and shoe essentials. We hope that could help you all out to fulfill your work outfit essentials. So, there is no grumbling and saying " oh I have nothing to wear to go to the office" anymore! Have a nice summer holiday everyone!