Drufashion.com – The trend of tropical wedding themes always tempting all year round. Who can deny the warm weather, romantic floral and bright decoration giving cheerful and serenity ambiance! It is such a perfect time to say the most beautiful vow in front of the person you love and many people surround. Summer wedding decoration feels so lively, splashing pop and bright colors that won't break the warm weather essence. This makes the party and ceremonial event feels lively! Talking about wedding decoration in the warm weather is essential here we will be focusing on tropical wedding cake ideas! We will display various designs, colors, and topper styles that could inspire lively summer nuptial theme. So, don't miss any of them!
Dusty blue tropical wedding cake idea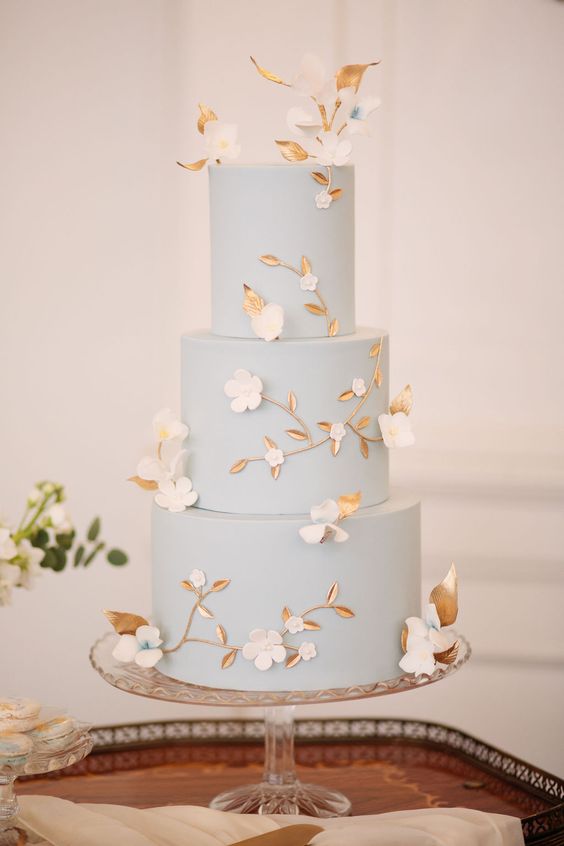 With the essence of the cheerful season, the floral accent could be the right ornament to decorate our wedding cake. This one looks so gorgeous with the dusted blue color tone base and then topped with white floral ornaments. It looks so elegant but still remains to embrace the cheerful summer garden wedding day. Giving a bold classy accent and impactful decoration, this lovely soothing cake using the golden topping that transfers into artistic golden leaves decoration. This sweet dusty tropical wedding cake idea is perfect to set on your dessert table!
Simple white tropical-themed wedding cake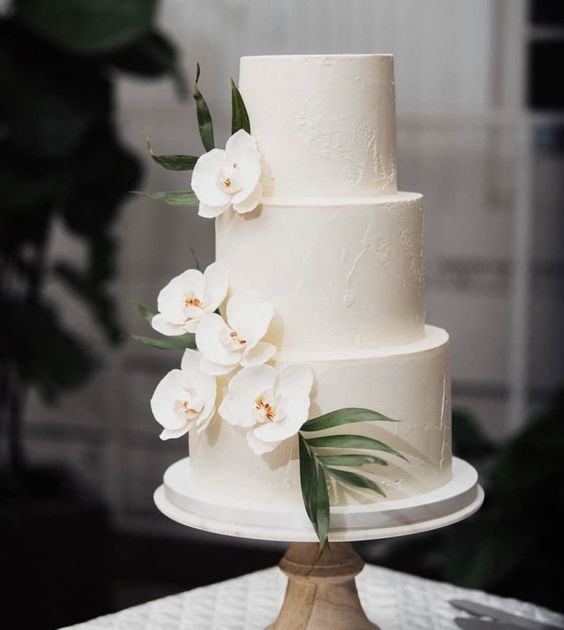 Another tropical-themed wedding cake we want to display with you is a simple and lovely white cake! Cover up the cake with white buttercream that simply transforms into a gorgeous torte. Then topped with summer floral accent ornament for such orchids could be attached to give a distinctive summer decoration. We can use the chocolate to make ornamental flowers. The decoration is quite simple but still remains an impactful sweltering day theme.
Tropical fruit essential decor
Pineapple is a refreshing tropical fruit that will embrace the sweltering summer day. With the bright color tone accent that is sweet to be set on the dessert table. The yellow base layer joins the gorgeous simple white color tone is enough to clarify your nuptial decor. We can also craft the dried leaves palms to beautify our wedding cake essential. In addition, we can set the actual pineapple besides to bold the theme decor cake. We're pretty sure this will catch your attention and brings up the tropical nuptial theme decoration you have!
Fruity bridal cake idea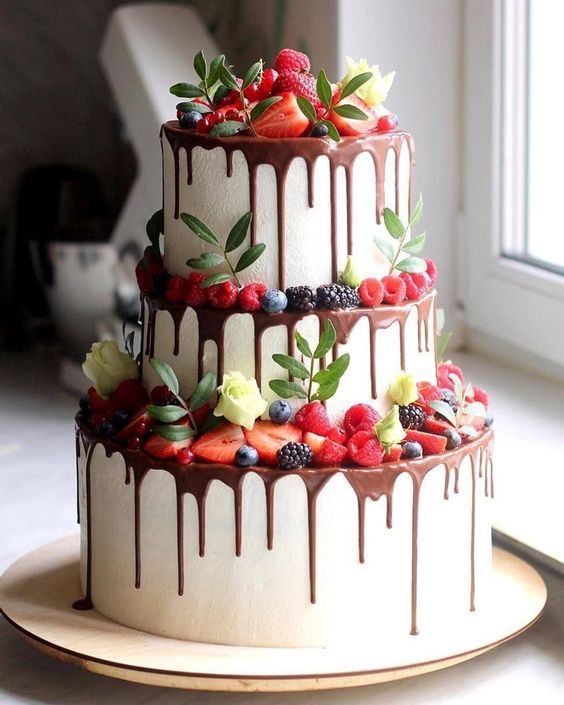 Embracing the cheerful summer days with the sweet and juicy fruits that will personalize tropical theme wedding cake decor. We can use mixed berries, strawberries, these fruits are so refreshing and give colorful decoration. Gently pour a chocolate glaze above the cake and put carefully the fruit above the glaze. This fruity bridal cake is so tempting and being everyone's favorites dessert!
Coconut Cake The Taste of Tropical!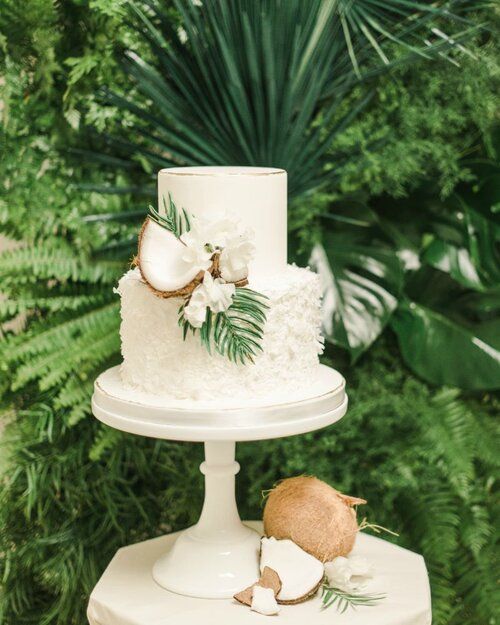 Almost every coastline in a tropical country is blessed with an abundance of coconut trees. The trees giving a perfect shade, and the young coconut water feels so refreshing that will boost up our mood! Making this fruit is easy to notice as the tropical taste! If you are going to held the wedding in summer with tropic decor. The coconut cake is a great deal to mimic your summer nuptial theme. The dried shredded coconut gives a unique and salty taste to your cake make it more flavorful!
A romantic flamingo wedding cake topper!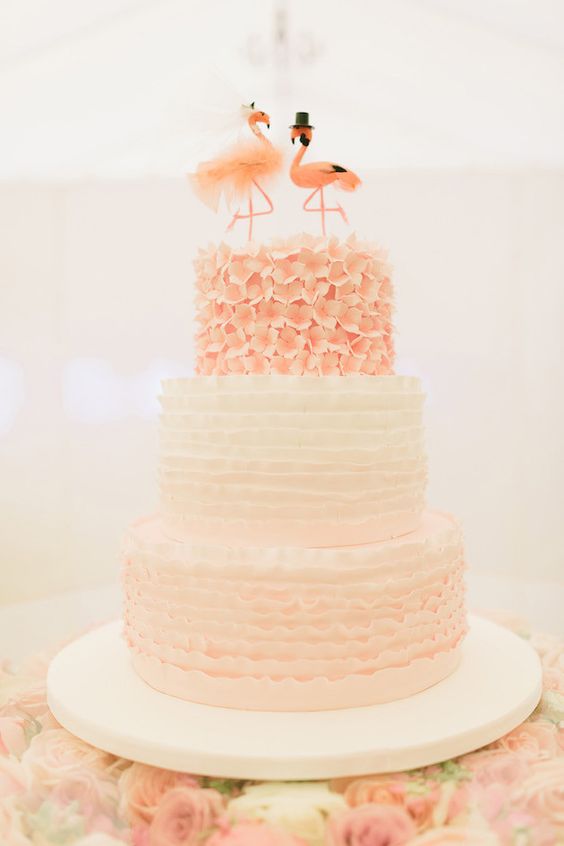 The flamingo also could define the summer decoration, so we can transform that into a lovely wedding cake topper idea. Set the flamingo bride and goom as the topper then decorated the cake with a pink accent. It gives a romantic decoration which is good to personalize your nuptial theme!
Hawaiian wedding cake idea
We are still lucky to have the warm summer essence before it changes into fall. Creating a campy beach party mood by representing Hawaiian decor on your wedding theme is worth it! Having a party on the beach is indeed fun and gives us laidback feels. So, having a wedding party around the beach is so intriguing!
We can decorate the dessert table with some flowers and some tropical essentials fruit.  Then set a Hawaiian wedding cake in the middle to bold the nautical wedding theme decor. The cake is well prepared, there are some lush tropical green leaves and some flowers. The bright accent tropical decor will bring out the serenity of summer decoration.
Beach wedding cake decor style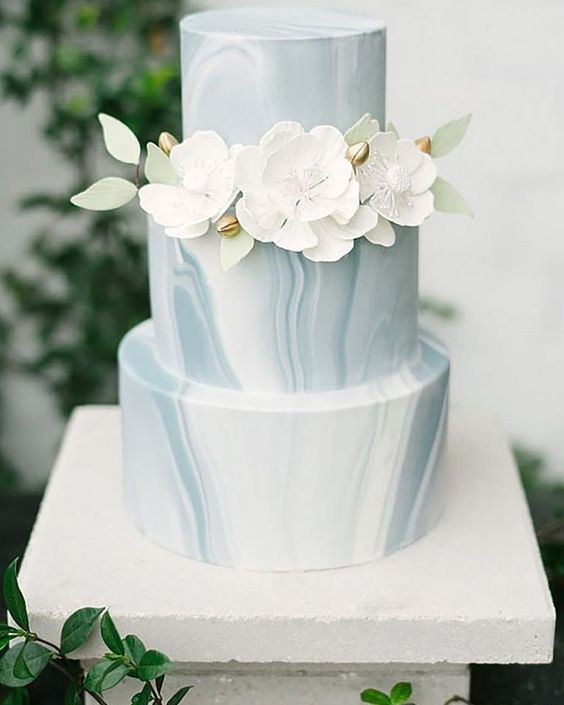 Talking about summer nuptial decor, we cannot leave behind the beach wedding cake decor. This blue shade marble color tone cake looks so gorgeous and elegant! Featuring simplicity but artistic style decoration is perfect to give an elegant wedding idea. In addition, there is some gorgeous white floral accent decoration attach to the second-tier cake. This is a typical simple beach cake idea. The blue accent color tone giving a calming impression, the simple decoration with a touch of artwork successfully takes the attention!
Two-tier bridal cake wedding garden theme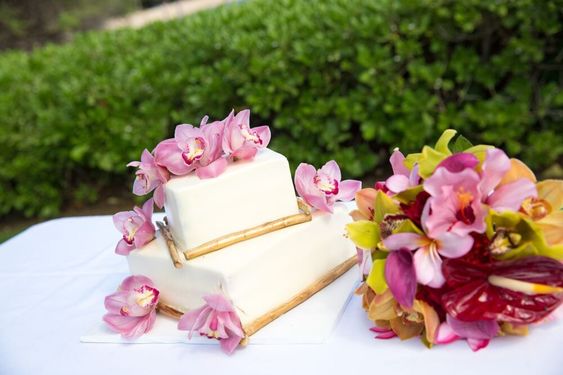 The beautiful clear sky, the flowers are blooming on the lush green lawn, the garden is such a beautiful place! There is no doubt having a wedding ceremony in the beautiful backyard garden. The colorful flowers and refreshing green lawn take the attention. Let's decorate the dessert table with a sweet wedding cake! There is a two-tier square bridal cake wrap with pink flowers that are looking so lovely! If you have a plan to hold the simple wedding in summer. We can point out the backyard garden space and invite relatives and close friends. The simple secrete wedding garden theme is a good idea to save the budget!
Conclusion
The warm weather, beautiful clear sky, and colorful bright accent scenery make summer a pleasant season all year round! It's a comfortable season which is perfect to do outdoor activities for such picnic, walking around the street and even hold a wedding ceremony! In this writing, we have shared with you some intriguing tropical bridal cake ideas. There is something that makes a summer wedding is so attempting because we can add lots of color to the decoration that won't break the rule. The green, yellow, blue, red, all these bright colors can enhance the beauty and lively summer season. In addition, there are florals, nautical, to the lush garden theme that can be chosen to feature summer essence!