Drufashion.com – Are you going to celebrate your wedding day with nautical-themed decor? Congratulation to you and your partner! With the beautiful clear sky and warm summer day, nautical wedding decor is so enjoyable! There are many things we have to do after choosing the theme style. For such, the bridal dresses, nuptial decorations, and of course the dream wedding torte that looks so gorgeous! In this writing, we will be sharing with you some of the best beach wedding cake ideas which are perfect for nautical nuptial you have!
Here we are to help you with giving you some gorgeous tropical wedding cake. With the lovely warm weather essential and the beautiful ocean background. It is such a perfect space and time to celebrate everyone's nuptials. But, we have to know some considerations for celebrating a wedding on the beach. The heat of the beach sun can be extremely hot, and if you choose a cake with buttercream, it will melt cased the heat of the sun. You won't such mistake happen in your precious day, isn't it? So, read our advice on choosing a summer wedding cake that will stand for outdoor conditions. In addition, we also help you to choose the perfect color base for your cake, and some helpful advice to keep your summer bridal cake stands beautifully all day long!
Nautical wedding cake color essentials
Color is one of the most important things in decorating your cake. The perfect color tone could represent the themed-style wedding design you have. For the nautical-themed nuptial cake, we can go along with the simple elegant white or refreshen it looks with a blue color shade. But more than that, there are a few color selections that could be your inspirations to make a tempting wedding cake. Let's see how it works down below!
Elegant white beach wedding cake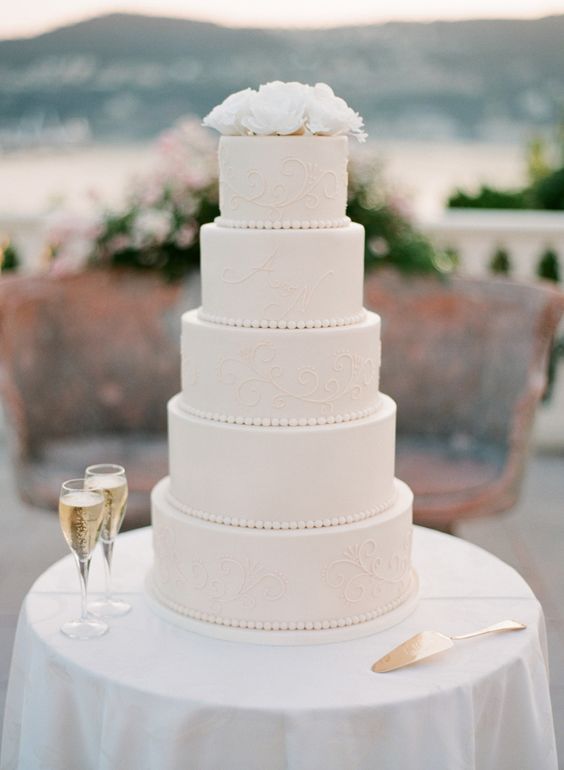 White is a pure, elegant, and neutral color. This one is perfect for decorating any type of themed style, including nautical wedding decor. The essence of the neutral white hue creates a calming and laidback beachy ambiance! This white beach wedding cake looks so simple and elegant with beautiful carving and white rose cake toppers. The white color tone cake and simple ornaments are perfect to decorate the seaside dessert table!
Blue color tone nautical-themed wedding cake
Talking about the summer beach fashion vacation, or decorating a seaside wedding venue, the blue color tone feels so right. The blue has a calming effect and also embraces the nautical look. So, we can apply a blue shade to beautify our coastal wedding cake decor. The blue marble tiles shape perfectly onto the white color-based cake. Then, simply touched with roses ornaments give an impactful elegant nautical-themed wedding idea!
Green-hued beach wedding torte idea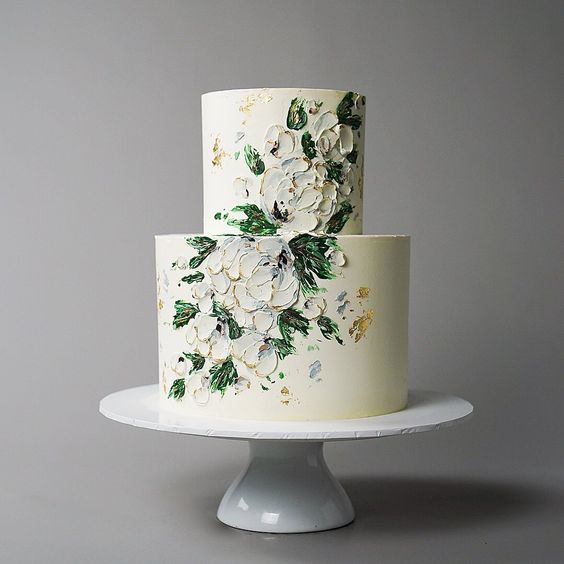 Figuring out another color besides white and blue that could define your nautical wedding decor. We have this outstanding green-hued wedding cake that will sweeten your big day event! The white color-based cake is decorated with green leaves shade. Put this cake on the seaside dessert table and let it take the attention and refreshing look! Green is the color of nature, and when it comes to decorate the outdoor space or include in any outdoor event for such a wedding is a great idea! So, choosing a green hue for your wedding cake will not break the rule, they look so refreshing!
Infuse the elegant beach wedding vibe with a rose gold cake!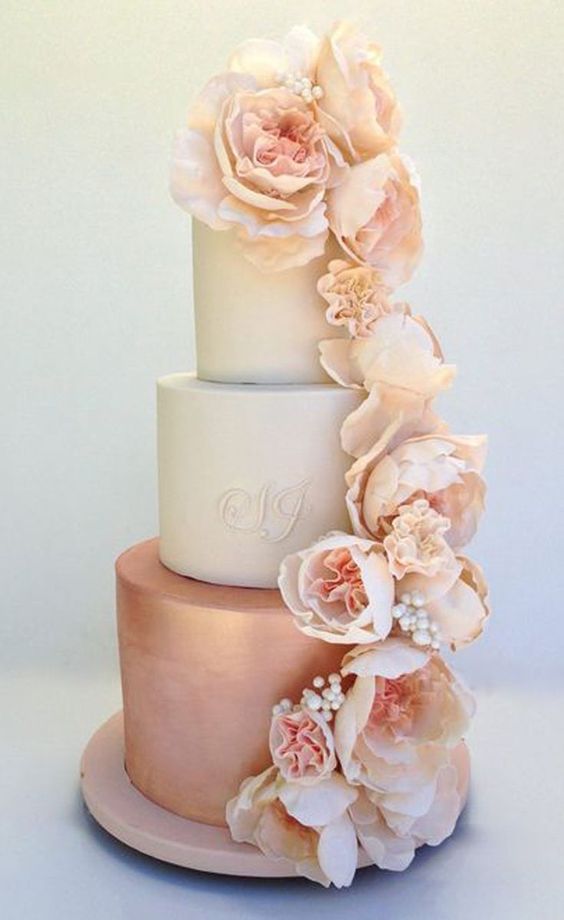 Another essential wedding torte to sweeten the seaside dessert table is rose gold! The combination of the lovely rose color tone and the gold accent successfully polished the beach cake style so elegantly! Don't forget to give ornaments to your cake, roses and pearls are matched perfectly to give the nautical impression of wedding style!
Stay classy with muted color burgundy!


One last perfect color selection to decorate your beach theme wedding cake style is going with muted color, burgundy! When the pastel cream color-based cake with floral burgundy ornaments, it gives a serious classy cake style! To define nautical nuptial decor ideas, we can put the floral ornaments as beach wedding cake toppers. That is so lovely and classy at the same time!
Seashells and starfish summer bride cake idea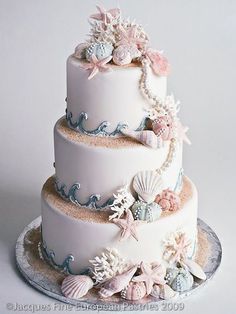 There is nothing better than to bold the nautical concept theme with seashells that coming out from the sea. There are starfish and some seashells ornament cake to bold summer bridal cake decoration ideas! We can make these nautical ornaments from chocolate and fondants, blushing it with pastels color, this cake is a real art from the ocean to enjoy all people!
Tropical bridal cake idea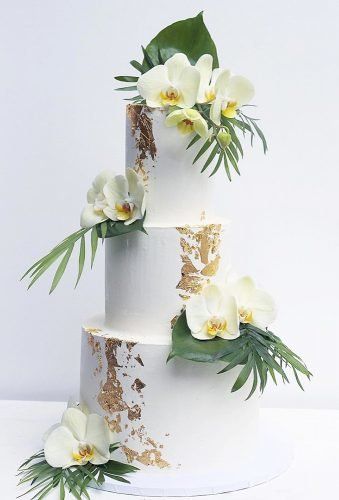 Another bridal cake idea for summer is going with lush tropical decor essential! The beautiful orchid cake toppers are so lovely to stand on the white-based cake! The tropical decoration enhances a laidback summer wedding decor style. Do you fall in love with this jungle tropical vibe decor on your bridal cake?
Mr and Mrs cake topper style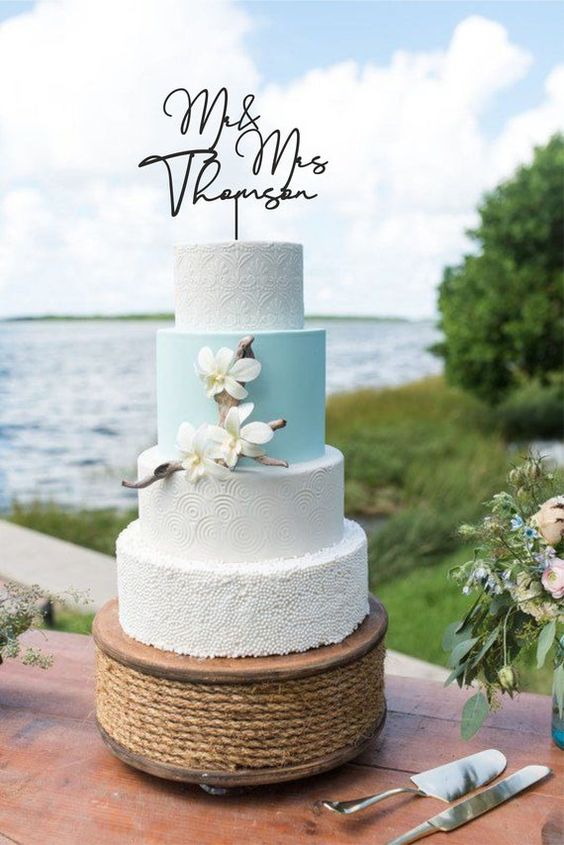 To make our bridal cake look distinctive and unique. Adding various styles of cake toppers is needed. For your nautical wedding-themed decor. We can have the white and blue color tone cake and beautify with Mr. and Mrs. cake toppers style. Order the cake topper that showcases your family name, for such Mr. and Mrs. Thompson topper. Do you want to stick the couple name cake topper style?
Beach wedding cake tips and advice to remember
Avoid using lots of buttercreams
Having the wedding celebration at the seaside is indeed appealing. But, there is something we have to consider. With the blazing hot summer day on the beach that will make a serious problem to buttercream work art on our wedding cake. The buttercream will melt and break all the beauty and goodness work art of yours! Seriously, we won't it happen on that day. Avoid the buttercream melt by keeping the cake in the cooler place and serve directly when we want to enjoy it! So, we can keep the buttercream cake in a cool place before it serves. Or, we can use fondant to decorate our cake, it will stand for many hours and be perfect to set on the dessert table all day long!
 Placing insect-repelling candles around your cake!
Some simple tips and advice to make your beach wedding cake bug-free disturbance. We suggest you place insect-repelling candles on the dessert table. This aromatic candle keeps away bugs from your precious wedding cake. Since you have wedding avenue at the seaside, then to keep our food insect-frees is by placing repelling candles on the table!
Thus are two simple tips and advice to remember to guard your precious wedding cake hassle-free!
Conclusion
Confessing and saying your vow in front of many people is something magical and unforgettable moment once in a lifetime. Having the beautiful beach wedding venue decoration is so enjoyable in the warm summertime. In this writing, we already talked about beach wedding cake ideas that you can follow the design too! After you read and observe the styles and some advice to choose the summer bridal cake style. From the color cake base selection to the various themed styles, we hope you already decide which one could be your choice! Happy wedding!