Drufashion.com – What makes women get a dress for so long before attending the wedding ceremony? We are pretty sure, the fitting dress takes a lot of time, especially if you are choosing on that day, you'll be in a rush! A wedding is a beautiful thing that happens to everyone's life when they reach maturity. Finding the right person to share the ups and downs of life together is so relatable! Wedding is the part of life, whether your wedding or your friend's wedding. We will attend this sacred ceremony of two people in love.
Alright, at this time, we will be a focus on choosing wedding guest dresses ideas. So, we will not be in a hurry to attend wedding events coming up in the summer season! Embark summer season with floral prints is the cutest and best idea to give you a chic summer wedding guest look. In addition, the plain neutral color tone dress and accentuate with a few accessories will turn you into an elegant wedding guest. Here we up, to share with you some of the best wedding guests' look ideas for the summer season!
Classy dress for formal wedding ceremony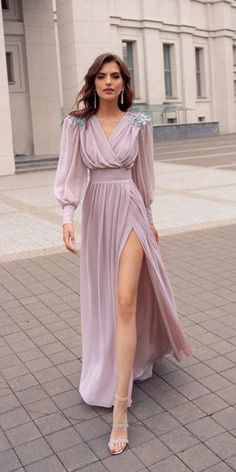 The first summer guest wedding dress idea we want to share with you is the formal look. When you attend a formal wedding event, you would never wear short jeans or a casual summer dress, isn't it! The way we dress, there we will gain confidence in it!
For the formal wedding even, we have the loose violet beautiful dress. The soft texture material and the soft color tone combine altogether to create a calming look. The waisted style showcases your beautiful body shape. Then the light puffy sleeves make it more beautiful. Open up the legs style to give you a sexy and elegant look. In addition, a few sparkling accessories on the collar give a classy look! Combining your gorgeous look by wearing the pair of the same hue heels with your dress.
The neutral and soft color palette is a good rule to join the formal wedding party. Then the soft texture of the dress will make you feel comfortable in that dress. During summer, the temperature rise so make sure to choose soft and comfortable material for your dress!
Chic pink lace dress for a young lady!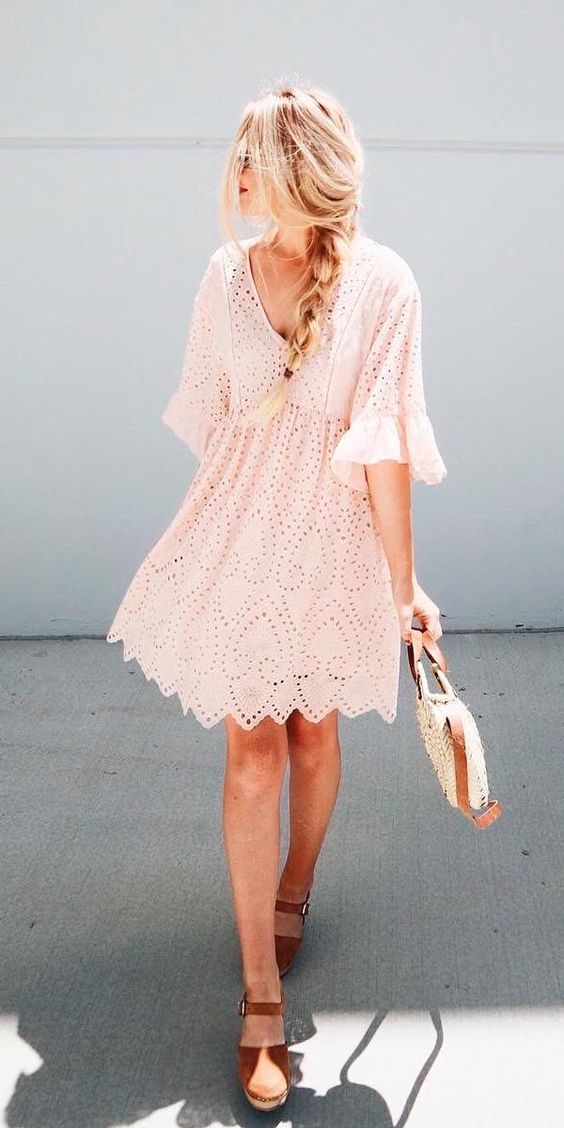 The beautiful young lady who wants to attend the casual wedding event. You don't need a rush choosing the bold and heavy makeup with sparkling dresses! That's a big no, you just need a soft lace mini dress that blushes in a soft color palette. The ruffle puffy sleeves will sweeten the young lady's look. Then braided your hair nicely will make you look so lovely as a wedding guest! Then the pair of beige comfortable shoes accompany your look. In addition, the chic straw bag can follow your summer wedding guest dress idea!
Casual beach wedding dress idea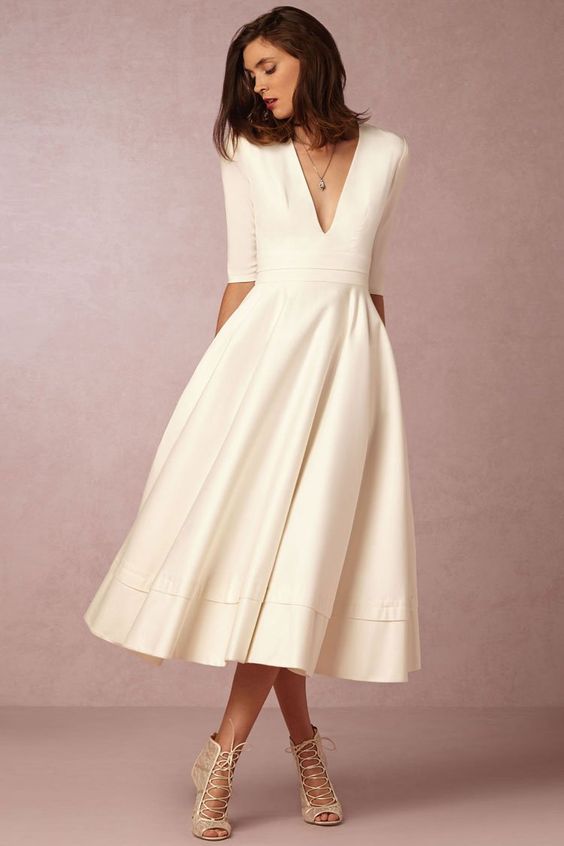 When you are going to attend the casual beach wedding party. Then this white casual beach dress is a fit for you! The flowy midi dress with a v-line collar is looking gorgeous. The half sleeve makes it more elegant and gives the graceful look! It's pretty simple, casual but looking chic anyway. With the proper golden accessories, it will glow up your casual look. Then the trap heels sandals make you look classy! Don't forget to bring a beautiful straw bag to accompany your look. It's definitely a gorgeous simple guest wedding beach look, would you like to have ladies?
Flawless A-line guest wedding floral dress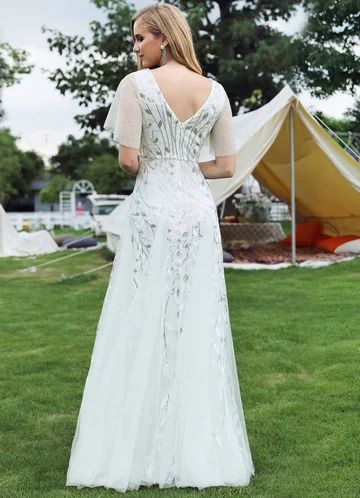 With this flawless A-line guest wedding floral dress, it's possible that you can be an epicenter of all attention at the wedding party! The gorgeous little kneaded floral pattern on the beautiful white dress successfully makes you look like a goddess! The sheer sleeves showcase your beautiful arms, and then the v-line neckline makes it more awesome at the front. The neutral color tone makes you look so soothing and guide you in the full-confidence walk. Complete this look by wearing a pair of beautiful heels sandals. The simple white gold necklace and earrings will elevate your look. And even more, glow up in the crowd!
Chic floral printed chiffon maxi dress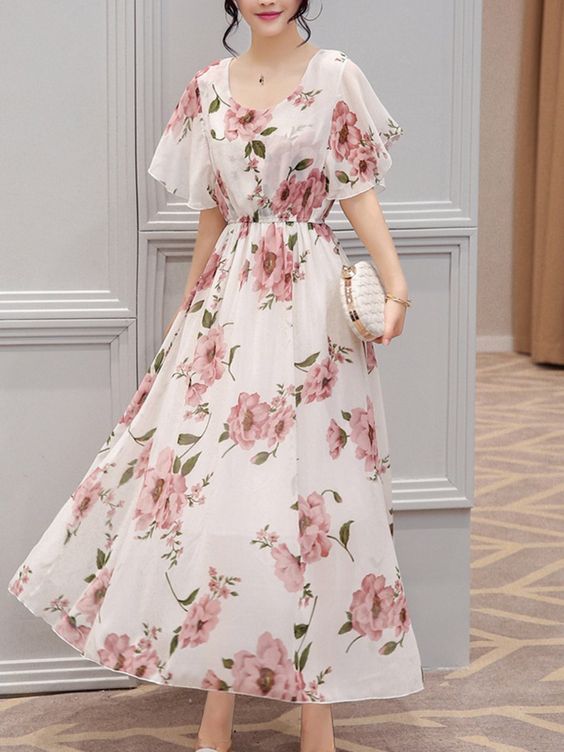 Summer is the lovely warm weather, so that many couples hold their wedding ceremony in this warm month. But, with the peak of the summer season, we will be sweltering in hot temperatures. So, make sure to choose comfortable material that absorbs sweat and cooling down the feature material. Such a chiffon dress has a soft texture, is lightweight, and absorbs sweat.
After choosing chiffon as the main material for our lovely dress. Then, we can choose from the lovely pink floral print. The flowy bottom area makes our skin free to explore the summer weather. So, we would not get hot in this type of dress! And the puffy sleeves with belted waist style curves your body perfectly. Complete your lovely summer wedding guest dress look by bringing a clutch. Then, the lovely pink heels sandals, the cuteness overload!
Minimalist black dress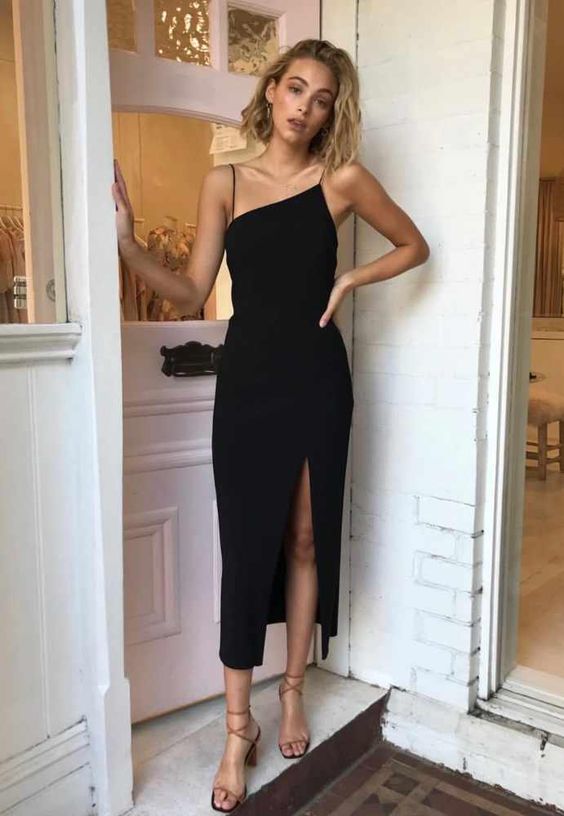 Are going up to the summer wedding party? Well, then the minimalist black dress suits you! The simple straight-line dress with the lace-up legs style is pretty enough to keep you in style for the wedding party! The strap heels sandals will make your legs a mile longer than before.
Get an elegant and sexy look by wearing an open-back dress style!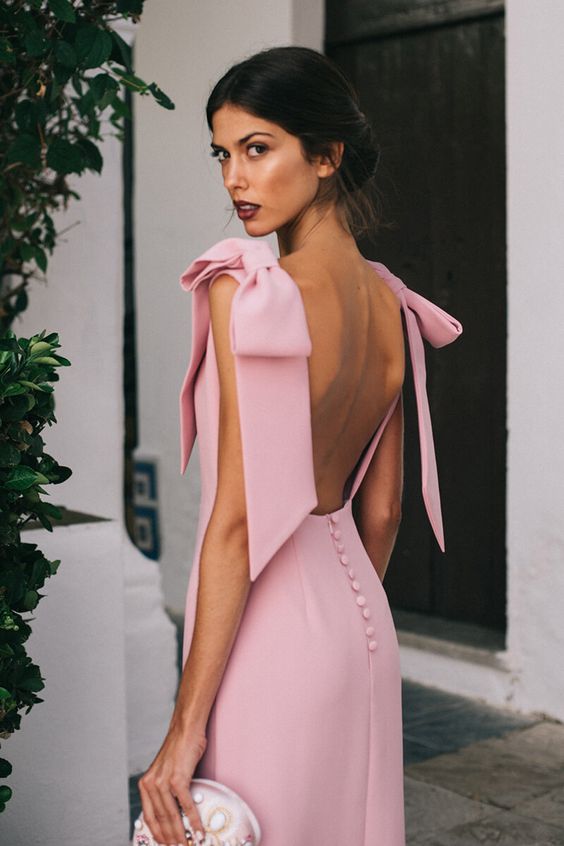 Another option dress to keep you in style being a wedding guest is choosing the open-back dress style! This dress opens up your beautiful back, and it remains a sexy look. Choosing the fitted size with your body will make people stare at your look. The soft pink color palette is perfect to showcase the lovely look. Then, the knotted sleeve styles make you look even chicer. To bold your sexy look, we suggest you have sexy red matte lipstick and a sharp makeup style. Then toss your hair to show the lengthy neckline that connects with an open-up back style dress. The sparkling diamond clutch will improve your classy guest wedding look!
Floral printed mermaid dress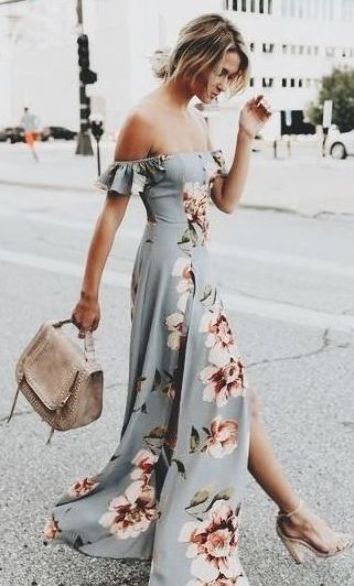 Get a stunning wedding guest dress look idea by wearing the floral printed mermaid dress style! The lengthy tail dress makes you look graceful and the queen over the sea! The floral accent gives a cheerful summer look essential. Then, the blue-color-tone dress gives a soothing summer look! Paired your look with the neutral hells sandals and leather shoes. It gives you an instant elegant summer wedding guest dress idea! Do you fall in love with this casual summer wedding guest dress idea?
Conclusion
Thus are some of the best wedding guest dress ideas for the warm summer season. With the cheerful sunny days of the summer season, people love to spend time outdoor. And also many people to decide their memorable wedding day on summer. The bright sunshiny day makes the wedding day feel so cheerful and enjoyable! On the other side, wearing a beautiful dress in the summer season is quite variable and available, make it easier to handle!
In this writing, we are focus on the beautiful wedding summer dresses for guests. There are a few highlights points we want to share with you after seeing some gorgeous dresses above!
Neutral color tone and soft color palette dress
The neutral color tone and soft pastel color give a soothing look. That is perfect to give a down-to-earth look in the hot summer weather. So, choosing the soft-color-tone dress palette will make you look calm especially in the arid summer days. We need such soft color palette!
Soft material
It is very important to choose the proper material for our dress. There is some comfortable material that has natural fiber which will give us fully comfortable in it! Chiffon, silk, rayon, and linen are supposed to be the most comfortable material to make a summer dress.
Flowy and lightweight outfit features
With the extra sun on the summer day, it is important to have the flowy feature to gives us comfort during the arid summer day. In addition, the lightweight feature outfit will double up the comfortable accent outfit for summer!
Thus are a few important tips on choosing the proper summer dress idea. We all believe that a comfortable outfit will make you feel confident about wearing it. So, we hope you enjoy the dresses and helpful tips on choosing the summer wedding guest dresses above!