Drufashion.com – Have you planned your wedding day with your partner yet? There is no hesitation to step forward in the sacred moment of your life. When the two people already feel matched and ready to share ups and downs together, saying the vows to prove their true love. It's something magical! Everyone has their own dream wedding, get married to a loved person, and imagining beautiful nuptial decoration! If you already have someone and are ready to step on to the next stage of your life, congratulations! Here we will help you to create a private garden wedding reception.
Due to the covid-19 pandemic, the government restrains social physical contact that will increase the corona cases. So, the usual bridal reception, music concert, and other social gatherings are restricted. Don't let this case break your dream wedding. If you have enough backyard garden space, we can transform our outdoor space to hold a private bridal party. Enjoy your big day with your family, relatives, and close friends in the beautiful garden decoration! Here down below, we will introduce you to some outstanding backyard wedding decor ideas for your big day, let's dig in!
How to transform a backyard into a private wedding reception?
Privacy wall garden is a must
Talking about the private wedding in our garden, make sure we have a good privacy wall that covers all around the area. Installing fences all around the backyard or growing hedge plans to block the area, so we have a nice quiet and private outdoor space to hold the special celebration.
If there is an altar in the church or indoor space, then we can set this on the garden patio space outdoor. Decorate with flowers that could enhance the romantic view. Or we can transform the wedding arch into a unique theme decor for such, rustic, or even vintage style.
Food is an integral part of the wedding ceremony. The guest will enjoy it after watching the bridal's vows. So, we have to set up some dining tables with a beautiful floral decorations. Or choosing the large dining table to cater to all people at the same table.
Differ from the indoor wedding hall, it's a little bit more challenging on adjusting lighting outdoor. Make sure that we cater the space in the garden with enough lighting. In addition, creating a whimsical bridal look decor would be trickier if you want to impress the guest with a lighting concept that shines after the sun goes down. Our advice to create such a whimsical and romantic dining area, we can choose a few lighting styles. Combining the fairy lights, lanterns, and some candles to support the magical lighting concept!
Provide bugs repellent on the side table
Knowing that your wedding reception is in the outdoor space. You don't want the bugs to ruin your big day, isn't it? So, make sure to provide some bugs repellent on the table. This will take them away from the food section. Moreover, we can set some essential candles on the dessert table. You don't want the bugs to ruin your beautiful wedding cake, right? It's not funny at all. So, don't forget to put aromatic candle essential on the table!
Intimate wedding celebration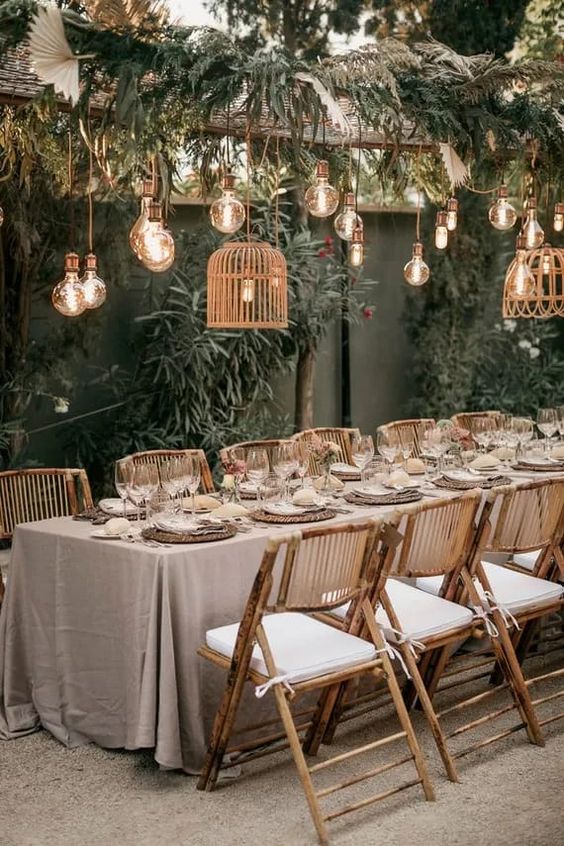 There is nothing wrong to hold a private wedding reception in your garden. With a lovely dining decoration and gathering with close people only that will make your dream big day is so meaningful! The dining area is one of the most important things we have to pay attention to. After the brides saying the vows and we celebrate it having dined together. Simply set a large and long dining table in a beautiful and cozy spot in your garden. The wooden dining table follow by wood or rattan chairs is perfect for summer nuptial theme decor. When the sun goes down, the lighting concept is an integral part of your decor. Installing fairy tales light and some hanging outdoor lamps will create an afternoon intimate wedding celebration!
Patio arch decor idea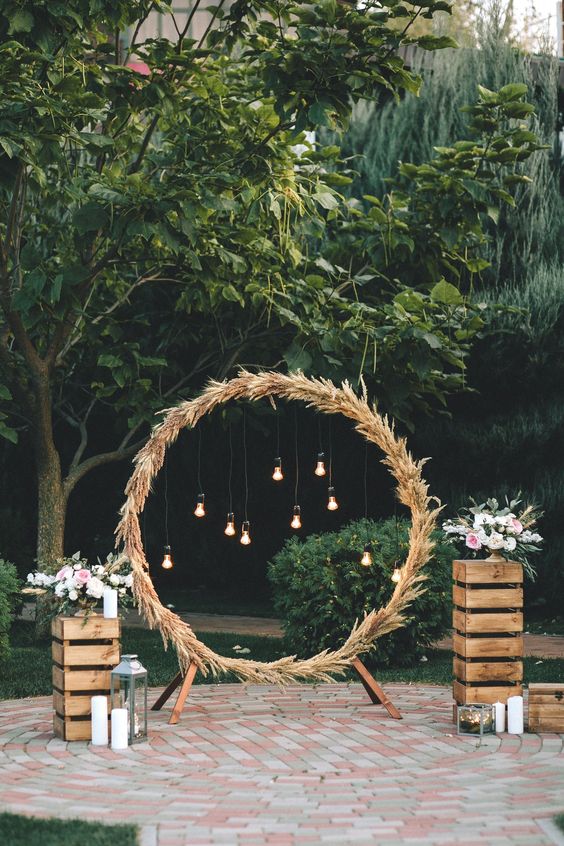 Standing on the altar with your precious person and saying the vow once in a lifetime is something magical in life! When you have a plan to celebrate the happiest day ever with your lovely one right in your backyard. Then, we have to begin the decoration project immediately. Starting off to choose the perfect spot in your garden to be an altar. Technically, we can decorate our patio with floral decorations. DIY wedding arch with dry leaves ornaments, and then floral roses bucket around is quite enough to showcase beautiful nuptial garden decor. Adjust lighting with outdoor lamps or fairy lights that will add glam and charm to decoration!
Rustic garden wedding theme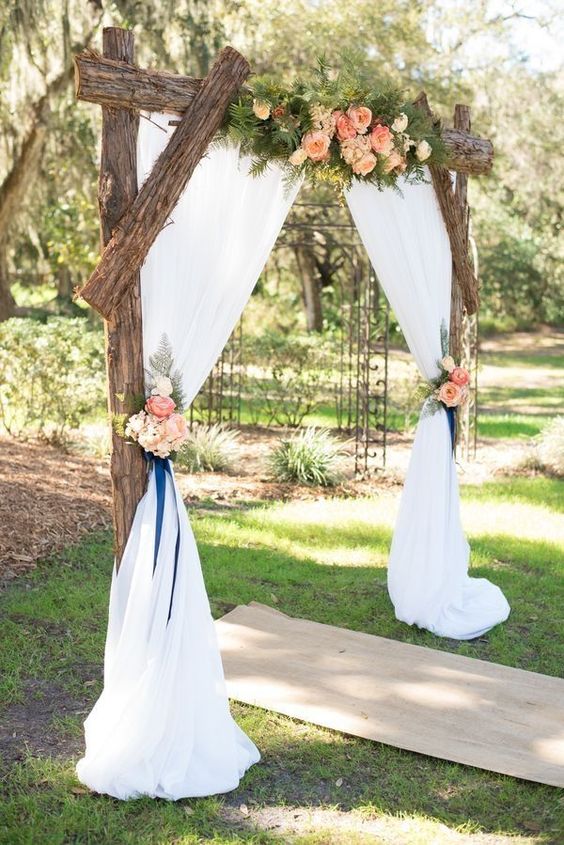 With a lovely warm weather summer season, celebrate our big sacred day outside is so pleasing! Here we have the chic rustic garden wedding theme that is available for every budget. In addition, this countryside nuptial design creates a unique decoration. Start to dig in the project, we can use the old or dry wood feature to create a unique arch. Then, we can install a white sheer fabric on the arch, wrap the lovely look by sticking some roses. This decoration is so simple, affordable for any budget! Do you like a rustic nuptial decor idea?
Elegant private wedding garden idea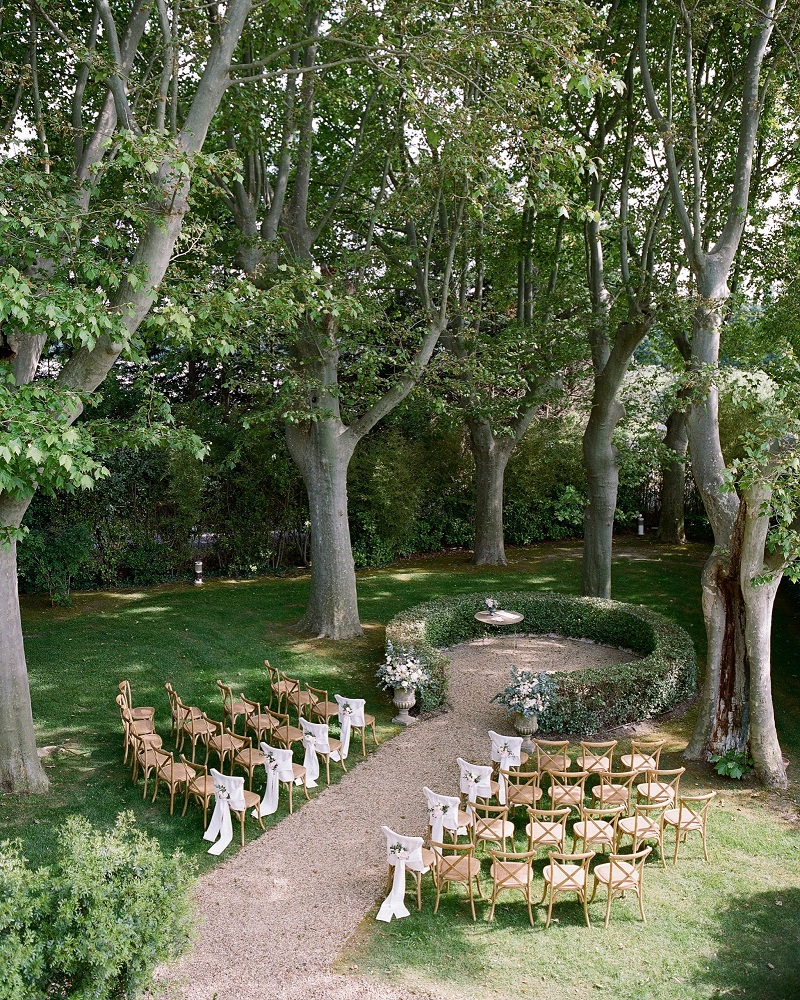 The warm weather summer essence spread the love outside. It's not a surprise people love to hold their wedding day in this season. If you have enough beautiful, lush, large backyard. Thankfully to ut, because we can make a private reception there. The beautiful natural scenery and the quiet garden is a perfect place to say your vows in front of family and close persons.
To begin the project, spot the patio area in your backyard that will turn into a beautiful altar. In this garden, there is a round-shaped screen plant in the middle of the shaded trees. Less decoration and showcasing the proper ornament make it more elegant. Besides that, having the lush and well-maintained garden landscaping incredibly supports this outdoor wedding reception decor. Set up some chairs from both the right and left sides of the altar. Then wrap the chairs with classy silk cloth and stick lovely roses behind the chairs. It is such an impactful simple decoration that successfully creates an elegant private wedding garden idea!
Beautiful garden path decoration!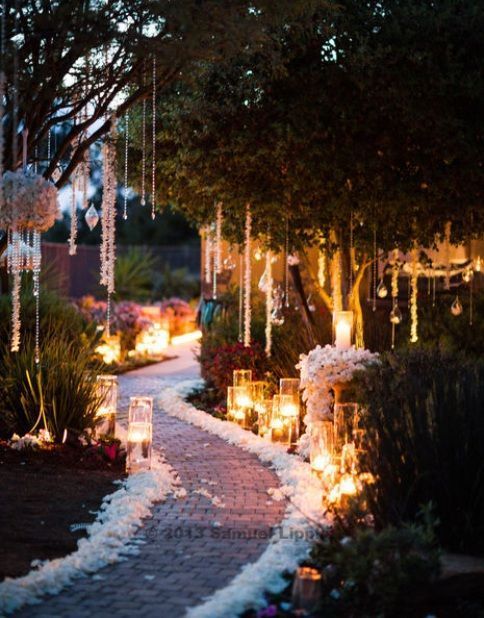 Celebrating a wedding reception in the outdoor space is indeed appealing. The beautiful and relaxing green scenery will make anyone fall in love! So, why not take a chance decorating our backyard into the beautiful wedding decor. Start to decor the space with a floral accent, spread white flowers along the way of the garden path. Then hanging on some lanterns on the shade trees, creates a whimsical look at night! In addition, we can set some candles to support the lighting.
Conclusion
Walking straight gracefully and holding each other with your partner of life is something magical that could happen in life! Everyone wants their wedding beautifully decorated. The garden is a beautiful outdoor space that could hold this sacred event. Imagining the green lush scenery combine with cheerful flowers is an absolutely beautiful place. Alright, we have shared some outstanding private garden wedding reception ideas above. Moreover, we also have shared some useful tips to know for an outdoor sacred event. We hope that could inspire you to decorate your backyard space into a magical and sacred nuptial place!