Drufashion.com – When the summer comes the temperature rise and our skin sweating easily, which happens to our baby too. Figuring out what best outfits for summer is so attempting. Summer preparation is not only about outfits, we have to prepare the best footwear during the humid weather. Choosing the best footwear for summer should be an affordable and comfortable one. Especially when it falls into summer footwear for toddlers, we should be selective in choosing adorable shoes or sandals.
Moms and dads, before you go to buy a new summer shoe for your little one, make sure you choose the right one. It should be easy to wear on their own and comfortable during their active day on a sunny day. Here we have some best summer footwear for toddlers to explore their fun and active days during summer! Find an adorable and functional one for your baby!
Adorable And Flexible Soles Sandals For Girls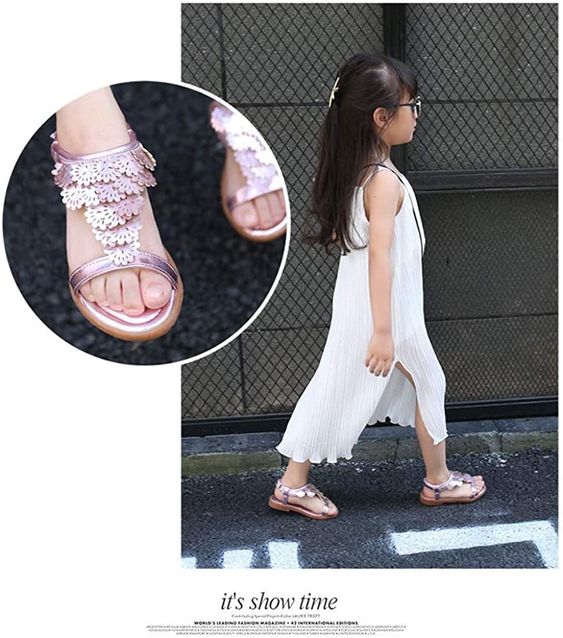 This pair of summer sandals are so adorable with a sparkling floral pattern. Your daughter will love this beautiful gift to walk on summer days. This sandal is not only beautiful but also has a flexible and durable material, which is perfect to accompany her active day.
Casual Strap Summer Shoes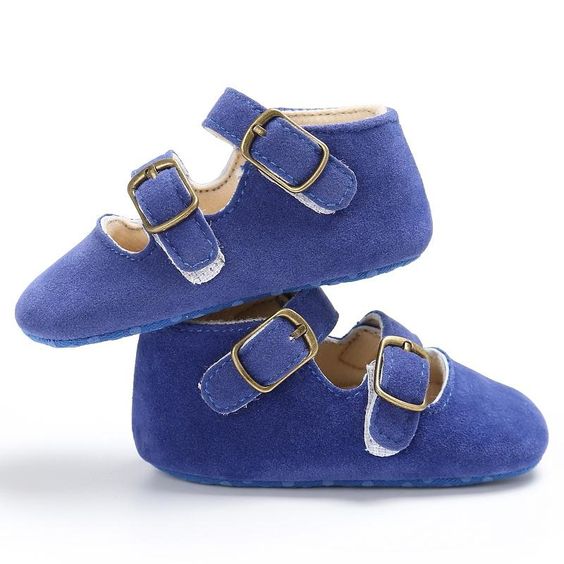 Looking for comfortable footwear for your baby boy? If your little one just tries on walking, we suggest you to give them comfortable and lightweight shoes. As we can see in the picture above, a pair of blue strap baby shoes are so adorable to wear on your baby's feet! It is light and it has a hollow between the straps that give the air flows through the skin, so their feet feel cool when they walking in a warm way.
Casual Sandals For Baby Boy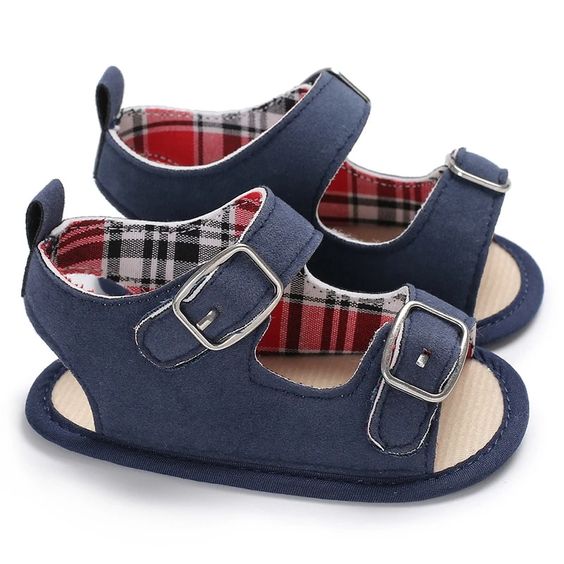 This breathable sandal is what your baby boy need during summer, do not worry about over humidity in his feet during the sunny days. This sandal will allow the wind to flow into his feet' skin. These sandals also have a lightweight feature that can support your little boy explores the summer days in a comfortable way.
Crocs for a Beach Vacation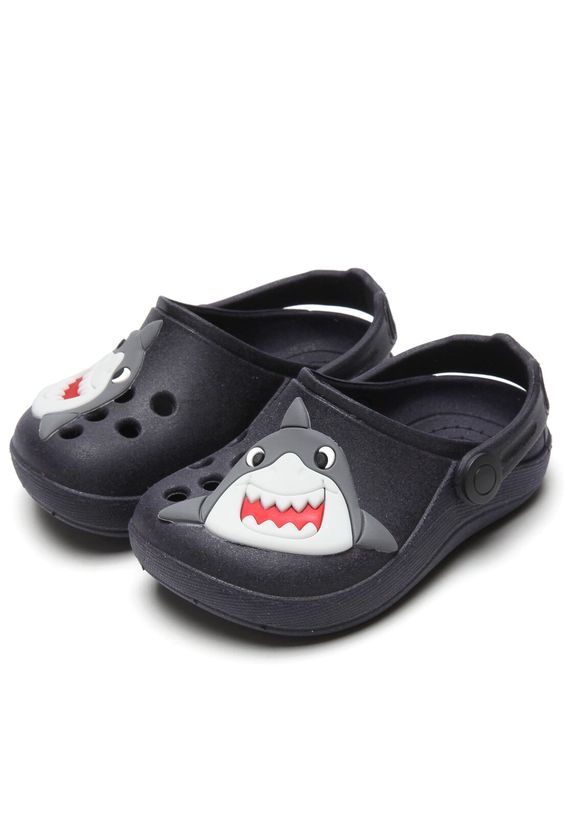 Do you have a plan to go on a beach vacation this summer? If so, you have to prepare some matching outfits that will comfy your holiday time. There is another thing we should consider before going to the beach, yeah that is comfortable footwear.
Now, are you confused about choosing the best footwear for your baby boy? If so, calm down a little bit because we have an advice for you! We can bring comfortable footwear that has some features, such as lightweight, breathable, and waterproof slip-on. So, moms why not bring Crock's sandals for your baby boy on a beach vacation?
Easy to Slip-On and Off Sandals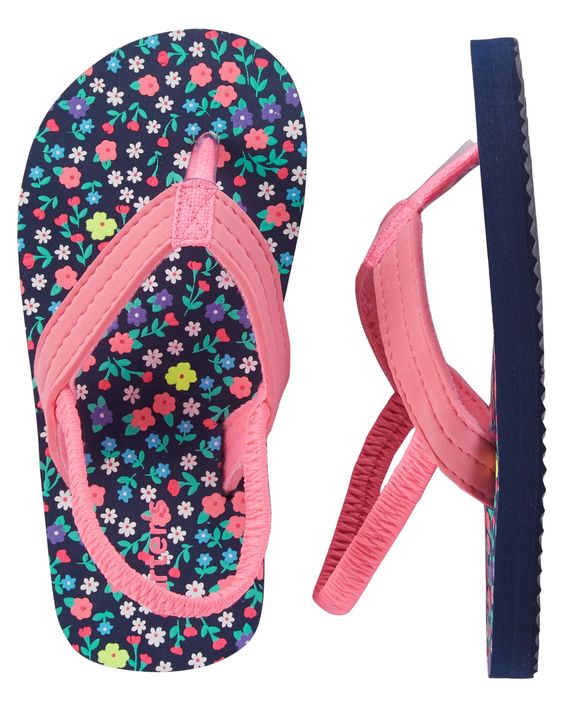 Another best summer footwear for toddlers is easy-to-slip-on and off sandals. Appearing a floral pattern makes these sandals look so lovely to compliment your cute little girl clothes style. This pair of lovely sandals will perfect to accompany your little girl to walk outside, whether walking on the street or even chilling on the beach. It has some features that will support your little girl's exploration. They are lightweight, easy to clip on and off, waterproof slip-on, and also breathable design. Moms, you can shop this sandal anywhere, it is affordable in any baby shop.
Cute Pink Sandals With Rubber Base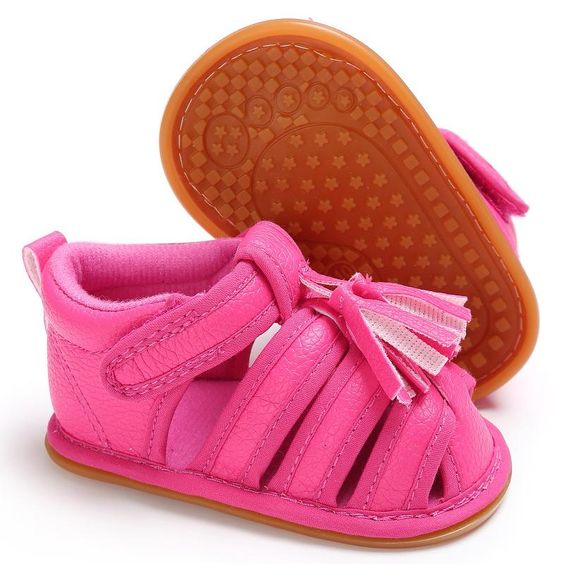 Moms, are you worry to see how many times your little princess falls while she tries to walk on her own? Well, don't too much worry about that, she is still learning how to walk. But we can support her learning walk process with comfortable shoes. We can choose whether shoes or sandals with a rubber base. This rubber base prevents your little girl slip on the smooth surface. To comfy her walks, we can choose sandals with soft materials, so they won't hurt her while she walks for a long period of time.
Canvas Loafer Sneakers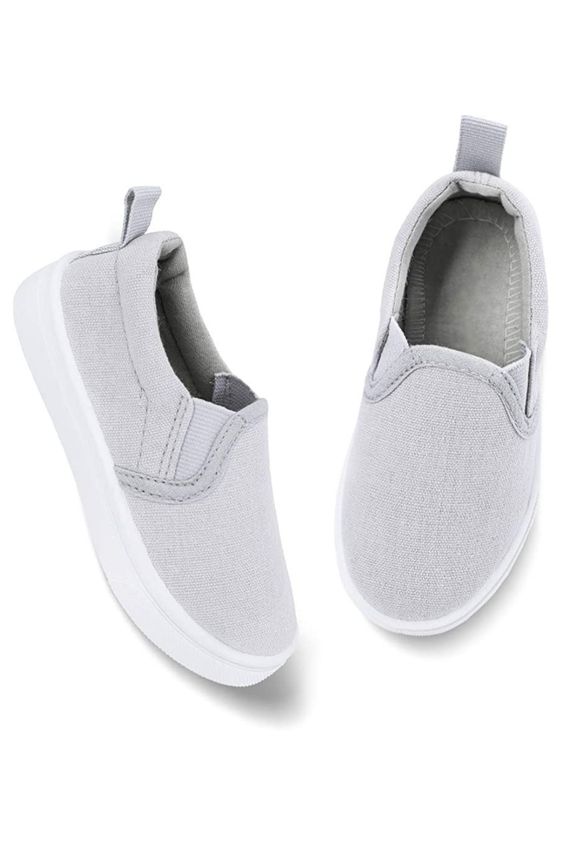 Do you want to style your little girl and boy with sneakers? well, you can make it happen by choosing gray canvas loafer sneakers. Why our choice come into canvas loafer sneakers? The loafers make our little ones easy to wear their shoes, no more wasting time in tie shoelaces. The canvas texture is the right choice because it is comfortable to wear. Now, you can style these shoes for a stylish baby boy casual looks. Or even to make your little girl looks fashionable in her street style!
Adorable White Leather Infant Girl Shoes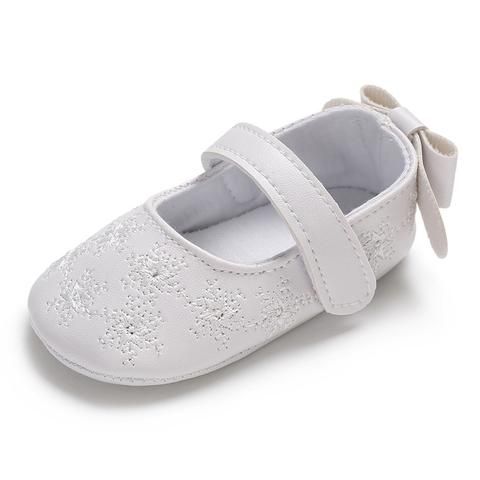 Are you looking for fashionable infant girl shoes? Again, we have prioritized comfortable footwear for toddlers. Alright, we have that all you want and need, there is a pair of floral leather shoes that suit her classy summer outfit.
This white floral sandal has some little hollows which allow the air to come through her skin's feet and these shoes are super lightweight that will make our baby girl feel comfortable in her walk.
Leather Moccasin Sandals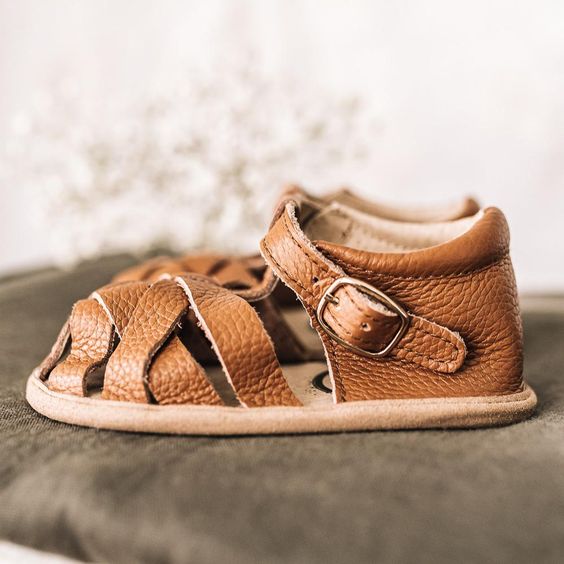 This stylish toddler boy footwear made from high-quality leather, which makes this sandal super flexible and fits for your little boy, it is super comfortable to wear during the hot sunny day and accompanies his exploration outside! This sandal also provided by breathable design, which makes the fresh air touch his skin through the hollows between the straps at front. When it comes to the leather material, it just perfects to make boys and men look stylish. So, don't doubt to choose these flexible, durable, and comfortable leather sandals as a summer gift for your little boy!
Super Lightweight Baby Girl Summer Shoes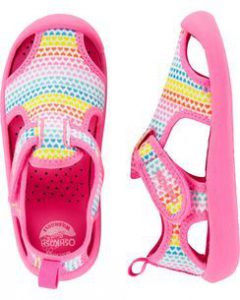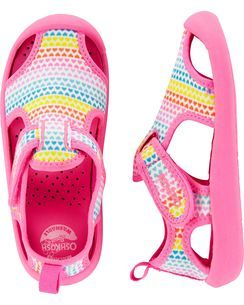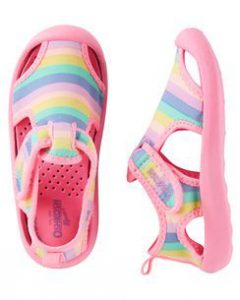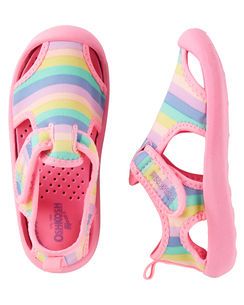 The perfect footwear for summer is must be lightweight and waterproof slip-on. So, moms, you can choose these polyurethane foam shoes that super lightweight and comfortable to wear during summer. There are many polyurethane foam shoes available in colors and sizes. You can choose these rainbow and pink foam shoes for your little daughter! These colorful shoes also perfect to wear on the beach. The pink one looks so cute for her!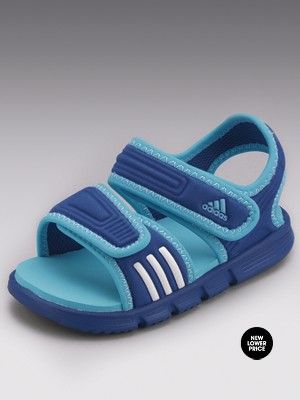 Another summer footwear for toddlers comes to these comfortable sport sandals from Adidas. It is super lightweight and waterproof sandals, so he feels comfortable walking outside. During summer the temperature rises and we need footwear that can avoid sore feet caused by over humidity while wearing footwear. So, we need a breathable shoe design that allows the air to come across his feet. Moms, this pair of lightweight sport sandals could be your preference in choosing the best summer footwear for your little prince. These sport toddler sandals have a casual design that fits his casual or even sporty style!
So, those are the best summer footwear for toddlers. We inform you to choose comfortable and durable shoes. There are some points we should know before buying summer toddler sandals, they should be lightweight, easy to wear, waterproof slip-on, breathable design, and anti-slip base.
So, moms besides choosing adorable toddler shoes, we must know functional and comfortable footwear for the summer season. We hope you enjoy our tips in choosing summer toddler footwear for boys and girls. Let's have a fun summer holiday with family!